For any marketer worth their salt, emails are a boon to build meaningful relations with their prospects & subscribers and eventually convert them in to loyal customers. The core advantage that email marketing has over other marketing channels is the reach and the level of personalization that is possible.
Reach: As long as the email reaches the inbox of your subscriber, the message shall be conveyed to them when they open the email. Although the effectiveness of an email decreases with time, thanks to the reach of the email, once the email lands the inbox, the subscriber can read it anytime.
Personalization: The amount of personalization you can include using merge tags and dynamic content blocks in your emails is advanced to the extent that the same email sent to everyone in a mailing list will get a custom email copy.
Yet, emails are not the only marketing channel in a marketer's toolbox and instead of each channel competing, they should be working together in helping each other. This article shall focus on the impact of email marketing on SEO and content marketing strategy.
How email marketing improves SEO?
While email marketing doesn't directly impact your SEO rankings, it does influence the ranking factors. The task of an email is to raise the interest of the subscribers enough to redirect them to a relevant page. When people spend more time on the specific page, they tend to click, comment, and share your posts which in turn improves your SEO score. As your SEO score increases, the visibility of the page increases and ropes in more visitors. Visitors impressed by your content will subscribe to your newsletter and help you craft better content based on their online behavior.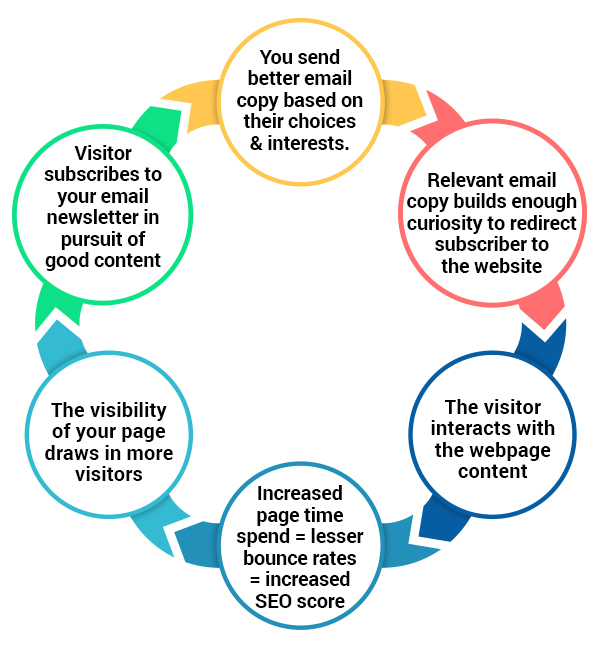 How to use email marketing to improve SEO
1. Drive quality audience to your website
An email is sent to everyone in your emailing list but as we stated earlier, the goal of the email is to redirect those subscribers whose interests align with what you have to offer. This way you separate the qualified prospects from others. These qualified subscribers have a better chance of spending more time to explore all what you have to offer, take up the trial offer or share your article with others.
This is beneficial from content marketing point of view, as you are successful in driving your subscribers to content that matches their interests. This increases the SEO score for that specific page and the page rank for the keywords that connect to the page.
2. Target improved content
The chances of conversion are high only for those with interests aligned to your brand. The best way to identify their interests is based on the emails they interacted with. Right from the subject lines to the body copy to the call-to-action copy, each and every content piece can be tested for relevancy. Add in the factor of personalization and you have a plethora of data-backed content that you can use to engage with your visitors on your website. Based on what content your audience responds to, you can make necessary iterations to the website and SEO.
3. Repurpose existing content
A good content piece is timeless but if it is not promoted periodically, it will soon collect dust. Repurpose existing content that would be relevant to your subscribers by either sending a snippet of the article in your newsletter email or featuring it in a weekly digest. The goal would be to create a content hook and invite those curious to read the complete article on your website, thereby increasing the visits.
In the below email by Simple, each section has a photo, relevant copy of the article along with a link to read the content in detail. If writing isn't your forte, use a content service like Compose.ly to support your email marketing efforts.

4. Turn high converting email into webpage
An 180o approach compared to above stated example, you can also convert your highly converting emails into dedicated webpages. This is a great way to start building your audience as you curate content to be featured in your emails. Gradually as you progress ahead, you can get a clear picture about what kind of content your subscribers are interested to read about. Voila! You take an inspiration and create your own content around the topic. Everyone looks for value addition and if you manage to provide it in your content, you can watch your page rank up in no time.
In the email below by Sidebar.io, the daily newsletter features 5 links around the central theme of design yet each article addresses a finer topic and based on the interaction you can analyze what topics to feature more.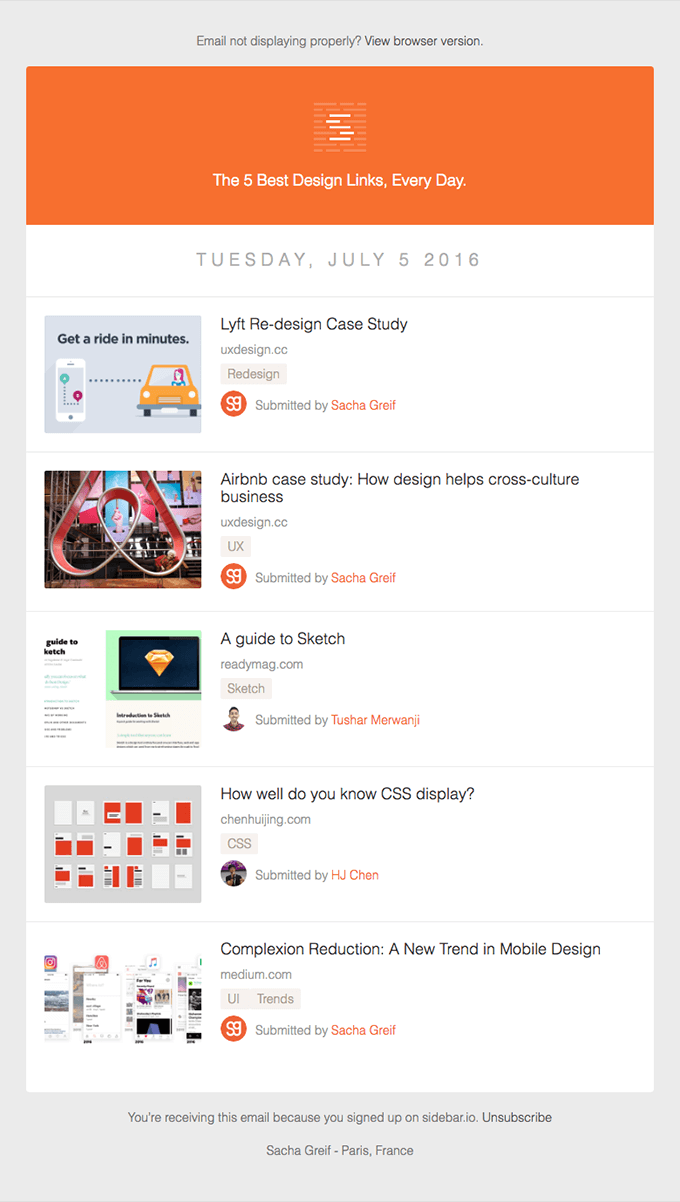 5. Increased social media shares to increase visibility
Social shares don't contribute to your SEO… at least not directly. Yet, sending an email, with content that is shared frequently across social media, you end up improving your SEO page rank. By motivating the subscribers to share your email or the content across social media, you gain following advantages:
Find opportunities to increase visibility.
Increase positive brand mentions.
Gain more visits to your website.
In fact, Hootsuite conducted an experiment with 90 articles, where 30 articles were not shared on any social platform, 30 were only shared organically and 30 were heavily promoted with $100 budget each.
The socially promoted articles saw a 23% increase in the search visibility and the ones shared organically also observed 12% increase.

So, send emails that are shared over social media and observe a considerable increase in the SEO ranking.
Key Best practices
Even if you are not targeting to improve SEO predominantly, it is a good practice to remember these practices while planning your campaigns:
Check existing content on your website and update it with latest information and trending keywords to remain relevant.
Send digest emails containing most popular content to the subscribers.
Track the website metrics post email sending and observe the changes.
Build content authority by spending time on creating relevant and useful content for your website and email alike.
Promote social sharing or ask your subscribers to forward your emails to their social circle.