The abandoned-cart reminder is one of the most successful emails you can send to your customers. But you need to set them up the right way to encourage more shoppers to act on them if you want to get the best results.
First: Why you should try to bring customers back
Consider these statistics:
Cart abandonment happens all the time, especially around holidays when traffic from both first-time shopping and loyal customers increases to your site. Cart abandonment rates range from 58% to 81% overall, although abandonment is higher in some sectors than others.
More than 8 in 10 carts are abandoned on finance, travel and nonprofit websites, while retail and ecommerce cart abandonment is holding steady at around 77%.
Cart-reminder emails can generate some of the best engagement of any triggered or broadcast email you send. Here's how they stack up:
45% average open rate
21% average click-through rate
7% average conversion rate
They help you recover sales. Some people leave items in carts on purpose and plan to come back later. But, one of the main reasons people abandon carts permanently is because they had problems at checkout. One company estimated that a large ecommerce site could see a 35.3% hike in recovered sales just by redesigning their checkout process.
They give you a competitive advantage. The 2018 Email Marketing Census from the UK Direct Marketing Association shows only 29% of all email marketers send abandonment emails. So, the field is still wide open for marketers who can take that extra step.
How cart reminders can fail
As these statistics show, the decision to send an abandoned-cart reminder is a no-brainer. But just sending an email by itself won't guarantee that your customers will come back to finish checking out.
This is the point where many marketers shoot themselves in the foot with their reminder emails. How you structure your reminder email is just as important, if not more so, than the decision to set up an abandonment program.
And here's another key point: You'll probably need more than one set of rules governing your reminder email's timing and content to accommodate the different reasons customers come to your site.
Different reminder models, different purposes. While it's true that sending one reminder email shortly after your customer abandons the site is better than sending none at all, it's also true that there's no exact formula for how you should structure your reminders.
The conventional wisdom around reminder emails is that you generally need more than one, that you should send your first email soon after the customer abandons the site and that you should follow up with one or two more emails within 24 to 48 hours after the first reminder email goes out.
Take a look at the series of two cart abandonment emails by ASICS.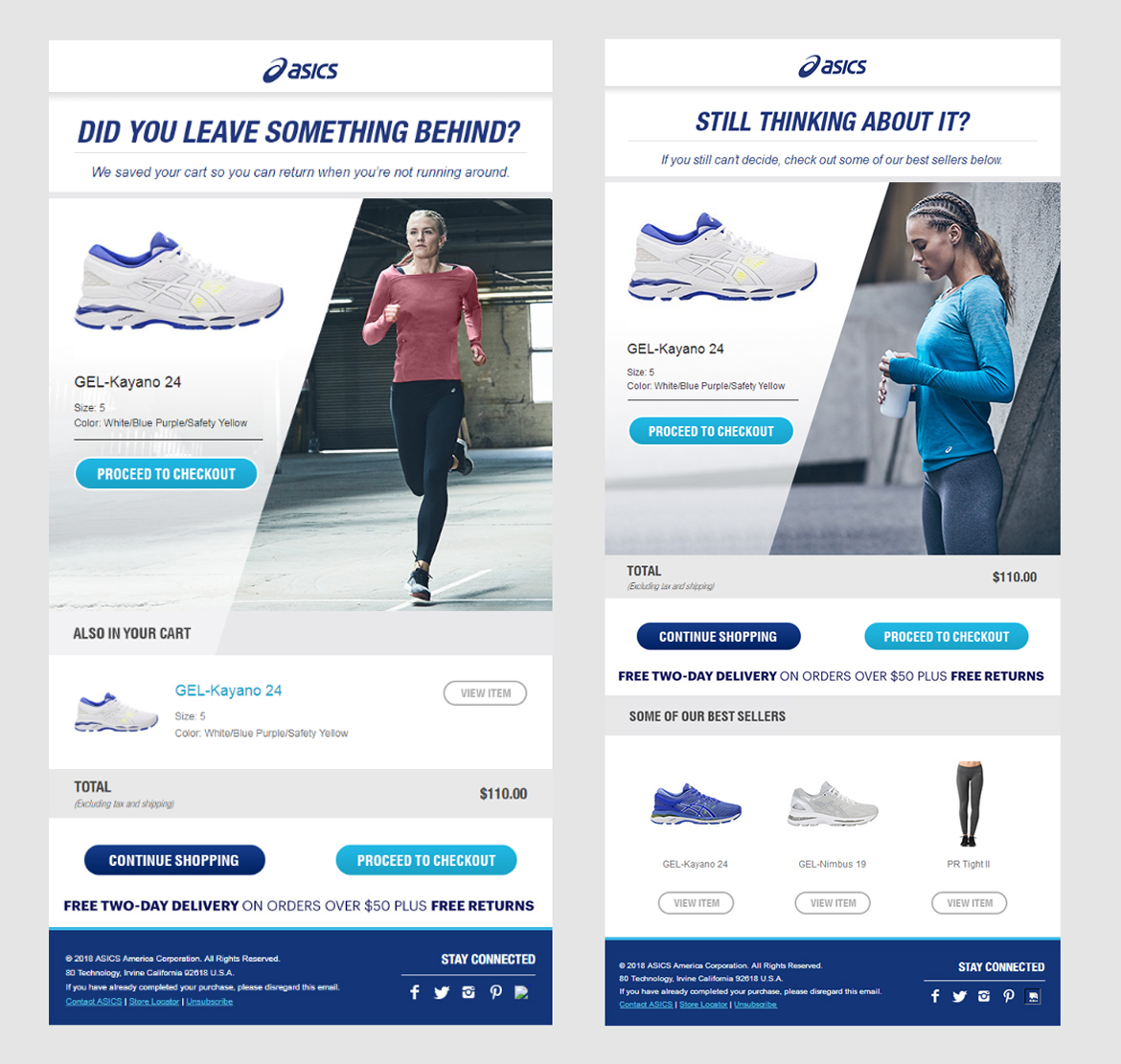 That format, which could take as long as three days to a week to deliver all your emails in the abandonment series, works fine in uncomplicated abandonment scenarios.
Now, suppose you're running a one-day flash sale. That standard three-message email sequence isn't going to work beyond the first email, assuming you send it out before the sale ends.
In fact, you'll end up aggravating your customers because they won't be able to buy their items at the sale price if they return after the sale is over. If you compound that error by including the flash-sale price in the email message instead of the price they'll encounter when they return, you might as well kiss those customers goodbye forever.
Solution No. 1: Add more rules
Every successful cart-abandonment reminder program is driven by rules that govern when to launch reminder emails and what content to include in them. Here are several popular ones:
Send the first email immediately after abandonment. Then, time follow-up emails according to activity, or lack of it, on the first email.
Withhold an incentive to encourage returning to the cart until the last email of the series.
Vary the incentive according to customer value (higher value to first-time visitors or loyalty-club members).
No incentive or lower-value offer for customers who have used an abandoned-cart incentive in the last 30 to 90 days.
Adding rules to your email program can help you create a more flexible program that accounts for abnormalities or anomalies in the abandonment procedure.
Take that flash-sale scenario we mentioned earlier. Let's say you want to clear out some excess inventory before you head into the fourth-quarter holiday season. Or, you want to get some incremental sales on what normally would be a slow sales day, like a Sunday, and you offer some eye-popping discounts to attract browsing.
Here's an example by Huckberry in which they have offered a coupon code for free product shipping.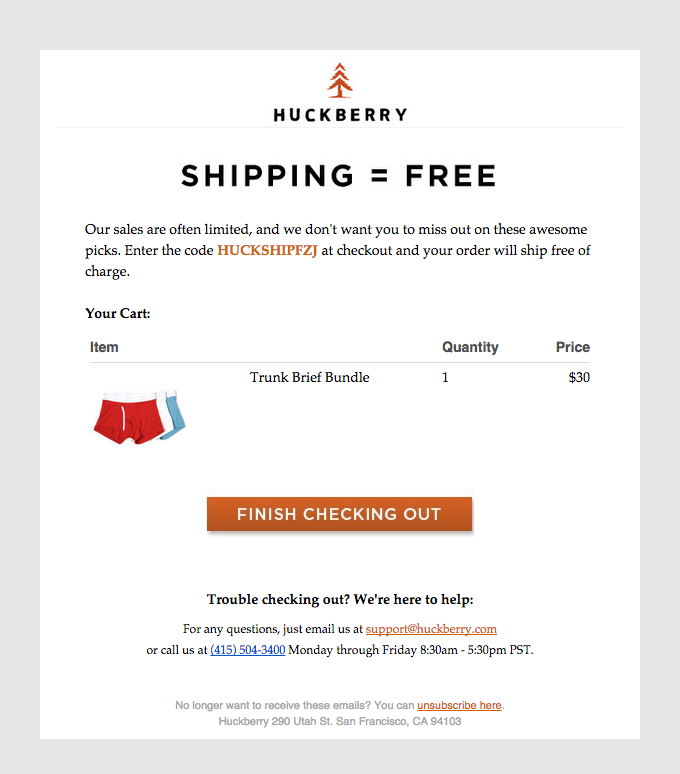 The trade-off for those big discounts is a short shopping window. So, to bring back your abandoners, change up your rules for that campaign to launch your abandonment email sooner, deliver your series in shorter intervals and schedule the last email to go out before the sale ends.
Solution No. 2: Extend redemption time with a post-cart-abandonment program
Use this to retain high-value customers (they buy more often and/or at full price) or customers who rack up higher-priced carts. You can create a rule to trigger this program based on cart value or customer data.
The effect is that you will extend the time your abandonment program runs, giving your customers more time to come back and check. This is especially handy for high-value carts because those customers might need more time to decide whether to go ahead.
Giving them a few extra days to check their finances, talk to a spouse or partner or wait for the next paycheck could mean the difference between a purchase and a lost cause. Your emails continue to arrive at carefully spaced intervals, giving you opportunities to answer questions or head off objections, but you aren't pestering them constantly.
Use the time to vary your content
That brings up another point about successful emails. It's not just how you time your messages but what you put in your messages that can bring customers back.
People abandon carts for many reasons, and not just because they wandered away or objected to your shipping fees. Here's a sample of reasons:
They got interrupted and had to break off their sessions.
They ran into problems in your checkout process.
They need time to think or are shopping your competitors.
They're using their carts like wish lists and will return later to sort through items.
Your email copy should reflect these potential scenarios, too. Adopting a helpful, service-oriented tone and adding links to customer service, FAQs, buying guides or other relevant destinations on your website can overcome objections and add trust.
But you can also use devices like countdown timers to gently prod your customers into acting, especially if their merchandise is part of a flash or limited-time sale. We have used this device in many client abandoned-cart emails, and we always see a measurable uptick in conversions, often when tested against a standard message with no timer.
FARFETCH sends a nice cart abandonment email with a countdown timer that evokes the fear of missing out and entices the user to complete the purchase.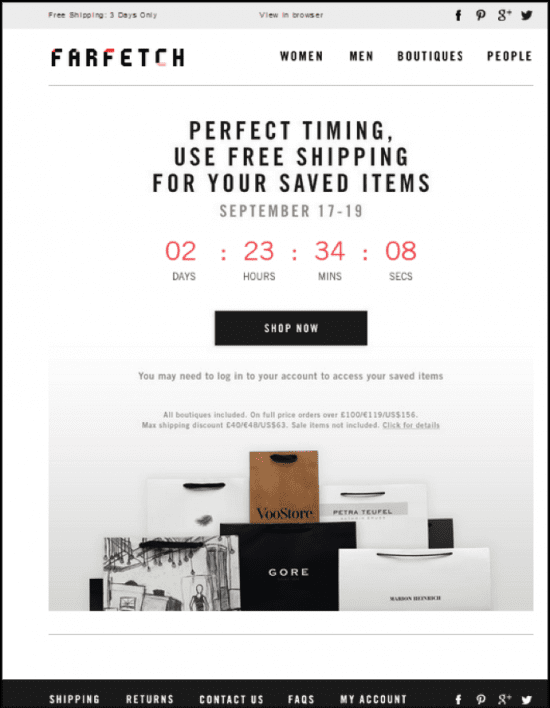 Don't forget to test!
This is vital, no matter which format you choose to create for your abandonment models. Test everything to see what works for you and your customers! Here's a quick list:
Subject line
Number of emails
Timing (first email and intervals between emails for a multi-email process)
Incentives (what kind of incentive, like a percentage discount, cash discount, free shipping, upgraded shipping and at what point in your series to introduce it)
Personalization (name, product info, link to cart, etc.) versus one-size-fits-all
Call on us to help you set up a great program
Whether you want to investigate launching your own abandoned-cart program or need to get better results from your present program, our strategy experts are eager to show you what's possible.
We're happy to offer you a free 30-minute consultation call to see whether we're a good fit to help you recover more sales and revenue by testing the solutions we've offered here or whether you might try other tested tactics in our arsenal.
Just call us at 800-ARMY-253 (800-276-9253) or leave a message on our website. We've seen the results that well-thought-out abandonment programs can produce, and we'd love to share them with you!