Email marketing is part art, part science, and part strategy. Art comes from creativity and an understanding of the balance of design and message delivery. Science comes in with research and leverage of subscriber psychology. And finally, strategy focuses the art and science on conversions and ROI.
InboxArmy is here to help you find that balance between the three with five evidence-based email marketing tips that are sure to work wonders for your email marketing program.
1. Your List (and Good Segmentation) Comes First.
Segmenting your list and pushing more targeted content can boost open and click-through rates for your email campaigns. MailChimp puts forward the evidence for the effectiveness of segmented campaigns.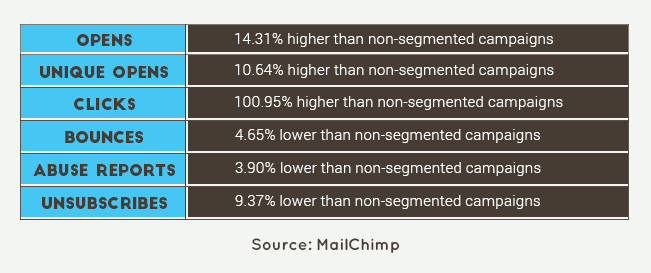 With better segmentation, you should see vastly improved subscriber engagement metrics. And engagement should ultimately lead to more email conversions and ROI.
2. Personalize Your Emails
To many e-marketers, segmentation is synonymous with personalization. The truth is personalized emails go well beyond segmentation and "Hello [First Name]."
Using a subscriber's first name is just the start. You can also personalize your emails by crafting targeted content that factors in subscribers' demographics, buyer personas, past purchases, and a host of other data points.
Is it worth the effort? You bet. Personalized emails can bring in about 58% of total business revenue. You'll raise your email marketing standards and get recognized handsomely by your subscribers.
Note: InboxArmy and FreshMail put together an eBook on how you can leverage data in building smarter email marketing programs.
3. Design for Mobile Devices
More than 50% email opens are recorded on mobile devices. If your emails are not coding to render well no matter the device—but particularly on mobile devices — you're losing subscriber attention (and losing ROI).
Responsive design and code is only the start. You can utilize a "tappable" CTA, short and catchy subject lines, minimalist designs, and even fixed CTAs to make sure your email message and its ultimate purpose are conveyed effectively regardless of device.
Note: Need to overcome rendering challenges? Here are our Top Tips >>
4. Cash In on Triggered Emails
Triggered emails work wonders. Why? Because they're sent based on actions your subscribers have taken.
In fact, triggered emails achieve 624% higher conversion response for the same number of email sends when compared to "batch and blast" emails. It also garners about 381% higher click rate, and 180% higher post-click conversion rate.
These emails work because of high relevance. They strike the right chord with your subscribers and direct them towards conversion. And the best part? You can automate them.
5. Make Sure Testing is in Your Arsenal
Every brand is different. Every list is different. Incorporate A/B testing to learn what types of messaging work for you.
Whether it's your from name, subject line, preheader text, email copy, interactive elements, email send time, or CTA, TEST them all.
Remember the email campaigns of Barack Obama that had become the talk of the town back in 2012? A/B testing is what helped them determine what would help them achieve the best results.
Note: Need some ideas for testing? Check out our eBook on the Foundations of Effective Email Creative >>
Ready to kick start your email marketing strategy for your business? Contact us now for a no-obligation call to discuss how InboxArmy can be your reliable partners for your email marketing program.