Easter festivities are enhanced by the aura of spring in full bloom, chocolates, colorful eggs, and cute bunnies. You can make the most of your email marketing strategy by including these pleasant elements in your Easter emails.
Lately, we've seen many festive emails from brands using a lot of interactive design elements like GIFs, countdown timers, flip and scratch elements, and more to charm their subscribers. Not only does that help enhance customer engagement, but also lead to greater click through rate and conversions.
Check out these awesome Easter emails shortlisted by InboxArmy for its brilliant use of GIFs.
Go Outdoors

Well done:
Nice and flat navigation on the top, followed by prominent text "Free UK Delivery".
Nice, simple GIF with changing text in the hero image.
Good use of simple fonts.
Discount offer clearly visible with contrasted CTAs below.
Physical address has been mentioned to comply with CAN SPAM laws.
Could have been better:
Nicely showcases all categories but it's getting repetitive.
Free delivery mentioned repeatedly in footer and in the blue section above it that makes the mailer lengthy.
Delivery information button after it doesn't seem to be right as they are already mentioning it above with a highlighted section.
There is no "view in browser" link at the top.
Julep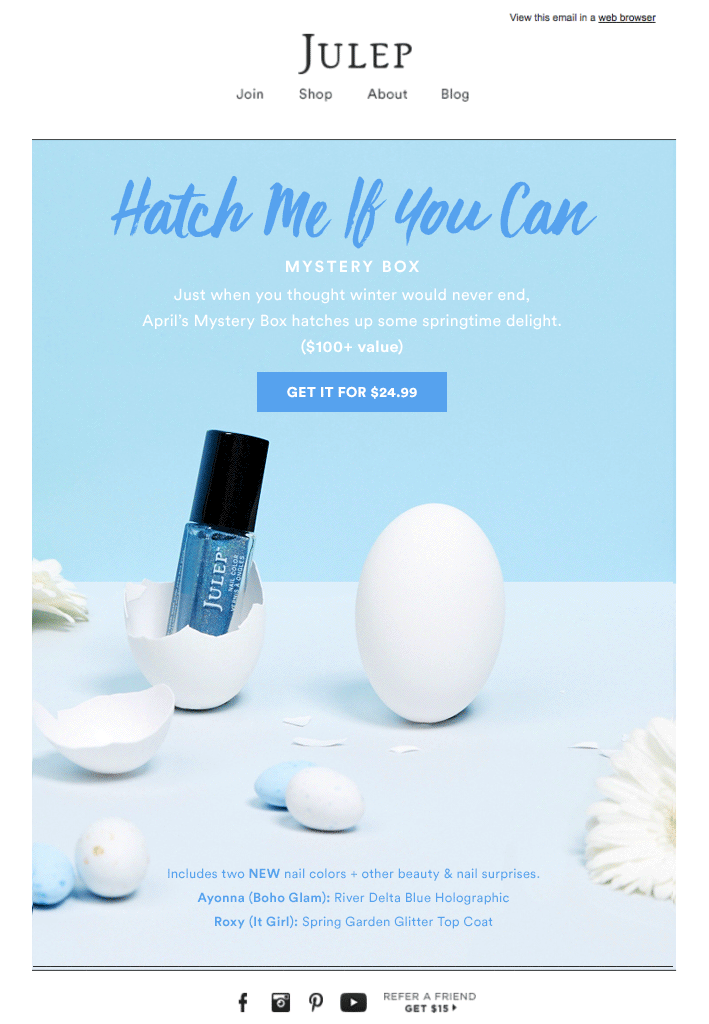 Well done:
Nice concept of hatching an egg and revealing the product out of it using GIF animation.
Good use of bold and simple CTA.
Footer is clean and short with only social icons and link to refer a friend (CTA).
Thumbs up for the "view in browser" link at the top.
Could have been better:
Needs to mention physical address to comply with CAN SPAM laws.
The "about" link in the navigation seems unnecessary.
LOFT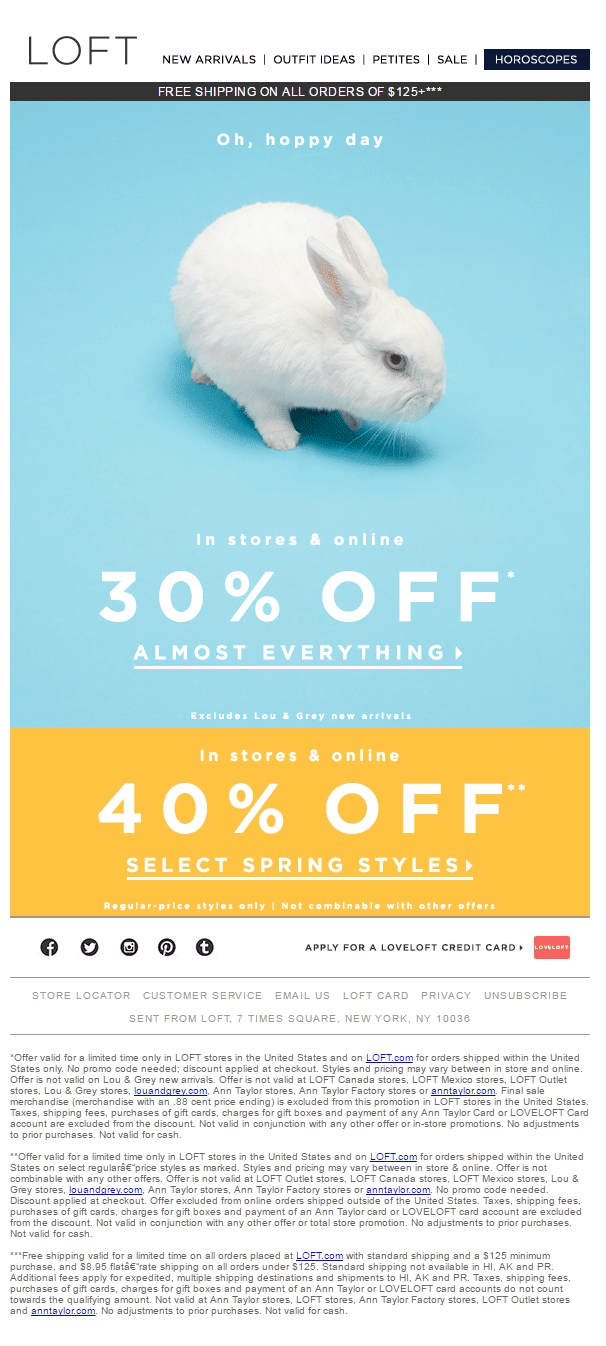 Well done:
Interesting mystery CTA of "horoscopes" within the navigation bar.
GIF blends well with overall email creative in hero image itself.
BOLD and CLEAR % off highlighted nicely within the mailer.
Footer including social icons first is a good move to increase followers.
Physical address is mentioned to comply with CAN SPAM laws.
Could have been better:
Missing snippet text with "view in browser" link. Can boost opens.
Free shipping can be highlighted more.
Godiva


Well done:
Nice use of snippet text can get you good open rate.
An easily noticeable banner with offer text and CTA.
Free Shipping for last-minute Easter shoppers works well.
Too many Easter themed images can make the loading time an issue.
Nice navigation footer option with social icons can engage subscribers better.
Could Have Been Better:
Too many images may increase the load time of the email.
Fortnum and mason 
Well done:
Nice GIF covering most of their catalog products.
Good balance of text and image ratio within the mailer.
Nice and simple CTAs
Instagram section is nicely promoted before the footer.
Could have been better:
Pricing under the 3 products can be highlighted better with a CTA.
Too many links in footer is a NO. Links to social media pages can do the needful.
The email could have been made a lot shorter.
They can restrict the full width footer color background which might have given an aligned look to rest of the template theme.
Snippet with an offer instead of #hashtag can go better.
Closing Thoughts
What about your Easter email campaigns? InboxArmy can help you build your email marketing campaign and drive greater ROI.
Check out our portfolio and we will be more than happy to assist you in building an effective email marketing strategy.