When was the last time you really thought about your transactional emails? Perhaps you should look them over again. Here's why:
According to an Experian report, transactional emails have 8x more opens and clicks than any other type of email. If done right, transactional emails can also generate 6x more revenue compared to other bulk promotional emails.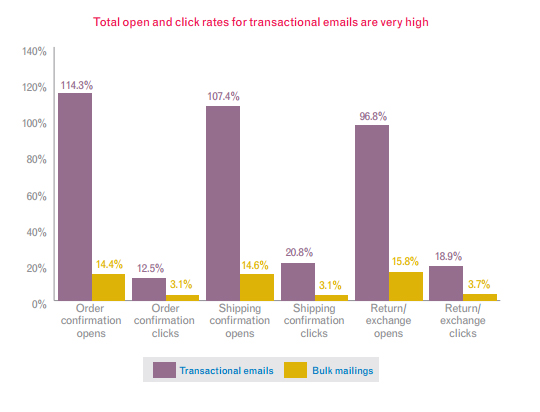 Source: Experian
Why? Because these emails are triggered based on user action, and frankly, users look for these emails as well (perhaps as a sort of "digital paper trail" if nothing else).
This is because they contain certain information that holds value for your subscriber. A recipient looks forward to receiving these emails since they are triggered by user action and also generate 6x more revenue compared to other bulk promotional emails.
Obviously, transactional emails contain valuable information for your subscribers. Here's a look at five of the most frequently used transactional emails:
Registration Email (Welcome Emails)
Welcome emails are usually the first registration emails your subscribers see. According to EasySMTP, welcome emails generate 320% more revenue per email than other promotional emails. (We've touched on the importance of the welcome email before.)
Your registration email should have:
Login credential information (if required)
Your website links for easy navigation
Support contact information
Links to your site's articles, blogs, video tutorials, etc.
Attractive offers and discounts (if applicable)
Highlighted tabs for easy social sharing and increasing visibility
Example: SquareSpace
Direct and to-the-point, this email provides the recipient with the credentials, accounting settings, and support information they need to take the next steps. A more prominent CTA and perhaps a dash of color could be useful.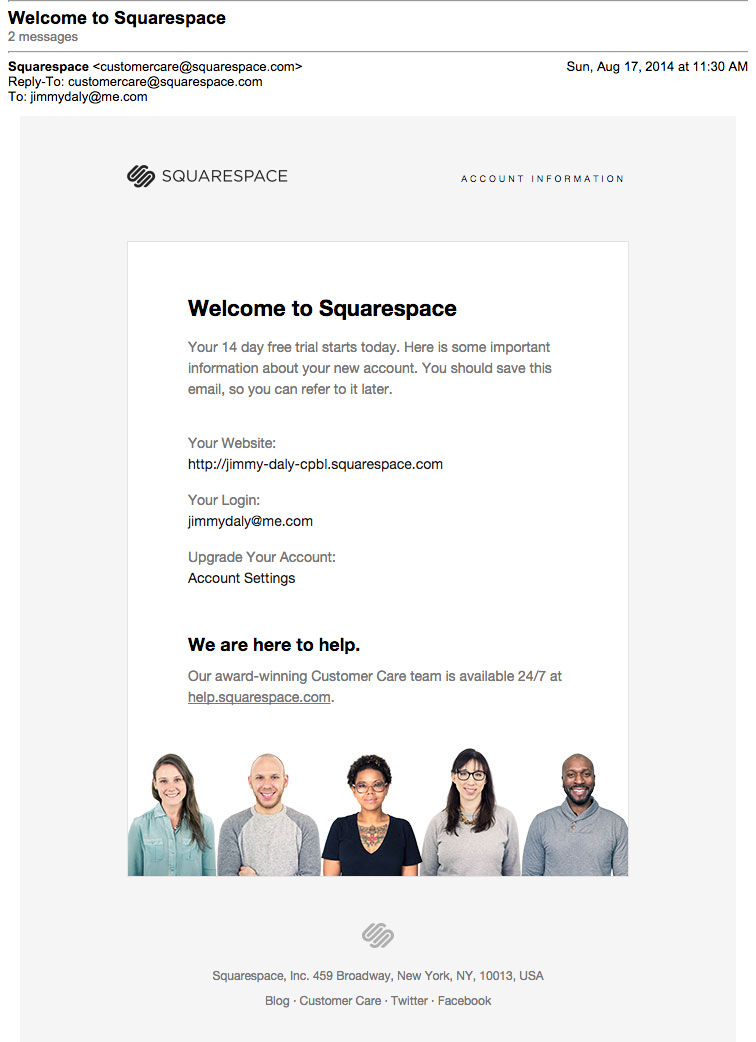 Confirmation Email
According to Litmus, 64% of consumers consider transaction confirmations the most valuable messages in their inbox. They must provide the details of the transaction as well as opportunities to update the transaction, get in touch with customer support, etc.
Example: J. Crew
The following order confirmation email provides detailed information of the order such as:
The order number
Shipping date
Billing information
Shipping information
Order tracking information
Payment history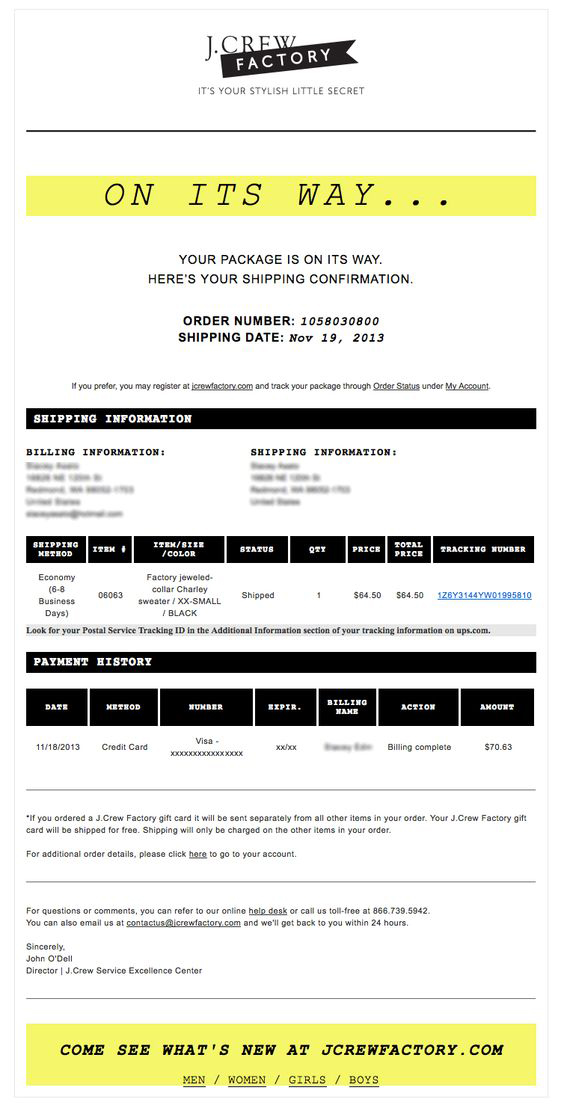 Notification Emails
Brands send notification emails to improve customer experience and notify the recipient regarding important information including password changes, account re-activation, account notifications, billing failures, banking-related data, etc.
Example: Dunked
The email provides a highlighted CTA button urging the subscriber to take an action. The Dunked email also creates a sense of urgency in the opening line of the copy, "You have 3 days to activate your account before it expires".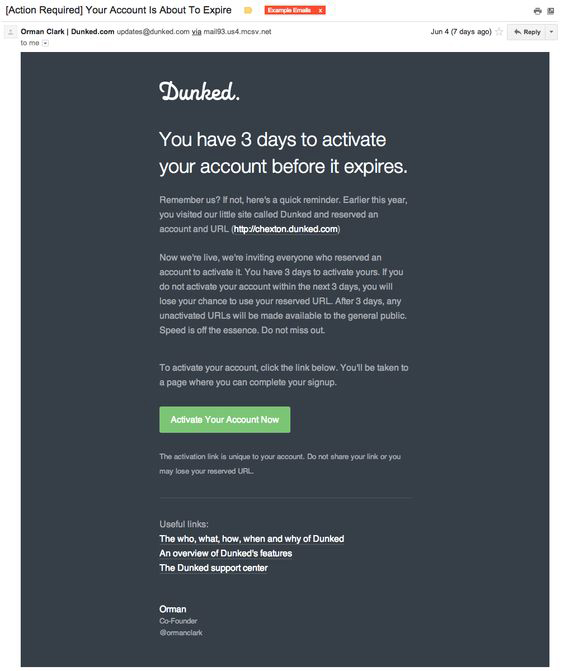 Feedback Emails
Brands send emails requesting customer feedbacks mainly to enhance, improve, and build trust in the customers' experience. As per a Temkin study, 63% of companies expect to spend more on their customer experiences.
Example: TunnelBear
This is a combination email, combining a confirmation of a transaction as well as a direct feedback request of the customer's experience and how the company can perform better. A more obvious CTA button could add value to the email.
Cart Abandonment Emails
Upwards of 3 out of 4 carts are abandoned. Obviously, this is a significant challenge for marketers. Automated cart abandonment emails work as triggered reminders, urging the customer to return and complete their purchase. (We built an infographic on this topic.)
Example: ALDO
In this example, the customer is shown the contents of their cart, the price, and obvious ways to complete their order. The text is simple yet creates an urgency as they emphasize that their chosen products may sell out. A recommended test of ours would be merging the two buttons into one and making the email a bit more streamlined.
Wrapping Up
Transactional emails should not be forgotten as part of your email marketing mix. In fact, they can be a boon for e-commerce and email marketing.
Make sure to incorporate some of the following points in your transactional emails:
Include social sharing and linking buttons
Include order tracking links and event tracking links along with website navigation
Enhance conversions by having cross-selling and up-selling
Make sure to enhance your customer's experience at every step
Have an attractive email copy and design
Make sure to adhere to the CAN-SPAM and any spam/privacy laws applicable in your country