What Our Customers Say

"We needed to move quickly as our in-house developer was leaving. We were in need of an email developer to code our email templates and promotional campaigns using HTML and CSS for better rendering and more control over the content in emails."
The engagement met the needs and requirements of the internal team, leading to an ongoing partnership. InboxArmy, LLC provides regular feedback and communicates effectively . They are proactive, trustworthy, and professional. We typically design the emails using a software like Figma and then pass those designs to our IA team to code them. There is sometimes a little bit of feedback involved, but they code the emails exactly to spec as they receive them. They also test their code to ensure it displays correctly on all devices and with each email client. Inbox Army has been wonderful to work with. They have quick turnaround times. The goal was to have coded emails to send to our subscribers and with the pace we are working at, that turnaround time is critical.
Ciera Bullock
Email & Automation Manager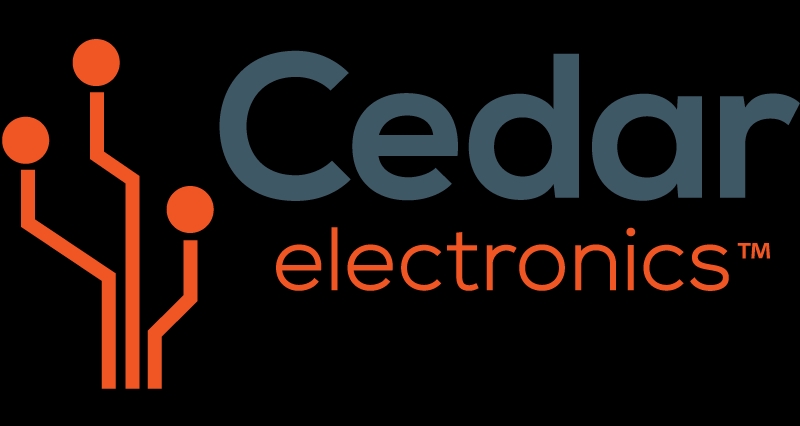 "We were down a headcount for email marketing and needed an agency who could slot in quickly to ensure the efficient design, development, and execution of a large number of emails. Revenue generated from email marketing matched previous year's numbers, even in a challenged environment with 2020."
we interviewed a number of agencies and selected InboxArmy because of their customer focused culture, their streamlined and efficient processes, and the willingness of everyone on their team all the way up to CEO to get on a call to discuss our goals and plans. We hired Inbox Army to assist with weekly development and sends of our promotional emails through Salesforce Marketing Cloud as well as strategic planning and onboarding of Klaviyo.Inbox Army basically was able to come in and take over the email marketing function of our department without skipping a beat. Their expertise and in-depth knowledge of SFMC as well as Klaviyo made it incredibly easy to entrust our emails to them. They immediately raised the maturity level of our email marketing.
Eric Choi
Head of Marketing

"We heard about InboxArmy through a third party vendor and chose to work with them for the resources they were able to provide, their proven expertise in using Salesforce Marketing Cloud and their excellent customer service."
Beam Suntory is a world leader in premium spirits. We were looking for a partner to help with our email campaign management, specifically to create, test and deploy email messages that were mobile responsive, on brand and localized to meet regional standards. Our main goal was to increase our communication frequency with higher quality emails and analyze the results of each send.
They helped us to create, test and deploy emails to consumers using different templates that we have created. They also helped to analyze the responsiveness and styling of the templates to ensure they were the highest quality. IA also provides A/B testing where needed and analytics for each send.
Riley Haemer
Global Director, Digital Consumer Engagement

"We found InboxArmy via Google Search, followed up with a phone conversation with the founders and team. Their years of experience in the field along with the team setup is why we selected to work with them""
We are a global textile manufacturer and distributor, serving a range of B2B markets from industrial laundries, hotels, healthcare facilities and more. As the Go-to-Market Director, I lead the marketing and go-to-market strategy and execution planning.
We have been working with the IA team and very happy with the results.We were assigned a team manager, who led a team executing various aspects of the scope. They assist in structuring emails to generate optimized email performance and ROI. They have partnered with us to increase the success of our email marketing efforts; from list clean-up, segmentation, planning and more. So far, our email open and click-to-open rates have more than doubled.
Devanshi Patel
Strategic Marketing Director

"My team searched for reputable vendors and selected InboxArmy after a rigorous interview process with over a dozen companies."
We were looking for a company to manage our email marketing list, help develop campaigns, and fix our issues with spam filters and undeliverable emails. The goal of the collaboration is to increase open rates and engagement.
We work closely with an account representative. Our project manager is responsive to our questions and feedback.The speed at which they were able to turn things around for us was just amazing. We've greatly increased our conversion rates and reduce the number of issues.
Continual improvement of optimizing HTML emails to display correctly and consistently on a variety of email software. They have been very good in this area.
Brian Bradford
Executive Director

"Our goal was to have the email designed in such a way that it not only represents the company, but also makes people want to work with us"
We are a full-service insurance and Risk Management firm that works with 30 different insurance providers.I am an insurance associate and marketing specialist at Blue Lion Insurance Advisors, LLC. We found them via Google.
After an initial phone call with the team, we sent over images and text we had, provided them with our vision for the email and approved them to design the initial comps. We had out project manager, his design team (all from InboxArmy) then myself and my supervisor. It was terrific! They were very responsive and accommodating to our requests. The quality of their work and customer service is impressive.
Kerry O'Brien
Marketing Specialist

"Their communication is impressive and they keep us on track."
All Service Moving is the largest independently owned moving and storage company in the Northwest. ASM conducts moves locally, nationally, and internationally. Kit is the Director of Sales. ASM hired InboxArmy to manage multiple email campaigns.
Goal was to communicate with customers. Researched similar companies and decided on IA. We wanted their help with consultation and execution. Now we have very little unsubscribes and plenty of views.
The most impressive thing about this company is their communication and it helps us keeping on track with our email campaigns.
Kit Kohler
Director of Sales

"My email list has grown by 50%. Also, depending on what we do with the emails, we usually see a spike in sales. For example, we sent an email a week ago, and sales went up by 250%. Their impact is definitely noticeable."
I found them through a simple Google search. I was looking for a partner that had expert insight into email marketing. They seemed to fit the bill, so I reached out to them and we had a couple of conversations.I wanted to grow my email list and the way that customers interacted with us via email. My email marketing strategy was disorganized, I sent emails once in a while, but it required a lot of effort. I wanted a partner that could help me out with that so CX was more consistent.They're well-organized and are experts on what they do. Inbox Army, LLC has clearly been doing this for a long time and is very efficient and effective. In comparison, other companies I've looked at provide many different services but aren't nearly as skilled. They work well together and are very organized.
John Powers
President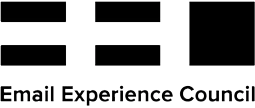 "Over several years, they've worked to make our templates sleek and responsive. Their ability to take on urgent tasks and work collaboratively is noteworthy, as is there originality.They've improved many templates beyond simply implementing requirements."
Our base and membership are comprised of professionals in the email industry, so we wanted our email communications to reflect the utmost professionalism. This required us to find a partner with top-notch design skills and high deliverability standards.We selected InboxArmy after reviewing several companies in the space and sorting through solid recommendations and work history.They ensure all of our email communication needs are met: bi-weekly e-newsletters, weekly event emails, quarterly sponsored-emails, and special alert emails. We used to get emails regarding broken links and template designs, differing fonts, and issues with mobile-responsiveness. Those complaints have ceased thanks to InboxArmy.
Lisa Brown Shosteck
Director

"Their work has helped to streamline internal email marketing processes and has also contributed to a 140% increase in revenue."
InboxArmy does what they say they're going to do, and they offer a premium service at a fair price. They are a team of quick learners who communicate well and are highly engaged in the project. Their senior leadership's involvement in the process is also noteworthy.
They assist us with email marketing efforts, carrying out the deployment of a quarter of a million emails. They also design the emails, develop creative calls to action (CTA), and manage lead generation.
Larrin
CMO

"We had interviewed several options for our one-off campaigns, and found InboxArmy to be the most knowledgeable with what our intentions were and for the most fair price."
Initially we had hired InboxArmy to create a few one-off campaigns. We then switched to using InboxArmy in handling our email marketing needs. Once the campaigns were complete it was an easy choice to move all of our email marketing needs to them. We have had great progress with our welcome, re-engagement, and cart abandonment campaigns. We have received enough data from these in order to proceed with further development and changes to the campaigns.Internal stakeholders are pleased with the effectiveness of the campaigns. InboxArmy, LLC leverages a structured workflow to maintain consistent delivery. Customers can expect a knowledgable and professional team.
Tristen Richardson
Sales and Marketing Manager
"They were also extremely affordable.The refreshed campaigns that the InboxArmy team created led to an increase in sales for the company."
Sit 'n Sleep is the largest specialty mattress retailer in Southern California. I am Director of Marketing and oversee our strategy across all channels. I found Inbox army after during after researching online. They were the best solution available.
We engaged Inboxarmy to optimize and refresh our email automation. We engaged Inboxarmy to build out the following campaigns: Welcome Series Browse Abandonment Shopping Cart Abandonment, Post Purchase.
I was most impressed with the quality of work and how quick they were able to turnaround the project.
Andrew Miller
Director of Marketing

"They introduce us to things we never knew about email marketing and split-test different designs to ensure they generate the highest revenue for each campaign."
When it comes to email marketing there is no better option out there than InboxArmy. We had no idea where to start when it came to setting up successful email campaigns and they made everything super easy from the start. From the beautiful, fully-customized template designs to detailed list segmentation, Chris Donald and the all-star team at InboxArmy creates and launches successful email campaigns every time. Whenever we have questions about anything Chris is there with an answer and a detailed explanation. The team at InboxArmy is full of industry leading experts and I will continue to recommend them to anyone who is in the e-commerce industry
Phil Iannuzzi
Co-Founder

"We've grown our newsletter from a few thousand subscribers to over 130K since we've been working with them."
I looked at a few agencies online who offered similar services. Once I spoke to Chris and his team, I was sure that they were the right fit for Boie. They help design and implement weekly emails that go out to our customers and subscribers. The types of emails include transactional notifications, discounts and sales, brand initiatives, and more. Weekly calls help set up strategy and the team is extremely familiar with our 3rd party email provider (Klaviyo). Their ability to scale with us, as we scaled our subscriber list. They knew exactly what we needed for our current size and goals.
Manuel De La Cruz
CEO
Our Email Marketing Services
Email Marketing Planning & Strategy Services
Razor Sharp Focus On ROI And Efficiency.
Have a specific email marketing challenge you need met? Or have no idea where to start? InboxArmy's corps of email marketing strategists provide actionable advice and suggestions to improve and optimize your email marketing programs to enhance ROI.
Hire Our Email Marketing Strategist For
Email Automation Program Strategies
Email Marketing Audits
Email Testing and Optimization Plans
Email Vendor Selection
Email Marketing Campaign Strategies
List Growth and Nurturing Strategies
Channel Integration Recommendations and Strategies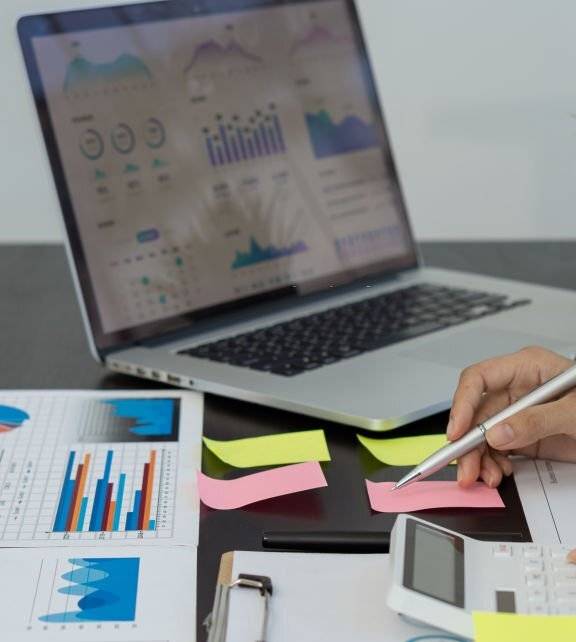 Email Campaign Management Services
Our Expert Team. Your Email Marketing Army.
Don't have the staff, time, resources, or expertise to handle your ongoing email marketing campaigns? Consider InboxArmy your elite special force for creating, setting up, and deploying your email marketing campaigns. We'll get to know you, how you work, what you like (and what you don't). We'll do the work for you and we can work on any email service provider you desire.
Our Full-Service Campaign Management Packages Includes
Content Coordination
Data Management
Campaign Development and Production
Basic A/B Testing and Reporting
Deployment through Your ESP of Choice
Dedicated Account Management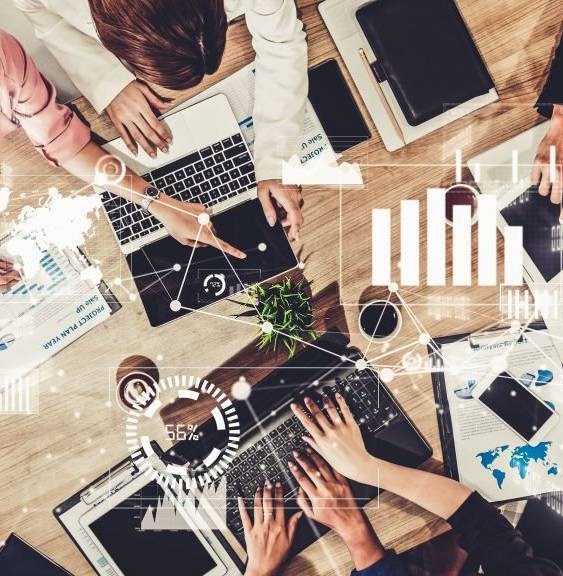 Email Template Design & Coding Services
Action-Focused Design. Precision Coding.
A well-executed design and perfectly coded email drives action and generates revenue. Our legion of expert email designers and coders are focused on building mobile-friendly, responsive HTML email templates that render correctly across all of the leading email clients.
Our Template Design And Coding Packages Include
Pixel-Precise HTML Coding
Installation into Your ESP of Choice
Testing to Guarantee Cross-Device Compatibility
Training on How to Use Your New Templates in Your ESP of Choice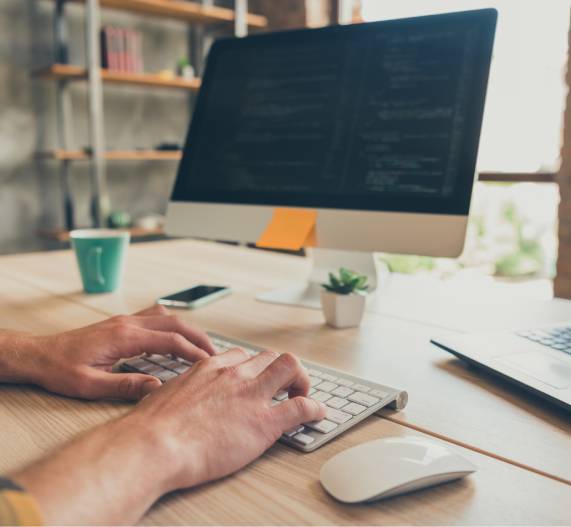 Email Automation Services
Engaged Customers. Profitable Relationships.
Email automation allows you to engage your customers over a period of time, increase the relevancy of your messaging based on data you collect, and drive higher lifetime value as a result—if done correctly.
InboxArmy's squadron of email marketing experts can help you construct automated email marketing programs that focus on building and maintaining long-lasting, profitable relationships with your most engaged customers.
Examples Of Email Automation Programs
Welcome Program
Birthday Program
Winback Program
Next Logical Product Program
Browse History Trigger Program
Best Customer Program
Cart Abandonment Program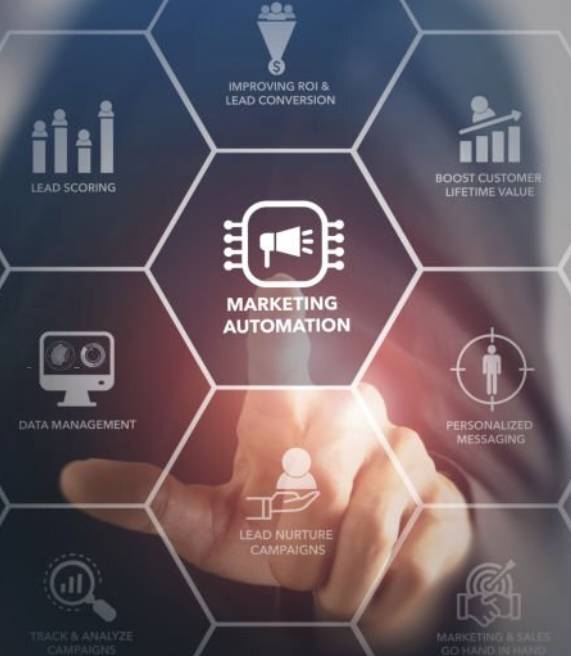 ESP Vendor Evaluation and Migration Services
We'll help you find an ESP that best fits your needs
We understand the prevailing challenges and things your current ESP is unable to deliver.
We do not take a commission from any ESP. We will pass on the commission benefits to you
We go out and identify the ESP that will suit your needs.
We go out and identify the ESP that will suit your needs.
We do not resell any platform.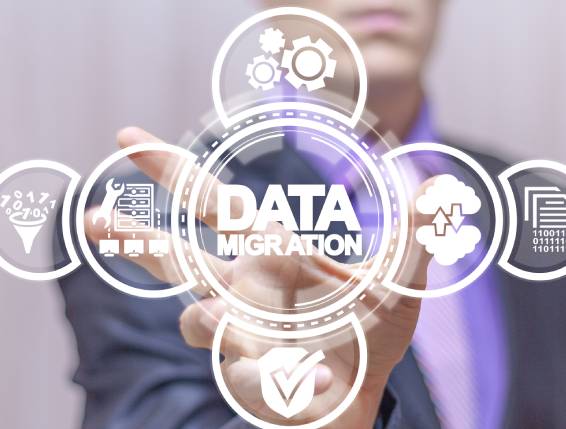 Email Deliverability Audit and Recommendations
Are you struggling with low email open rates? Unsatisfactory email deliverability can happen due to multiple factors such as phishing attempts, blacklisting of your sending domain, and too many spam complaints. Don't let email deliverability issues become roadblock in achieving your business goals.
We can help you optimize your email deliverability and proactively protect your mailing reputation.
Receive a clear, prioritized list of recommendations to improve deliverability.
Support your implementation of deliverability improvement recommendations.
Identify if deliverability issue(s) exist.
Determine the causes(s) of deliverability issues.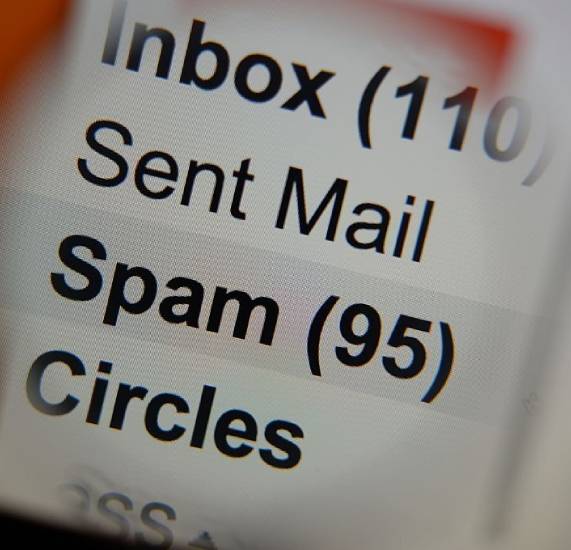 Trained Email Marketing Experts Available On-Demand
We are an email agency who believes in reducing the hassles of recruiting, onboarding, and training? InboxArmy offers dedicated and trained email marketing specialists to solve your talent problem once and for all.
We create ROI driven email designs and code them with a high degree of accuracy.
The email campaign managers are responsible for managing email marketing campaigns,
We help you set up customer journeys and complex workflows in various stages of the customer's buying cycle.
We have expertise in Journey Builder, Email Studio, Pardot, Data Studio and Interaction Studio.
Data Management Expert.
We are a certified klaviyo Email Marketing Agency.
Hubspot Expert
Marketo Expert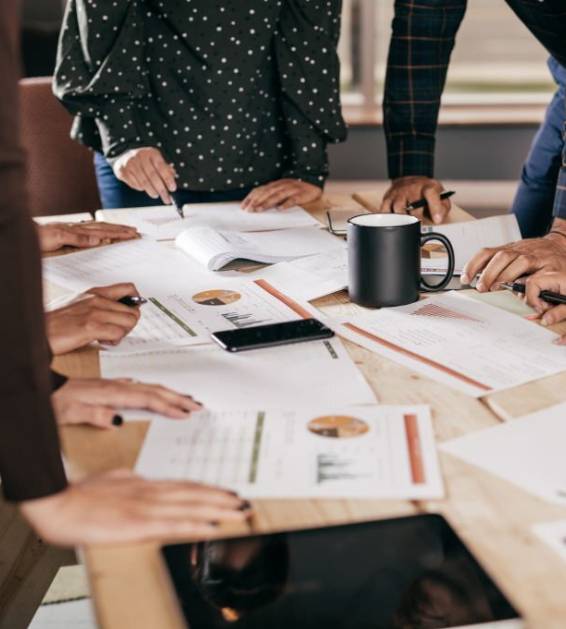 Multi-ESP Support
Our email marketing company supports 50+ ESP vendors. Be it enterprise platforms such as SalesForce and Oracle Marketing Cloud or small and medium sized business platforms such as Mailchimp, Klaviyo, Aweber, and ActiveCampaign, we've got you covered.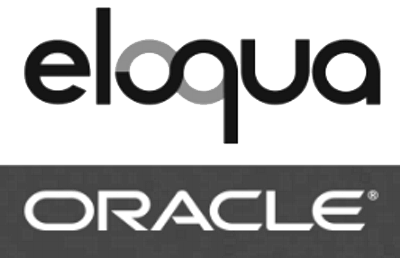 25+ Industries and Verticals Served
Over 5,000 Businesses put their Trust on us From startups to Blue Chip companies, we power Klaviyo email marketing campaigns for businesses of every shape and size. 25+ industries and Verticals served.
Alcoholic Beverages
Soft Drinks
Advertising
Telecommunication
Retail
Saas
Pets
Banking
Insurance
Automobile
Consumer Goods
Technology
Transportation
Manufacturing
Email Marketing Agencies
Ecommerce
Healthcare - Hospitals, Medical Centers
Natural Supplements
Video Gaming
Travel
Women's Clothing & Jewelry
Fiancial Sector
Real Estates
Digital agency
Government & NGO
Education
Grocery Stores
Publisher & News Organisation
Political Campaigns (local & National)
Resturants
Alcoholic Beverages
Soft Drinks
Advertising
Telecommunication
Retail
Saas
Pets
Banking
Insurance
Automobile
Consumer Goods
Technology
Transportation
Manufacturing
Email Marketing Agencies
Ecommerce
Healthcare - Hospitals, Medical Centers
Natural Supplements
Video Gaming
Travel
Women's Clothing & Jewelry
Fiancial Sector
Real Estates
Digital agency
Government & NGO
Education
Grocery Stores
Publisher & News Organisation
Political Campaigns (local & National)
Resturants
Why InboxArmy For Your Email Marketing Automation?
Founded by One of the pioneers in email marketing since 1995
Proven track record of serving 5,000+ clients globally
25+ industries and verticals served
100% ESP-agonistic
Knowledgeable team with deep roots in the email industry
Established and well-documented processes
No hidden fees or long-term contracts
Ready to put your Email Marketing Campaigns on Autopilot?
Get Started with a FREE Discovery Call
7 Questions To Evaluate An Email Marketing Platform
Below are a list of questions you should use when evaluating an email marketing platform. While you should obviously consult with your team and develop additional criteria based on your needs, these are the criteria included in our email providers list in the following section.
Does the ESP integrate with my CRM/eCommerce platform, or do I need to have custom API programming done?
We put this question first because we've seen many companies run into this mistake, and correcting it isn't as simple as switching to a new platform.
As we said earlier, our client RCJuice was using an email service provider that didn't integrate with the version of Magento - the eCommerce platform they were using on their site. This prohibited them from accessing email revenue data.
But we also noticed that many of their subscribers weren't receiving their emails at all, which was also due to the incompatibility between their ESP and website.
After working to resolve the issue, we discovered that in order to fix these issues, they'd have to migrate their eCommerce store to Magento 2.0 - which would take 4-5 months and cost $50K+!
Rather than do that, we migrated them to another ESP, and integrated the new ESP with the API of the old one so they could access their email list and all the data from their old campaigns.
Bottom line: Picking an incompatible ESP can cost you lots of time and money. Compatibility must be a top evaluation factor, and you should vet every ESP for it's compatibility with your site software and the other tools you're using.
Which cost structure works best for me: CPM-based or contact/list size-based pricing?
Some ESPs charge you based on the number of contacts you upload into their software. Some charge based on the number of emails you'll send each month (CPM).
You'll have to do some math to see which model makes more sense for you. If you have a large list but don't send that many emails each month, the CPM model may work better for you. If the opposite is true, you may want list-based pricing.
NOTE: Keep in mind that CPM-based ESPs charge an overage fee if you go over the limit of your plan.
Do they include or integrate with a deliverability monitoring service?
No matter how good your emails are, they won't work if your subscribers aren't actually receiving them. And fixing deliverability issues is one of the quickest ways to boost email revenue.
Make sure your ESP comes with deliverability monitoring features, or integrates with third-party tools like Litmus, Everest, or Email On Acid.
Is the ESP user-friendly?
If you have an email marketing specialist on your team, they should be able to learn an navigate most ESPs with some basic training/practice.
But there may be situations where someone else on your team needs to perform some task on your ESP. Or your email marketing specialist may leave out of nowhere.
In both cases, you want to be sure your ESP is user-friendly - that is, someone new can quickly learn how to use it (especially, at the very least, the core features).
What type of training is offered?
There's a reason we have experts in 50+ different ESPs on our team. And that's because every ESP is different, and the success of your email marketing efforts will depend on your ability to use your ESP.
Even if you have an experienced email marketer on your team, they've likely only used a handful of ESPs in their career. And even if the ESP is user-friendly, they'll need some training on how to navigate the ESP and run certain tactics.
Most ESPs offer free certification programs, usually in the form of a [Brand Name] Academy. Their blogs also include detailed guides and webinars. But obviously, live training is best, so you can ask questions that are specific to how you plan to use it.
Being trained on the ESP makes the learning curve quicker and brings success faster. And it helps to have multiple people on your team who know how to use it in case of emergency.
Can your team manage the platform or will you need outside help?
If you don't have an experienced email marketer on your team, it's best to seek outside help.
Managing an ESP can be a cumbersome, time-consuming process. You don't want to add it to the workload of another marketing employee, otherwise all of their work will suffer.
Outsourcing ESP management is relatively inexpensive and comes with a host of benefits - saves time and human resources, better results, etc. The money you spend on outsourcing will be more than offset by the improvements in ROI.
You can hire a freelancer who's an expert in your ESP or an email marketing agency like us. (Note: We offer totally-customizeable email campaign management, including ESP management)
Does the ESP have good customer support?
Let us save you the suspense - you're definitely going to experience some technical problems with your ESP at some point (even with good training on a user-friendly ESP). And these problems can hinder campaigns, cost you time and money, and be just downright frustrating.
A good ESP will have a good customer support team that'll help you solve these issues. Every ESP promises that they have great customer support. But be sure to check their reviews and customer support ratings when evaluating vendors.
We offer Managed Email Marketing Services for almost 50 Email Service Providers (ESPs).
Here's why you should choose them for your brand's email marketing program!"
HubSpot Email
If ever there's a name that is mentioned the most in marketing circles, it's HubSpot. That's because the company has managed to create some amazing inbound and outbound marketing solutions that have helped grow hundreds of thousands of businesses.
One part of their marketing hub that is trusted by many businesses (both large and small) is their email marketing service. And this is because the platform easily integrates with most tools for email marketing in the market. Apart from that, HubSpot email marketing service is easy to use and offers tons of customization options. Add to that an extensive email template library and you've got yourself a powerful email marketing service you can use straight out of the box.
How much will HubSpot set you back budget-wise?
That's one of the beauties of the platform. You can get started for free and continue using the free version as long as you send less than 2000 emails a month. Once you cross that threshold, you'll have to upgrade to a paid plan.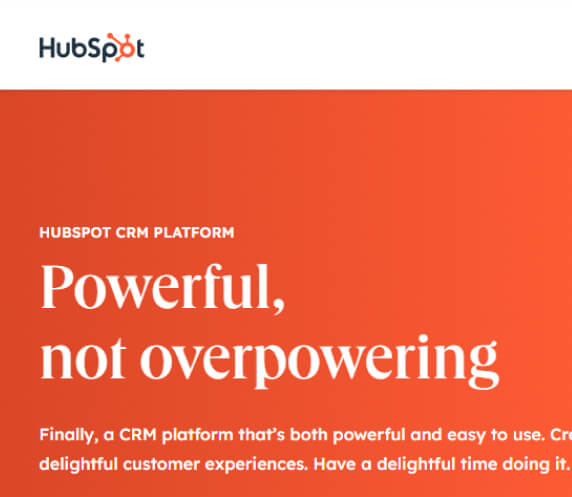 Constant Contact
Constant Contact is one of the oldest email marketing services around (since 1995) and has managed to grow its user base to over 600 000 customers. That makes it one of the biggest managed email marketing services on the planet. However, their main clientele is small businesses. This is evidenced in their drip campaigns that are super easy to set up but, unfortunately, can't combine conditions or use advanced filtering
But what makes the company so successful, besides a great track record?
For one, Constant Contact has pretty impressive email deliverability rates of over 90%. Add to that the capabilities of easily running surveys and social campaigns within the platform and growing your email list becomes a cinch.
As for functionality, Constant Contact has an app marketplace that features over 400 apps and can also integrate with tons of other marketing tools. This means the platform can easily be used in virtually any niche and to market any product – with a bit of finetuning.
You can take this email marketing service for a 30-day spin for free, but after that, plans start at $20/500 contacts.
The ease of use and the fact that it's easy on the pocket makes Constant Contact a strong contender for the best email marketing service for small businesses.
GetResponse
GetResponse is another well-known email marketing service that you just have to consider if you're on the marketer for a powerful all-in-one marketing. Not only will you get a powerful email marketing service with GetResponse, but the platform also comes with a landing page builder and webinar software.
When it comes to email marketing features, GetResponse definitely packs a punch. With advanced segmentation capabilities that allow you to fine-tune your automated campaigns to the "T", this is one platform that will definitely give you bang for the buck. Despite its powerful advanced engine, GetResponse is actually a very user-friendly email marketing tool. With a clean and intuitive user interface (UI), setting up campaigns is as easy as eating pie.
But the biggest deal-sealer with GetResponse is their Autofunnel – a feature that comes with over 30 email and landing page templates as well as prebuilt sequences. This is a very powerful tool that helps you easily generate leads or drive sales.
While you may expect such a feature-rich email marketing tool like this to come with a hefty price tag, GetResponse actually comes with a friendly price tag.
For $15/month for the basic package (1000 contacts), this is actually a steal.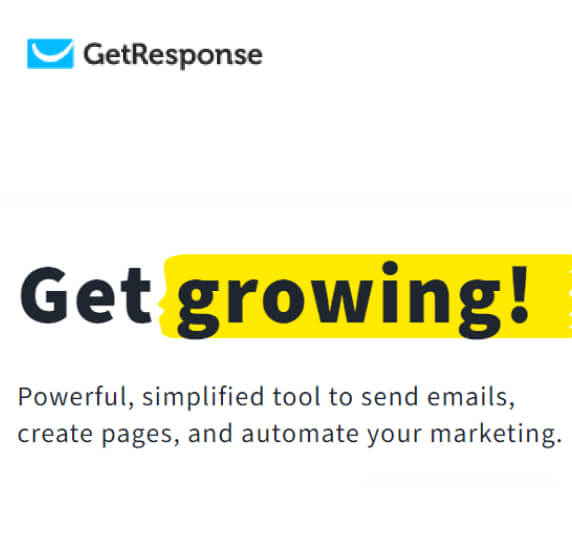 Campaign Monitor
If you're looking for an email marketing service that has a human touch, Campaign Monitor is probably it. Not only is the brand customer-centric but they also invest in giving back to the community via donations and voluntary services. This is probably why the brand does exceptionally well when it comes to non-profit email marketing.
But Campaign Monitor is not just an email marketing service for non-profit organizations. Their diverse template library and advanced segmentation (thanks to the platform being able to handle advanced rules) makes the platform suited for any industry.
Features-wise a couple of notable ones you can enjoy from the platform include the ability to embed videos from YouTube and Vimeo and the over 250 integrations with other marketing platforms and 3rd party tools. Creating campaigns is also super easy in Campaign Monitor as the drag-and-drop builder is easy to use. Tracking your campaigns is also easy, thanks to the powerful analytics engine and easy to understand reporting system. And if maintaining brand standards is a big deal for you (as it should be), Campaign Monitor allows you to lock sections of your email.
As for pricing, Campaign Monitor's basic plan is quite affordable at $9/month for up to 500 subscribers and 2,500 emails.
However, because their plans are based according to the number of contacts in your database, the price can shoot up as your email list grows. For example, if your email list grows to 10,000 subscribers, you'll end up paying $89.00 for the basic plan and up to $249.00 for the Premier plan.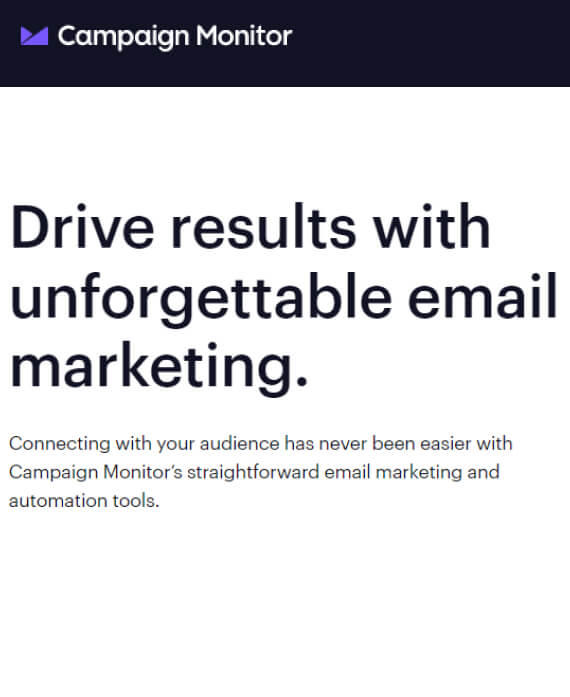 Mailjet
Looking for an email marketing service that offers first class service without breaking the bank? Mailjet just might be your answer. Mailjet has been around since 2010 and has This email marketing platform from Paris, France, touts itself as the email solution for fast growing teams and they definitely live up to those claims. That's because, with Mailjet, offers a lot of value for their plans. For example, their free plan allows you to send up to 6,000 emails per month or to 200 unique contacts/day. That's more than what most of their competitors offer.
So, what makes Mailjet stand out from the crowd?
One feature you'll definitely love is the collaboration feature. This allows developers and the marketing team to work together on an email in real time. Now that's cool. Another cool feature is the subscription widget editor that allows you to create and embed subscription form on your website. This makes growing your email list much easier.
Once you outgrow your free plan, upgrading to Mailjet's paid plans won't set your budget back by much as their lowest tier plan only costs $9.65/month for 30,000 subscribers.
If you're a small business with a shoestring budget, Mailjet is definitely one email marketing service that can help power your growth with their user and budget-friendly yet powerful platform.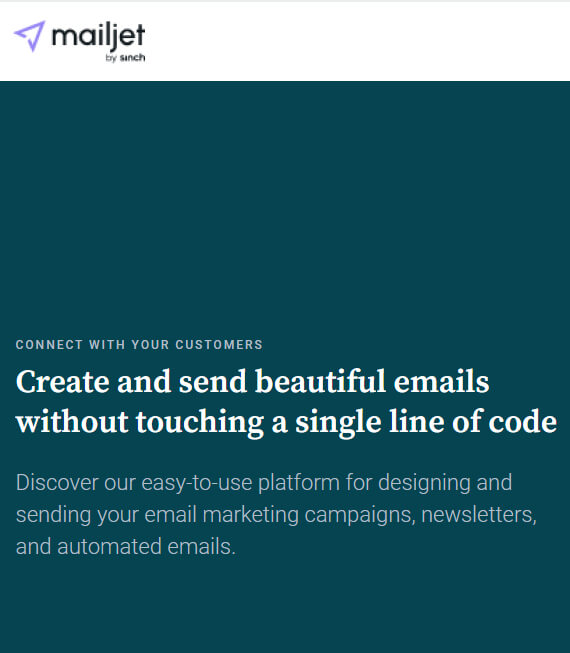 MailerLite
MailerLite is another popular email marketing service that you must consider as you shop around for your next email marketing platform. Boasting of over 600,000 users, the platform is loved for its easy user interface and beautiful responsive email template designs.
While their forever free plan (maximum 1,000 subscribers) is enticing, it has its limitations. To enable you to run more effective email marketing campaigns, upgrading to their $10/month plan will unlock powerful features such as their landing page builder, embedded forms, and popups. Tracking your campaigns is also easy with MailerLite as it comes with an awesome tracking feature that shows you a click map as well as clicks by location.
Other notable features to expect from this popular email marketing service include integration with most e-commerce platforms as well as exceptional 24/7 customer support.
While MailerLite's plans scale according to the number of subscribers on your list, the good thing is that you can send an unlimited number of emails. Definitely an email marketing service you should consider.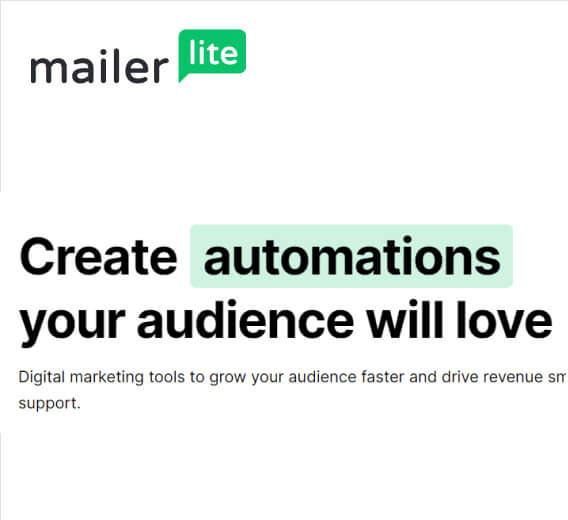 AWeber
Another great option to consider in the email marketing services pool is AWeber. A popular name in email marketing circles, Aweber is known for being a powerful marketing automation platform. You can easily create an autoresponder workflow based on various actions like email opens, link clicks, site visits, purchases, and more. Add to that the 700 strong email template library and you can be sure your emails will stand out and achieve their goals.
One of the biggest pros of aweber email marketing is that it's super easy to import an email list to the platform as it supports several common file formats (XLS, XLSX, TXT, CSV, and TSV). Once uploaded, managing and growing your email list is a cinch thanks to advanced segmentation and list growing tools like landing pages and a nifty RSS / blog to-email functionality.
When it comes to pricing, Aweber is a bit pricier than other managed email marketing services on this list.
If you're a small business with a shoestring budget, Mailjet is definitely one email marketing service that can help power your growth with their user and budget-friendly yet powerful platform.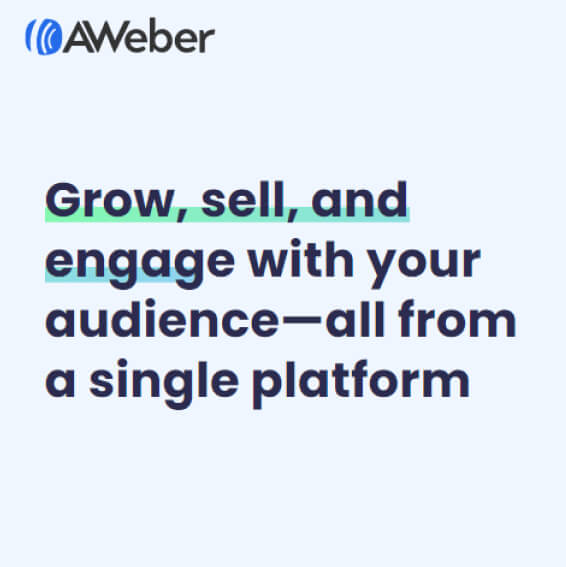 ConvertKit
As the name suggests, ConvertKit is an email marketing service that was designed with conversions in mind. Designed for creators, this email marketing tool mainly targets bloggers, podcasters, course builders, and the whole gamut of creatives.
ConvertKits flexible tagging and segmentation system sets it apart as it allows you to run hyper targeted campaigns. The only caveat is that it's not built for sending visual emails. In fact, ConvertKits template library only consists of 3 templates – all text-based – and there's no option to upload your own. The reason for this is simple – text-based emails have been proven to work best in the niche ConvertKit serves.
As for pricing, ConvertKit will require you to dig deeper into your pockets as the lowest plan will set you back $29/month.
Pricing is based on the number of subscribers on your list so all tiers enjoy the same features. To sweeten the deal, ConvertKit also offers free email marketing courses, making it a great choice for DIY email marketers.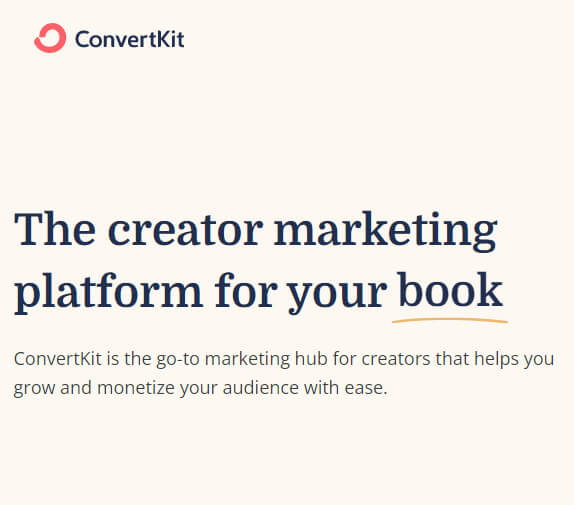 ActiveCampaign
Marketing automation couldn't be easier for small businesses, thanks to ActiveCampaign. With a built-in CRM and powerful customization capabilities this email marketing service offers (almost) endless email marketing automation options. Using data collected at different touch points, ActiveCampaign allows you to set advanced triggers. It also allows you to move users on your customer journey based on their interaction with dynamic email content, sales follow ups, and a whole host of other triggers.
Because of its feature set, ActiveCampaign email marketing is more suited for running lead nurture campaigns. Particularly considering that you can easily set engagement metrics to track and assign lead scoring rules, this platform can really help you build hyper-personalized lead nurturing funnels.
Starting at $9/month, ActiveCampaign definitely has to feature in your list of top contenders. Of course, not just because of the light price tag, but because of the flexibility it offers.
Mailchimp
It's impossible to search for an email marketing service without bumping into the famous little chimp. Yes, I'm talking about MailChimp. Though the chimp on the logo may be small, the company definitely isn't, considering that the platform serves over 16 million customers and sends out 1 billion emails every day.
Are you looking for a mailchimp email marketing agency? Click here to know more.
One reason could be their forever free plan. Offering users an easy-to-use interface plus up to 2,000 subscribers (maximum 12,000 email sends per month), MailChimps forever free plan is definitely more than enough for most small businesses. However, once you pass that threshold, expect to dig deep into your pockets as upgrading to MailChimp's lowest plan will set you back $30/month for up to 2,500 contacts.
Mailchimp makes it easy for you to know what you'll pay by utilizing an easy to use price calculator. With its ease-of-use, powerful analytics engine, and tons of integrations Mailchimp definitely makes for one of the best email marketing services for small businesses.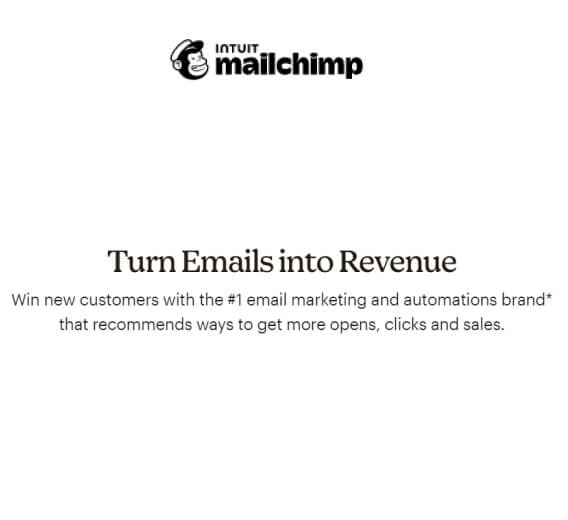 Automizy
It's in the name and the platform does it well. Automizy is a powerful email marketing service that promises optimized email optimation. In fact, the company promises to improve your open rates by a whopping 34% (and who wouldn't want that).
But is this claim just marketing speak or is there really something to it?
Well, thanks to its strong feature set, Automizy definitely has the potential to achieve (or even surpass that claim). Apart from the usual features you'll get from other targeted email marketing services, like campaign builders and forms, Automizy has a few other nifty features designed to improve your open rates. Two such features include a subject line tester and auto sending emails to recipients who haven't opened your emails. Couple that with a powerful A/B testing tool and you could certainly enjoy that 34% jump in open rates.
With plans starting at $9/month for a list with up to 500 subscribers, this AI powered email marketing service is well worth the investment.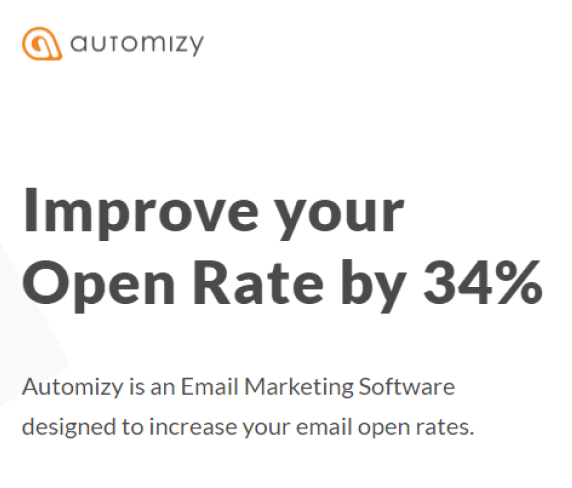 SendinBlue
If you're looking for an advanced AI-powered email marketing service that's budget-friendly, then meet SendinBlue. Not only is SendinBlue super easy to use, but the platform comes with an impressive free plan that comes with an unlimited number of contacts. However, on the free plan you can only send a maximum of 300 emails a day.
Features-wise, SendinBlue email marketing has a strong features set that includes the use of AI to optimize email sending time, powerful analytics and tracking, and an easy to use yet very flexible email workflow builder. However, one unique feature you'll definitely appreciate about this email marketing service is the heatmap tool. This gives you greater insight into how your subscribers interact with your emails.
For an email marketing service that also offers a CRM, live chat and SMS marketing on every plan, SendinBlue is a powerful marketing tool worth giving a second look.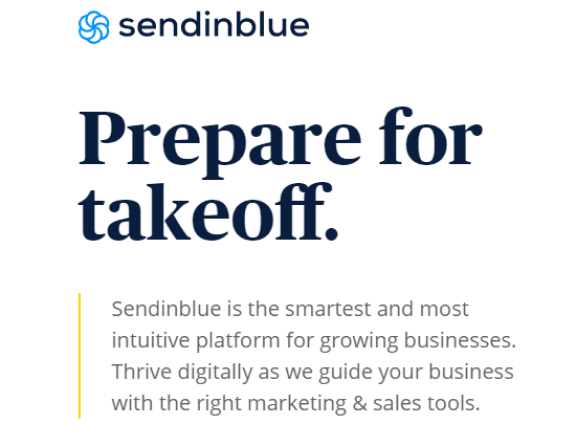 Benchmark
Benchmark is a powerful email marketing service that allows you to take full control of your campaigns. From its intuitive drag-and-drop email builder to advanced automation capabilities, Benchmark is one platform you can rely on to help you reach your marketing and revenue goals.
To increase the effectiveness of your email marketing, Benchmark comes with tools such as surveys, pop ups, and more. A/B testing (of subject lines and content) and a preview feature that allows you to see how your emails will look across different email clients helps improve open rates and engagement metrics.
Benchmarks pricing structure is simple and straightforward as well as affordable – particularly considering the powerful features and tools it places at your fingertips.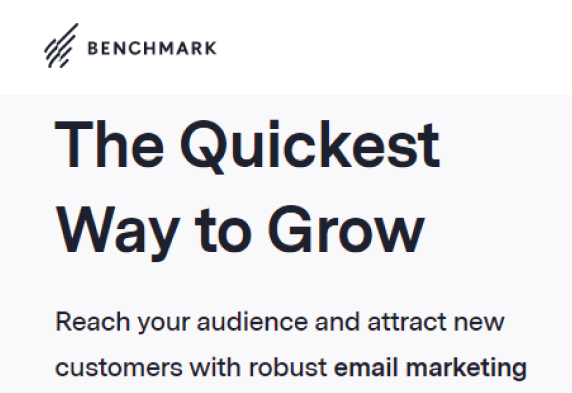 Omnisend
Omnichannel marketing has been a hot topic in recent years. And Omnisend is one email marketing service that allows you to do just that. Besides helping you send optimized email marketing campaigns, Benchmark also unifies your marketing across other channels such as push notifications, SMS, WhatsApp, and more.
When it comes to email marketing, Omnisend is more geared towards e-commerce businesses and easily integrates with most e-commerce platforms. It's advanced tracking and analytics tools enable you to send hyper-personalized campaigns for driving more engagement and sales.
One powerful feature you'll appreciate as an e-commerce store owner is the post purchase automation series that allows you to further segment your email list for more effective campaigns.
While Omnisend's free plan is very generous, upgrading to their paid plans will do you more good as you'll be able to access more of their powerful features and tools.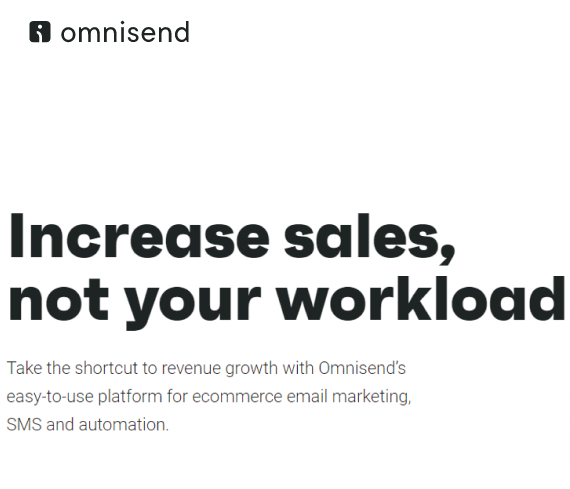 Moosend
Another great email marketing service worth taking a look at as you shop for your next marketing automation tool is Moosend. Moosend comes with easy-to-use and intuitive drag-and-drop email templates that will help you design beautiful emails in minutes. Easily add images, text blocks, social icons, and more to your emails, making them a pleasure to read as well as easy to share
One stand out feature that you'll love from Moosend is their "Recipes". This is an automation feature that offers pre-built workflows that you can modify to suit your campaigns. Each Recipe is made up of 3 sections – the triggers, control steps, and actions. Modifying these will help you build powerful campaigns with hyper-targeted segments and optimized sequences.
Moosend has a forever free plan (unlimited emails) for users with less than 1,000 subscribers. However, once you cross that threshold, you'll have to upgrade to one of their paid plans that are based on the number of subscribers you have and a few other extra features. Paid plans start from $8/month.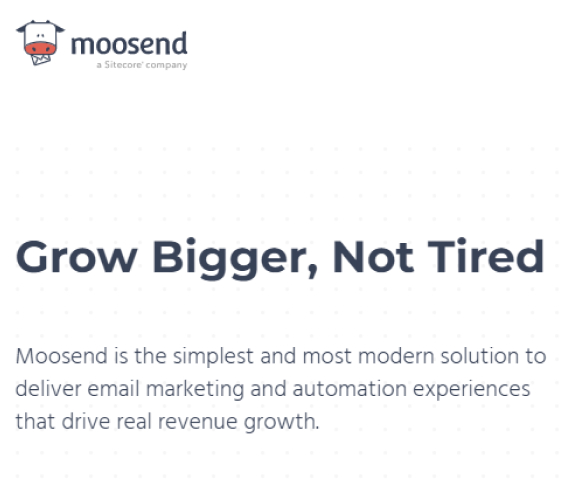 Salesforce Marketing Cloud
Salesforce is one of those brands in marketing circles that needs no introduction, thanks to the superior technology behind their products. And their email marketing service is no exception. Super easy to use and feature rich, Salesforce Marketing Cloud offers users one of the most sophisticated marketing tools, thanks to their powerful AI-powered software.
It's important to note that Salesforce Marketing Cloud is built for medium to large businesses as its sophistication and price are tailored to businesses that run advanced campaigns and thus need the technological firepower to successfully execute them.
Apart from the usual features you get with other email marketing services, Our Salesforce Marketing Cloud specialist takes your campaigns to a higher level by using its AI to tailor each interaction your customers have with your brand. In fact Einstein, the AI, is so powerful it can predict the outcomes of a campaign to a certain extent. This feature helps you tweak and optimize campaigns before sending. You can also easily track campaigns across many platforms and get all your data in one report, making it easier to understand how your campaigns are performing. Add to that the collaboration feature and Salesforce Marketing Cloud helps reduce most of the common bottlenecks in marketing departments.
As said, this platform is designed for medium to large businesses with deep pockets, as evidenced by the Basic Edition's $400/month price tag. Pricing is only available on request but one advantage of Salesforce Marketing Cloud is that you can add and remove components as per your needs, making theirs one of the most flexible packages on the market.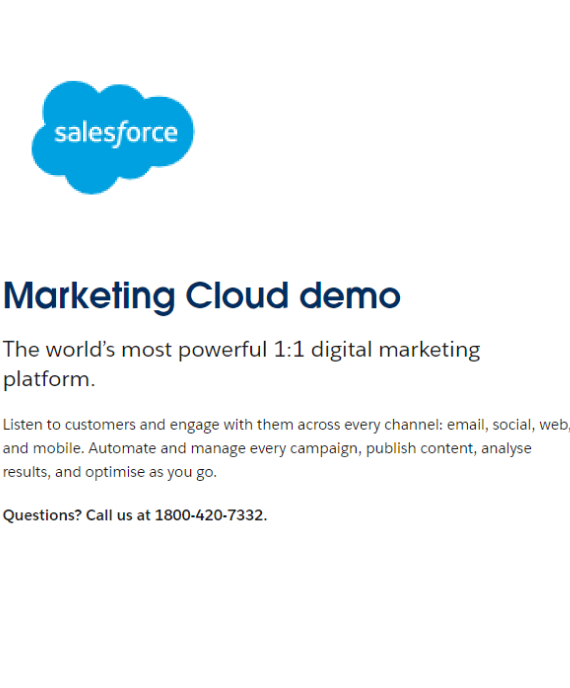 Klaviyo
When it comes to e-commerce, the name of the game is customer retention. And this is one of the biggest strengths of klaviyo email marketing, an email marketing service designed for e-commerce.
While Klaviyo integrates easily with most of the top e-commerce platforms, like Shopify, it may take a bit of work to get it to align with others. When it comes to automating email campaigns for e-commerce stores, Klaviyo really comes into its element. This is especially as it helps you create segments and workflows based on a number of dynamic conditions. Some interesting workflows you'll appreciate include cart abandonment and browse abandonment email campaigns.
When it comes to pricing, Klaviyo isn't on the budget-friendly end and is more catered towards businesses that have grown enough to afford to spend more on their marketing efforts. However, the price tag is definitely worth it as the powerful features pay for themselves.
Acoustic by IBM
Acoustic by IBM (formerly Watson Campaign ) is nother robust email marketing service for businesses that have already made their mark and established themselves. With a strong feature set that allows you to set up complex automations and a powerful AI engine, Acoustic builds exceptional buyer journey workflows. Add to that the powerful data processing engine and the ability to generate and easily manage pURLs and you'll be able to create hyper-personalized campaigns that drive results.
The only gripes we have with Acoustic is that it's not beginner-friendly as it has a clunky interface and requires a bit of technical knowledge to use it to its full potential. But the flexibility with which it handles data makes it worth the learning curve.
Pricing is only available on consultation but expert to pay premium prices for this intuitive and powerful email marketing service.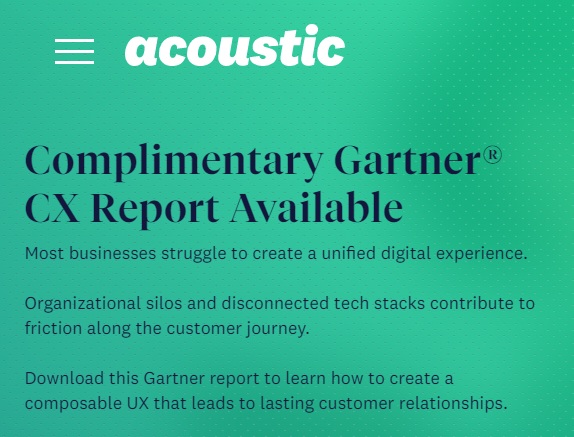 Epsilon
Another data-driven email marketing service to keep an eye on if you're a medium to large business is Epsilon. Well known for their advanced customer analytics and insights, Epsilon helps you create campaigns that are tailored, not only to your business model but for each of your customers as well.
As can be expected from a big player in the data and analytics industry, one of Epsilon's biggest strengths lies in its advanced reports. These show every engagement metric, or lack of it, to the "T" giving you better insights into how to best optimize your campaigns.
Being a premium email marketing service, Epsilon provides exceptional customer service. The team also provides monthly call-ins and offers strategic guidance in some of their plans.
When it comes to pricing, Klaviyo isn't on the budget-friendly end and is more catered towards businesses that have grown enough to afford to spend more on their marketing efforts. However, the price tag is definitely worth it as the powerful features pay for themselves.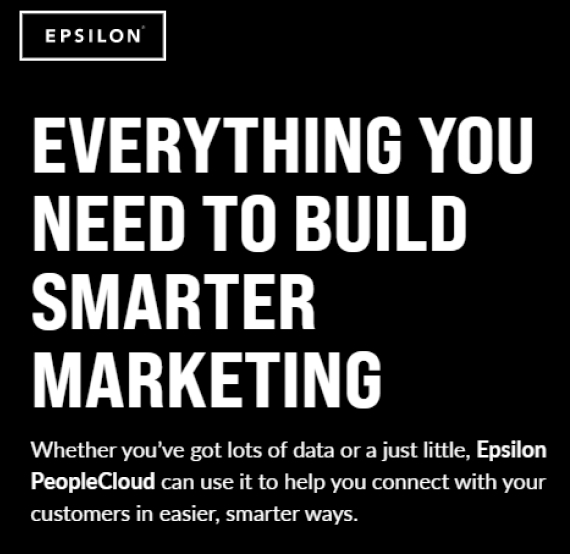 Adobe Marketing Cloud
Adobe Marketing Cloud is an integrated marketing platform designed to help reduce your workload while increasing your impact. Offering a cloud-based solution for businesses of all sizes, Adobe Marketing Cloud focuses on delivering a compelling customer experience. This is achieved by allowing you to create campaigns based on different customer profiles based on your customers preferences and interactions with your website and emails.
One of the advantages of Adobe Marketing Cloud is that you get to pick the marketing tools and components you want to use. Of course, this means you pay for what you use. Unfortunately, this also means pricing can only be obtained by talking to one of their sales reps.
But of course, as with most products from Adobe, you can definitely expect an excellent product you'll happily pay for. That's thanks to its ease of use, clean interface, and of course, efficiency.
Eloqua by Oracle
If you're on the market for an email marketing service that's designed to power B2B campaigns, then Eloqua just might be the solution you're looking for. With beautiful designs, easy to set up workflows and flexible data management, you can easily design sophisticated buying cycles (or simple ones if you so wish).
Creating targeted segments with Oracle Eloqua is easy as the platform seamlessly combines offline and online data from multiple channels to filter and segment your audience. What's more, the platform also allows you to set up multiple models to evaluate if a lead is the right fit. Once a lead is qualified, the platform automatically sends them to your sales team.
As with most enterprise email marketing services, pricing is given upon request. This, however, is definitely one email marketing platform you should put on your shortlist – particularly if you're in the B2B space.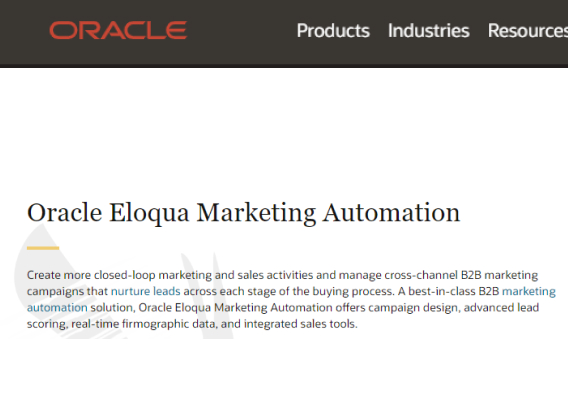 Iterable
Growing a successful business depends on one main ingredient – relationships. And that's what Iterable was designed to do. According to the company's website, their mission is to help you maximize lifetime value by providing your customers with the best experience, thereby building stronger relationships.
One of strongest points of iterable email marketing is its fast data processing engine that allows you to create targeted email list segments. You can leverage the platform's data (as well as third-party data) to trigger personalized messages and campaigns, resulting in higher engagement and conversions. A WYSIWYG email builder as well as a drag-and-drop journey builder make it super-easy to create winning campaigns.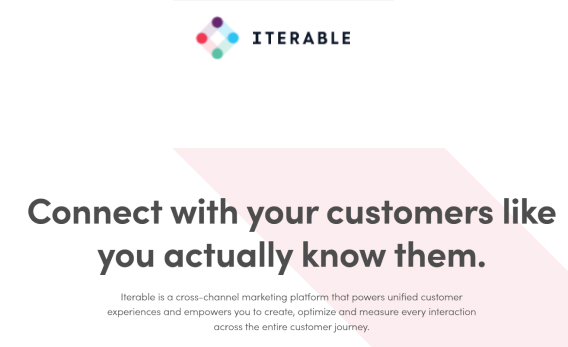 Marketo by Adobe
Marketo was built with one thing in mind – 1:1 conversations with your customers. To help you do this, Marketo aims to give you a 360-degree view of each customer across various channels such as web, email, social, and mobile.
Searching for marketo experts? Click here to know more.
By integrating data from all these platforms, Marketo gives you a clear picture of who your customer is and why they make decisions the way they do. The result is a more refined buyer persona as well as hyper-targeted messaging. A potent combination for running email marketing campaigns that pack a punch. Besides creating targeted segments, Marketo also allows you to set advanced triggers to help you create tailored buyer journeys. Other features include A/B testing and an easy to use drag-and-drop email builder.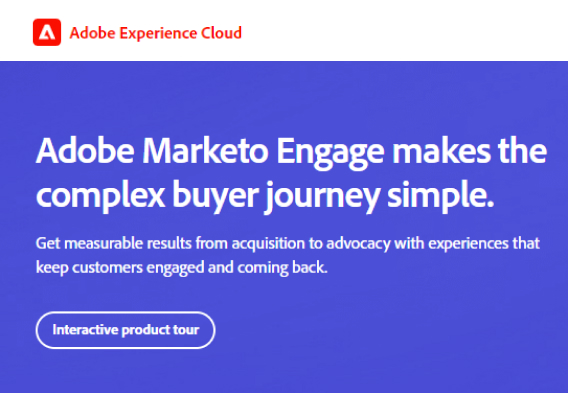 Bronto by Oracle
Bronto is another marketing automation from Oracle that is designed to give you sophisticated marketing automation and mouth watering ROIs. Bronto does this by affording you features such as easy contact management, advanced segmentation, as well as the ability to optimize your sends by time of day or day of the week.
As powerful as Bronto is, it does have its weaknesses, one of its major ones being the poor reporting system. This is more evident when it comes to identifying the difference between hard and soft bounces. Other than that, the endless customization options and its ability to handle large databases fluidly makes it a strong contender for medium and large businesses.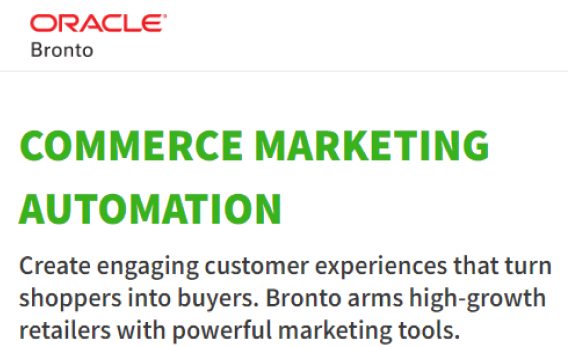 Dotdigital (Dotmailer)
Dotmailer, now known as dotdigital Engagement Cloud is a cloud-based email marketing solution targeted at medium and large enterprise customers. The email marketing service offers email design, scheduling, campaign analytics, and a whole lot more in one place.
As for integrations, dotdigital engagement cloud has a very flexible API allowing you to easily integrate the platform with any of your other marketing tools. Some notable pre-built integrations include Salesforce, Microsoft Dynamics CRM, and Magento. In fact, dotdigital is the only Magento Premier Technology Partner for marketing automation.
If you're looking for a flexible email marketing service that offers AI-optimization, dynamic content, and accurate A/B testing tools, then dotdigital could be the right solution for you.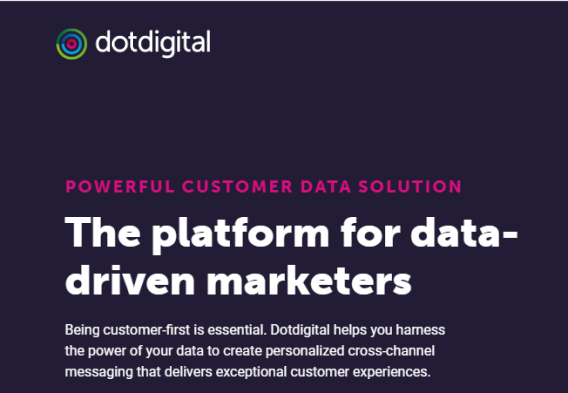 Infusionsoft by Keap
If you're looking for a platform that marries sales and marketing beautifully, Infusionsoft by Keap is your best bet. Infusionsoft is a powerful platform that serves both as a CRM and an email marketing service. This makes it perfect for small businesses who want to avoid the struggle of managing marketing information across disparate systems.
As an email marketing service, Infusionsoft email marketing makes creating email campaigns fun thanks to its intuitive and easy to use campaign builder. Other features you'll definitely fall in love with include their embeddable forms, advanced tagging system that helps you trigger different workflows and a whole lot more.
This feature-rich email marketing service will set you back $100/month for a 500 contacts strong email database.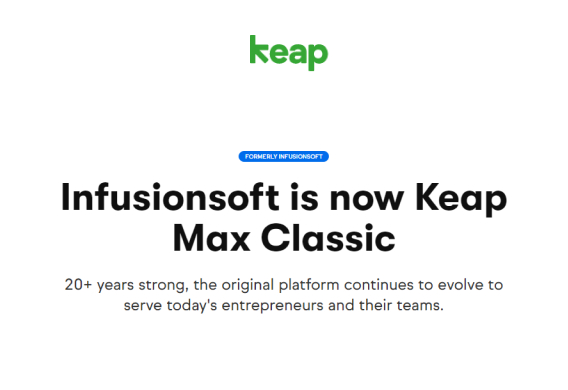 Salesforce Marketing Cloud Engagement (formerly Pardot)
Marketing automation is a great way to automate time-consuming and repetitive marketing tasks. This will empower your sales and marketing teams to focus on what really matters – winning more customers, deepening customer relationships, and adding to the company's revenues. And if you are looking for an advanced solution for B2B marketing automation, Marketing Cloud Engagement (formerly known as Pardot), is one of the best choices you can make!
Since 2006, Pardot has enabled companies all over the world to align marketing activities with sales goals to nurture leads, convert more B2B buyers and accounts, and power their relationship-selling goals. Offering rich customer insights, powerful CRM integration, lead scoring, and ROI reporting capabilities, Pardot is an ideal solution to nurture human-to-human B2B connections and maximize your marketing ROI.
Here's how Pardot can help you build and maintain a healthy sales funnel:
Generate and nurture high-quality leads
Generate and nurture high-quality leads
Build stronger connections with each B2B account through personalized outreach
Design tailored email campaigns at scale for specific audience segments
Predict customer engagement with Salesforce's in-built AI engine Einstein
Pardot offers four pricing plans. Choose the plan that best fits your budget and marketing goals.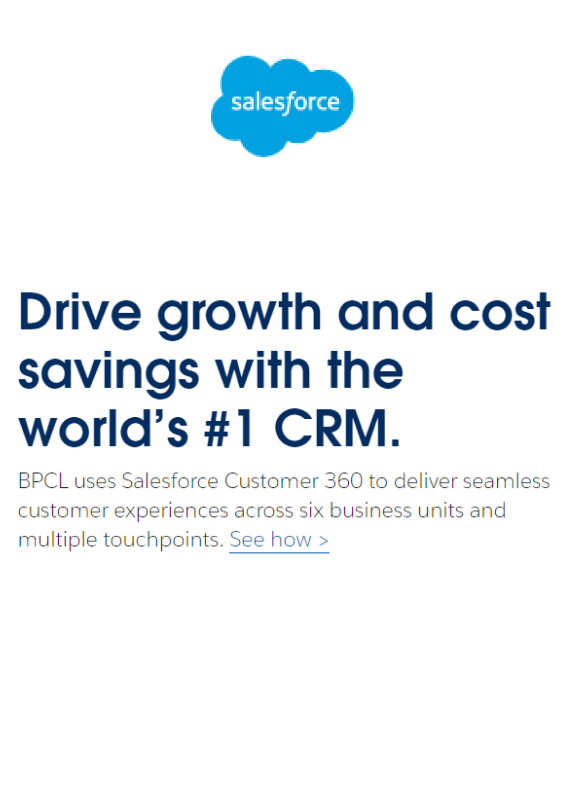 ActiveTrail
ActiveTrail is a user-friendly, multi-functional platform for marketing automation, email marketing, SMS marketing, and landing page creation.
What is your current marketing goal?
Connect with customers – and stay connected with them?
Leverage the power of predictive delivery to send your emails to the right subscriber at the perfect time?
Inform customers about discounts, new offers, special deals and more via SMS?
Generate more leads and convert more leads into customers?
Raise awareness about your latest products or services?
ActiveTrail is powerful enough to support all these goals and more. Use ActiveTrail to design on-brand email marketing campaigns and action-oriented landing pages, create popups and signup forms, set up SMS marketing campaigns, and send online surveys to customers. ActiveTrail's plethora of powerful tools simplify all these activities so you can take your marketing department to the next level and build meaningful relationships with customers.
ActiveTrail offers a free 30-day trial. When you're ready to adopt this world-class award-winning software, choose from one of these pricing plans: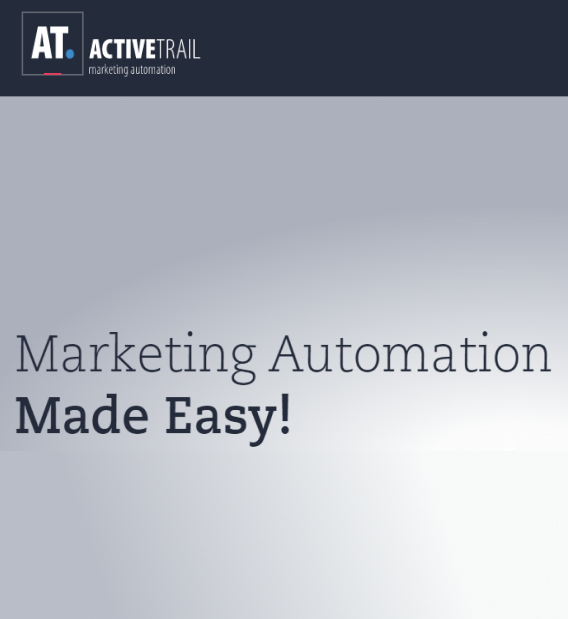 Acxiom
Make people-based marketing work for your brand with Acxiom. Your customers mean everything to you. Then why not make a concerted effort to identify, understand and engage with them wherever they are? And this is exactly what you can do with Acxiom.
Axciom's data-driven, customer intelligence solutions will empower you to make the most of both technology and data to understand customers better and design amazing experiences for them. Taking a people-based approach with Acxiom can help your brand improve marketing efficiency and cost management by 20-30%.
Acxiom is all about ethical customer intelligence so you can build high-value audiences, fuel optimal marketing campaigns, improve returns on ad spends, and transform your marketing program in a cookieless world.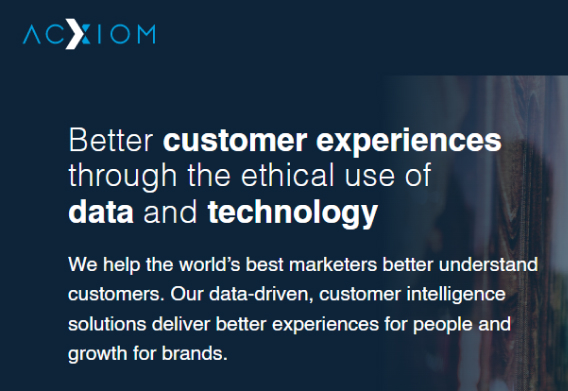 Braze
Braze is a feature-rich customer engagement and email marketing platform for forging customer-centric interactions through cross-channel campaigns. With Braze, you can build dynamic audiences and deploy personalized customer journeys to raise the bar for enhanced customer engagement.
Do you need a way to understand your customers better? Engage in one-on-one interactions across any channel? Deliver experiences that are both human and deeply personal? Try Braze. Braze is designed to create powerful cross-channel campaigns across email, web, SMS, in-app, and in-browser channels. It also supports campaign orchestration so you can adapt and iterate customer journeys from a single unified platform. Braze also includes cutting-edge features for A/B testing, behavior-based automation, data and analytics, plus predictive tools, flexible APIs, and enterprise-grade security.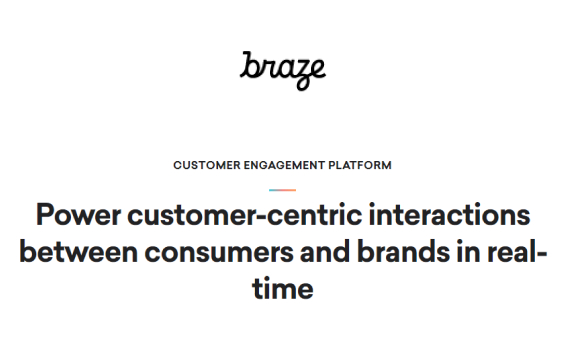 Rejoiner
Creating seamless customer journeys across email, SMS, and direct email is easier than ever with Rejoiner's marketing automation software. Designed for eCommerce businesses, Rejoiner easily organizes all customer data and enables eCommerce firms to trigger marketing campaigns at the most opportune moments.
Rejoiner's toolkit includes everything an eCommerce brand may need optimize customer lifetime value. They can automate email and SMS campaigns, create targeted segments using customer data, and measure incremental revenues and LTV from a single, unified interface – ultimately, turning the email marketing program into a powerful revenue source.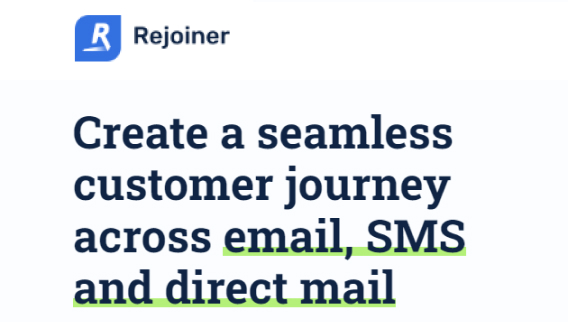 Blueshift
The best way to describe Blueshift's marketing automation platform is "simplified intelligent customer engagement at scale". Blueshift is an AI-powered platform to create hyper-personalized customer connections at scale. Leverage its world-class capabilities to create wow moments for all your customers, no matter who they are.
Blueshift's AI capabilities will help you expand the reach of your marketing program and increase customer lifetime value, even with your limited marketing resources. The platform is intelligent and built for omnichannel marketing, so you can connect with customers with a personalized message through the right channel and always at the right time. You can also build connected customer experiences by integrating your marketing campaigns across email, SMS, mobile, and many other channels.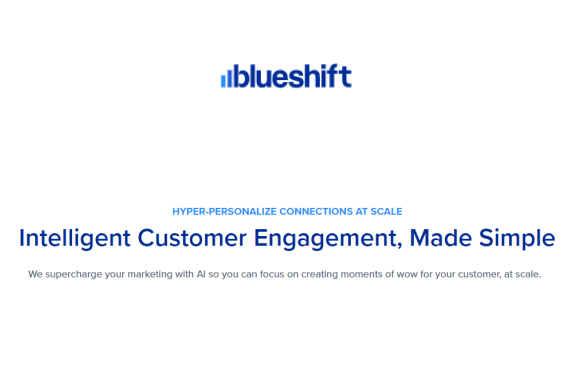 Customer.io
Need more control and flexibility to craft data-driven emails, push notifications, in-app messages, and SMS campaigns? Look no further than Customer.io. This automated messaging platform is ideal for marketers looking to build messaging workflows using customer data. With Customer.io, you can build automated or API-triggered workflows, newsletters, and transactional messages. The platform supports multiple channels including email, push, in-app, and Slack.
Regardless of what kind of campaign you want to build, Customer.io has a feature to make it happen. You can set up campaigns to collect customer feedback, welcome new customers, and driver greater adoption. At other times, you may want to build upsell, re-engagement, cross-sell, onboarding, or renewal campaigns. With Customer.io, you can build all kinds of results-oriented messaging workflows and create an effective strategy for every campaign – quickly and at low cost.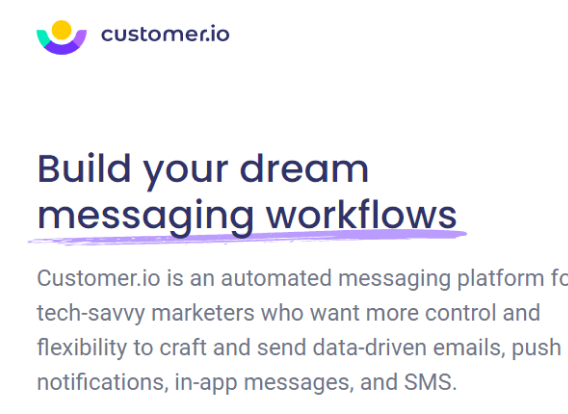 Drip
Drip's range of automated marketing tools and insights are built for eCommerce businesses looking for a growth co-pilot. With Drip, you can effortlessly segment your audience to send targeted email content and enhance engagement. Its user-friendly automations also make it easy to automatically retarget specific groups of people, send behavior-based emails with tailored content, and increase the ROI of your email marketing program.
Whether you need to build high-converting emails, set up onsite campaigns, or create fully-customized messaging for a particular marketing goal – Drip can do it all. All your ecommerce data will be organized in one single dashboard. This means you can segment your audience according to their behaviors and then use these insights to power the growth of your eCommerce store.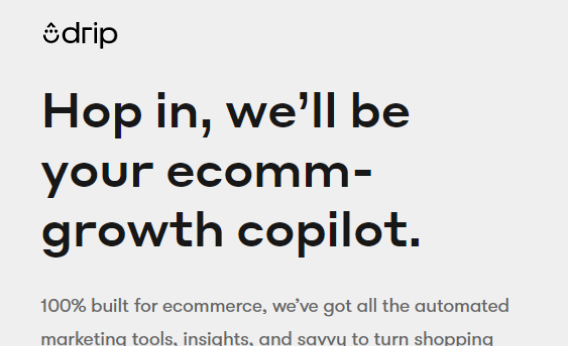 Adestra (Upland)
The primary goal of email automation should be to inspire customer engagement and action. And Adestra from Upland can help you do exactly this. With Adestra's email automation platform, you can deliver engagement-worthy emails at every step of the customer journey. Personalize each email for each subscriber and impress them with high-quality content. All of these are great ways to build meaningful customer relationships throughout the engagement lifecycle.
Adestra also provides responsive email templates you can customize for your unique brand a to engage your audience and drive greater conversions. You can also leverage its powerful segmentation capabilities to deliver appropriate messages to each customer on each device.
Try Adestra if you are looking to:
Create complex multi-touch customer journeys
Design beautiful emails with built-in render previews
Create customized campaigns based on subscriber devices or email clients
Add dynamic content to your emails to enhance engagement throughout the customer journey
Optimize each campaign with A/B testing and maximize the success of every send
Upland Adestra has delivered great results with email marketing for many leading brands. So, if you require an ESP that supports your email program with design, campaign management, personalization, analytics, and everything in between – try Adestra.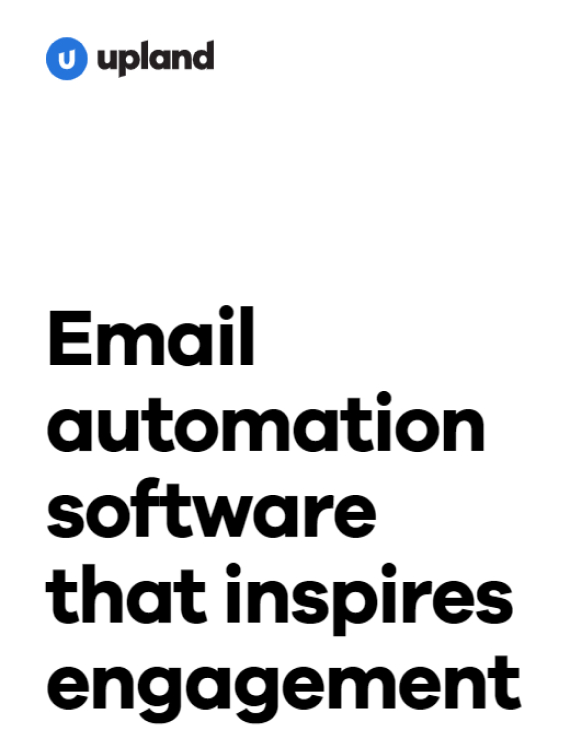 Mapp Empower (Formerly Bluehornet)
Mapp Empower integrates unified customer data, customer intelligence, Artificial Intelligence, cross-channel engagement, personalization, and email marketing into one powerful platform. Ideal for companies in consumer-facing industries, Mapp unifies all customer data in a single hub, eliminating data siloes and ensuring that all your data is accessible and actionable at all times.
It also adopts an insights-led approach. These insights – generated by a combination of data and AI – will guide your engagement and content strategies. Use these strategies to connect with consumers at every point of their brand journey and deliver amazing experiences that keep them coming back.
Mapp's rich cross-channel marketing platform helps you improve the customer journey and enhance customer engagement through hyper-personalized, cross-channel messages. Send these messages in real time across a range of channels, including email, mobile push, in-app, SMS, microsites, paid media, and direct mail. Want to be where your consumer is? With Mapp Empower, you can!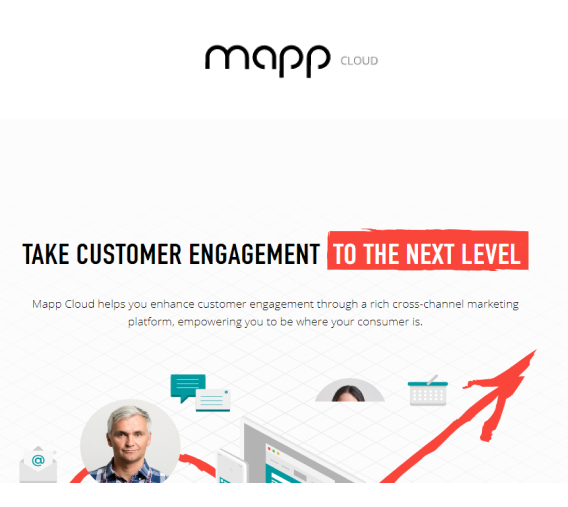 Campaigner
Powerful email marketing automation that doesn't break the bank. And this is what the Campaigner platform brings. Campaigner includes a host of email marketing features, both basic and advanced, so you can create the exact campaigns your business needs at any time.
Campaigner's automation workflow builder offers a simple way to craft relevant, engaging customer journeys and engage customers with relevant messaging using email, or email + SMS. Build simple workflows or complex – whatever you need to build high-quality email/SMS messaging that attracts and wows customers.
Create 1:1 email conversations with its personalization capabilities and effortlessly connect, engage, and convert your audience into profitable and loyal customers. Campaigner also includes tools to validate email/SMS workflows, create trigger-based messages, and protect your sender reputation.
All of this is within your reach with Campaigner:
Eye-catching email campaigns
Mobile-responsive emails that render perfectly across all standard devices
Create customized campaigns based on subscriber devices or email clients
Access control and content blocks for easy collaboration and quick campaign build-up
HTML editor to build on-brand unique emails from scratch
The Campaigner platform has been around for 20+ years so it can help you achieve impressive results with your email marketing program – that too at an affordable price.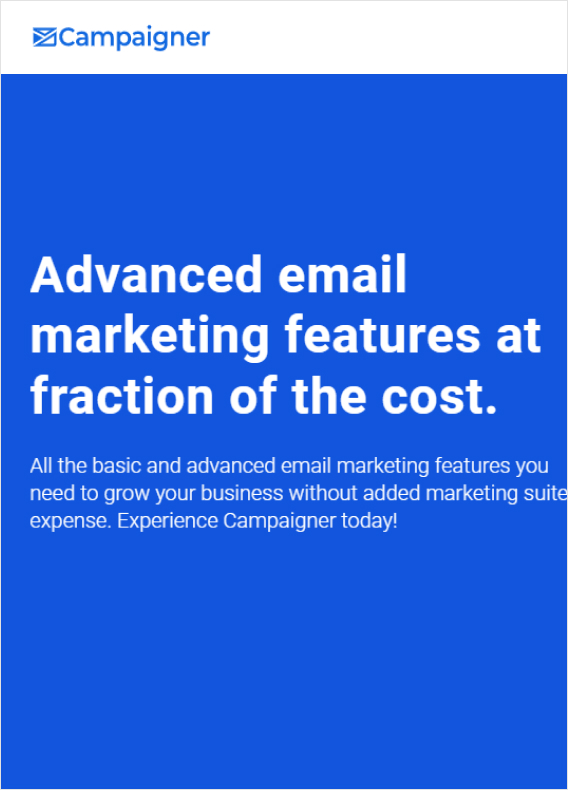 Emarsys
The Emarsys customer engagement platform is for you if you are looking for a tool to build, launch, and scale personalized cross-channel campaigns. The platform incorporates numerous capabilities and features for marketing automation, customer lifecycle management, cross-channel execution, omnichannel integrations, and intelligent personalization.
With Emarsys, you can launch integrated marketing campaigns across multiple channels and enhance personalization across every touchpoint between customers and your brand. You can reach them across email, ads, web, and mobile with tailored messages using the power of data and AI. The platform will also give you detailed data-driven insights to help you make smart decisions and take your marketing program to the next level.
Emarsys was featured in 2022 Gartner® Magic Quadrant™ for Personalization Engines so they know a thing (or a million!) about creating personalized omnichannel campaigns that deliver profitable outcomes.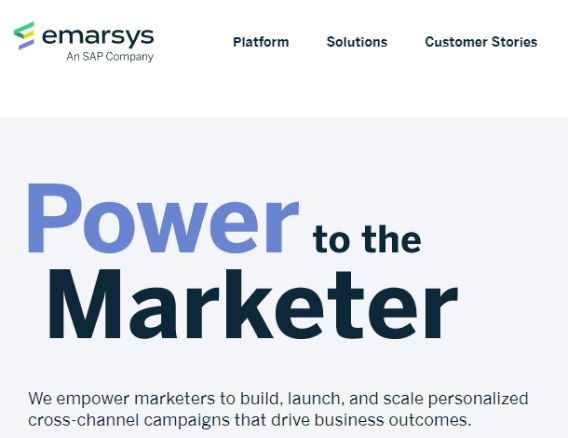 iContact
Since 2003, iContact has empowered thousands of small businesses to simplify email marketing and capture tangible results. Its email marketing tool provides a proven yet easy way to engage your audience with beautiful emails, personalized messages, and automated communications. Take advantage of its personalization and automation capabilities to grow your audience, design impressive email campaigns, and send personalized comms to market and grow your business.
The right partner can help you customize its responsive templates to design email messages that look great on any device. Its personalization and automation tools will help you to send relevant messages to each member of your audience and bring them closer to your brand.
iContact even provides a landing page tool so you can create beautiful landing pages and create your own unique niche online. Combine landing pages and email and you have a powerful means to market your business and attract more customers to your offerings.
iContact offers multiple pricing options. Choose the option depending on the size of your contacts list. You can even start with the free plan.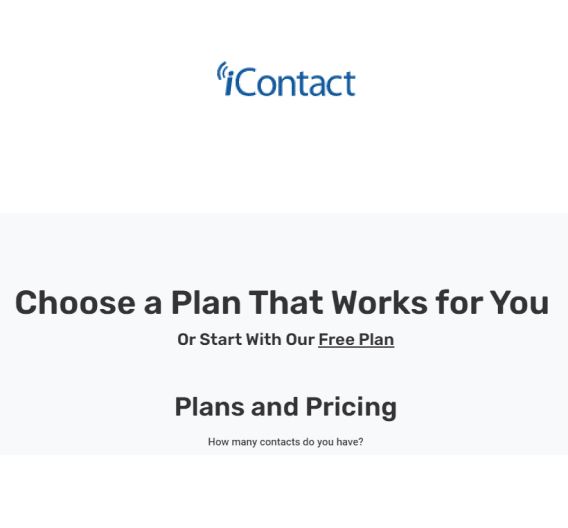 Aurea (formerly Lyris)
Used by 5000+ companies worldwide, Aurea is an award-winning email marketing and automation software. Aurea Email Marketing will help you automate and optimize your customer engagement programs, including email marketing. Take advantage of these capabilities to engage and converse with customers, increase conversion, and increase your marketing ROI.
Aurea's Customer Engagement feature delivers a 360-degree view of your customers. Use the insights from these views and the platform's intuitive email marketing capabilities to design and deliver meaningful marketing messages – to every customer every time.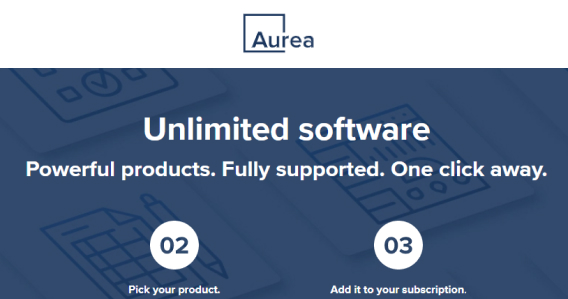 Maropost
Integrate email, SMS, mobile, journeys and eCommerce to create a seamless and ultra-powerful marketing ecosystem for your brand with Maropost. Maropost's eCommerce and marketing automation platform includes a range of tools to easily connect, market, and sell to customers.
Its eCommerce suite includes numerous capabilities for multi-channel automation, eCommerce inventory management, audience segmentation, plus email and SMS marketing. With Maropost's Marketing Cloud, you can engage your audience over the channel of your (and their!) choice, while its Commerce Cloud is perfect for building and optimizing your multi-channel eCommerce business.
Maropost has won multiple awards and is suitable for companies in a host of industries. Plus, it is fully scalable so it will help you to connect to your clients and grow your business without changing platforms.
Maropost offers affordable pricing plans for all its Cloud offerings. Select the one that best matches your email marketing and marketing automation requirements.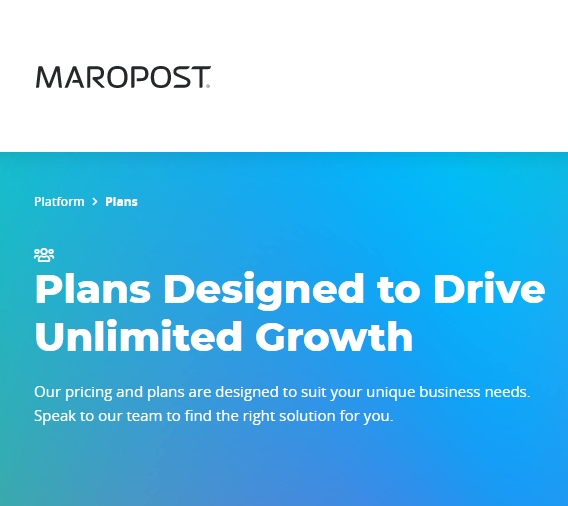 Emma
Emma is a full-featured ESP with powerful capabilities for email marketing, marketing automation, analytics, and list/audience segmentation. It also includes features to manage user permissions to suit any role and protect your brand equity.
The platform is built to help you refine your brand's email strategy and improve the ROI of your email marketing program. Plus, it provides open APIs and hundreds of integrations to partner with all the apps you already use. All of this simplifies data storage and ensures that you can get personalized messaging out with every send.
Emma's smart email toolset provides everything you need to connect data, build your audience, and easily organize all your campaigns across every location. You also get robust analytics capabilities to understand your subscribers and use this knowledge to improve your email program with personalization, dynamic content, and compelling visuals.
Emma's 4-tier pricing system gives you flexibility over your email budget and spends. Pick one and make Emma work best for you: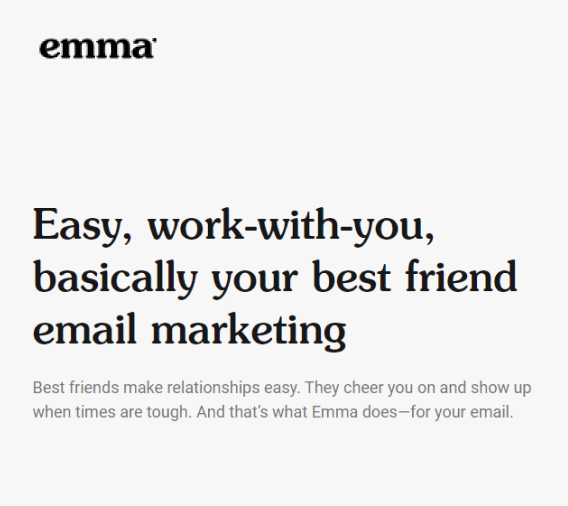 Adobe Campaign (formerly Neolane)
Adobe Campaign is another world-class offering from Adobe. This full-featured platform will enable you to create, coordinate, and deliver dynamic campaigns through email, mobile, and many other channels.
The platform will help you see the entire customer journey on a single screen. You can then create personalized and contextually relevant emails and deliver consistent experiences to every customer on every channel. Its customer data management feature will show you a holistic picture of customers, which is what you need to quickly create personalized campaigns at scale.
If you want to deliver multichannel experiences and connect your online and offline marketing without worrying about how much each message costs – Adobe Campaign is a great choice. The platform was a Leader in the 2022 Gartner® Magic Quadrant™ for Multichannel Marketing Hubs – proof of its best-in-class technology, advanced capabilities, and features that are designed to drive business success.
Adobe Campaign's pricing structure depends on the active profiles, channels, and add-ons you require:
If you are not sure how to clarify these aspects or choose the best option for your company, talk to our team.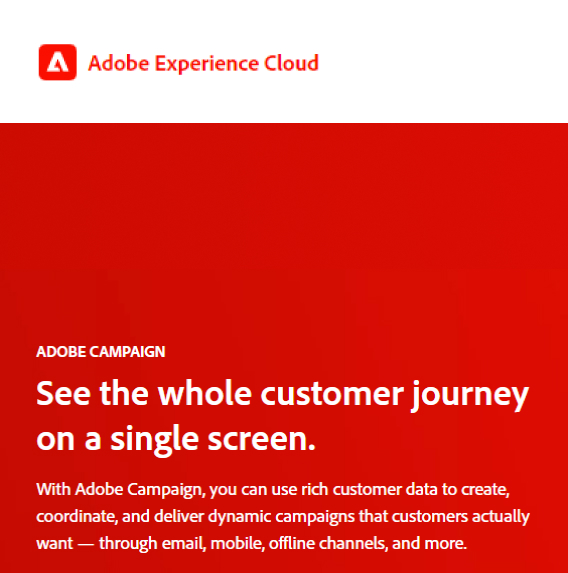 Oracle Responsys
Oracle Responsys Campaign Management is one of the best cross-channel campaign management platforms available today. The platform is ideal to build contextually relevant marketing campaigns at scale. It also delivers advanced intelligence so you can better engage with customers and prospects via personalized messages. Moreover, you can create these messages based on their individual interests and preferences to delight, impress, and wow them every single time.
With Oracle Responsys Campaign Management, you get all these features to create impressive marketing campaigns for your target customers:
EPowerful ESP to create inspiring, dynamic, and personalized email messages
Email message designer to tailor each campaign to your target segment and ensure that each message renders consistently on every device
Audience designer to assemble audiences from any customer segments and simplify subscription management
Data visualization dashboards to evaluate campaign performance
Customer journey orchestration with Oracle's purpose-built AI
The platform also includes tools to design cross-channel experiences, create personalized mobile campaigns, optimize campaign performance with A/B testing and analytics, and advanced intelligence to align each campaign with your audience.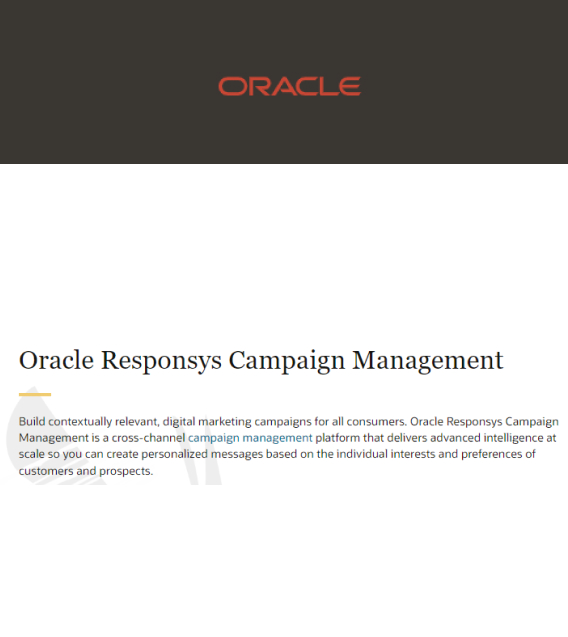 Vertical Response
A successful email campaign requires multiple tools working together in tandem. Vertical Response combines all these tools into one unified package. With this email-focused platform, you can create gorgeous email campaigns that reflect your brand. You can also automate sends so every message goes out at just the right time.
With Vertical Response, you can also create custom landing pages and direct your visitors to it. Use this page to showcase your products, capture leads, and build greater brand awareness. These standalone webpages will perfectly complement your email campaigns and increase sales.
The platform also includes features like Subject Line Preview and Link Checker so you can ensure that all your emails look exactly the way you want them to. Get these moving parts right and you will see a huge impact on email open rates and campaign performance. Vertical Response integrates with many eCommerce and other tools so you can effortlessly keep contacts and lists in sync across apps.
Vertical Response is available in two avatars: Basic and Pro. You can also try it out before purchase with a free trial.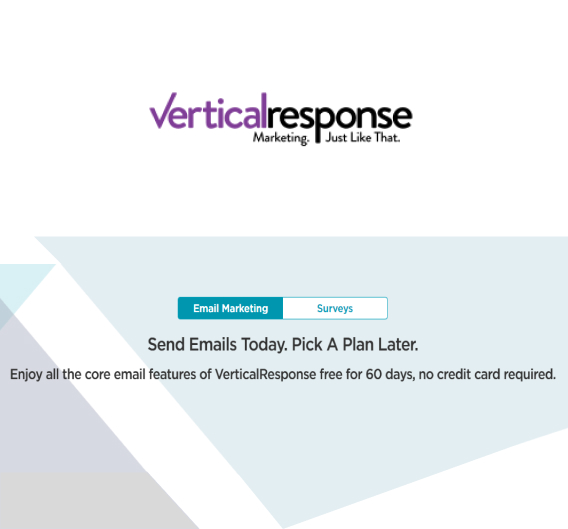 FreshMail
Effective email and newsletter campaigns are now in the palm of your hand with FreshMail. This popular ESP is built for organizations that realize the value and power of email marketing to connect with customers and build brand value.
With FreshMail, you can create stunning email campaigns and personalize them to your heart's content. You can even automate many kinds of campaigns, including newsletters, lead nurturing programs, cyclical messages, and more. FreshMail will automatically respond to all your customers' actions so you don't have to waste time or effort on manual checks or actions.
The FreshMail platform includes a real-time email tracking feature so you know exactly who is opening your messages and figure out how to initiate improvements.
FreshMail also provides numerous capabilities to optimize your mass communication and ensure more effective deliveries, such as:
Inbox Inspector and Spam Test
Form and Pop-up Creator
Send time optimization
Automatic A/B testing
Email personalization
Dynamic content creator
Targeting and segmentation
The platform also includes tools to design cross-channel experiences, create personalized mobile campaigns, optimize campaign performance with A/B testing and analytics, and advanced intelligence to align each campaign with your audience.