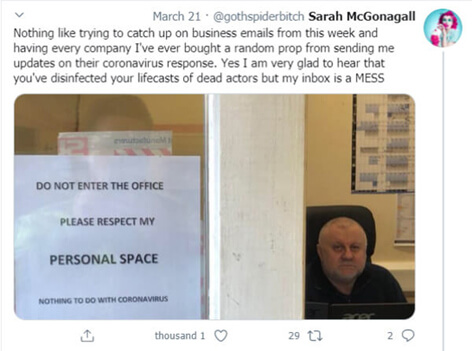 Public response to lockdown emails from brands was a bit of a mixed bag. Judging by social media's reaction, you could be forgiven for thinking that everyone hated these emails:
The statistics, however, tell a different story.
According to CampaignMonitor, engagement rates did indeed drop in the early weeks of the pandemic. This may well be because people were simply sick of receiving hundreds and hundreds of near-identical brand emails concerning the pandemic.
However, the drop-off did not last for long. Engagement rates recovered very quickly. Soon, they were above pre-pandemic engagement rates. The increase percentage varies depending on whose research you follow – but everyone is in agreement that engagement metrics for email rose almost universally during lockdown.
This Could Be for Several Reasons:
People spent more time at home : Whether they were furloughed, working from home, or just unable to get out and about as much as they used to, people were spending a lot more time in their homes than before. In many cases this also meant spending more time on the internet – and therefore checking their inboxes more frequently.
People wanted information : Trapped at home, stressed, and frustrated, many people reached out for any information source available. Lots of people were interested in what their favorite brands were up to, and how they were adjusting to the new normal.
People had more time on their hands : This relates somewhat to the first bullet in this list – but it's worth making the distinction. Lockdown-induced boredom encouraged people to seek out content - including email content.