Email marketing is one of the most important strategies when it comes to B2B marketing. From generating and nurturing leads to accelerating conversions, B2B email marketing assists in all of the customer stages.

B2B emails are more often interesting, directly influencing work and business relations. This could explain why they have open rates higher than B2C emails.

If you haven't witnessed the power of B2B email marketing, it is high time you do. Here are a few tips to improve your email marketing responses in B2B. Drive your email marketing strategy to bring in more sales and a higher ROI.


1. Know and segment your target audience 
Before you go nod your head in agreement, what does knowing your audience in B2B really mean? To really understand who's on the other side, receiving your message. Think about the stage in the buying cycle they are in, where their pain points and relationship with you.

You can segment your audience based on their buying behaviour, purchase history, sales funnel position etc. and send them relevant emails that match their needs and preferences.

For b2b it is crucial to try and match the search intent from the first signup to first welcome email.  In addition, opting for personalization is another great tool for accurate email segmentation.
Are they likely to be extremely busy? Too many assumptions can lead to a tone of voice. The key questions in Persona development all apply to your emails.
2. Bring your best subject lines (to the office)

Having an impeccable subject line can set you apart from your competitors. It is believed that 35% of recipients open an email based solely on the s35% of recipients open an email based solely on the subject line. So, a great subject line will give you an edge over the competition.

Here are a few pointers to make your subject line game top-notch.
Keep it small, precise and to the point. A subject line with 50 characters or less can drive customer's attention easily. 82% of marketers send emails with subject lines of 60 characters or less.

If they apply, time-sensitive phrases such as "this week only", "limited seats" can work wonders in driving your click-through and open rates. But never fake scarcity. A sense of urgency in the subject line will help you channel the customer's FOMO, the fear of missing out.

Using numbers and emojis is another way of driving customer's attention to stand out between huge numbers of emails in their inbox.
3. Use the right tools and marketing tech

In B2B, we are looking to have a combination of Marketing and Sales. Sometimes these are one department, often enough the sales include personal sales and there is a handoff, maybe even lead scoring going on. The right alignment between marketing and sales is key.

You can imagine many B2B marketers don't only send newsletters to their list. They need inbound tactics and might use something like a Hubspot or similar and a CRM next to their email tools for lead scoring.
4. Keep a clean email list of engaged subscribers
Having a huge email list is no use if your subscribers aren't active. A clean email list is one which is regularly communicated with, is updated and the subscribers engage. A clean list will have a huge positive impact on your deliverability and open rates.

However, before cleaning and throwing away idle subscribers, give them a chance with a re-engagement campaign. They get a chance to decide whether they want to "reactivate" their subscription to your list or not. You can do it the way Webflow did it. Take a look.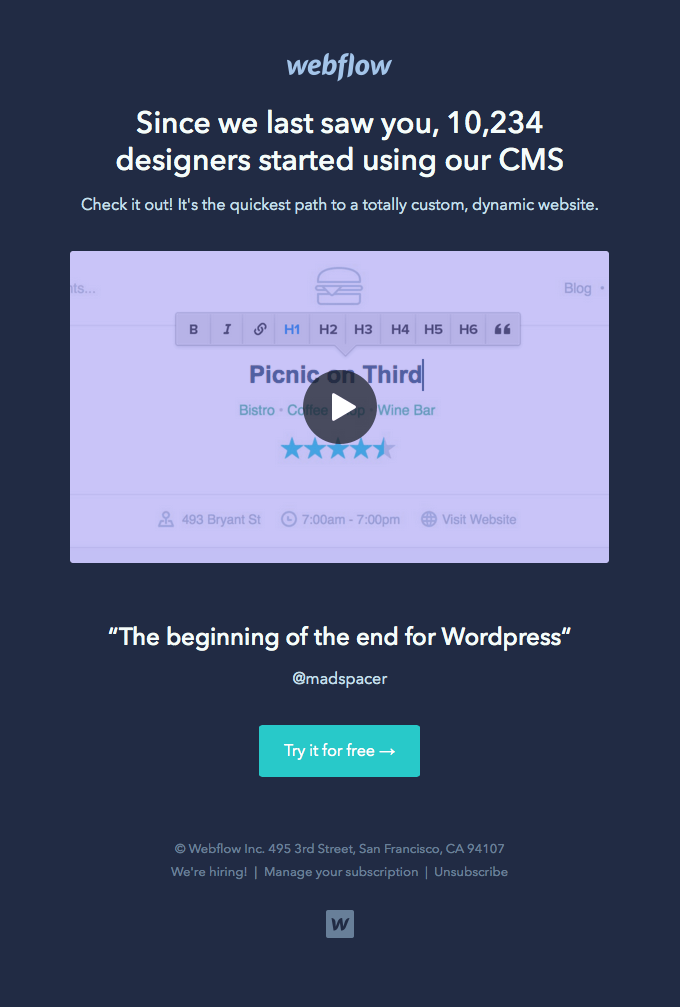 Source: Re-engagement campaigns Automizy
Besides, make sure you clean your email list consistently. A consistent cleanup schedule is not only going to save you on time and resources but will also help you target your active subscribers in a proactive way.
5. Focus on a single CTA
From securing a call and registering for a webinar to driving a customer to a landing page, B2B email does it all to entice a customer to take action.

By putting your main focus on a single call to action, and making that the star of the show", you reduce distraction/confusion. Your lead is most likely to react if it is crystal clear what they are supposed to do.  So, go for a single, simple and creative CTA to get the desired results. Take some inspiration from Yieldify and see how it has kept its CTA simple yet enticing.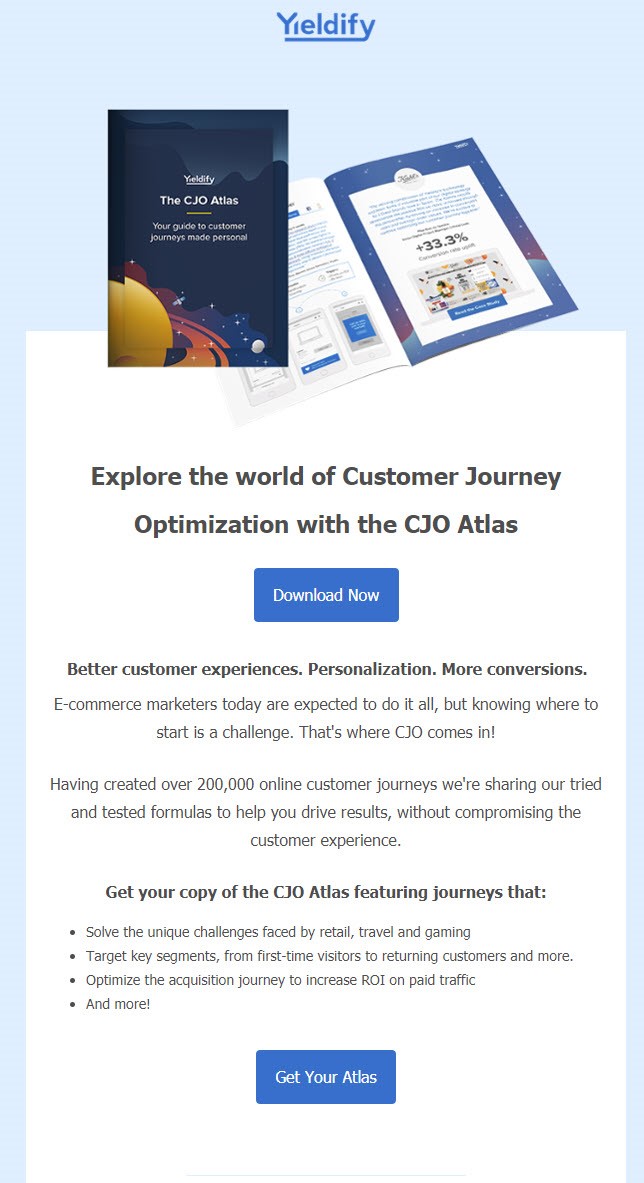 Source: Email newsletter examples
6. A/B testing & send time optimization
A/B testing is an effective way to pinpoint what works best for your email marketing campaign. Testing your subject line, content, offers, and CTAs by sending emails to a small group of your selected audience. Their response would tell you how your email is performing. Based on that, you can further send or modify your email to suit the needs of a larger chunk of your audience.

Improving send times for engagement and conversion
It will be hard to test various days and times by hand, especially with lower volumes. One way is to pay precise attention to peak activity that affects the overall click-through and open rates. Luckily, there are a lot of Email Service Providers (ESP) that can help you do just that. An algorithm keeps a list of customer's behaviour analysis with the help of its send time optimization feature. It derives and concludes an ideal email sending time based on consistent customer engagement patterns. 
Bonus Tip: A welcome email is always welcomed
We all know how the first impression counts. That's why it is important to send a welcome email as soon as a new subscriber hits your email list. Triggered email, in general, is amazing in getting higher response rates.

Hootsuite sends a first onboarding email to get people started.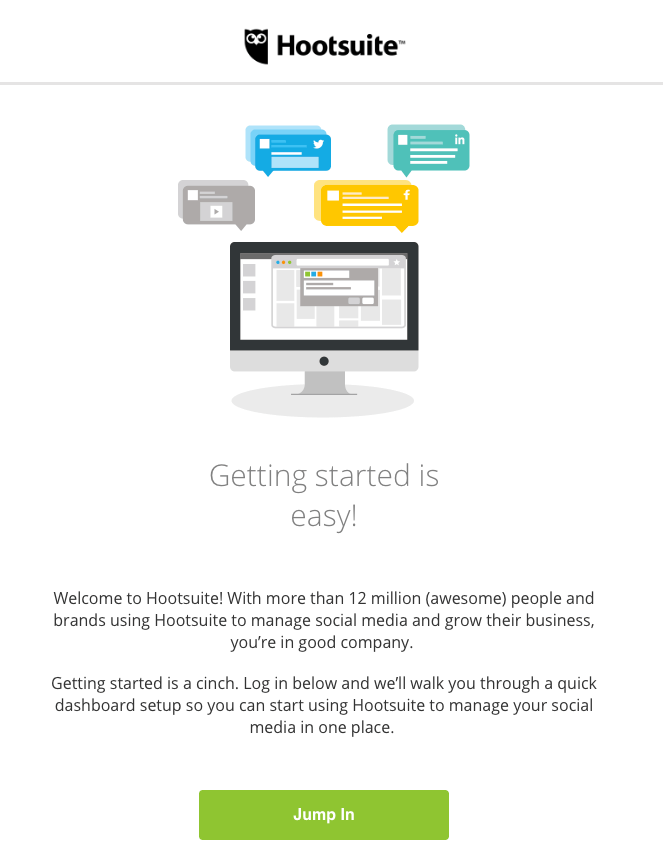 Source: EmailAudience Onboarding emails
You can send a welcome email easily with the help of an autoresponder. It automatically sends welcome emails to customers who come on board with your brand. All you need to do is compose a well-crafted and promising welcome email that genuinely makes the customer feel welcomed. It can be a very simple one-shot, just to confirm and make sure they have everything they need.  
You can even take your welcome email game a level up by including links to your other lead (funnel) campaigns if they came in through a general opt-in and splice out the incoming traffic, know a bit more about their interests.  It makes customers feel welcomed but also help pave a new path of an enduring relationship with the customer. 
Crafting thoughtful B2b email marketing plan
In conclusion, with a thoughtful B2b email marketing strategy can drive your B2B sales like never before. So, incorporate the above-mentioned tips and cut through your competition with high engagement rates and better results.