Instead of being the marketer, today, think from the subscriber's perspective for a minute. Imagine receiving an email from a brand every single day. How does that make you feel? Not too good? Does it feel like email fatigue or you are being pushed into making that purchase?
Now imagine how would your customer feel when you, out of habit, send too many emails, at least one per day, to them? Increasing the frequency may seem right to you but, it does lead to many unsubscribe. Being bombarded with emails will not help with engagement; instead, it will create a distance between you and your customer.
The question every marketer asks is "how many emails are too many emails?" Here, we aim to discuss the result of too many emails, also known as email fatigue in detail. We shall tell you the right number of emails to send, and other tips that can help you avoid email fatigue, and keep up with engagement.
So, ready to hear us out?
What Is Email Fatigue?
Email fatigue refers to a loss in the engagement rate and an increase in the unsubscribe rate due to your subscribers losing interest in your brand emails. With over 347 billion emails being exchanged every day, it is only natural for subscribers to get overwhelmed by the sheer number of unopened emails in their inboxes.
And, things get even worse during special occasions and big holidays since most of the emails carry the same content. The damage to your brand reputation might be irreversible if your marketing efforts are responsible for striking down your subscribers with email fatigue. Therefore, it is essential to understand the reasons for email fatigue before fixing the issue.
You are still trying to grasp if email fatigue is a real thing or not. Yes, it exists. 74% of the customers claim that they get overwhelmed by the email overload that they see in their inbox. If this number is right, then email fatigue is not just real, it is also a huge thing that needs to be taken into account immediately.
What Are The Reasons For Email Fatigue?
Email fatigue happens when your subscriber receives a lot of emails from you. In some cases, they may feel the overwhelm when they receive brand emails from anyone and everyone.
A typical sign of email fatigue is the increase in unsubscribe. If you feel that the users are opting out of your email subscription, then you need to check the message and the frequency immediately.
The other sign is disengagement. If the open and click-through rates are suffering as a result of email overload, then your emails are definitely causing fatigue among the subscribers.
From this, you can clearly say that if you pass on the wrong message to the wrong person at the wrong hour, and too many times, then you are bound to cause email fatigue.
There are a few reasons that you could associate with the feeling of fatigue.
1) Frequent Emails
While sending frequent emails to establish brand identity might seem like a good idea but it could not be far from the truth. Constantly bombarding your subscribers with email blasts and newsletters can cause them to lose interest. It is better to leave them wanting more than to overwhelm them with constant promotional emails.
2) Poor segmentation
It is no myth that adding segmentation to your email marketing strategies can drastically increase the revenue generated by them. However, the lack of it will do more damage than good. Mixing up customer preferences and sending them irrelevant content will degrade your brand reputation. Consequently, subscribers will get tired of your emails and will delete them as they land in your inbox.
3) Complicated procedures
Refrain from introducing complicated processes in your emails and keep them as simple as possible. For example, if you try hard to complicate the opting-out process, your subscribers will not hesitate to head for the Report as Spam button.
4) Templates
Email inboxes are like a highly competitive arena where brands are going head-to-head to capture a sliver of the customer's attention span. As a result, it is paramount to use interesting and visually engaging email templates.
But, some email marketers often miss out on this crucial step during the campaign planning process. An unappealing email template with a terrible flow can induce email fatigue and prevent customers from engaging with your brand emails in the future
Here's what you can do in case the damage is already done.
Email Fatigue Recovery Measures
The best way to recover from email fatigue is to start a re-engagement campaign. A good re-engagement campaign needs to be dictated if you want the under-performing assets of your email lists to view your emails and engage with you.
Here are a few examples that should happen to help you with recovering from email fatigue. It is important to segment the under-performing assets before you engage them with these emails.
Bespoke Post wants to know why the subscribers wont open their emails. They have upped the game by asking them their preferences, which the brand can use to create email content.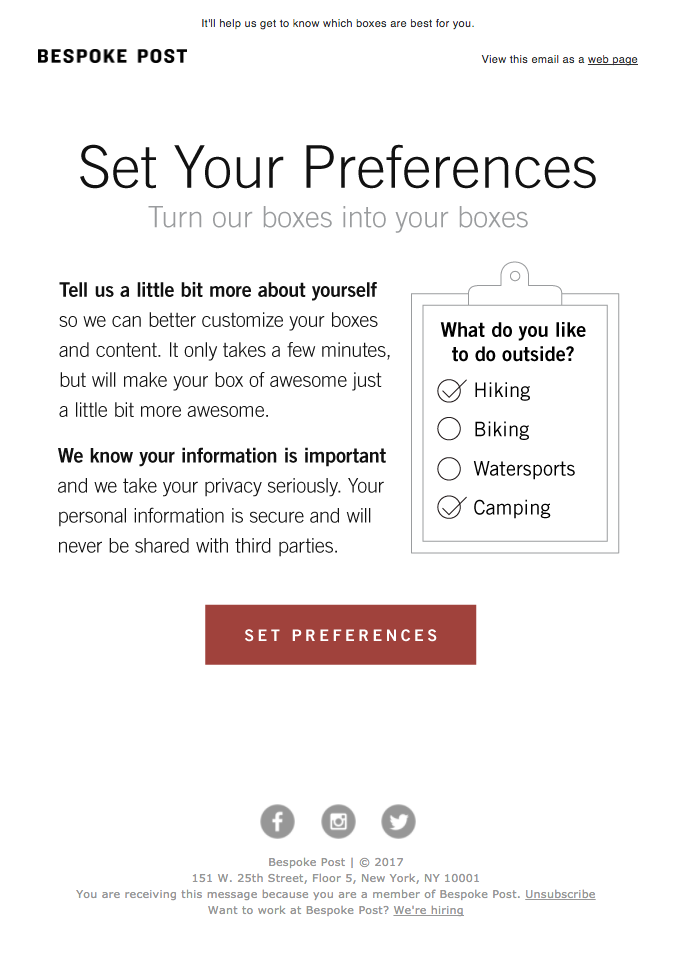 TeeSpring has sent out a re-engagement email asking the subscribers to get back and start a new campaign. They want to know why the subscribers not with the brand anymore.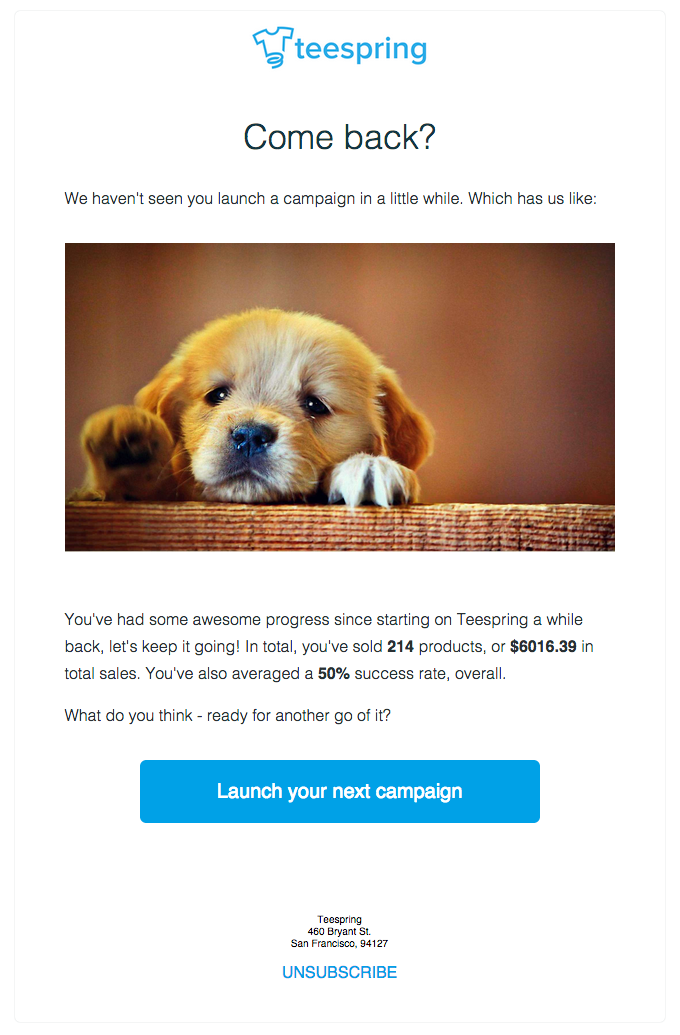 The second best way to fight email fatigue is offering a down subscribe option. This means you ask your subscriber to take a break for a while from your emails. This pause period will help them recover from the fatigue, and gear them up for emails from your brand. However, the next time you send emails make sure that you don't tire them out.
However, there are ways in which you can easily avoid email fatigue for your brand.
Here are a few best practices that should help.
Best Practices to Avoid Email Fatigue
#1 Keep measuring the signs for fatigue
Even before you begin with another marketing campaign, make sure to measure signs of fatigue from the previous emails. Check who all unsubscribed, did not open the email or opened and did not bother to move beyond the first line. The time spent as well as other numbers will guide you through the process. Once you have the numbers, you will know if there are signs of email fatigue among your customers, and if yes, how many in the list are going through the same.
#2 Ask them to mark their preferences
As a marketer, you need to know what the customer expects from you, and how often they are ready to see your email in their inbox. You should always ask them their preferred frequency i.e. the number of times they are ready to see your email in a week/month, at the welcome hour itself. This will help both set the pace for future emails, and also set the right expectations.
#3 Segment your subscriber list
Segmentation is very important, and should be done at the start. You need to study them based on their demography as well as purchase and browsing behaviour before you segment them. a complete understanding of what your customer needs, their preferences, and how often they check emails should be noted for best marketing campaigns.
#4 Personalize the email content
Once you have segmented the emails, you know everything that you need to for the campaign. Begin your email campaign with a personalized email. You don't need to send the same email to all your lists. You can strategize campaigns for a particular list, define content accordingly and send the message to the list. That way, you have higher chances of getting a good open rate.
#5 Note the send time and frequency
As a marketer, you ought to be careful when the message reaches the audience. If your timing is wrong, and you send it way too often, then you might cause fatigue. Check the frequency opted by the subscriber, and research the timing based on their behavior and the data you have for open and click-through rates. This should help you know the right time and frequency to send your emails. Once done, you will notice that your engagement rates are going high.
#5 Don't forget to test the emails
An A/B testing is recommended before you start working on the final campaign. You should test the emails not just for the subject lines, but also the send time and frequency. If the test shows positive results and response, then you can send the emails at that hour else, it is better to change the frequency and times immediately.
Impact of Email Fatigue On Your Email Campaigns?
1) Increased Unsubscribe rate
A steady rise in the unsubscribe rate is the most noticeable impact of email fatigue. If your emails are repetitive and mundane, the customer will not think twice before clicking on the unsubscribe link. After all, no one likes getting stressed just by opening their inboxes. Some customers will directly unsubscribe if you bombard them with only spammy and promotional emails.
2) Lower Engagement Rate
Unsubscribing from your email list is usually the last resort. But, before that happens, you will notice a sharp decline in your engagement rate. Ignoring your emails is the first thing your customers will do when they are afflicted with email fatigue. Some will even delete your emails even without opening them. This customer behaviour becomes apparent with the declining open and click-through rates.
3) Higher Spam Reports
As the number of untargeted and irrelevant emails increase, your customer will have no other option but to mark your emails as spam. This is worse than unsubscribing as it affects your sender's reputation with your Email Service Providers. In the long run, it affects your deliverability rate and decreases your overall visibility.
Wrap Up
Email fatigue is real and pretty normal. It is not necessary that the email frequency the customers had opted for at the start, is the frequency they want to maintain throughout their journey with the brand. It is important for you to keep updating the preferences, and re-engaging with those providing least engagement. You need to understand why people are opting out or, not reading your emails.
Without ignoring the issue on hand, make sure to dig deeper to understand the root causes of the fatigue, and try to remove them as soon as you can. The idea is to personalize the message and send it at the opted frequency and the time that the users generally open their email.