You've probably heard it a gazillion times – email marketing is the best way to drive sales. If that's true for everyday scenarios, then fourth of July email marketing doesn't drive sales – it skyrockets them.
But that's only if your email sparks some fireworks your customers will love. And that's exactly what you'll learn from this post.
So let's get to it, shall we?
Why Should You Create Email Campaigns Targeted at Holidays?
Holidays have a special meaning in people's hearts. For some, it's because they get to spend time with family and friends. Others just love the holiday season because it gives them an opportunity to escape the hustle and bustle of everyday life.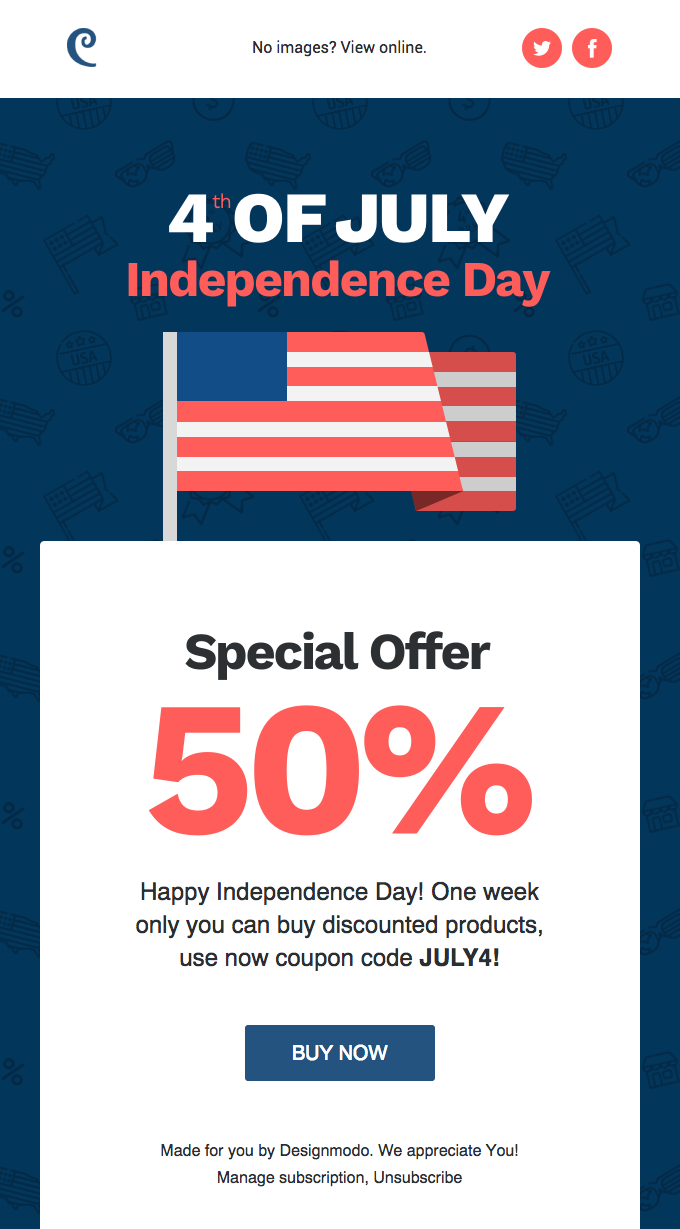 Whatever the reason, however, holidays get people excited.
And they should get you excited too. Here are 2 main reasons why:
People spend more on themselves during the holidays
People love to gift their friends and loved ones on holidays
Whether your customers buy for themselves or for their loved ones, the bottom line is that if you're not designing email campaigns targeted at holidays, you're leaving loads of money on the table.
5 Simple Tips to Add a Spark to Your Fourth of July Campaign
Ready to shoot for the stars with your fourth of July email campaign?
Let's quickly look at 5 tips to help you create a campaign even the founding fathers would be proud of.
1.   Spark Fireworks with Your Subject Lines
If you've been sending campaigns to your subscribers, you already know how important subject lines are in influencing email open rates. In fact, research shows that 35% of people decide to open an email solely because of its subject line. That's because the subject line is:
A window into the entire email. A well crafted subject line should clearly highlight what your email is about. In an interesting way, of course.
A great way to show your connection to the customer. Personalized subject lines have been proven to increase email open rates by about 26% because they help the recipient connect to your brand.
This is why you need to write fourth of July subject lines that will stand out in your customer's inbox. Need some tips on how to do just that?
Here are 3 simple tips to help you create effective subject lines for your fourth of July email marketing campaign:
Know Your Audience
The key to creating subject lines your readers will not be able to resist is to know your audience and what they want. To do this, simply check the data in your ESP, CRM, or any other third-party tools you use for gathering audience insights. Using this data, create segments that you can target with, not just personalized subject lines, but personalized content as well.
Here's a great example from Road Scholar, an educational travel company for adults:
Subject line: Take our Fourth of July quiz: How well do you know American history?

Road Scholar knows that their audience is made up of knowledge buffs who enjoy quizzes. The subject line hits a soft spot with this audience by challenging their knowledge of American history.
Use the Language of the Season
People are in a celebratory mood. And at this time of the year, most conversations are laced with words that reference the fourth of July directly or indirectly. Integrating these references in your subject line is a great way to capture your subscribers' attention. It will show that your email is timely and relevant. Take a cue from Casper's campaign:
Subject line: Best place to catch the fireworks? In bed.

The subject line references one of the most important aspects of independence day celebrations – fireworks. And the email copy cleverly points to the one thing everyone will need at the end of the celebrations – a good night's sleep.
Employ the Power of Emoji
Emoji are powerful for 4 simple reasons:
They are a universal language
Used well, they can communicate a lot without making your subject line too long
People love them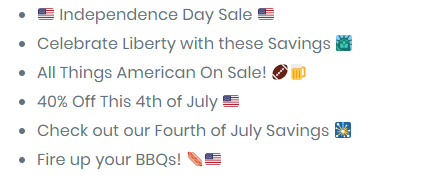 Using fourth of July themed emoji in your subject line is a great way to catch your subscriber's eye in their bursting-at-the-seams inbox. Besides catching their eye, they'll surely tug at their hearts as people find them interesting and fun. As a result, the chances of them opening your email will be high.
2.   Create an Irresistible Offer
Another great way to add sizzle to your fourth of July email marketing campaign is to create an offer your customers can't resist. It is a holiday after all, and your customers want something special to celebrate with.

So how do you come up with an offer they can't refuse?
If you're not the Godfather, all you need are some simple strategies to make an irresistible offer (otherwise, simply arrange for them to swim with the fishes). A few examples include making sure your promotion is:
Timely
What can you offer your customers that will resonate with their independence day celebrations? A little creativity can go a long way here as all it can take is to create an independence day themed product or simply wrap your current product/services in independence vibes.
Exclusive
Create an exclusive offer that your customers can't get anywhere. Make sure you don't offer it again at any other time of the year. To do this, simply add some fourth of July bonuses to
Relevant
To create a relevant offer, you must know your customers well. One good tip is to take a cue from what they regularly buy from you or what they purchased the previous year. Another tip is to create products that your customers will need or want for their fourth of July celebrations.
Your offer is the most important aspect of your email. It is, after all, the reason you're seeding out the campaign, isn't it. Because of this, you must create and package one that your customers will be itching to get.
3.  Leverage Psychographics in Your Copy
One mistake many marketers make when crafting an email copy is to lean heavily on demographic data. While this is fair and fine, you mustn't overlook psychographic data – especially for a holiday like the fourth of July.
So what is psychographic data?
Psychographics is the study of the factors that influence a person's behavior – factors behind the reason why people do things. Psychographic data includes the attitudes, interests, personality, and the values of your target audience.
What's the difference between demographics and psychographics?
Demographics tell you who your customer is while psychographics show you why they make the decisions they make.
Psychographic data will help you build a more robust buyer persona and therefore help you create the more personalized email content. Here's an example from the Rifle Paper Company:
Subject line: Celebrating America

From the subject line to the email copy, this email targets one of the biggest values every American has – patriotism. Other beliefs and values you can leverage as you create your fourth of July email campaign include:
Family
Freedom
Democracy
Celebration activities such as fireworks and barbeques
Incorporating these and other themes people honor as traditions to honor the fourth of July will definitely make your email copy sing. As a result, your conversion rates are more likely to explode.
4. Get Subscribers into the Holiday Mood with Your Email Design
One element of your independence day email campaign you should pay special attention to is your email design. Just like your subject line and email copy, your email template design plays an important role in getting customers excited about your offer. Besides embracing the colors of the season, here are a few design ideas you can use to stand out from the crowd:
Go with GIFs
GIFs are a great way of creating an immersive and interactive experience for your customers.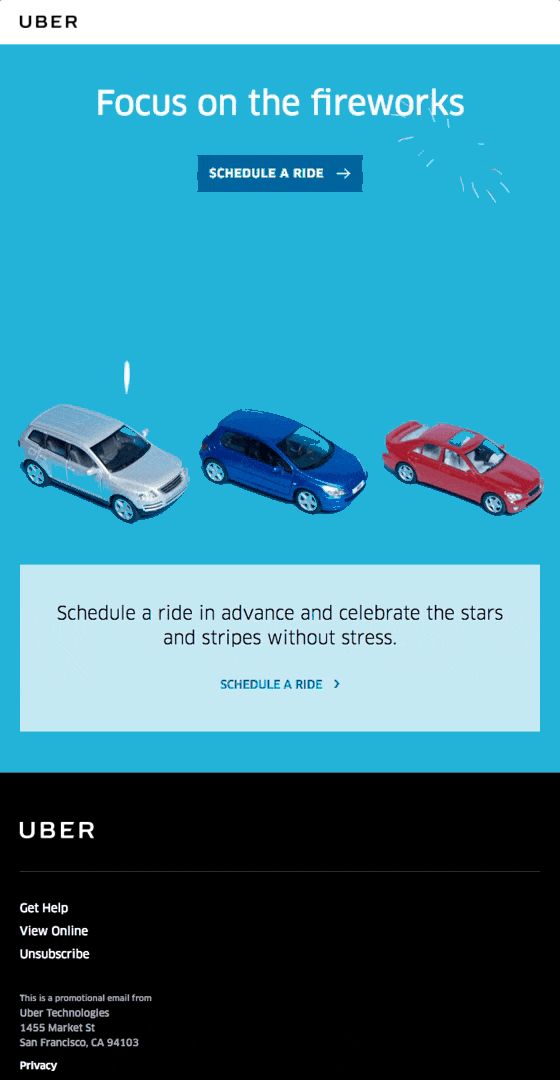 Because they evoke images of the celebration ahead, GIFs do a great job of setting the mood for your campaigns. Besides, they also make your email look cool.
Tie in Relevant Symbolism
Fireworks. Barbecues. The American flag. The Majestic Bald eagle. Lady Liberty. What do all these have in common?
Simple.
They are symbols every American easily associates with their nation – particularly independence day celebrations.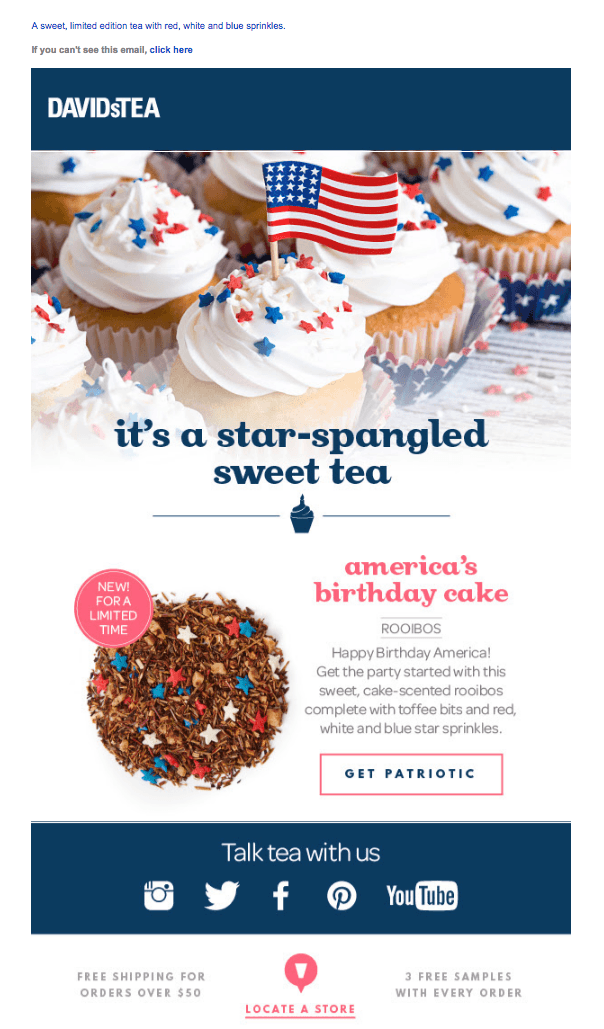 Incorporate these elements into your email design and your customers will easily connect with your patriotism. Of course, this will also lead to them respecting your brand and wanting to partner with you.
Use Relevant Images
Images are a great way to evoke memories of past celebrations. Get your customers in the festive mood by using images that depict celebration, freedom, the American dream, and everything else related to fourth of July celebrations.
This is a brilliant fourth of July email design from Nest. Notice the clear night sky with the fireworks missing? By saving $50 on this promotion, the customer can then buy as many fireworks as they need to light up the sky.
Don't Overhaul Your Branding
Avoid the temptation to sacrifice your branding to align your email design with the colors that have come to symbolize the fourth of July. Remember, people know you by your branding. Changing it for one email campaign will just confuse them and lead to them thinking your email is not genuinely from you.
So, instead of changing the entire look of your emails, simply incorporate the 4th of July elements you want into your email design.
Remember, the way your email looks sells as much as the copy it contains. So invest in an email template that says "4th of July" in a way that will get your customers excited.
5.  Follow Email Marketing Best Practices
As much as we can talk about adding fireworks to your fourth of July email campaign, there are some foundational email marketing best practices that you must follow as well. These are principles that have been proven to ensure that your email reaches its intended destination and achieves its goals. Let's briefly take a look at some of them, shall we?
Optimize for Mobile
We are living in an era where most people prefer to digest information on mobile devices. Yes, that includes email.

For this reason, it's important that you optimize your emails for mobile consumption. Here are a few ways to do that:
Use a mobile responsive template
Avoid walls of text, instead, break up text into chunks
Keep subject lines and preheader text as short as possible
Favor button over links for your main CTA
Use "light" images for faster loading
Making your emails mobile responsive is critical to the success of your campaign as research shows that a whopping 55% of email opens happen on mobile devices.
Segment Your Email List
Yes, every one of your subscribers is hyped about the upcoming independence day celebrations. But that doesn't mean they'll appreciate the same promotion, email design, or subject line. For this reason, segment your email list to give each of your customers a personalized experience. Remember, to do this you can use:
Demographic data. This is who your customer is.
Psychographic data. This is why your customer makes decisions the way they do.
Sending the same email to your entire subscriber base is tantamount to sabotaging your campaign. Always, and this can't be emphasized enough, segment your email list.
Never Buy or Rent an Email List
Tempting as it may be, never buy or rent an email list. Yes, even if you have a great product and a small email list to market it to. Not only won't you get results from these kinds of lists but they also:
Increase your spam reports
Erode your integrity
Run you the risk of being blacklisted
While it may take time to build an email list from scratch, it will eventually pay off as your subscriber base will be more engaged.
Start Your Campaign Early
To ensure that you get the most out of your fourth of July email campaign you must start your campaign early. Starting your campaign early will help you build buzz and get your customers excited about the great deal you're giving them as a way to celebrate in style. Not only this but it will help keep you top of mind as they start planning their holiday shopping.
Besides starting your email campaign early, you can also extend your promotion to beyond the fourth of July. This will give your customers a wider window period to do their shopping. And, of course, it will also help you drive sales.
Go Fourth and Drive Conversions
As the fourth of July fast approaches, do your best to design a campaign your customers will love. With the tips and strategies outlined above, you'll definitely achieve success with your fourth of July email marketing. So go forth, send out your well-designed campaign, and drive conversions.
Here's to a happy (and profitable) fourth of July.