Email click-through rate is one of the most powerful metrics to measure the effectiveness of an email campaign. This implies that the higher your click-through rate is, higher is the chance for conversion. For an email marketer who has worked day in and day out for the perfect email campaign, nothing can get as heart-breaking as a low CTR (click-through rate), isn't it?
Although there can be n-number of ways to improve your CTRs, here are 8 actionable ideas that you should implement right away.
1. Segmentation of email list is a must
The prospects or customers in your email list are not looking for the same thing. Therefore, you should segment them based on their personal information like demographics and geographic location to send more relevant emails that fits in their buyer's journey.
For example: If you are a B2B firm dealing with SaaS applications, you can segregate the list based on their past downloads and pages they have visited.
2. Personalize the emails
Addressing the subscriber with the first name in the email is the most basic form of personalization. You must go an extra mile and send out hyper-personalized emails that include product recommendations in line with the subscriber's preferences. Moreover, you can send automated emails that are triggered based on the subscriber activity.
Let's say: A prospect showed interested in a particular service on your website. You can send related emails that would promote a free trial or benefits that the service would offer.
LastPass sends out a personalized email that shares the subscriber's app usage in the last year. This increases engagement and works towards better customer retention in addition to enhancing the CTR.

3. Subject line and copy should be in sync
Your email copy should be crisp and aligned to the subject line. Make sure your subject line is interesting enough to get the subscriber to open the email and drafted keeping in mind the mobile users. However, you should not have a clickbait subject line just to get more opens. This might affect your email deliverability and hamper the email campaign performance.
In the below email, the email copy brilliantly fulfills the promise that the subject line makes. Also, notice the conversational tone in the email.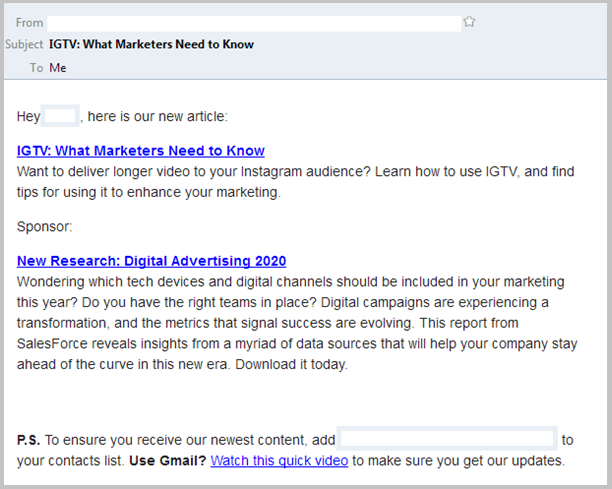 Pro Tip: Consider adding an emoji in your subject line that can engage your subscribers better. Test it so that there are no rendering issues.

4. Follow the brand guidelines
Adhering to the brand guidelines warrants a consistent experience to the email recipient and creates a better recall for your brand. As a best practice, it is recommended to use a single column layout for emails with one CTA and multi-column layout for content-heavy emails.
Pro Tip: No matter which layout you use, TEST the email for proper rendering and make sure it is mobile responsive before hitting the SEND button.
See how GUESS follows the same layout for every email they send.

5. Include visual elements
Pictures speak louder than words. Instead of placing a wall of content explaining about your service in the email, how about including an explanatory GIF or video? Make your visual element as compelling as you can to garner greater subscriber attention.
It would surely appeal more to the readers and entice them to try out your product or service.
UncommonGoods surely knows how to promote their products right!

6. Focus on the CTA
Apart from your email copy, your CTA button determines the click-through rate of your email. It should be an actionable verb that directs the reader to take the next action. You can even have a text link for the secondary actions that you expect from the subscriber. Place it strategically so that it is easily visible even to the mobile users. Consider using a fixed CTA that does not move despite scrolling through the email. You can apply fixed CTA only if your maximum subscriber base if Android user as it is not supported in desktop or iOS email clients.
Pro Tip: Carry out the "Squint Test" by squinting at your screen to check whether you can see the CTA button. If it is barely visible, you should design a larger button with contrasting colors to the background.
7. Include social sharing buttons
Integrating social media with your email marketing strategy goes a long way in enhancing the engagement rate of your emails and bringing greater number of clicks. Moreover, it also encourages the subscribers to interact with your brand on social media.
Travelocity does a great job by including all their social media profiles in the third fold of the email.

8. Use an emotional appeal in your emails
Tap on the emotional side of your subscribers by using words like love, happy, etc. Such language in email copy establishes a positive aura and increases the likelihood of conversion.
Pro Tip: Using a countdown in your email helps in creating urgency and generating instant clicks and conversions.
Final Thoughts
Now that you are well versed with the top ideas to better your email CTR, we would love to know how you have boosted your click-through rates.
In case you feel stranded and are struggling for better email metrics, InboxArmy can help you out with the entire campaign management starting from building an email list to successful email deployment.