How many times have you deleted an email just because of its vague, purposeless, and boring subject line?
Your subject line can determine whether your email gets opened with intrigue or hits the trash bin in a flash. In fact: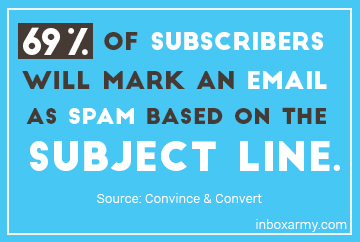 So, let's discuss some best practices for writing subject lines that can ensure more opens, better engagement, and more successful email marketing campaigns.
1. Keep an eye on the number of characters
There's no "right" subject line length, but the safest bet is to keep it as short and concise as possible. This is particularly important to keep in mind for your mobile email viewers where subject line truncation comes into effect.
Try to cut down on characters without changing the meaning. For example, instead of "Half Price," you can write "50% off."
Pro Tip: Utilize your preheader text to convey more information and add more "oomph" to your main CTA.
2. Take a descriptive approach (that matches your brand personality)
Sometimes, a descriptive subject line that clearly conveys the purpose of the email brings better results than a fancy one. Just make sure it matches your brand personality.
I recently received an email from Terrain with the subject line
"An all-weather sofa for outdoor rooms."
Simple, yet engaging.
Chubbies sends out emails with "funny" or "unorthodox" subject lines every once in a while. Check out this subject line:
"Me to me: Open one more"
The From Name on this email jumped out at me as well:
Me: You opened enough emails today (info@chubbiesshorts.com)
This would certainly pop out of the cacophony that is my inbox. You can see if a similar approach works for your brand!
Pro Tip: It was disclosed at Email Evolution Conference (1-3 May 2017) at New Orleans that there is no such things as trigger words anymore.
3. Personalize your subject line
"Hey *YourName*! Exclusive 50% off for you"
Seeing your name in a subject line is a great way for marketers to grab your attention. It always feels good to be addressed by your name rather than a simple "Hey".
Subject lines personalized with a recipient's first name can lift open rates by 20%. Using personalization as part of automated email programs is also a great way to get your exclusive birthday discounts or cart abandonment emails to stand out.
Pro Tip: You can even use the recipient's location in the subject line to add a more "local" feel.
4. Make wise use of emojis
When done strategically, emojis can add a visual appeal to your email and subject line.
Use emojis that are relevant to your offer. Avoid over-emoji-ing your subject line and email content. Moreover, make sure that the emojis you do use render correctly across the email clients used by your subscribers.
Pro Tip: Employ A/B testing with one subject line with an emoji and one without.
5. Add "emotion" to your subject line
Humans often get carried away by emotions, don't we? Use emotional appeal to get your subscribers to open your email. Don't sound too desperate or pushy but subtly convey a sense of urgency through the subject line.
Create the "Fear Of Missing Out" by choosing the right words. Have a look at this subject line by Travelocity:
"Rooms are booking up fast! Find great hotel deals now >>"
Pro Tip: Don't use too many exclamation marks or CAPS LOCK in the subject line as it turns the subscribers off.
Final Thoughts:
Keep your subject lines long enough to bring your offer or necessary information to the table, but short enough to arouse interest and curiosity with your subscribers. When in doubt, test your subject lines and determine what types of subject lines work with your mailing list, and what types simply don't.
Need help with your email marketing subject line strategy? InboxArmy can offer you email marketing strategy packages within your budget that can help boost ROI. Learn more now >>