Technology has changed the way we market to consumers. Devices and browsers have forced email marketers to design and code templates in certain, ever-changing ways. And increased competition for inbox space and brain space has pushed marketers to the brink of insanity.
All that said, the basic foundations of email marketing have remained the same:
Basic #1: Ask for Permission
To be a responsible email marketer, ask your subscribers for their permission to send them emails. When you ask for permission, you allow the subscriber to think through whether or not they want emails from you. This increases your value as a marketer, and generally improves overall engagement in the long run.
Basic #2: Respect the Inbox and Build Relationships
The inbox is sacred space. Don't take advantage of the permission you obtain to essentially invade this space with irrelevant, inane, or downright useless emails.
When someone opts in, they want to learn more about your business and what you offer—and they want something you promised like a coupon. If they're new to your business, you'll want to educate them on your products and services. If they're customers already, they'll want to know what's new.
When you nurture your subscribers the right way—meaning you communicate with your subscribers in ways that are meaningful to their stage of the relationship with your brand—you can increase engagement and improve retention. Building and improving the relationship with your brand should be the focus of your email marketing program.
Basic #3: Set Expectations
Set expectations with your subscribers right away. Your first email should specify what to expect from you, specifically:
What types of content to expect from you
How often you'll be emailing them
Any value propositions you hope to convey through your email program
This email by BBC is a welcome email which tells the subscriber how often they would be emailing and the type of content they will send. The subscriber can decide if they want to continue receiving the emails or not.

Basic #4: Personalize Your Emails
Great marketing is about listening to your customers and improving their lives with your products or services. Email marketing is no different.
As we touched on in the previous section, your email marketing program should focus on delivering content and offers that are relevant to your recipients. You can gather this information through engagement data (like opens and clicks), online surveys, purchase behavior, and more. The more data you gather, the more focused your email content can be.
This email by Briefcase is meant for a segment that started creating an account but did not end up completing the process for some reason. It has been personalized to make sure they finish the sign-up process.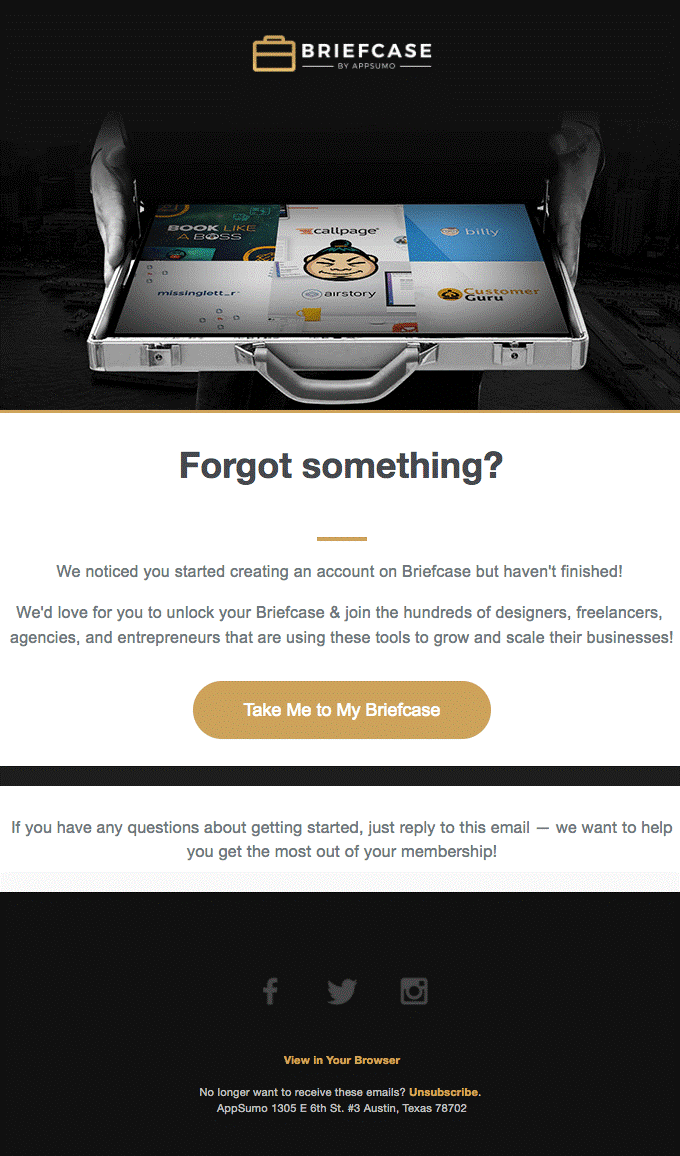 Basic #5: Monitor and Measure
Email marketing is wonderful for the simple fact that just about every aspect of it is measurable in some way—Opens, clicks, forwards, bounces, complaints, unsubscribes, etc.
And when you send an email marketing campaign, you'll want to A) Monitor, and B) Measure. You'll want to monitor:
Bounces
Unsubscribes
Complaint Rates
You'll want to further measure:
Open Rate
Click-Through Rate
Conversion Rate (however you define conversions)
These basic data points will speak volumes to campaign performance and be major determining factors in your ongoing email marketing strategy.
Note: Our friends at Inbox Group have a great post on what metrics "matter" for email marketing.
Basics for Crafting the Perfect Email
Your Subject Line: It should encourage opens from the subscriber. Keep it simple, in line with the content and exactly as long as it needs to be to get your point across.
Your Content: It should be simple, easy to understand, and drive to your desired action/conversion as soon as possible.
Note: The average read time for an email is about 11 seconds (if you're lucky). You have less time than that to get your point across and your action completed.
Your Call to Action: This is the most important aspect of your campaign. It needs to have proper placement, be easy to find, easy to understand, and link to a place where the desired action can be completed easily. Think easy.
Final Thoughts
The basics of email marketing haven't changed, even while we continue to incorporate the latest design and coding trends. What are some basics we haven't listed here?