Your marketing could use a boost. SMS marketing is an effective way to increase customer loyalty and engagement, and it's easier than you might think.

In this guide, we'll give you the basics of SMS marketing and show how to use it to boost customer retention. Let's get started!
What is SMS Marketing?
SMS marketing (also called 'text marketing') refers to the practice of businesses sending marketing messages via text SMS. The messages can range from discount and promotional offers and discounts to reminders and shipping notifications.
As an opt-in marketing form, contacts must subscribe to receive SMS communications from the brand. In this way, SMS marketing differs from social marketing, where businesses share public content for readers to like or follow.
Further, SMS – like email marketing – is an owned channel. So marketers have complete control over who receives the SMS message, the content shared, when to send it, and the overall experience created for customers.
Other than SMS messages, marketers can also send MMS messages to customers. MMS are text messages containing pictures, GIFs, or animated images embedded within.
How Does SMS or Text Messaging Marketing Work?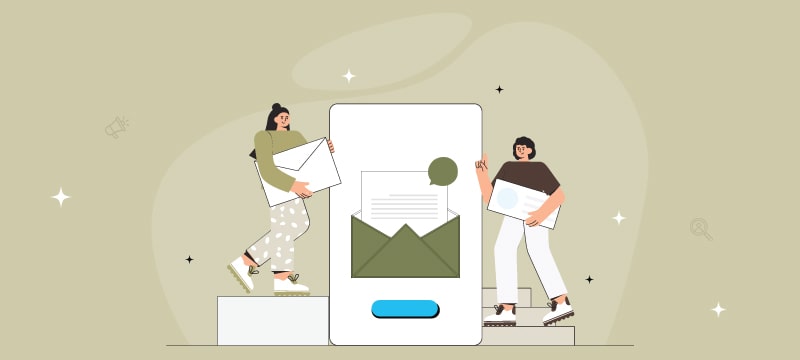 To begin with, you need to have a database containing your contact's name, mobile numbers, and other critical information to add value to the sales process. Here's a closer look at how SMS marketing captures leads and drives sales.
1) SMS Marketing Targets A Specific Audience
The most effective SMS marketing messages are the ones that are highly customized and focused on a specific target audience. So the more information you have, the better your segmenting capabilities.
By interacting and communicating with a specific user group where they are – on their smartphones, SMS marketing helps marketers to develop more meaningful connections with users and engage with suitable leads.
Moreover, since they are more personal than emails, sending SMS messages to those who have not interacted with you earlier may be considered spam.
2) SMS Marketing Should Be Part of A Broader Campaign
First and foremost, SMS marketing, like other mobile marketing, should not be in isolation from other marketing initiatives.
Instead, it should integrate with the overall marketing campaign (email, social media, email, and other marketing outreach) and should be implemented only after a clear plan on how it aligns to reach new customers.
Also, text messaging should be implemented purposefully for specific scenarios where audiences are comfortable with the platform and not random.
For instance, trade experts recommend SMS marketing for events like delivery status, purchase receipt, exclusive offers, or secondary messages after downloading an app or program.
Will SMS Marketing Work for My Business?
SMS marketing is a good option for businesses that need to send time-sensitive reminders, messages, and notifications, engage in personalized conversations and build relationships with active customers.
Your business should consider SMS marketing channel if you are looking for ways to:
Enhance Customer Experiences
The speed and immediacy of SMS marketing will enable your business to provide personalized customer service, real-time notifications, and valuable offers leading to more meaningful connection with customers, which can lead to increased customer loyalty and sales.
Enable Customer Communication With Your Brand
SMS marketing provides a direct connection, with more open and personal dialogue between your business and its customers.
The two-way SMS capabilities make it easy for customers to leave feedback, ask questions and stay informed on your latest offers. This will help your business build customer relationships and turn them into loyal repeat buyers.
Manage Customer Relationships And Data Privacy
SMS messages are private and secure. Customers can easily opt-in and out of SMS marketing programs, while businesses can leverage SMS to store customer data securely and remain compliant with privacy regulations. In the long term, this builds trust and credibility with customers and potential customers.
In a nutshell, SMS marketing can be a powerful tool if used strategically, effectively, and quickly. Moreover, it can be leveraged by your business to deliver a frictionless omnichannel shopper experience.
A well-planned SMS marketing strategy will create unique engagement opportunities spanning notifications, customer support, personalized email marketing, and upselling. With SMS marketing, you can reach more customers, develop relationships, and increase sales.
Types of SMS Marketing Campaigns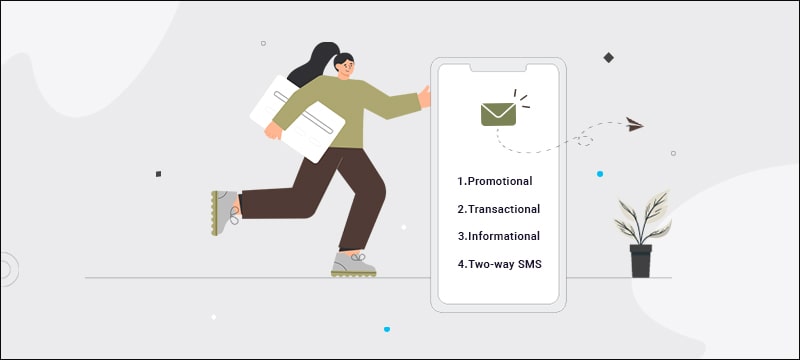 When considering SMS marketing, it's essential to differentiate between the different types of SMS campaigns. Take a look at the various SMS campaigns you can choose from:
1) Promotional
They aim to build interest in a product or service. Special offers, discounts, and coupons are examples of promotional SMS marketing. They effectively drive potential customers to your store or website, mainly when the SMS contains a call to action (CTA).
2) Transactional
They are sent in response to a time-sensitive event or action, for example, password reset, appointment reminders, and shipping notifications.
Transactional SMS messages have a high open rate as they are timely and purposeful. For this reason, it can be very helpful in driving conversions. For example, an order confirmation following an online purchase is an excellent example of a transactional SMS campaign.
3) Informational
They are used to inform the recipients of important events and announcements, such as product launches, new services, and webinars.
Informational SMS messages benefit business owners who want to build customer relationships through engagement. Informational SMS campaigns can effectively grow brand awareness and customer loyalty.
Two-way SMS:

SMS can enhance customer service when implemented as a two-way communication channel. By integrating with a customer service tool, customers can text to and fro with a marketing or customer support team.
Likewise, two-way messaging can help acquire feedback after customers complete a purchase by asking for a rating of satisfaction levels.
Is SMS Marketing Effective?
Yes, SMS Marketing is effective. The numbers are undoubtedly impressive. Here's a glimpse of some findings related to SMS marketing. According to reports:
75% of customers would like to receive offers via SMS, and 60% of customers read their text messages within 1-5 minutes of receiving them.

SMS has a 98% open rate compared to email marketing, and the CTR rate for offer messages is almost 10% higher than other digital channels.

Statics also indicated that almost half (45%) of your potential customers would respond to your messages if your company name is included, as it's easier for customers to differentiate them from spam.
Rather than using unknown numbers, including your company name makes your potential customers open the SMS messages and more likely to write back.
Also, when comparing the response rate of texting to emails, studies have shown that customers are 4.5 times more likely to engage with a text than an email.
What Is The Best Time To Send SMS Marketing Messages?
SMS marketing can help you deepen your relationships with your customers. But, at the same time, there are a few things to keep in mind about SMS marketing that you should consider before jumping in.
SMS is a more private channel than email and can significantly help you build brand loyalty. Nonetheless, factor in the importance of the messages you send to your SMS subscribers and the frequency you are sending them. If you abuse this channel, you may risk losing your customers.
Businesses should leverage SMS marketing messages when they need to send:
Critical network updates and community alerts,

Appointment reminders,

Delivery status updates

Implement two-way dialogue with customers.
SMS marketing should also be actively used for customer service and enhancing customer satisfaction.
The more you get familiarized with SMS marketing and obtain data insights on what and how often your subscribers respond, the more intuitive you'll become and understand when and how to navigate texting your customers.
SMS Marketing Examples To Send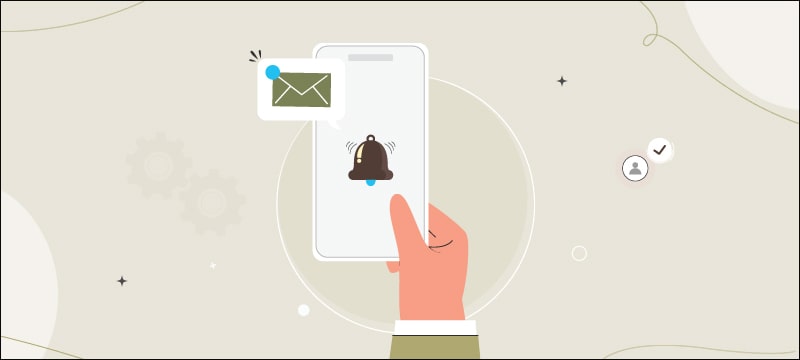 Ready to take SMS marketing to the next level? Here are some creative SMS marketing examples to try out!
1) Welcome Text Messages
Welcome text messages typically welcome new or potential customers to experience the brand. In addition, they usually share information about messages and data rates, privacy policies, and details on how to unsubscribe.
Sports apparel company Vuori includes all these details in their welcome emails. It also offers SMS subscribers the option to get customer support via text message by replying "HELP" to any of its messages. Finally, it includes details about the benefit of signing up and a CTA to 'shop now.'
Many e-commerce brands include a welcome discount code to incentivize customers to purchase. Welcome SMS messages are also often used to repeat brand values. They also make customers feel special about being on a brand's select list.
2) Order Confirmation
Sending your customers order updates via SMS provides a good base for your SMS strategy. The key to a top-notch customer experience includes order status updates, shipping, and delivery schedules.
Nowadays, most e-commerce businesses automate SMS updates on orders to provide customers with the necessary information. Amazon is an excellent example of how its informed customers are happy. It sends SMS updates with detailed information about shipping status, delivery date, and estimated arrival time.
3) Booking Confirmations And Appointment Reminders
With time-sensitive events, emails may not be as efficient. They sometimes get lost in spam filters or remain unread among a deluge of unread messages.
Compared to emails, SMS messages offer a much quicker way to confirm bookings and send appointment reminders. Let customers know their appointment is confirmed, or give them details of time, location, and what to expect when they arrive.
The Nu Med Spa in Thousand Oaks, California, leverages the SMS channels for sending confirmations and appointment reminders in SMS where they are more likely to be seen.
4) Date Triggered (Birthday, Anniversaries, Etc.)
The home decor superstore brand At Home sends a simple concisely-worded SMS message providing a special discount coupon for their subscriber's birthday. They have to click the link in the SMS to be able to redeem their vouchers.
In a nutshell, it's a good strategy to meet your customers in the moments that matter to them, such as birthdays and anniversaries. In addition, you can conveniently access names and other data to personalize your texts by leveraging an omnichannel marketing automation platform.
Likewise, you can make headway in holiday season revenue by sending personalized SMS messages that provide special offers for upcoming holidays.
5) New Arrival Notification
Announce your newest products, collections, or services with an SMS message. Make sure to include a link for customers to see the new arrival! Moreover, in addition to driving online traffic, SMS marketing about new product updates also attract customers to visit your store in person.
Baby product retailer Albee Baby gets straight to the point with SMS messaging announcing fresh arrivals and providing a website link. After all, new parents don't have time for fancy, trendy texts. All that matters is to find the products they need quickly, and SMS marketing enables the brand to deliver!
6) Content-Driven (How-To Guide, Feedback)
You can enhance your customer's experience by providing valuable interactions, such as asking customers for product feedback, sharing informative resources on creative ways to use the product, and other tips.
American variety-store chain Dollar General's text messages are typically about sales or encouraging usage of their mobile or messaging apps. The brand's bright colors are eye-catching the space is used to showcase the app experience. The large 'Explore Coupons' headline makes for an easy call to action.
7) Cart abandonment series
As of November 2021, studies indicate that nearly 70% of online shopping carts were abandoned without completing a purchase. These numbers have gradually increased since 2014, highlighting online retailers' challenges in driving conversions.
It's critical for marketers to lure prospects back and complete the purchase.
Equestrian apparel company Kerrits started adding SMS to their abandoned cart email purchases, which has significantly helped the brand. Notably, it sends an SMS to the opted-in customers who leave their cart without checking out.
8) Customer Service
SMS messages aren't restricted to sales but can be used to manage issues before they escalate proactively.
For example, the consignment store Once Upon a Child proactively informed its SMS subscribers of their limited availability due to staff shortages.
Likewise, you can leverage SMS marketing to assure customers who have complaints about your business. Since it's a more personal channel, it's an excellent way to connect with your customers and showcase the brand's human side.
It can be used as an opportunity on the front end. Customers like their interactions with brands to be conversational, and SMS marketing helps to grow that relationship further.
9) Event Invitations
SMS is the perfect way to spread the word about upcoming events. Send a short message to tell people when, where, and what's happening. It helps create a sense of urgency and can motivate people to take action.
CrossFit fitness brand BeachSide CrossFit sent SMS messages inviting members for their first ever podcast/FB live featuring two doctors sharing their insights on health and wellness and inviting members to see their cleanliness protocols.
10) Status Updates
SMS is one of the most popular and effective ways to provide customers with status updates. For example, SMS can provide customers with up-to-the-minute information about their purchases or booking from airlines to online retailers.
For example, SMS status updates are critical in travel, where airline schedules may suddenly change. In the travel industry, SMS is the preferred channel for sending urgent messages and status updates. It eliminates the need for lengthy emails or complicated phone calls to customers and provides them with the information they need and alternative solutions.
11) Billing Reminders
The banking and telecom sector, utility service providers, real estate, and subscription-based businesses are examples of companies that must constantly remind customers about upcoming bills or payments.
SMS marketing is the perfect way for companies like telecom giant Verizon to ensure that your customers don't miss their billing dates and that they keep up with their payments. As a result, more and more businesses are aligning with customers' preferences and sending billing reminders via text messages.
More significantly, customers are less likely to overlook SMS updates than email messages sent to email inboxes. Also, SMS automation is just as easy to implement.
12) Security Code
One of the most efficient ways for businesses to offer a secure browsing experience is by implementing SMS-based two-factor authentication. This requires users to enter a unique code sent via SMS to gain access.
At a time when data breaches are becoming increasingly common, SMS authentication codes enable companies like Gusto – a cloud-based payroll platform – to offer an additional layer of security for their customers.
As customers increasingly recognize the value of SMS security codes, the role of SMS marketing in security will become more prevalent.
These examples are just some of the ways SMS marketing can reach customers. You can implement SMS marketing in your business regardless of size or industry and reach out to your customers personally and directly to keep them informed and engaged.
What Is SMS Customer Service?
SMS customer service can be defined as the practice of supporting your customers through SMS messages.
In SMS customer service communication occurs via text message, and all interactions are exclusively text-message based. Therefore, the approach is typically implemented as an integral part of an omnichannel customer support program.
Scope of SMS Customer Service – What do the Numbers Indicate?
According to studies, the following numbers indicate a huge opportunity for brands to push their products and drive customer service through the SMS platform:
Mobile users worldwide will reach 7 billion by 2024.

Around 80% of clients want businesses to send them offers using SMS.

In addition, 75% of people aged 44 and lower prefer to contact companies via text.
Also, the leading industries in which customers indicate they're more likely to opt-in for text messages include retail or ecommerce (46%), followed by healthcare (43%) and banking/financial institutions (41%).
In retail, SMS messaging is mainly used to confirm orders, send dispatch notifications, and track information and delivery statuses. These functions broadly fall within the purview of SMS customer service and are considered the most valuable messages businesses send.
Appointment reminders, delivery status updates, and booking confirmations score higher in terms of value perceived by customers than product discounts and offers.
Furthermore, with Gartner pointing out that 80% of customer service organizations will have abandoned native mobile apps and switch to messaging for a better customer experience by 2025, SMS customer service will become an even more important part of SMS marketing.
These insights provide direction for businesses looking to incorporate text message marketing that SMS customer service will be a logical move. Also, your customers are more likely to remain subscribed to your SMS messages if the messages continue to add value to your interactions.
At the same time, you should ensure that your SMS customer service is not restricted to automated confirmations or reminders. Instead, it should enable customers to chat directly with your customer service teams using one-to-one text messaging.
What Are The Advantages of SMS Marketing?
You may be wondering what makes SMS marketing so great. Here are some key advantages that make SMS marketing one of the most effective and efficient ways to reach and engage with your customers:
Faster Reach
60% of customers open and read their text messages within 1-5 minutes of receiving them. So, for marketers looking to send time-sensitive information, such as limited-time offers to customers, SMS is the ideal channel.
Better Response Rates
Compared to other marketing channels, SMS allows you to connect directly with your customers on their mobile devices resulting in a much higher response rate. Good response rates imply that you are keeping your customers engaged with your SMS marketing. This further opens opportunities to drive conversions.
Including CTA in your text messages is an excellent to attract customers to take action and boost response rates. CTAs such as 'Click Here,' 'Buy Now,' and 'Visit Us' are effective in SMS marketing campaigns.
Aligns With Other Marketing Channels
While SMS marketing strategies have strong potential, they can be seamlessly integrated with other marketing channels to enhance outcomes.
For example, you could use SMS to follow up on an email campaign or contest to ensure that your customers don't miss out on important updates and offers. Likewise, SMS reminders can be sent to customers for scheduled events to increase signups.
Builds Loyalty
SMS marketing allows you to send personalized messages and offers to your customers, thus making it an excellent way to show your customers you appreciate and value them. This can lead to increased customer loyalty and retention.
Boosts Revenues
SMS messages which promote special offers and events and implement calls-to-action can help drive customers to the store or website to take advantage of the offer.
Reminder text messages to customers about products left in their shopping cart can facilitate them to complete their purchases. These eventually help increase revenues and help grow the brand.
Mobile responsive
Per a study, adults text for about 23 hours a week. This insight highlights the need for businesses to invest in mobile-friendly customer engagement, like SMS messages that can be easily read on mobile screens.
Put simply, SMS can reach subscribers speedily and are ideal for flash deals and limited time-sensitive offers as most people check their messages first thing in the morning and nearly every time they get a notification.
High open rates
Based on statistics mentioned earlier in this article, it's clear that the open rates and engagement levels with SMS messages are high worldwide. This can help facilitate repeat purchases and better customer lifetime value. In the US, SMS is the most likely channel to induce action.
The SMS's robust click-through and conversion rates, channel affinity, and associated revenue deliver a significant return on ad spend (ROAS).
Preferred Mode of Communication
MS helps businesses inform shoppers about their offers, events, and other news that matter by leveraging a medium they are comfortable with.
This also allows the customers to feel the brand values them. Moreover, with recent data and privacy changes, there are restrictions in communicating with consumers via email and marketing. In contrast, SMS delivers engaging, customized and direct messaging between the marketers and the prospective buyers."
Quick-Start Guide to Sending Your SMS Marketing Messages.
Once you're ready to send your SMS marketing message, you must set up the SMS service first. This guide offers a simple, step-by-step guide to getting started with SMS marketing.
1) Establish Clear Objectives
Many markets rush into SMS marketing without determining the goal or expected outcome. So, to begin with, launch your campaign with a single purpose, build quick wins, and then advance your capabilities.
For example, you can start by using SMS for customer engagement and retention. You could set up SMS campaigns to alert customers when they have a new order or inquiry or when a product is back in stock. Next, you could look at SMS campaigns to drive sales.
2) Partner With A Suitable Vendor
Once you've streamlined your objectives, the next step is to partner with a good vendor with the required domain experience and expertise to help you set up and launch your SMS marketing smoothly.
At the same time, ensure that the vendor can seamlessly scale your over time as your SMS channel grows.
When scouting for vendors, ask about complementary integrations, growth tools, personalization features, targeting within campaigns and automation, and if they offer two-way, real-time interactive communication with contacts.
3) Build A Relevant Subscriber Base
Having selected your SMS marketing platform, grow your subscriber list. This can be done via forms on your website and email flows and/or by placing checkboxes near the checkout flow on any big online marketplace.
Phone number and signup keywords users text to opt-in is popular ways to collate a subscriber list.
As SMS marketing is permission-based, ensure that all aspects of your program and data collection to build your list are compliant.
4) Campaign Launch
Begin by researching new ways and how they benefit your business. It's advisable to start with a single campaign. So, for example, if you're also sending an email about the same limited-time offer, work out which SMS call-to-action will offer the best response rate.
Once you've decided, implement the SMS into your marketing automation and leverage the power of an omnichannel customer experience.
5) Test Responses And Realign As Needed
Post-launch, you'll need to ensure that SMS campaigns work as you had planned. Track the performance metrics of your SMS campaign and make changes as required.
This could involve changing the timing of SMS messages, adjusting content, or segmenting your target audience by demographics, interests, or behavior.
SMS Marketing Best Practices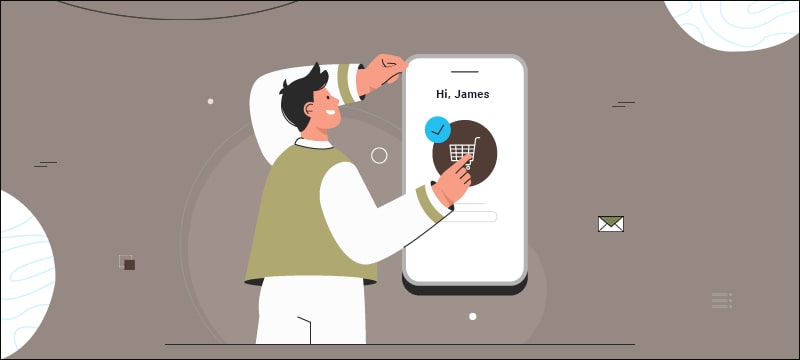 Get Permissions
FCC rules mandate that SMS marketers get permission from customers to send SMS messages. Violation of FCC rules carries hefty penalties.
One way to grow your list is by implementing a keyword campaign, where your contacts have to text a specific word to a short code to grant their permission and to receive your SMS marketing messages. For example, asking consumers to "text JOIN to 878787″ for event updates.
Getting approval ensures that you send messages only to those who want this type of marketing. Unsolicited messages only end up annoying potential customers and leading them to unsubscribe.
Provide Value To Customers
Ensure that the content you're sending to customers is relevant and enhances your customer's experience with your brand.
For example, promotions, discounts, exclusive previews, and deals are all great ways to engage customers, and these SMS messages are often perceived as a value-add. Likewise, sending SMS communication to consumers to use in their peer circles also provides value to customers.
To sum up, marketers must treat text message marketing similarly to how they look at joining conversations on social media – add value without being intrusive.
Keep It Short And Concise
People want to get their information quickly and efficiently, so make sure your SMS marketing campaigns are easy to read on little screens. Good SMS marketing campaigns are those where SMS keywords, phrases, and sentences are short and stick to one CTA.
Many users still pay a surcharge on text messages, so avoid multiple threads, as this will add to their costs.
Personalize Your SMS Marketing Campaigns
Personalized SMS campaigns get better engagement, resulting in higher conversions.
So leverage your brand voice as much as possible, invest personalization of your messages, and tailor the content specifically to their interests. If possible, use data automation to include people's names when sending texts.
Implement Segmentation
Customers appreciate messages created especially for them. This is possible with segmentation for creating targeted groups based on their interests. For example, you can create a rich set of lists tailored around shopping history, customer engagement, demographics, and others.
Segmentation helps devise suitable messages for each customer and enhances personalization.
Avoid slang
SMS messages are meant to be brief and straightforward but keep it professional. Instead, use proper, yet casual, English. Slang can come off as unprofessional and could be interpreted differently by different customers.
Don't Barrage With Messages
Use your discretion and avoid communicating every single promotion or news about your business. Instead, plan your campaign well and send texts only when needed, restricting the number of customers
Overdoing your SMS marketing may result in consumers ignoring your texts over time. Even worse, they'll opt out if they cannot handle the volume of your business messages.
Be Mindful of Your Sending Time
Along with the frequency, also be mindful of 'when' you send your consumers SMS marketing messages.
Customers do not appreciate receiving texts at random hours, so mindfully schedule your messages. According to experts, during typical business hours is preferred to late-night texts.
Include CTAs
SMS campaigns can be a great way to drive conversions, so include a call-to-action (CTA) in each SMS.
Provide An Unsubscribe Option
Though no marketer wants to have customers opting out of their program, making it convenient for them to do will make them more willing to enlist for your texts in the first place.
You can provide this option by incorporating an unsubscribe link for subscribers to click or a 'STOP' reply opt