It's summer already, which means that most of the people on your email list are on a vacation to rejuvenate themselves. While the subscribers are enjoying the summer break with their family, email marketers are still on their toes to create email campaigns that would bring them the desired results.
So, the pressing question is how to engage those subscribers who are in the relaxation mode? How to entice them to open the emails and get them to convert? Here are some expert ideas to capture the attention of vacationing subscribers with interesting examples.
1. Write Attractive Subject Lines
It is a proven fact that the subject line determines whether a subscriber will open your email or not. Create an interesting visual with your subject line that portrays a summer fantasy in the subscriber's mind. When your subscribers are wading through their flooded inboxes, your subject line along with the preheader text should resonate with them even while they are on a vacation.
Here's an example:
Subject line – Need a copilot?
Ritual sends out a unique email with the perfect vacation theme of a postcard. See the prominently placed CTA that matches the color of summer and exudes a warm feeling to the reader.
2. Match the vacation mood with an innovative email copy
Your subscribers should be able to attain a sense of repose with your emails. Rather than a sales pitch, write a creative copy with a dash of humor and emotion. Even if your subscriber is back from a vacation, it is quite likely that they are planning the next year's trip. Make sure your email promotes suitable products according to the vacation season and helps the subscribers packing the right stuff.
See the email sent by Jeni's Splendid Ice Creams.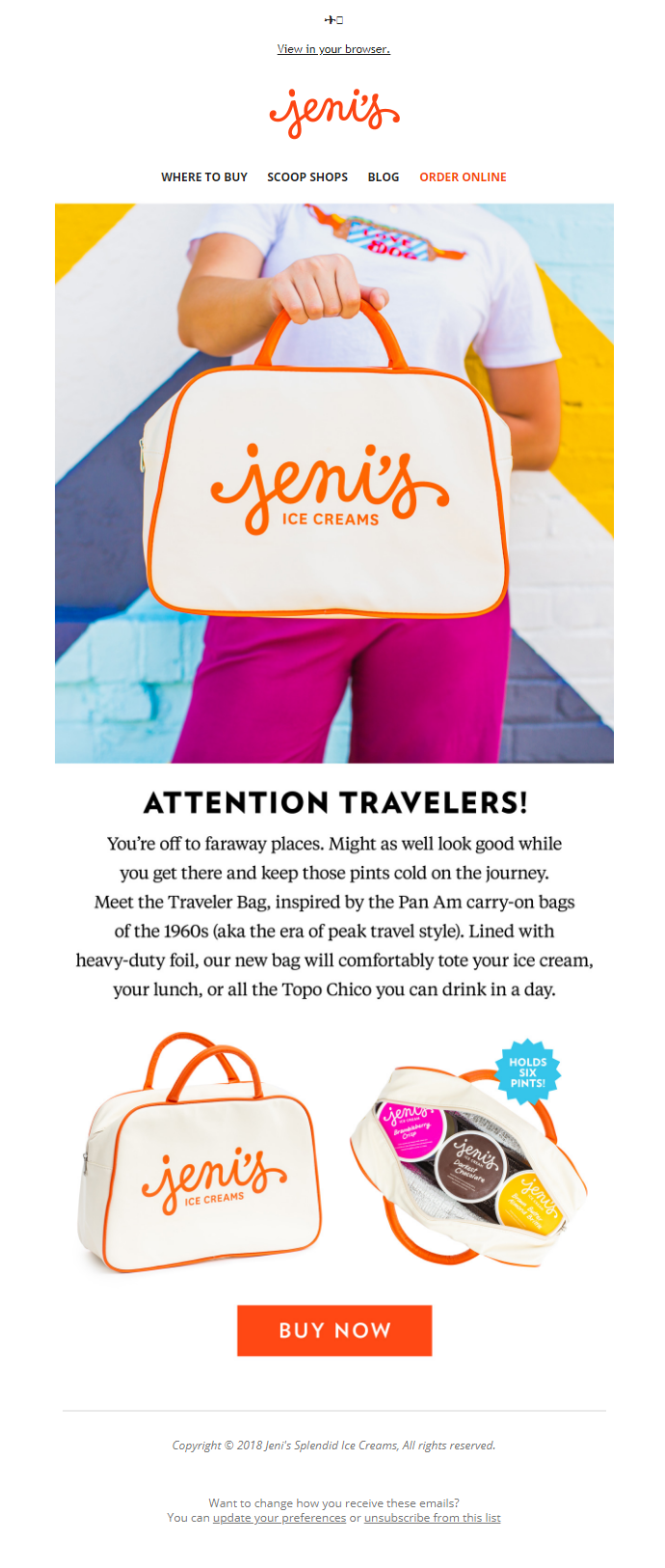 Subject line: Ready for takeoff: The Jeni's Traveler Bag
The hero image displaying the traveler's bag is a great idea to appeal to a subscriber who is going to a vacation. The entire email is planned in such a way that every element, including the headline, copy, CTA and colors, reflects leisure time.
3. Include Interactivity
Interactive elements like GIFs create a lighter mood and enhance the subscriber engagement. They drive more click-through rates as the subscriber is tempted to know more about the offer. It is a creative way to increase sales and generate better business growth. You can even consider adding cinemagraphs, sliders and video to your email to make it more appealing for your target audience.
Have a look at the email by UncommonGoods.

Subject line: Destination: Creative Designs
Images and GIFs have been brilliantly used in the email.
4. Create a sense of urgency
Tap on the 'Fear of Missing Out' by including countdown in the email and promoting limited time offers. Incentivize the customers with an attractive summer discount that evoke a temptation to make the purchase.
J.Crew has promoted the last day of the offer with an attractive hero image.

Subject Line: Last day for 30% off your purchase
The CTA — 'SHOP IT WHILE IT'S HOT' is aptly put to radiate summer vibes.
5. Use Cultural References
Numerous songs, movies, and books are about summer breaks. Remember Summer of 69 – the famous song by Bryan Adams? So many people out there love such metaphoric songs that take them back to their memories. You can create something like Summer of 2018 in your email that would surely add more sensitivity to your content and make it more than just a marketing campaign. It is a fact that using instances and references from popular culture always works more effectively to engage people.
Final Thoughts
Summer break is synonymous to fun, refreshment and relaxation. Build the summer email campaigns that suit your business and type of subscribers you have, while keeping the 'vacay' mood alive.
Happy Emailin'!