Every business needs customers to survive, & it's no secret that keeping those customers around is one of the most important things a company can do. But knowing what to do and how to maintain customer retention and make your customers engaged isn't always clear-cut.
To help you maximize customer retention and keep your business booming, we've created this Ultimate Guide to Customer Retention. In it, you'll find strategies, tips, and tricks that will help you maintain customer loyalty that lasts.
So scroll down, and let's get started on your journey toward becoming an expert in customer retention!
What Does Customer Retention Mean?
Customer retention is a metric for measuring your customer's loyalty. But, as the name suggests, it also encompasses the ability of organizations to keep or retain their customers over time & prevent them from switching to a competitor.
In addition to determining the number of loyal customers, customer retention can notably reflect or predict customer engagement and satisfaction with your product or service, repurchase behavior, & their emotional connection to a brand.
It may be said that customer retention is also the lifeblood of most subscription-based businesses.
So, while customer relationships generally start with an initial interaction, customer retention metrics come into play at the customer's first purchase & include all the subsequent interactions.
After measuring customer retention, companies can leverage the information to analyze customer experience and customer success.
So if there's a change in customer retention, the organization can identify the root cause & align its product offering to boost customer retention.
Why is Customer Retention Important for Business Success?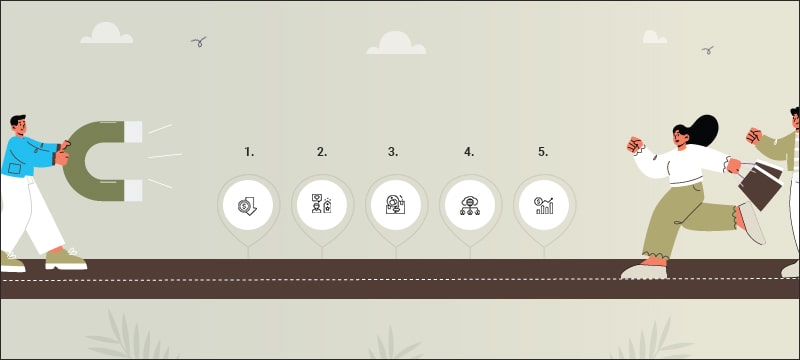 Customer retention is critical for almost all B2B and B2C businesses. Typically, the lower the customer churn, the higher the retention, customer loyalty, and success of a business.
Here are the top reasons customer retention is crucial for business success:
High acquisition cost
According to the Havard Business Review, new customer acquisition ranges from 5 – 25 times more costly than retaining an existing one depending on the industry you're in.
So if you neglect customer retention & instead focus entirely on expanding your customer base, your costs will soar, leading to financial losses.
Brand loyalty
Loyal customers often become repeat customers. Customer retention boosts the chances of customer loyalty and repeat purchases and can significantly increase profits.
Easier to upsell
Existing customers are more likely to make new purchases or upgrade to higher-priced plans & products than new customers based on their trust and satisfaction with the brand.
Customer retention is the key to driving organic growth, and customer acquisition costs can be kept low. Additionally, you can also send them upsell emails and increase your sales.
Easier to expand customer base
Customer loyalty is more likely to result in free referrals to colleagues, family, and friends. It's more likely that your retained customers will do word-of-mouth marketing and/or become your brand's ambassadors.
This big plus point should never be overlooked, as customer loyalty helps businesses to build trust and gain credibility & can set your organization on the path to long-term success.
Enhanced ROI
Retaining customers reduce customer acquisition costs and increases customer loyalty. Customer retention ensures that customers spend more money on your products or services &, as a result, boosts your Return on Investment (ROI).
Benchmarking Customer Retention
Benchmarking customer retention involves tracking customer loyalty, satisfaction, and attrition rates. By monitoring industry averages, you can get an objective view of how your customer retention efforts are faring.
According to trade reports, the average customer retention rates can be summed as follows:
Between 80% – 84%:

Construction & Engineering, and IT Services, Insurance, Automotive & Transportation, Professional Services, and Media.

Between 75% – 78%:

Banking, IT& Software, Healthcare, Telecommunications, and Financial Services.

Between 63% – 67%:

Retail, Manufacturing, and Consumer Services.

Around 55%:

Hospitality, Travel, and Restaurants.
While there's no single optimal key performance indicator (KPI) for customer retention, & retention goals can be high, the specific goals ultimately depend on the leadership.
The closer your retention is to 100%, the better your market position. Nonetheless, when retaining customers, certain factors like competition & consumer choice mean that only a few businesses can boast 100% customer satisfaction.
Customer Retention Strategies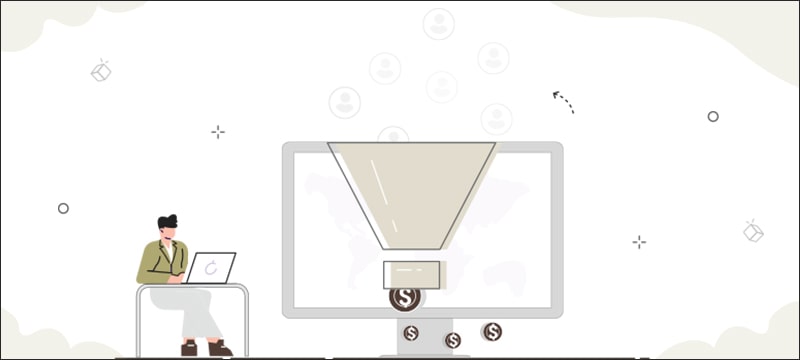 Every customer is essential to your business. That's why customer retention should be one of your main priorities when it comes to customer relationships. Here are a few strategies to help you create long-lasting customer relationships:
Improve Customer Onboarding
One primary reason customers move onto other products or brands is they do not understand how to use the product to its full potential.
Helping your customers be aware of the key features and advantages of using a product during the onboarding process will ensure they don't move on to a different product.
Training sessions that guide customers about best practices and standardized workflows will provide the necessary tools to maximize customer satisfaction.
It's also essential to make customer onboarding as simple & fast as possible, so customers can start using the product quickly with minimal hassle, and you can cultivate retention over time.
Set Realistic Goals For Meeting Customer Needs
Be realistic in setting goals so you can deliver on customer expectations more efficiently. Look around and research the success levels of comparable businesses.
Likewise, discuss with your client and jointly chalk out a roadmap that includes realistic goals & milestones your new customer is comfortable with.
Also, ensure that crucial accountable teams, such as your customer success team, can access & implement this roadmap with capabilities to measure progress.
Understand Your Customers' Experiences
Customer experience and journey mapping help you understand your customers' engagement with your brand across various touchpoints.
The better you know the journey & experiences of your diverse customers when making a purchase, the more efficiently you can optimize customer experiences.
Well-known brands worldwide have successfully weaved unique customer experiences to garner customer loyalty and maintain excellent retention rates.
Interact With Customers Where They Are
It's essential to meet customers where they are. Omnichannel support will enable your customers to engage with you on a channel that suits them.
For this, you should be active in customer communication on their preferred channel – whether through social media, email, chat, web, mobile app, or other customer service platforms.
It's also vital to offer customer support when your customer needs it, not just when you feel like it. As you lessen the effort for your customer to make a purchase or contact your support team, the positive experience helps you enhance customer retention.
According to a study, retailers must focus on the omnichannel experience and strengthen operations with a holistic view of customers to thrive.
Further, the significance of personalized in-store experiences (75% consider it 'critical' or 'important') based on online behavior highlights the importance of integrating marketing technology and POS and CRM systems.
Some retailers leverage omnichannel experiences to link their customer's online, in-store, and mobile visits.
For example, Click-and-Collect, where customers can buy products online and then have them shipped to their local store, or the Click-and-Reserve program, where customers can reserve stock in-store before purchasing.
Build customer trust
When it comes to trust-building, remember that though your customers buy from you, they may not fully trust you – trust is built over time.
And there's no single tactic that every business can implement. Instead, reliability is crucial to building trust. For this reason, companies must consistently provide value to customers and follow through on brand promises.
How you measure up to your word will, over time, impact if or not your customers consider your brand trustworthy.
Implement segmentation
How you collate, organize, and act on data will determine your business success. Generally, you can use sales CRM software to segment your prospect and customers based on their interactions with your brand.
With these insights, you can create highly customized marketing campaigns matching the awareness levels of customers and prospects.
For example, loyal existing customers may get annoyed if you send them offers for a first-time purchase. So, when it comes to retargeting, email segmentation is an effective medium to deliver apt content at the correct time.
Many companies have built on the advantages of sending email campaigns to segmented customers and prospects.
In fact, the success of your email campaigns is directly correlated to how well you manage them. Learn more about how InboxArmy can help supercharge your Email Campaign Management with a results-driven ideology.
Upsell to existing customers
Upselling involves offering customers more expensive or higher quality versions of a product they've already purchased.
Leveraging existing information assets such as whitepapers, ebooks, & other relevant content to showcase your product or services' key features and benefits and ensure your customers remain as active as possible.
By convincing your customers to try your premium or upgraded service, they will be connected with your brand, enhancing customer retention amongst loyal customers.
Use Email Automation To Connect With Inactive/Lapsed Customers
Keeping your customers actively engaged with the brand can help you increase retention. Gently nudging your customers who have been inactive for a while using automated email through your CRM system can influence your inactive customers to act.
For example, you observe that a customer has only used limited features of the product, so you can send them an email highlighting some of the more useful features that may pique their interest.
Nonetheless, this strategy is suitable when customer inactivity is voluntary and not due to customer dissatisfaction. Also, where your customers are already active product users, these emails will be off-putting.
Identify possibilities of customer churn
Customer churn refers to the percentage of customers no longer purchasing your business's products since a specific time period.
Customer satisfaction is a solid case for KPIs since it facilitates identifying customers likely to churn.
For instance, depending on your industry, if a customer has been inactive for over 30 days, it may be a warning sign before they churn, and you should look into the reasons that may have resulted in it.
Notably, some businesses implement a traffic light system where green indicates happy users, who are very unlikely to churn, amber is assigned for users whole potentially have a less critical but open issue about the product, and red is allocated to customers who are at high risk of churning.
The latter could be because of serious complaints about the product or a lack of satisfaction. In sum, based on the criticality, efforts should be taken to prevent high-risk users from churning.
Prioritize Customer Feedback
Your customers' feedback is one of the most vital tools to help you boost customer retention and lower attrition. Therefore, it's best to directly obtain feedback about the quality of your products and/or services from your customers.
Customer satisfaction surveys, for example, are a great way to empower your customers to give feedback and provide accurate customer insights.
They can be as easy as indicating a 'thumbs up or thumbs down' after resolving a case. However, to obtain more detailed insights, you could ask more specific questions to bring in more detailed insights.
Nevertheless, always ask questions that address customer effort. For example, if customers are having difficulty navigating your site.
In that case, questions such as, "How easy was it to find what you were looking for?" and "What do you think could've been done to make the process easier?" can help you identify customer pain points and provide more customer-centered solutions.
Furthermore, try to include feedback from customer service teams along with the surveys. Being a first contact point with your customers, they are well placed to identify common complaints and preferences.
Reward Customer Loyalty
You can also enhance your customer retention rates by rewarding loyal customers.
Customers generally like being appreciated, which motivates them to continue with the brand.
Discount coupons, loyalty programs, and special offers are all effective ways to motivate customers to continue purchasing from a particular brand. You can choose from loyalty programs, i.e., points-based and tiered reward systems.
In fact, they can be leveraged to collect more insightful customer data. The more customer purchase data you can access, the better you can personalize your rewards.
Thus, since loyalty programs serve a dual purpose of rewarding shoppers and opportunities to enhance customer experience based on their purchase behavior, this strategy is crucial to customer retention.
Implement A Referral Program
By introducing a referral program, you can encourage satisfied customers and boost customer loyalty. Offering upgrades, credits, or other incentives to your clients can help you drive new signups while simultaneously connecting with your existing customers.
Another significant fallout of referral programs is their potential to convert most loyal customers into brand ambassadors. This ultimately increases a customer's emotional engagement with the brand, thus enhancing retention.
Customer Retention Examples to Get You Started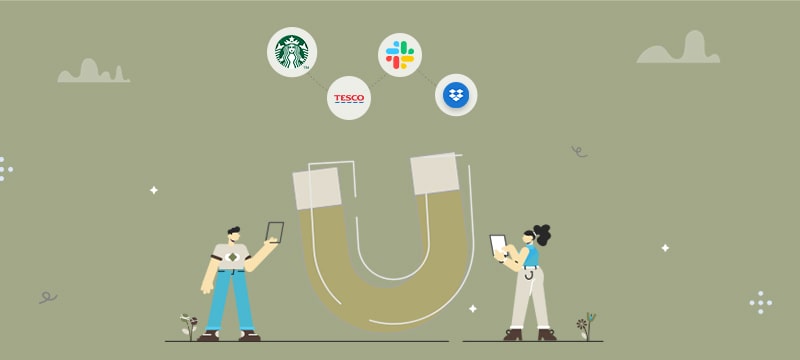 If customer retention is something you've been aiming for, then you're in the right place. The five customer retention examples we'll discuss here are a great starting point to reduce customer attrition and keep your customers returning for more.
Frictionless Onboarding Experience – Slack
Since the onboarding process is your customer's first interaction with your brand, you must ensure that this first impression shapes perception.
For instance, in the SaaS space, most customers tend to delete an app if they cannot use it. However, concerted efforts to educate customers through onboarding can help you retain them.
Slack, by providing essential tooltips to acquaint users with key features, the company streamlines the onboarding process without overburdening users with extra info.
The omnichannel convenience – Starbucks
Aside from providing a delightful in-store experience, coffee biggie Starbucks wanted to push customer retention through innovation.
Their Mobile Order & Pay feature has been one of their most significant customer retentions. Available within the app, this feature enables customers to order their coffee before arriving at the shop.
The takeaway is that leveraging omnichannel experiences enables businesses to make their products and services as accessible as possible. Identifying customer behavior and purchase history makes it possible to create tools and capabilities that will allow them.
Listen and Respond To Customer Feedback – R&G Technologies
Australian IT support company R&G Technologies strengthens customer relationships with speedy response time and stringent service-level agreements (SLAs). Even employee earnings are tied to these KPIs.
However, its customer satisfaction surveys lie at the heart of customer retention. Therefore, the company focuses on asking relevant questions while enabling customers to share what suits them and what doesn't.
Determining unhappy customers and pinpointing customer challenges helps businesses address critical issues, make informed business decisions, and retain customers before they churn.
Implement Loyalty Programs (Evernote), And Referral Programs (Dropbox)
Loyalty programs have a broad scope – you reward customers for performing critical actions on the app. For example, you could reward customers with something of real value for renewing subscriptions and upgrading accounts to drive customer loyalty in the long run.
Evernote's customer retention program lets customers accumulate loyalty points for inviting friends. For instance, the first three referrals fetch you sufficient points for Premium, and you can keep earning when a friend you have referred purchases Premium for the first time.
Likewise, file-hosting service provider Dropbox establishes through its referrals program that happy customers are a brand's best advocates.
Its strategy of providing customers extra storage space for referring others worked superbly. The program not only helped Dropbox increase customer retention but helped it go viral during the initial days.
Leverage Personalization – Tesco
Supermarket giant Tesco is a huge brand in the UK. However, it can get challenging for huge brands to be perceived as a company that emotionally connect with their users. The brand still values the human angle despite online grocery shopping and self-service scanners for convenience.
Tesco, therefore actively leverages Twitter to implement a caring human touch.
For instance, tweets about product usage and other queries are immediately attended to with personalized email responses, recommendations, and advice, infusing personality into customer interactions.
In addition, customers can speak directly to the support team regardless of the channel, whether email or social media.
Most importantly, avoiding canned responses and personalizing every message enhances customer engagement and makes communication authentic. In addition, it brings out the brand's emotional connection with its users.
Best Practices For Customer Retention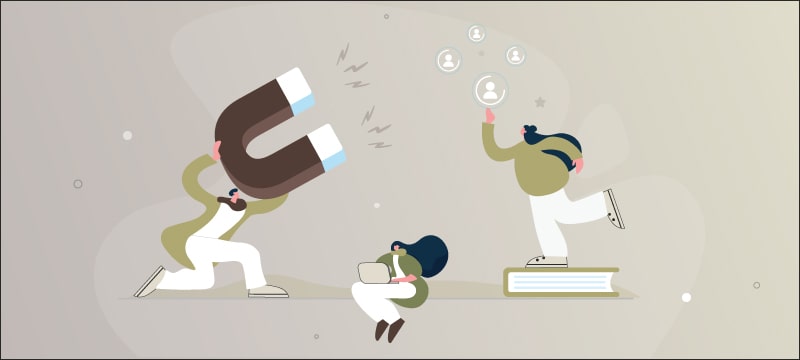 With customer retention becoming a top priority for companies of all sizes, there is no better time to brush up on customer retention best practices. Here are some customer retention best practices that will help you keep your customers coming back:
Enhance Customer Support
Timely first replies and speedy support resolutions enhance customer experience and satisfaction.
Nonetheless, even where issues cannot be resolved immediately, ensure that your teams respond to the customer with at least a short message letting them know their question is being attended to.
If possible, offer an estimated time frame upfront for the resolution. Most customers are okay with a reasonable wait time, considering you are working towards a solution.
Personalize Customer Engagement
Repetitive interactions with customer support over the same issue can frustrate customers and make them more likely to churn.
Empower your support agents with advanced tools to access customer information such as language, location, contact details, and conversation history and take the conversation further.
Leverage Social Media Support
Social media is the preferred medium for immediate response. It is an excellent customer service channel to answer customer questions or concerns quickly and efficiently.
Utilizing customer feedback on social media is also a great way to stay connected, boost customer loyalty, and create a related and unified customer experience.
Use Data
Customer data is a powerful tool for customer retention. First, analyze customer data to identify customer needs and preferences, then use that information to create personalized customer experiences.
Using a CRM solution can help you have the essential data for making coherent interlinked sales, marketing, and customer support decisions in one place.
Care For Employees
Providing your team with tools to simplify and speed up workflows can help your customers, too.
With tickets reaching the proper departments and representatives and multiple support request forms and conditional ticket fields, customers can benefit from personalized forms that ask for relevant information only.
Streamlining the process with appropriate support software will instantly direct tickets to specialist agents for the task. As a result, not only will your agents improve efficiencies, but they will be happier, and this will retain more customers as they are more in control of customer support.
Customer Retention Metrics
There are some vital customer retention metrics you should be tracking to evaluate customer loyalty.
Here's a quick rundown of customer retention metrics to help you understand customer loyalty and inform your customer retention strategy.
Customer Retention Rate
Customer retention rate is the percentage of your previous loyal customers over a period of time.
The following three specific variables are required for calculating the retention rate:
(S):

the total number of customers at the start of the assigned time period.

(E):

the total number of customers at the end.

(N):

the number of new customers between this duration, i.e., the two dates.
Customer Retention Rate = [(E − N) / S] × 100
Customer Satisfaction Score
Customer Satisfaction Score (CSAT) is one of the most practical ways to assess customer satisfaction. It enables you to obtain insights about the satisfaction levels of your customers with different product facets ranging from features to the efficacy of your customer support.
Customer satisfaction surveys are about quantification – they measure user sentiment using scales: 0-10, 1-5, Sad face – Happy face, Very unlikely – Very likely.
Even non-numerical scales like the happy/sad faces have a quantitative value behind the scenes, i.e., the sad face may be a 1 on a '1-5 scale' that you base your formulas on.
To calculate CSAT, first create a survey asking your customers about their satisfaction levels. For example, you can ask questions such as:
How helpful was [this article/ tech support session/response]?

How satisfied are you with [the customer service answer/waiting time]?

How likely are you to use this service again?
After getting scores, calculate CSAT as follows:
CSAT = Total number of satisfied responses (ratings of 4 or 5)/
Total number of responses × 100
Customer Churn Rate
Customer churn rate indicates the percentage of your subscribers or customers who have canceled or not renewed their subscriptions during a specific time period, i.e., a month, 3 months, a year, or as suitable to your business.
The churn rate is an essential metric for SaaS and subscription-based companies where users pay on a recurring basis.
Churn Rate = Lost Customers /Total Customers at the Start of Time Period x 100
Customer Lifetime Value (CLV)
Customer lifetime value enables businesses to discover their most loyal customer by measuring the total amount of revenue they can expect from that customer in their lifetime.
CLV = Customer value x Average customer lifespan
Understanding CLV is critical for business as acquiring new customers is more expensive than maintaining existing customer relationships.
CLV is a long-term calculation measuring the sustainability of your business model. While a low lifetime value indicates your business may not meet customer expectations, it could also mean you're overspending and need to maintain your margins to remain profitable.
Monthly Recurring Revenue (MRR)
MRR refers to the amount of revenue your product generates in a month, mainly through subscriptions.
You can use MRR to forecast, plan, and measure your product's growth rate and momentum.
MRR = The average revenue per account x No. of monthly active users
The higher your MRR, the greater the customer retention and lesser customer churn. Strategies to improve MRR include product education, personalized onboarding, and loyalty programs to motivate your customers to continue with your brand.
Daily Active Users (DAU) to Monthly Active Users (MAU) rate
The DAU to MAU rate is a good measure of how often your users return to your product. This product metric can help you understand whether your product is creating value.
To calculate monthly recurring revenue, first, find your daily and monthly active users and then divide them as follows:
DAU: MAU (ratio) = Daily Active Users (DAU)/
Monthly Active Users (MAU)
You can enhance your DAU to MAU rate by creating positive user interactions, improving adoption rates of the product features, and leveraging innovative upselling strategies and customer satisfaction surveys to enhance the overall customer experience.
Repeat Purchase Rate:
This metric lets you measure the number of repeat purchases by your customers as a percentage of your entire customer base.
Repeat Purchase Rate = No. of customers purchasing more than once in a year/ Your total no. of customers in a year
Incentives, discounts, personalized greetings, and rewards to boost loyalty can help convert your buyers into loyal customers while enhancing repeat purchase frequency.
Expansion MRR
Expansion MRR refers to the extra revenue your product generates from your existing customers through upsells, cross-sells, or add-ons.
This KPI significance is based on the fact that acquiring new customers is costlier than increasing the lifetime value of your existing customers.
Expansion MRR rate = (Expansion MRR at the end of the month- Expansion MRR at the start of the month)/ Expansion MRR at the start of the month x 100
Tooltips, banners, modals, and/or email campaigns are suitable ways to improve expansion MRR.
Net Promoter Score (NPS)
This KPI measures how likely your customers will promote your product. Thus it also measures customer loyalty.
Like the CSAT metric, for determining NPS, you must implement a survey asking your customers to rate their response on a scale of 1 to 10: How likely will you recommend us to a family member or friend?
A high NPS shows your customers are highly satisfied with your brand and more likely to promote it.
NPS = Promoters% – Detractors%
(where Promoters are those who respond with a 9-10 and Detractors are those who reply with 6 and below).
Customer Health Score (CHS)
This is a useful KPI to understand if a particular customer will likely remain loyal, make repeat purchases or shift to another brand. This information enables you to identify and target customer segments with specific customer retention tactics.
To measure CHS, first, you must determine the different customer actions affecting the health score and allocate a score (action value) to each action.
For example, you can measure the features your customers are actively using, the frequency of customers' in-app help center usage, and so on, allocating numeric values to these actions.
CHS = #1 total action value +#2 total action value + …
Providing in-app FAQs, live chat, and other in-app help resources enabling your customers to access timely support and efficiently resolve issues effectively boost CHS.
Revenue Churn Rate
This metric measures how much customer revenue you lose over a specific time due to customer attrition. It indicates that customers have switched to another brand as they no longer perceive value in your brand.
To calculate the revenue churn rate, determine your Monthly Recurring Revenue (MRR) at the beginning and end of the specified period.
Revenue Churn = (MRR lost – MRR from upgrades during the timeframe)/ MRR at the beginning of the period x 100
Understanding the reasons behind your revenue churn rate using tools like churn surveys will help you lower your revenue churn rate.
FAQs
Q1. What is customer retention?
Customer retention is known as the number of customers that stay with a business over a measurable timeframe.
Q2. why is customer retention important for a business?
In general, the higher the customer retention rate of a business, the more loyal its customer base is. Since retaining customers is more cost-effective than finding new ones, customer retention is vital for companies' short- & long-term success, making it a critical KPI.
Q3. What are the key advantages of customer retention for businesses?
Customer retention is advantageous for businesses as it's cheaper to retain existing customers and even upsell or cross-sell to new customers than acquire new ones. This is mainly because of the trust factor that already exists in the brand.
Moreover, loyal customers are more likely to be repeat customers and often refer new customers.
Q4. What key factors keep customers loyal to brands and drive retention?
According to a worldwide survey, pricing (62%) was the leading factor in maintaining a consumer's loyalty. This was followed by customer service (57%), product/service offering (54%), purchase/user convenience (45%), brand reputation (35%), and personalization and promotions (27%).
Q5. What are the critical challenges of customer retention?
The B2B space has more significant opportunities for direct customer interaction than B2C. In B2B, customer loyalty can be earned by providing quality customer support, engaging customer feedback, and understanding customer expectations.
On the other hand, B2C businesses need to focus on engaging with customers and encouraging them to return. Customer loyalty programs, personalized messages, and feedback mechanisms can improve customer retention in B2C businesses.