Most businesses and marketers overlook Upsell Emails and miss out on the revenue-boosting opportunity they provide. That's because they don't understand the art of the upsell email, & don't even know where to begin.
The emails they create lack strategy & simply promote their bestsellers hoping, on a whim, that their audience will buy products simply because they're popular. Most of the emails we've seen (from our clients and other businesses) don't effectively position the products they're upselling.
Then, once their emails generate little to no revenue, they dismiss Upsell Emails as a waste of time. 
After creating dozens of Upsell Emails for eCommerce, SaaS, & service-based businesses, we can affirmatively say that they're one of the fastest and most effective ways to grow your business by increasing your Average Order Value. 
We know how to create emails that work because we've seen the upsell tactics that work and those that don't. And if you've read our guide on the Top 6 High-ROI eCommerce Email Automations (where we rank email automations in order of their revenue-boosting potential), you know that we rate these emails highly.
In this guide, we're going to teach you:
How and when to send Upsell Emails

The top tactics you need to use to create Upsell Emails that convert

Upsell email subject lines that get opens
And we'll illustrate every tactic we discuss with email examples from our clients and top companies in different niches. No matter your business model or what products you sell, this guide will give you everything you need to create effective Upsell Emails & skyrocket your revenue.
At Inbox Army, we help our clients implement the most effective email automation tactics, including Upsell Emails. If you want to grow your business with revenue-boosting automation tactics, Check our
email marketing automation services
.
How & When To Send Upsell Emails
There are many opportunities to upsell customers in the emails you send. So let's start by discussing the different types of Upsell Emails and how they work.
The Straight Upsell Email
These are email automations you send with the sole purpose of upselling customers.
They get sent after a customer makes a purchase and/or after customers have patronized your business for an extended period of time.
For SaaS and Service-Based businesses, the goal is to upgrade customers to a higher product tier – like this email from Dropbox.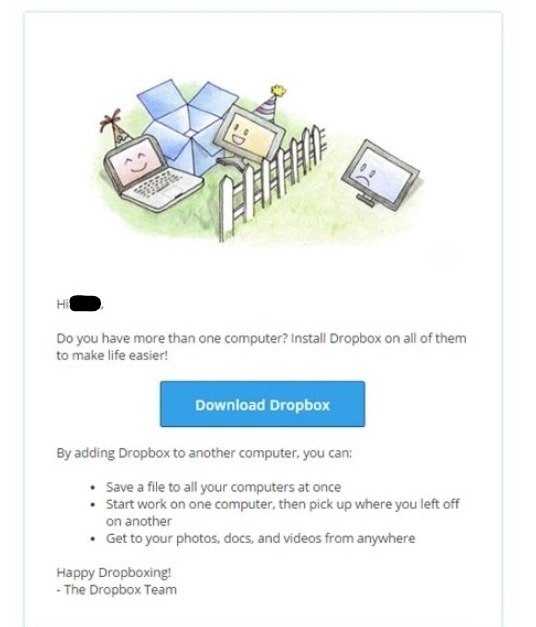 For eCommerce businesses, the goal is to sell customers more products that complement their recent purchases – like we made for  BOIE.

With these emails, the key is to outline the value of the upgrade. You need to explain how the upsell will benefit customers and help them achieve more. In the BOIE email, we outline the features of each product & explain how they'll make self-grooming easier and more effective.
This email gets triggered 30 days after the customer purchases a product. By then, the customer has used the product long enough to experience its value & will be more open to an upsell.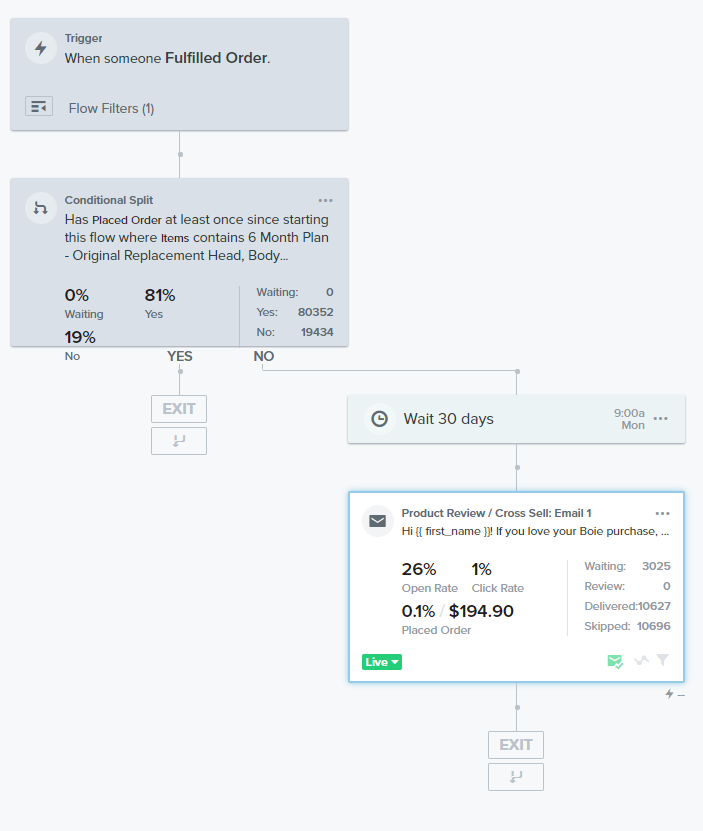 Transactional Emails
Transactional Emails, like Order Confirmation Emails, present another opportunity to upsell customers by sharing complementary products that can help them get more value from their recent purchase.
And value is the keyword for Transactional Emails. Their primary objective is to help customers get the most from their purchase by:
Sharing information that improves the customer experience (for example, by telling them when their order will arrive).

Sharing information that educates customers on how to use their recent purchase in the most effective way.

Promoting relevant products that can help them better achieve their goals.
Frontier's order confirmation email provides customers with important info about their flight, like departure times and confirmation codes. It also provides a checklist that helps customers prepare and have the best flight possible. The checklist includes a few relevant upsell items, like bag checking, seat purchases, and car rentals.

Four Sigmatic sends an Upcoming Order Email to customers who subscribe to their products. The email gives customers a heads up that their order will be shipping soon & gives them an opportunity to skip the order.
It also shares 4 other products that can help customers complete their daily routine, & describes the benefits of each product (boosting your immune system, increasing productivity, unwinding in the evening).

And Super Speciosa recommends similar products the customer might like in their Review Request Email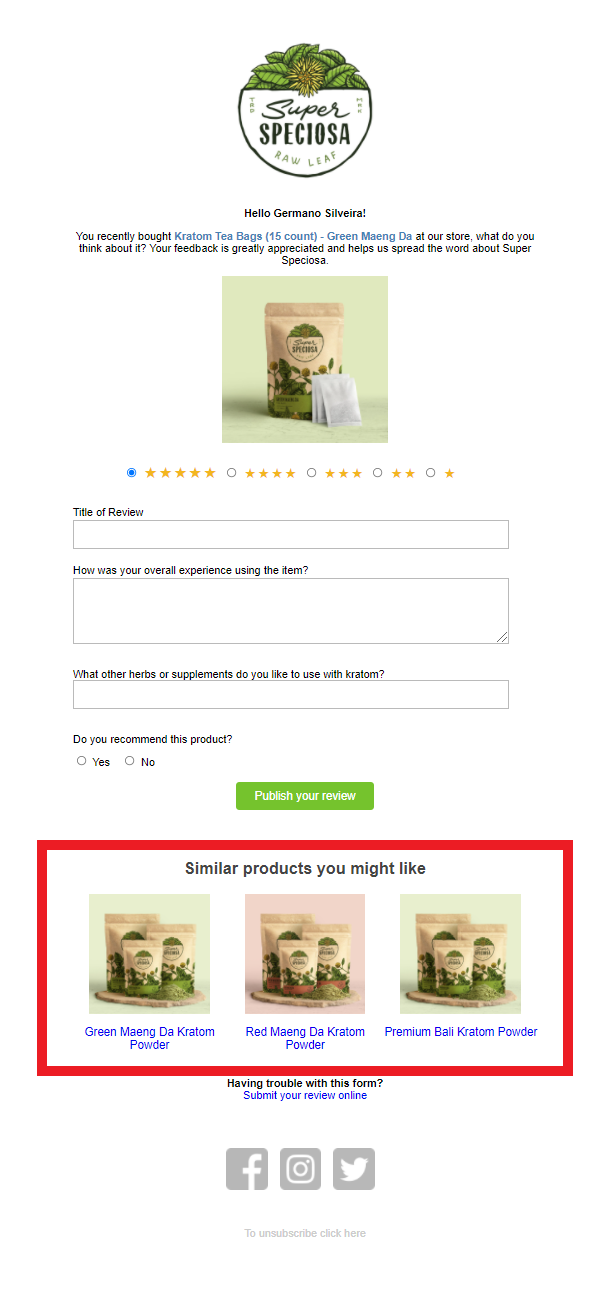 Welcome Emails (& Other Drip Campaigns)
As we'll discuss later, educating customers about your products & the value they get from the upsell is a critical tactic for increasing conversions. And since Welcome Emails are all about educating people about your business and products, they're a natural place for upselling.
In our experience, it's best not to try to upsell customers in each email in your Welcome Series. 
The first few emails in your Welcome Series aren't likely to generate upsell conversions because customers have yet to experience the value of your product(s). Too many upsell pitches can be annoying and make customers think your only goal is to get their money. 
But by keeping your emails customer-centric (by focusing on demonstrating the value of your product(s) & helping customers get the most value from them), you'll build a better relationship with them and prime them for the upsell pitch later.
Our client Reflectly sells an app that uses AI to help people build a journaling habit and become happier. When people sign up for the freemium version of their product, they get sent a series of 6 Welcome Emails that educate them on how to get the most from Reflectly.
The first 4 emails in the series focus on educating customers about how to use their app & giving them journal prompts. But the 5th email includes an upsell pitch for their premium plan that shows them how upgrading can boost their happiness & improve their journaling experience.

Abandoned Cart Emails
Though upselling in abandoned cart emails doesn't work as well as other emails (and we generally like to keep the focus on the abandoned product), they're still an upsell opportunity you might want to explore.
There are two ways to upsell in these emails:
Promote products that complement the abandoned product.

Promote products they might want instead.
Promoting complementary products can work to your advantage if those products increase the appeal of the abandoned product(s). If you can demonstrate how the upsell(s) & abandoned product(s) work together to boost the customer's ability to achieve a goal or solve a pain point, then customers might be more likely to buy.
Also, as we outlined in our article on creating cart abandonment emails, including a discount in abandoned cart emails is a great strategy for incentivizing shoppers to complete their purchase. If you promote other products the shopper wants, they'll also be incentivized to apply that discount to as many products as possible to maximize their savings.
And if the shopper no longer wants the abandoned product, you can appeal to them with other products they might like & still get a conversion.
For our client Versare – a retailer of office furniture and equipment – we promoted other products the shopper might want. The upsells were based on Versare's customers' shopping behavior, i.e. that were also purchased by customers who bought abandoned product.

When To Send Upsell Emails
The timing of Upsell Emails is just as important as the content. That's what sets them apart from promotional emails. They're not just promoting a special event, they're targeting customer at the right time in order to get them to spend more.
With that in mind, the best times to send Upsell Emails include:
0-30 days after a purchase – By 0 days after purchase, we mean including upsells in your order confirmation emails. Upsell Emails that get sent out shortly after a purchase capitalize on the momentum of the purchase & reach the customer while they're still in an emotional state. But emails that get sent out 30 days after purchase also work as they give the customer time to experience the value of your product, so they're likely to view your other products as valuable.
Toward the end of a Welcome Email series or other Drip Campaigns – Drip Campaigns and Welcome Emails that are triggered by recent purchases and free trial sign-ups are a great place for upsells. These automations educate customers on how to achieve their goals, so you can pitch your product as a way to achieve those goals. 
When you get new products – If the new products are relevant to the customer's recent purchases, you can make the case for how the new products can help them achieve even more.
Products that are back in stock – If the recently restocked products are relevant to the customer's recent purchases, you should pitch them as the customer may have wanted it when it was out of stock.
When a user/customer reaches a milestone – Milestones are a great place for upsells because the customer has used your product for some time and experienced its benefits. You can show them how upgrading or buying additional products/services can help them accomplish more. This can include:
When the user approaches a feature-limit on their current plan. For example,

Asana

upsells customers when they reach the maximum number of team members on their current plan.

When the user accomplishes a significant goal. For example, when a lead-generation software user reaches a certain number of conversions, pitch them on upgrading to a higher tier so they can get even more conversions.

When the user/shopper has been using your products/shopping with you for a significant amount of time. For example, a 1-year anniversary or a certain number of products purchased.
How To Write Upsell Emails That Work: Upsell Email Examples, Tactics & Best Practices
The emails above demonstrate many of the tactics that make Upsell Emails effective. So let's break down the tactics so you can have a better understanding of how they work & how to implement them.
Educate With Your Upsell
The biggest mistake we see companies make is trying to upsell products without telling customers why they should buy the upsells. If we had to pick just one tactic on this list that you should definitely implement, this would be it.
We recommend educating customers in the following ways:
Describe The Benefits Of The Upsell
To get customers to buy additional products, you need to effectively communicate the value of those products. More specifically, you need to outline the benefits of the upsell and connect those benefits to product features.
Every company claims their products work. But by connecting features to benefits, you'll help customers understand how the product works & make a stronger case for how it can help them achieve their goals.
In BOIE's Upsell Email, we explained how the features of each product can improve customers' self-grooming experience.
We explained how the Body Scrubber "can be easily rinsed and cleaned" so it "won't harbor the germs that your old loofah does."
We explained how the Face Scrubber was smaller, making it more fit to clean your face. And how it was just as hygienic as the Body Scrubber.
And we explained how the "super thin, ultra-flexible bristles won't cause harsh abrasions like the typical nylon kind."
Describe How The Upsell Complements Their Recent Purchase
Customers are more likely to buy upsells that complement their recent purchase. But you can't just expect customers to know how the products complement each other. You need to demonstrate how they work together to help customers achieve their goals and/or resolve their pain points.
Grammarly's upsell email starts off by sharing stats of what the customer has accomplished using their tool.
Toward the bottom, Grammarly shows the customer the most common writing mistakes they've made. Then it shows them the number of additional "Advanced Issues" Grammarly found, which can only be fixed by upgrading to the premium version. 
The juxtaposition of common mistakes & "Advanced Issues" causes the customer to consider how the freemium version has already improved their writing and how the premium version can improve it even more. They'll be curious to learn what the "Advanced Issues" are so they can fix them.

And as you can see, the email also pitches an upgrade to Grammarly business.
For a simple but effective example of how this is done, look at bioClarity's email. It tells customers that the upsells will "complete their skin color palette" & describes the benefit of each lotion in one word.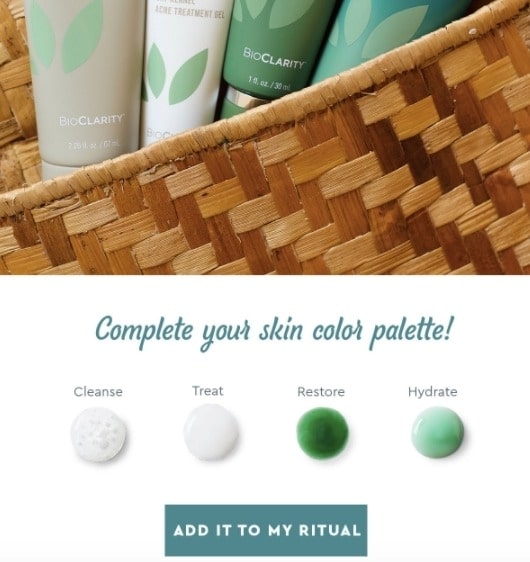 Show Them What They Get From The Upsell
Especially for SaaS products & service-based businesses (like membership programs), you need to ensure customers understand what they get from the upsell. They need to know how the upsell will benefit them and what features are responsible for those benefits.
And, as is often true with marketing, showing is better than telling.
In Reflectly's Welcome Series, we helped freemium users get the most value from the freemium version by teaching them how to use it in the first 4 emails. The 5th email in the series is an upsell pitch that describes how Reflectly Premium can help them become 38% happier.
The email shows users what they get from the upgrade in 2 ways. First, it shares a side by side comparison of freemium vs. premium features.
Then it shares images of the extra features. Each image includes a description that connects the feature to the benefits it provides. For example, it explains how:
The Statistics feature can help them identify patterns in order to "take action and take control of [their] life."

The Daily Reflectly Questions feature can help them "reflect even deeper" in order to "learn more about [themselves] and identify what [they] really want in life."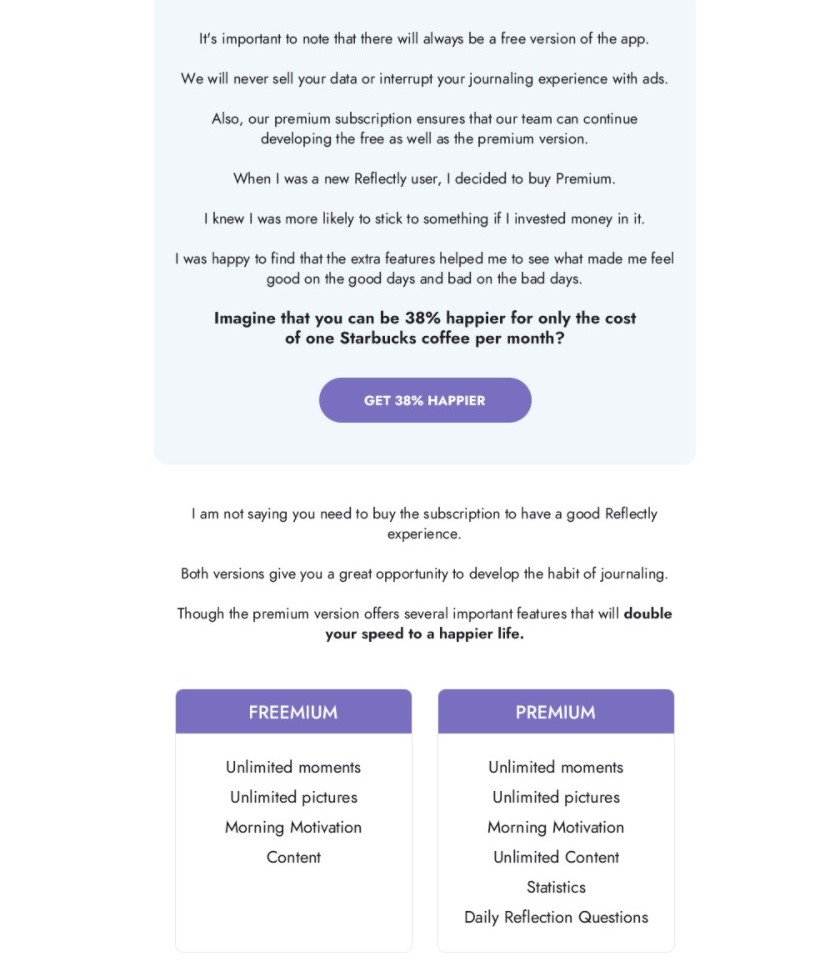 Make Upselling As Easy As Possible
The concept of reducing friction has been around for a long time, Yet somehow, we still see so many companies fail to implement it.
The more a customer has to work to take an action you want them to take, the less likely they are to take it. With that in mind, you need to make it as easy as possible for customers to buy your upsell by including links that take them directly to checkout/landing pages.
Each product in the email we created for BOIE has a CTA that sends customers straight to the product page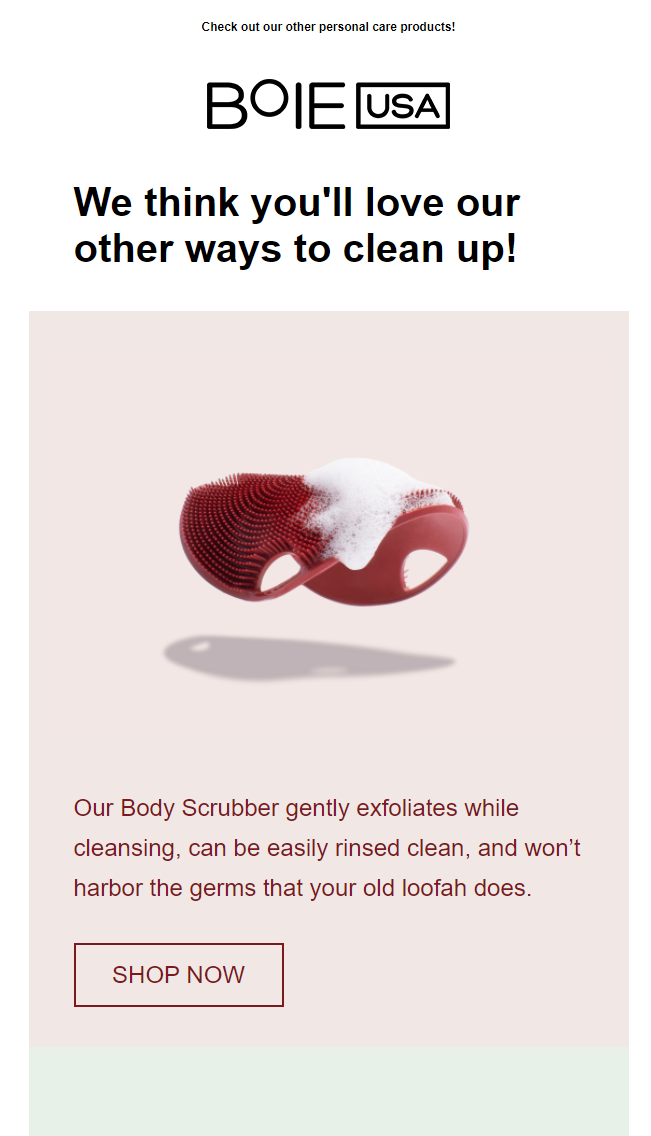 Contrast that with Spotify's Upsell Email, which tries to upsell customers with concert tickets (which they get affiliate income from).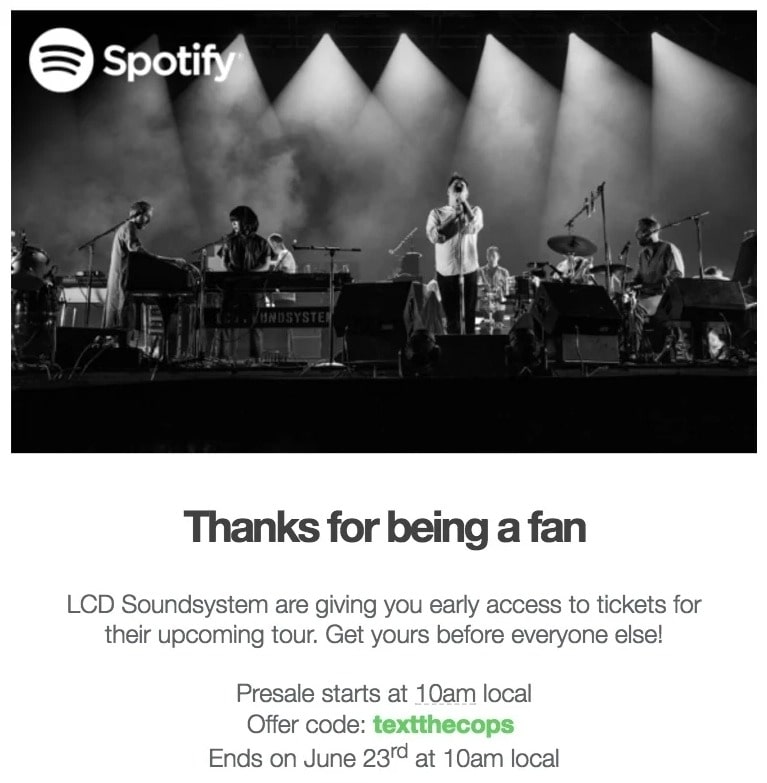 While the email shares all the information they need to purchase the tickets – like the presale time and discount code – it doesn't share a link to the checkout page. Customers will have to search for the checkout page, which will decrease conversions.
Four Sigmatic goes a step further. They not only share direct links in their email, they also tell customers how much each product costs to help them make a buying decision.
Share The Next Logical Step
The general rule of thumb is that the more relevant your upsells are, the more likely customers are to buy them.
So far we've focused on complementary products that enhance the initial purchase. But you can also upsell products that represent the next step in the customer's relationship with your company and products.
Next Logical Step Upsells not only boost revenue, they have the potential to increase lifetime value by introducing customers to more of what you have to offer and continually providing value to them.
For example, Asana sends an Upsell Email when users start to approach the limit on one of their features, like the number of team members available in the user's plan. The email encourages users to upgrade the feature by, in this case, adding more members.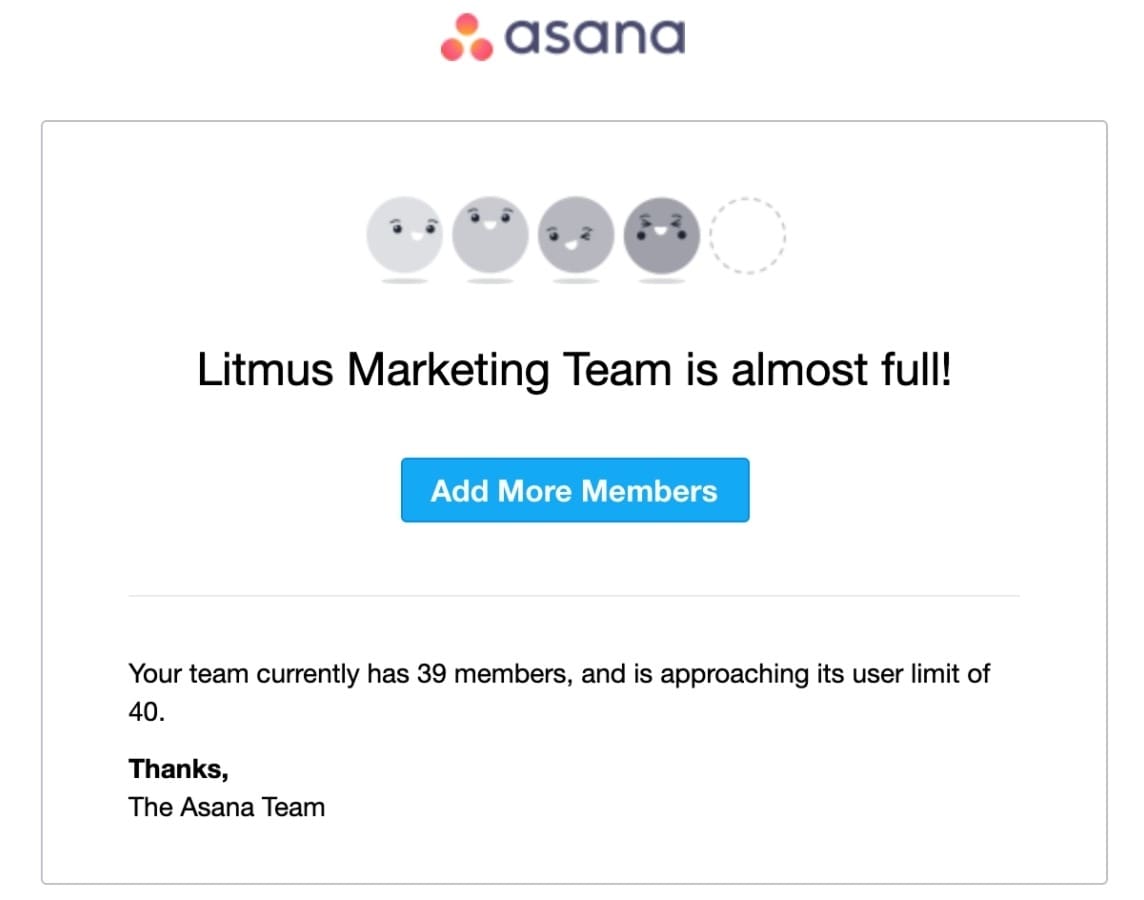 The bioClarity email in the previous section is also an example of a Next Logical Step Upsell. Depending on which lotion the customer buys, the email promotes other lotions that the customer needs to develop a full, proper skin care regimen.
Four Sigmatic also shares next logical step products in their Transactional Emails. The emails describe how the products can help customers "Complete [Their] Daily Routine" by sharing the benefits of each product – boosting their immune system, increasing productivity, and unwinding in the evening.
Remind Customers Of Their Progress
Reminding customers of the progress you've made together is a great way to strengthen your relationship with them & increase the likelihood that they'll convert.
By showing them what you've accomplished together, you'll demonstrate the value of your products. If the product(s) they've already purchased are valuable, then your other products are likely to be just as valuable & help them accomplish even more.
Grammarly is one of the best examples we've ever seen. And quite frankly, it makes us a little jealous.
When it comes to the tactic of reminding customers of your relationship, their email is the most comprehensive examples. It shows customers:
How many consecutive weeks they've been using the tool.

Stats that compare their productivity, accuracy, and vocabulary with other Grammarly users.

The total number of words Grammarly has checked for them.
It even uses achievement levels to make customers feel special, like T where the user achieved the "Herculean" level.
This type of progress report effectively demonstrates the value of Grammarly and what they and the customer have accomplished together. And it pairs perfectly with the other content that demonstrates the value of upgrading to Grammarly premium. (which we already described earlier).
Incentivize Purchases
There's not a whole lot we need to discuss about incentivizing purchases as it's a pretty straightforward concept . Customers are more likely to make a purchase if you make it worth their while.
Discounts & free shipping have the biggest impact on increasing conversions because they present customers with the opportunity to get more for less. Customers will be incentivized to buy more products so they can maximize their savings.
To maximize the benefits of your incentive, you should set a price threshold for accessing it. For example, you can offer free shipping for orders over $100 – like Four Sigmatic does with all of their upsells.
But Medium offers a different kind of incentive for their upsell. In their User Stats email, they incentivize upsells by telling customers to "enroll in the Medium Partner Program to earn money for your stories."
Get in touch with our email marketing company if you need help in creating Upsell emails.
Upsell Email Subject Lines That Get Opened
Upsell Emails can only work if customers actually open them, so nailing your subject lines is important.
Especially if you're new to creating them.
we recommend keeping things simple and sticking to basic, effective Subject Line strategies.
The primary tactics you should focus on include:
Incentives

Name & Product Personalization

Value Communication
Incentives
Using incentivization in your Subject Lines works for the same reason it works in your emails .
customers will be interested in your attractive offer.
Even if they don't intend on buying anything, they'll be curious to see which products the discount applies to.
And if they open your email, the content & products may be able to convince them to make an additional purchase.
Incentives work even better when you add urgency to the offer by putting a time limit on the deal. Urgency increases curiosity as customers will want to see if they can save on products they want.
Examples of incentivization in Subject Lines include:
24 Hrs Only! 10% off select items.

Free shipping on your next purchase – Today Only!

Upgrade now and save 20% on yearly plans.
Name & Product Personalization
Name personalization means using the customer's name in the Subject Line. As we explained earlier, it works because using a customer's name attracts their attention and helps your email stand out.
Product personalization means referencing their recent purchase in the Subject Line. It works because it reminds customers of their recent purchase so they know the contents of the email are relevant.
For Example they're more likely to open it if the the email shares relevant information about like how to use it

Read more about Email Personalization Examples here.
To make the Subject Lines even more effective, combine both types of personalization. For example:
[Customer Name], your [Product Name] will arrive soon!

Order status on [Customer Name]'s [Product Name].

[Customer Name], complete your skin-care routine with these products!
Value Communication
Value communication means communicating the value of your upsell. Just as in the emails themselves, customers will be more interested if you describe how the upsell can benefit them.
For example:
Complete your skin-care routine with these products!

Convert more customers by upgrading to premium.

Use this for a smoother, better shave…
Boost Your AOV Today!
We've just covered everything you need to know.
The sooner you start upselling, the sooner you'll increase your average order value and experience the revenue-boosting benefits.
So start right now by selecting the types of Upsell Emails & timing that works best for your business and products.
Then use this guide and the email examples we shared to implement the tactics described above and grow your business!

To know which other emails you can send, check 19 types of ecommerce emails that you can send to your subscribers.
At Inbox Army, we help our clients implement the most effective email automation tactics, including Upsell Emails. If you own an ecommerce store , check how our
ecommerce email marketing agency
can help you