Hubspot and ActiveCampaign are closely matched in terms of their offerings, such as a central dashboard to manage every crucial aspect of your email marketing campaign. However, they have their subtle differences as well as they provide different values to a different sets of customers. In this blog, we'll draw an exhaustive and elaborative comparison between ActiveCampaign vs. HubSpot, to help you decide which one to go for. Also, we have a detailed tabular comparison later in the blog to provide you with an apples-to-apples comparison for added clarity and informed decision-making. 
If you are still with us, let's assume you know what a CRM does. So, without delving deeper into the details, let's begin.
HubSpot
If you are an email marketer, you must have encountered this name somewhere. Such is the popularity of HubSpot when it comes to email marketing. Essentially, HubSpot is an integrated CRM platform combining a host of verticals. Its primary focus lies on content management, sales, marketing, and, last but definitely not least, customer service. 
The platform's framework is cohesive and seamless and designed so that each hub is integrated into a single primary database. This architecture works even if you have availed of just one hub (or product) or have bought out the whole platform for your business needs. When it comes to scaling up the business, HubSpot lies at the core of your entire database. It is easy to connect, and hence, it enables you to provide your customers with a delightful user experience.
ActiveCampaign
Like HubSpot, ActiveCampaign lends a big helping hand when it comes to maintaining customer engagement and experience at an optimum level. ActiveCampaign is also an established email platform with a fair share of offerings as it bridges the gap between businesses and their respective customers. The platform lets you automate several aspects related to your email marketing campaigns. This ranges from marketing, sales, support, integrations, and customer experience. On a broader note, you may find some uncanny similarities between HubSpot and ActiveCampaign. However, closer inspection reveals the finer details that differentiate the two platforms. 
What's different between ActiveCampaign vs. Hubspot
HubSpot is essentially a CRM, whereas, ActiveCampaign's framework lies around email marketing.

HubSpot's reporting and analytics are comparatively better

There is no such thing as tripwires for upsells bundled with ActiveCampaign, whereas HubSpot offers them.

The paid plans of ActiveCampaign usually cost less when compared to the ones offered by HubSpot. 
The similarities between ActiveCampaign vs. HubSpot
Although ActiveCampaign's interface is more intuitive, both platforms provide you with simple and well-laid-out interfaces that only require a little time to get used to, in general.

Automation and templates are two of the biggest fortes of both platforms/ 

Regarding features, both platforms possess enough sales and marketing prowess to ease your email marketing campaign's creation. They even offer an in-built CMS. 
ActiveCampaign Vs. Hubspot: In Depth Comparison
Now let's see how ActiveCampaign and HubSpot stack against each other when their crucial email marketing-related parameters are compared:
CRM
A CRM or Customer Relationship Management software is essentially the bridge between where your business stands today and where you want it to be. It's the foundation on which successful businesses are being built, especially in the digital age. A good CRM enables you to have better information, better control, better insights, and hence, better decision-making when it comes to managing, reviewing, and observing the way leads or customers interact with your business. 
CRM software enables faster communication between teams, reduces turnaround times, enhances the experience of customer with better email personalization, and integrates marketing tools effectively and efficiently. Now let's see what both platforms have to offer when it comes to their CRMs:  
ActiveCampaign
The CRM of ActiveCampaign simplifies the whole process of data centralization and triggers further actions based on this collected data, right from notifying the sales team to automated lead nurturing. The platform enables you to segregate contacts based on various parameters. Here's a video to give you an insight into ActiveCampaign's CRM software:
HubSpot
HubSpot's biggest advantage is its inherent pedigree of being a CRM platform. No matter which hubs you require, it provides you with a laser-like focus on the contacts and their further related  attributes. The extent of attention to detail is such that when you pull a contact, you will have all the specific interactions (read touchpoints) with that contact. Be it emails, notifications, tickets, or webpage views, HubSpot email marketing lets you track even the minute details pertaining to a specific contact.
The deeper the insights, the better the personalization and hence, the better end-user experience. HubSpot lets you leverage these small data points to make a big impact when you reach out to customers. Overall, the CRM platform is highly intuitive, and hence, even beginners can get started easily. 
Marketing Automation
ActiveCampaign
It doesn't take long to get started with ActiveCampaign email marketing. Even the uninitiated ones will be at home while fiddling through those demos and tutorials on how to create commonly crucial workflows. These includes essentials automation workflows such as upsells, cross-sells, discounts, reminders, and more. ActiveCampaign lets you connect these workflows straight to the preset pipelines and other important elements such as contacts, deals and other sorts of data. 
The builder is really simple once the basics are in place. You just need to drag and drop the actions and triggers or if you can't find them right on the screen, use the search option to look for their category.
Here's an example of how to build  automation workflow on ActiveCampaign: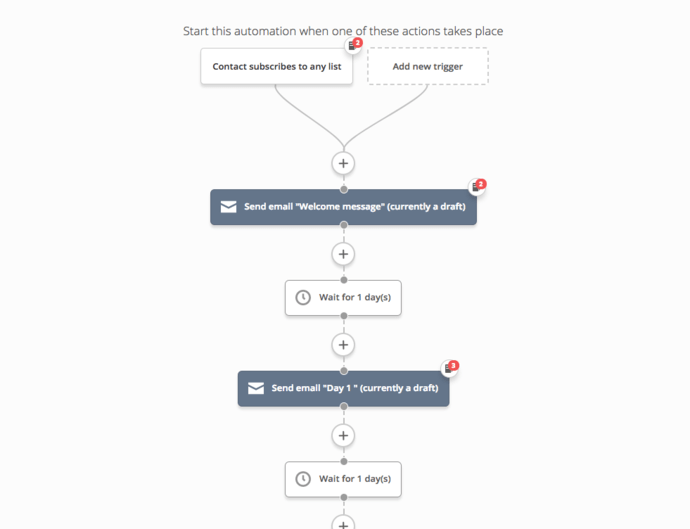 HubSpot
HubSpot just zooms ahead when it comes to educating the customers about how to make the most of the platform. This holds true even with the process of automation workflow building. The platform has enough arsenal to initiate your creativity and workflows right from the get go.
The user-interface of HubSpot seems to be more polished and well thought out when compared with that of ActiveCampaign. However, you will sorely miss the drag and drop functionality of ActiveCampaign's workflow automation builder.
Both the platforms have similar enough functions to let  go of the form for once. The same triggers and actions, negate the substantial difference between the two. When you choose the Operations Hub, you unlock even more customization as you now have access to HTML and webhook triggers. ActiveCampaign might have a slightly easier to use interface but HubSpot has more integrations.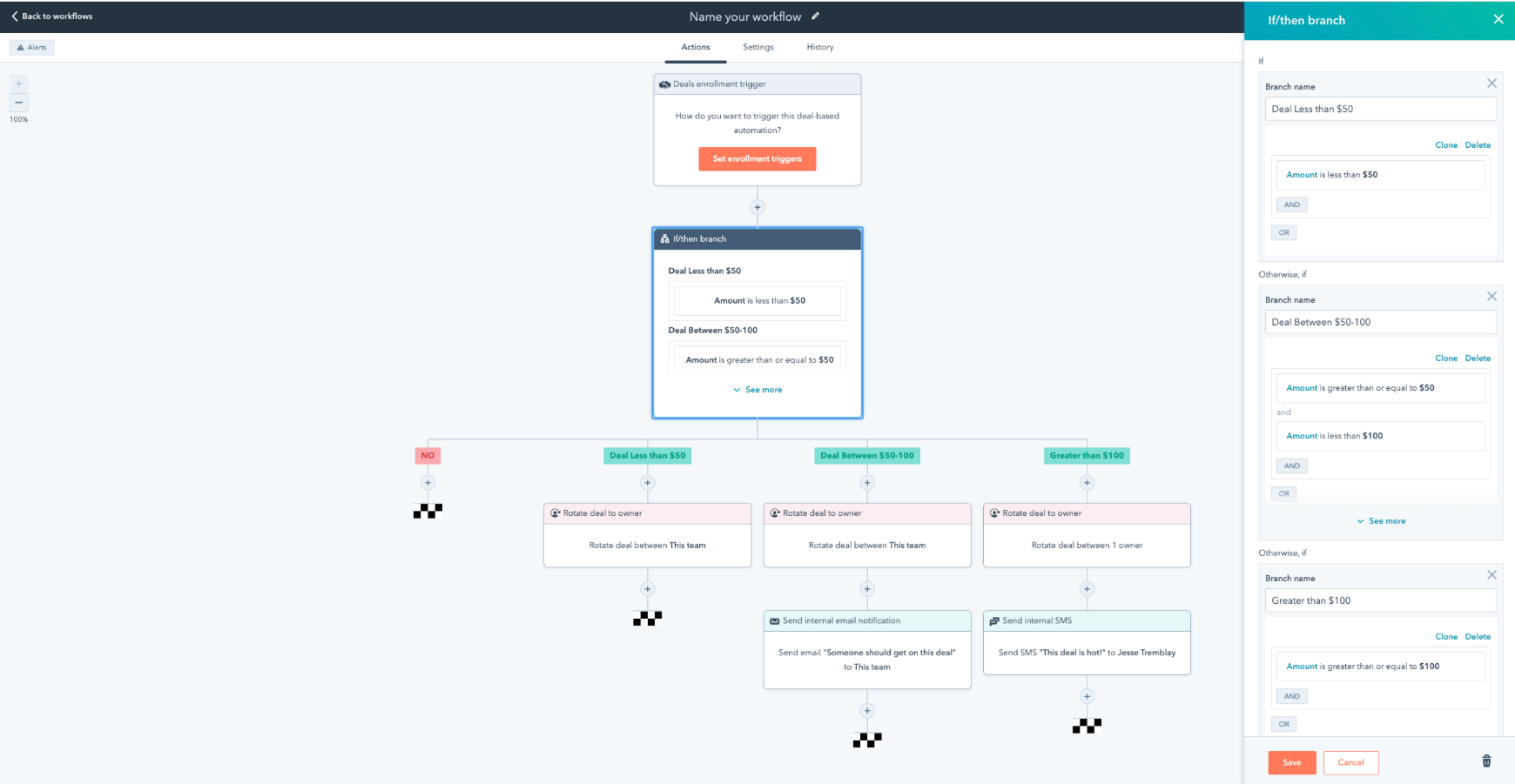 Pricing
Given the different nature of both platforms, the pricing models are also quite unique. Hence, an apple-to-apple comparison will not justify the sheer diversity and value both products offer respectively. Here are two standalone price comparison tables between the various plans of both platforms for better understanding.
| | | | |
| --- | --- | --- | --- |
| Lite | Plus  | Professional | Enterprise |
| $17 per month | $49 per month | $129 per month | $229 per month |
| Up to 3 users | Up to 25 users | Up to 50 users | Unlimited users |
| Unlimited sending | CRM | Site messaging | Dedicated account rep |
| Newsletters and autoresponders | Contact & lead scoring | Attribution (track a conversion's touchpoints) | In-Depth onboarding |
| Chat & email support | Host your account on a custom domain |   | Phone support |
| Marketing automation | SMS marketing |   | Free design services |
HubSpot
Plan

 

CRM
Marketing Hub
Hubspot Sales Hub
Service Hub

Free

$0/month

$0/month

$0/month

N/A

Starter

 

$50/month

$50/month

N/A

Basic

 

$200/month

N/A

N/A

Professional

 

$800/month

$400/month

$400/month

Enterprise

 

$2400/month

 

 
It must be noted that ActiveCampaign offers a 14-day free trial while there is a 30-day free trial for HubSpot's marketing hub.
Customization and Pipeline Management – 315
If you're looking to use your CRM to track sales flows, both options have their strengths. ActiveCampaign's pipeline interface is really intuitive and offers unlimited pipelines. The default stages are "To Contact," "Follow Up," and "In Contact," but you can easily add your own stages, drag and drop the order, customize colors, and update with existing contacts and deals. I like that you can also edit the contacts and deals on the fly within the stages, making it easier to make small tweaks.
You can also make further tweaks like adding deal roles like "Decision Maker" or "Contributor" to assign team members, customize task types beyond the usual call and email to suit your unique tasks, and add calendars. You can even view reports based on these pipelines based on tasks, sales performance, funnels, deals, and deals by owner.
HubSpot's workflow design is pretty similar, but it's a little more rigid (you have to go to a separate page to alter the pipeline phases). I personally prefer ActiveCampaign's simple drag-and-drop layout, but it's not a huge deal.
Like HubSpot's other features, there's a ton of customization potential within each deal and contact to do things like set tasks, assign profiles, associate ticket requests, track payments, and attribute revenue. HubSpot also gives you the option to add automation via individual workflows for each phase, which is a handy feature.
Another perk of HubSpot is that it gives you the option to import data from multiple file types or sync with another app to import data to your pipeline. ActiveCampaign only allows you to import deals directly to your pipeline via CSV files.
None of the drawbacks to ActiveCampaign's pipeline are deal-breakers, so the win goes to ActiveCampaign here. Plus, HubSpot gives you just one pipeline if you go with a non-CRM plan, then just two for the Starter CRM Suite and 20 for the Professional CRM Suite. 
Workflow Automation
ActiveCampaign
One word to define ActiveCampaign's workflow automation – intuitive. The entire process of creating seems effortless, especially for the uninitiated ones. The platform offers ample demos and introductory videos to familiarize you.
These workflows are directed to preset locations such as pipelines, contacts, etc. Then you are directed toward the automation builder featuring the very convenient drag-and-drop builder. You can look for triggers in the search option, or you can find them in the list of available options.
HubSpot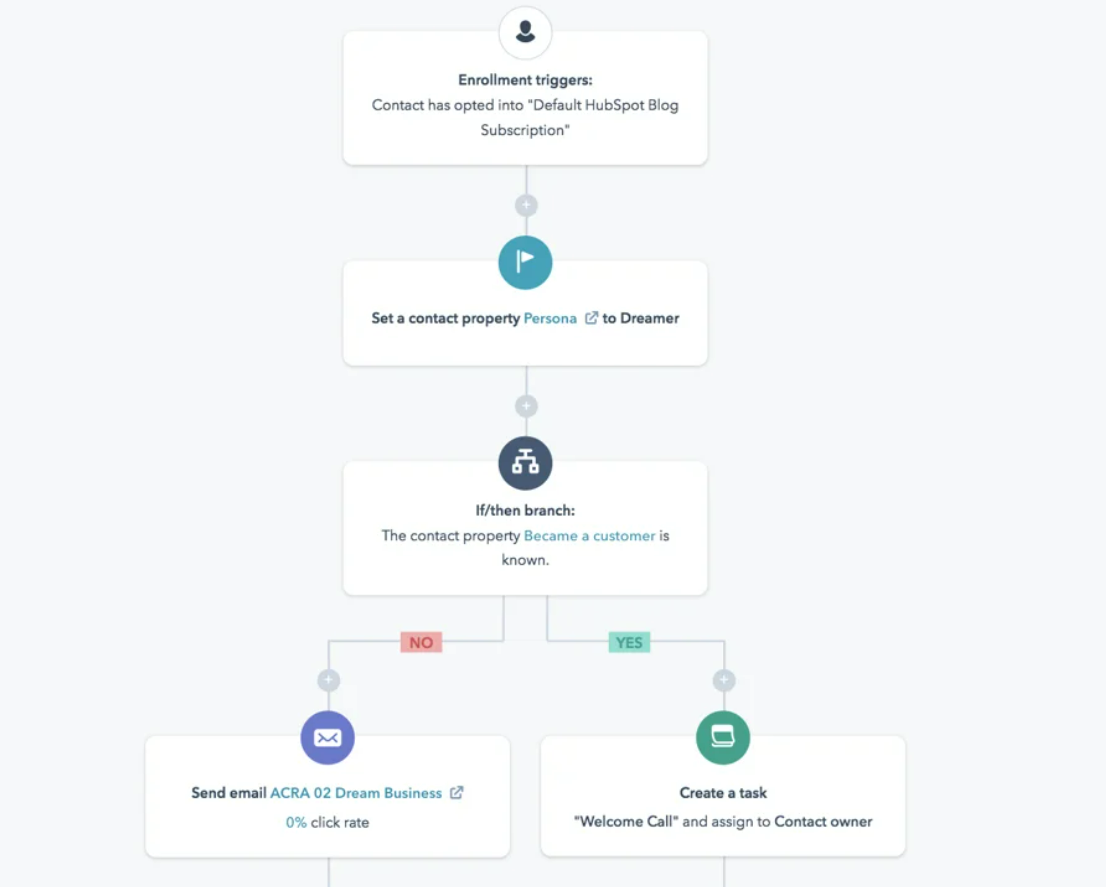 HubSpot has a more sophisticated experience during the automation-building exercise. There are easily available templates and workflow options to spark your imagination. However, contrary to ActiveCampaign, it lacks the drag-and-drop feature, though the triggers are similar on both platforms.
ActiveCampaign has an edge when it comes to user-friendliness, whereas HubSpot's highlight is the higher number of app integrations. Both platforms offer Zapier connectivity to extend the number of available application integrations further.
Reporting
No marketing campaign will be successful if you are just shooting arrows in the dark. Every marketer must know where, when, and what arrow to shoot. This is where reporting comes in the picture and saves the day. A platform's strong reporting credibility enables you precisely locate the performing and non-performing aspects of your campaign. These actionable insights are incredibly crucial for course correction, revising strategies, testing, and eventually bettering your email marketing campaigns.  
HubSpot
HubSpot CRM's biggest forte is the central location of varied data points crucial to a campaign. You don't need to scatter data throughout the platform, which proves to be very convenient and efficient in the long run.
The insights are readily available and can be easily shared ahead. Web traffic analytics lets you track user journeys and how they interact in between. You can have a 360-degree view of the entire lead-to-customer journey, even if the traffic is redirected from different sources. Goal setting is another popular feature of the HubSpot CRM. Based on the inputs, the sales forecasting software provides you with precise sales targets. 
Here's how HubSpots reporting page looks like: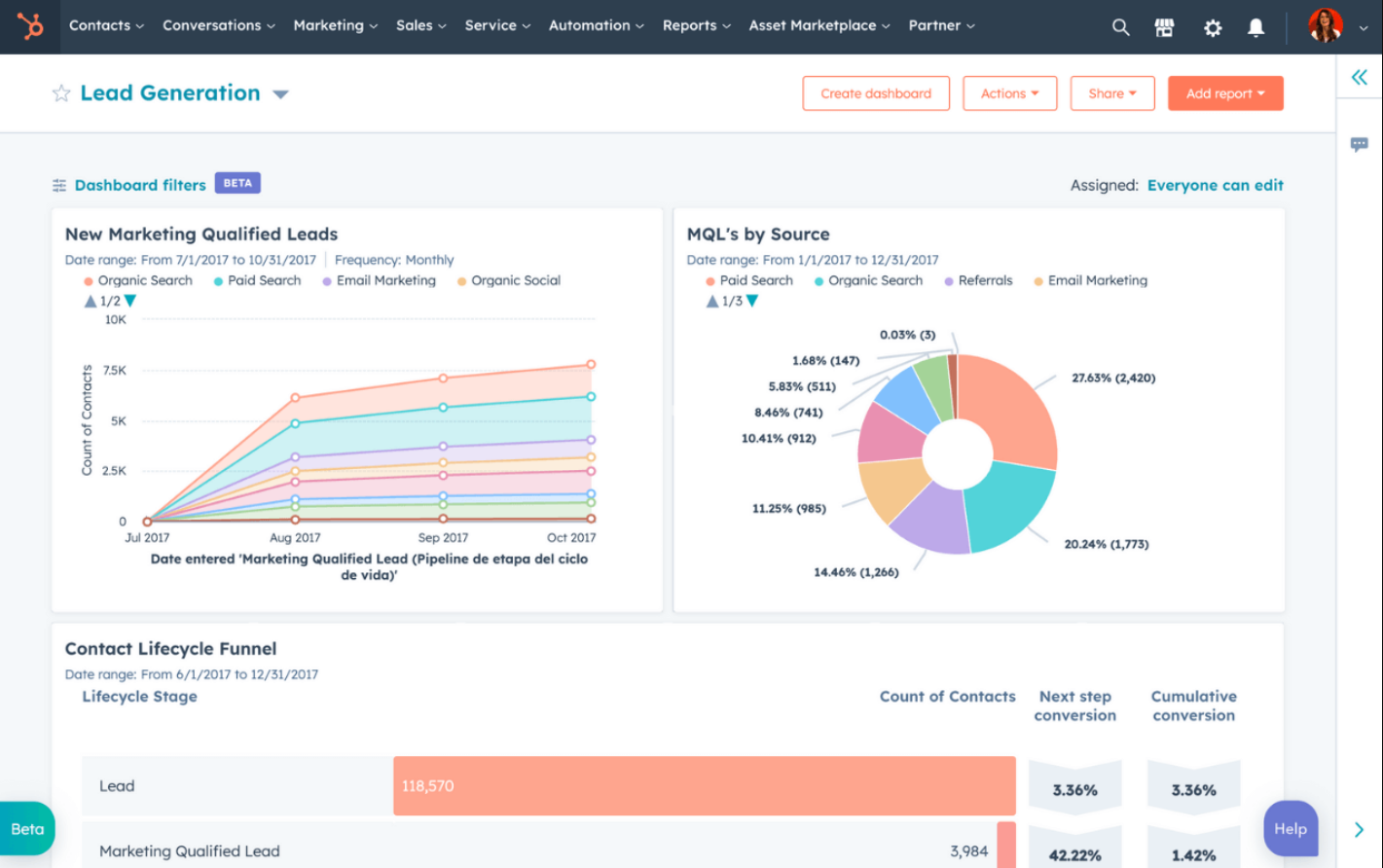 ActiveCampaign
ActiveCampaign's reporting feature is more about the in-depth details when it comes to reviewing the inputs. It offers wider compatibility covering emails newsletters, e-commerce, deals, and much more.
Hence, you can break down the data into finer detail and get deeper insights. The platform comes equipped with a custom report builder, but it needs various parameters to be taken into consideration. Here's a look at ActiveCampaign's reporting page: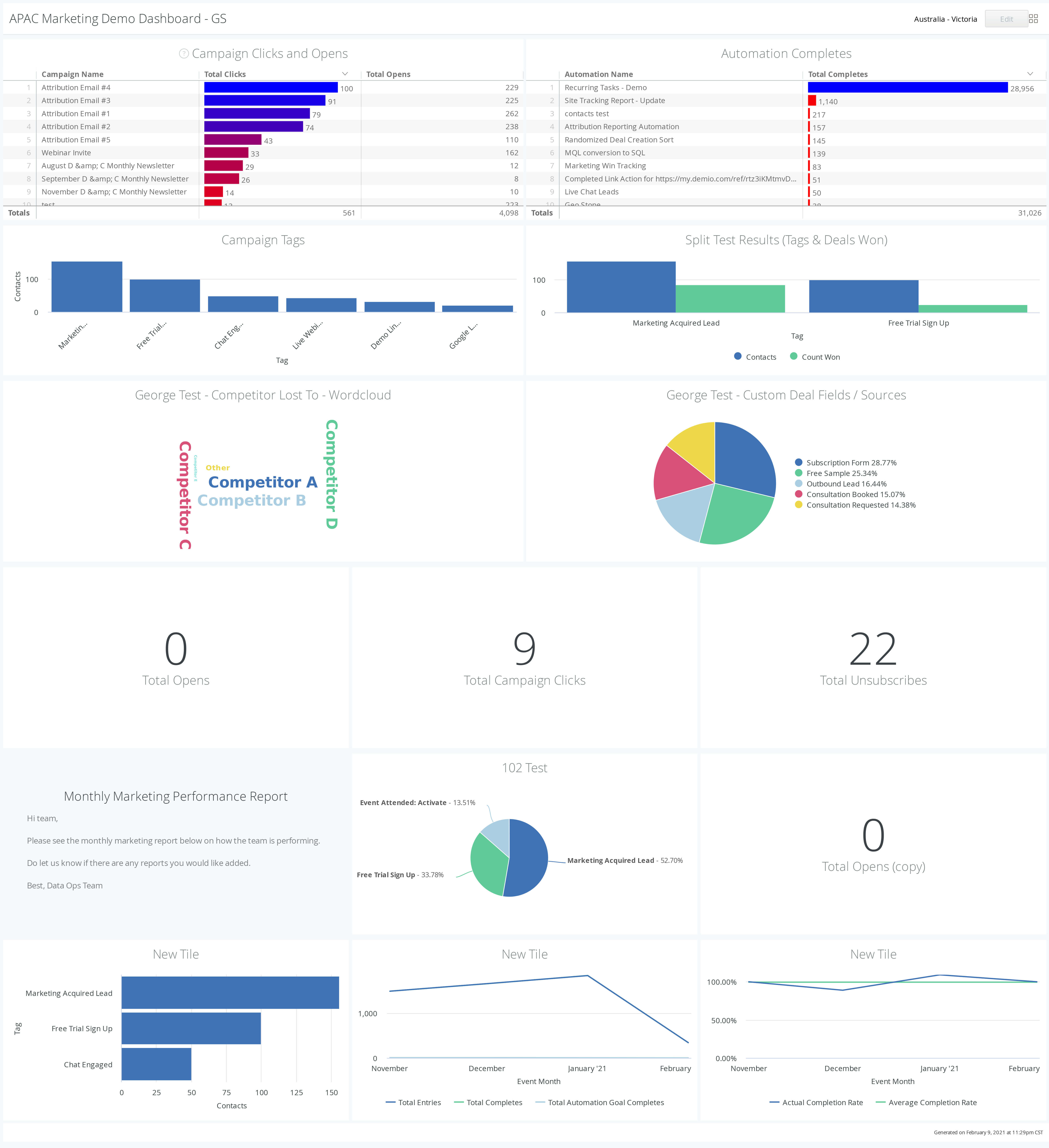 Integration and app support
Right from e-commerce, CMS, analytics and reporting, and beyond, there are plenty of apps and integrations on both the platforms. Both ActiveCampaign and HubSpot offer ample integration avenues. The platforms offer a mobile app for both Android and iOS users.
HubSpot
The number of free integrations is comparatively less with HubSpot. There are around 40 integrations you can choose from included in the free plan.
Here are some of the most popular apps available on the HubSpot platform: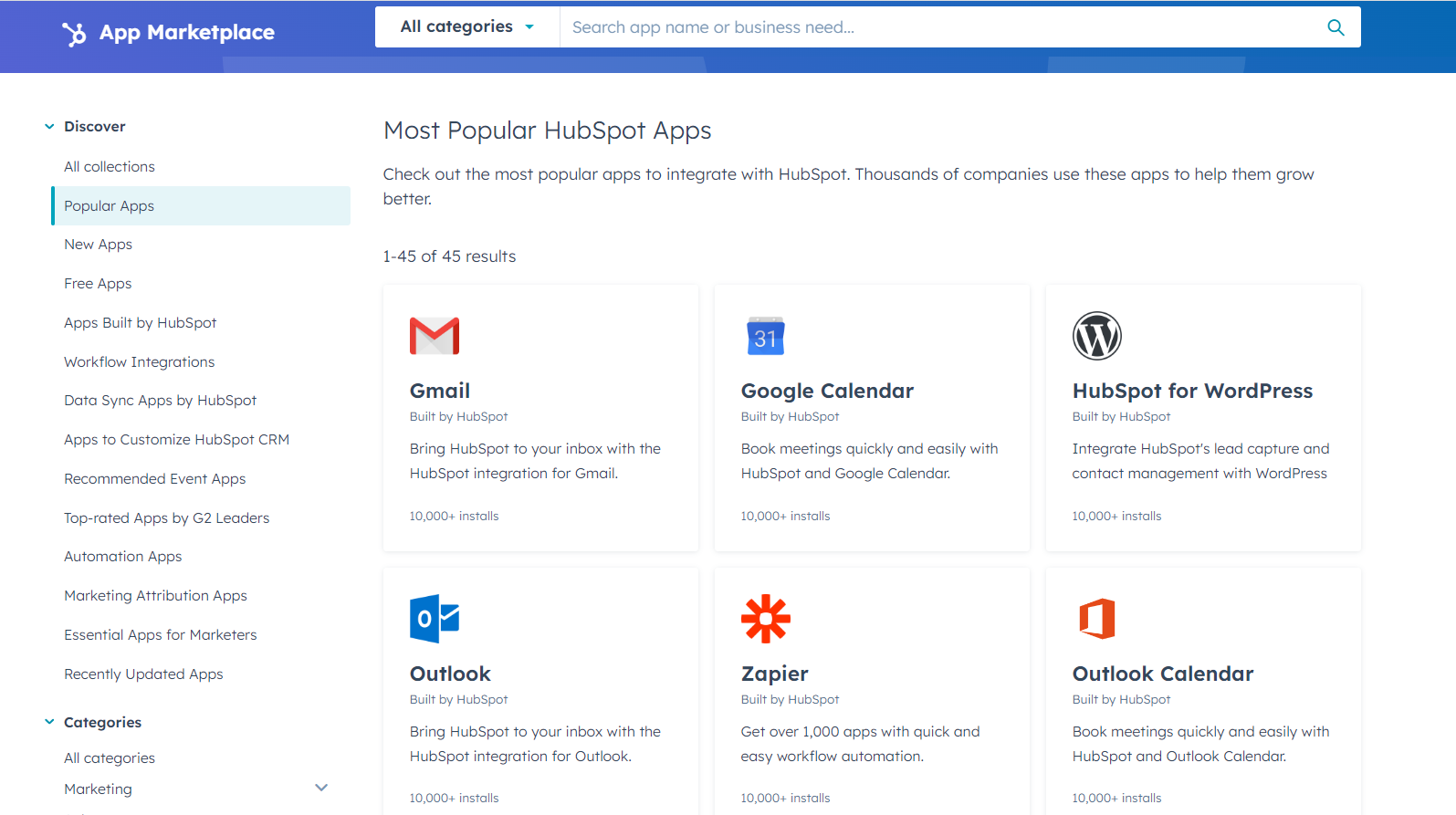 ActiveCampaign
ActiveCampaign integration is approx 920 apps. The vast number of options and enhanced compatibility place it in a league ahead when compared to HubSpot. This platform offers integrations in categories right from Accounting and Analytics to Project Management, Sales, and Support. If you seek a native integration, ActiveCampaign lets you place the request and process it accordingly.
Here are some of the most popular apps available on ActiveCampaign: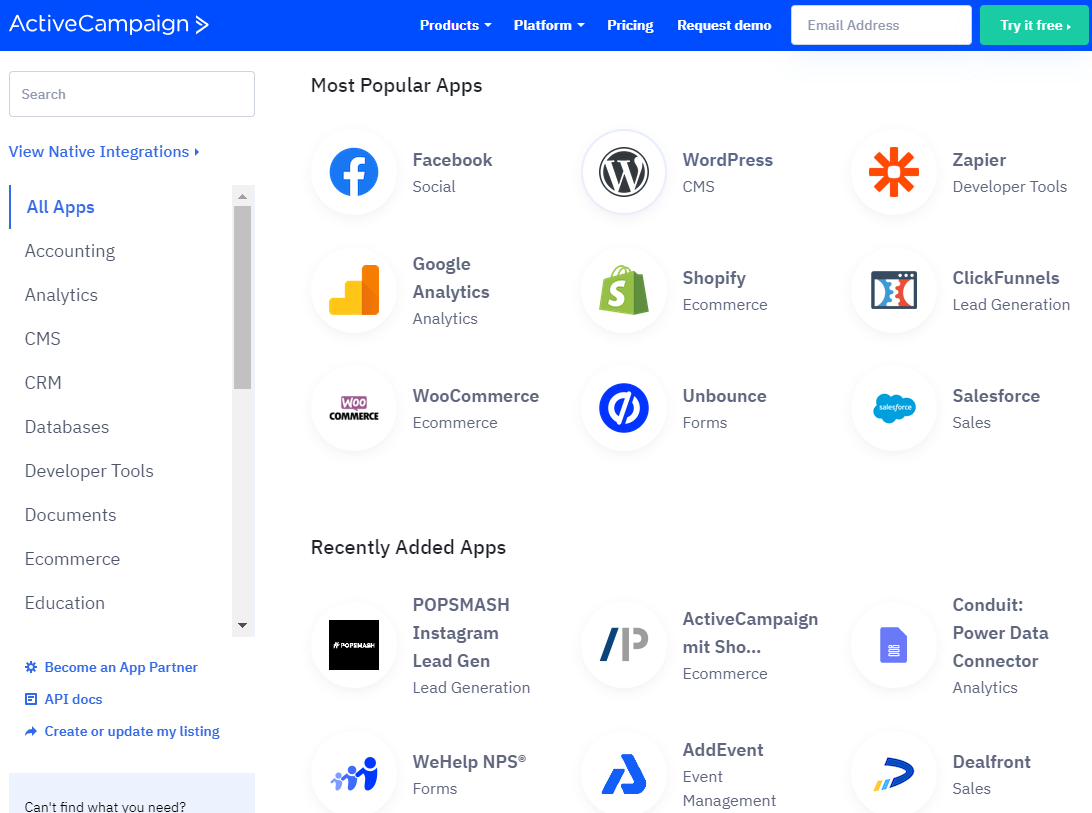 Support
Both ActiveCampaign and HubSpot have their fair share of provisions, being two top-tier platforms in the email marketing industry. Let's jump straight to the comparison: 
ActiveCampaign
Though might not be a deal-maker, ActiveCampaign's value proposition presents a strong case for itself. If designing emails is not your best foot forward, then look no further than ActiveCampaign. Apart from the Lite plan iteration, the platform comes equipped with a free of cost designing service. This enables you to customize the pre-designed templates and add a touch of personalization.
While moving up the ladder, the Enterprise plan you encounter offers a few more perks when it comes to seamless support. The design service gets more premium. One thing that remains free across all the plans is their immaculate data migration support. Be it a switch from another CRM or importing your own data, ActiveCampaign has got your back. Not only will the platform import your contacts but also the custom fields you might have created beforehand. Also, it helps you reincarnate your email marketing campaign by recreating essentials such as landing pages, templates, and even existing workflows.
HubSpot
HubSpot offers a more polished and hence, sophisticated experience. The renowned phone support is available from the Professional plan, but email and chat support are available across all the tiers for free. That being said, the data migration service costs somewhere around $1800 and the email template builder would set you back by around $500.
Social Media and Ads
It won't be an understatement to say that social media is at the epicenter of all forms of marketing endeavors in the email marketing industry. It has been an industry paradigm to leverage social media to create awareness about the brand, boosting engagement, growing scales, and beyond. 
Given the impact it has made on email marketing, it's imperative to have a platform that helps you stay ahead of the curve.
ActiveCampaign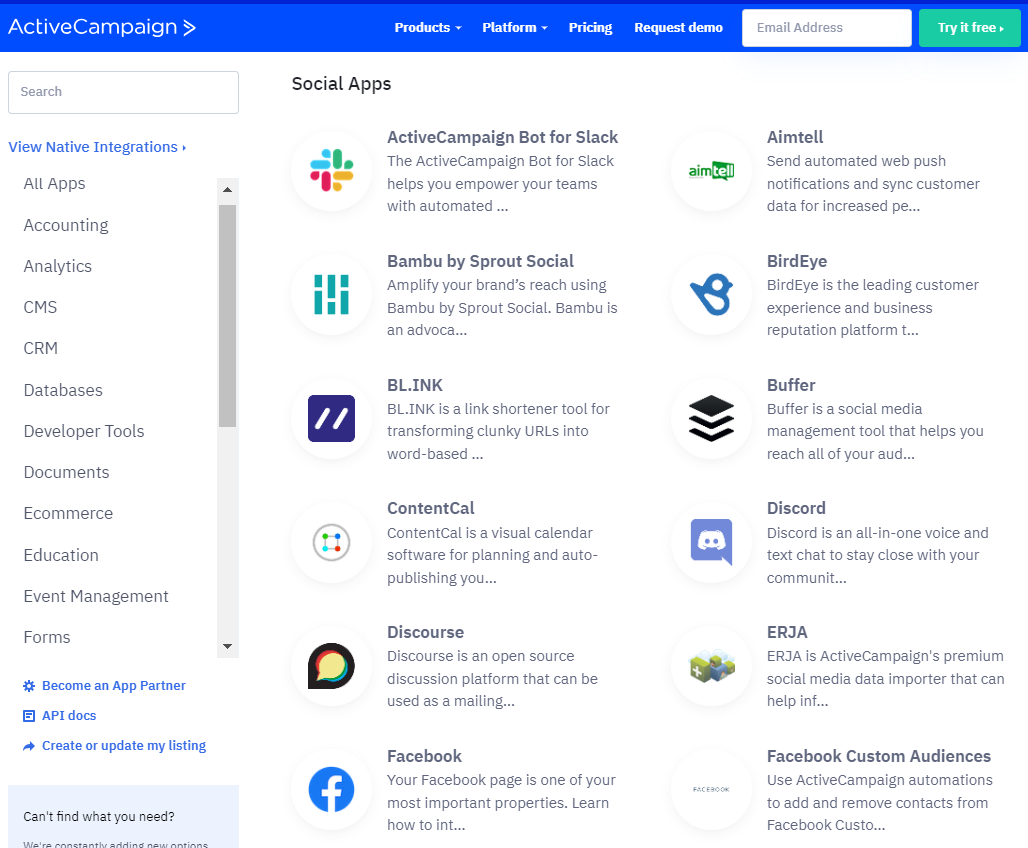 On comparing the two platforms, ActiveCampaign lacks an in-built social media tool to help you with activities focussed on social media. Hence, in instances where you want to build a database as a result of a lead generation campaign, ActiveCampaign offers 3rd party integration to facilitate social ads.
HubSpot
HubSpot, on the contrary, aces when it comes to social media management and growth. It has an intuitive and well-integrated space for marketers to execute and manage their campaigns and have a bird's eye view. The platform lets you track user behavior with posts and ads with their corresponding data from the database. Therefore, it saves a substantial amount of time and resources to manually map the users from social media and the CRM software. 
To start with, you need to connect your social handles with the platform, and you are almost good to go. It also lets you monitor the users' touch points and behavior patterns with your content. This level of insight helps you fine-tune your campaign in no time and achieve better results. Not just insights, you can also schedule social posts and reply to a user's comment right from the platform. In a nutshell, HubSpot marketing brings convenience and cost-effectiveness when managing your social campaigns.
ActiveCampaign Vs. Hubspot: Tabular Comparison
| | | |
| --- | --- | --- |
| Feature | ActiveCampaign Marketing Automation + CRM Professional | HubSpot Marketing Hub + Sales Hub Professional |
| Split Automations | Yes  | Yes |
| Unlimited Automation | Yes | No |
| Site & Event Tracking | Yes | Yes |
| Mobile CRM | Yes | Yes |
| Unlimited Pipeline Management | Yes | No |
| Advanced Programmable bots | No | Yes |
| SEO tools | No  | Yes |
| Free Contact migration | Yes | No |
| Automation Map | Yes | No |
| Video hosting and management | No | Yes |
| Ticket & deal automation | Deals only | Yes |
| Customer feedback tools | No | Yes |
| Blog | No | Yes |
| Ability to start/stop an Automation | Yes | No |
Conclusion
To put this comparison in a nutshell, let's first review the crucial parameters we have evaluated during the course of this blog:  
On comparing the prices of ActiveCampaign and HubSpot, we found that the latter's free CRM plan is quite flawless. However, the other paid plans are substantially more expensive than that of ActiveCampaign.

CRM is something that both platforms offer. However, the HubSpot CRM is slightly better integrated with a bit higher performing and intuitive email marketing features. Also, there's no additional cost for opting for the HubSpot CRM.

Talking about integration and support, both platforms offer over a hundred tools for a seamless integration experience. For support, you will find both platforms inch closer to each other with similar user experiences. They differentiate in the mode of service as there is live chat support on ActiveCampaign, while HubSpot provides you with phone support. 

ActiveCampaign aces ahead when email marketing prowess is considered. Though basics are offered with HubSpot, automation is only reserved for higher-priced plans.
Now, let's see some features and advantages specific to each platform to give you a clear comparison 
When does ActiveCampaign fit the bill? Here are a few instances:
Your marketing endeavors rely heavily on email marketing.

You are looking for superior marketing solutions along with a CRM that don't cost a fortune.

You want to generate better-segmented lists. 
You should opt for HubSpot when:
Your business relies on high-value conversions. Hence,  you need to nurture and interact with each contact individually.

CRM is of utmost importance to you, and you don't mind getting other features bundled together.

You are looking for a CRM that can integrate inbound marketing. 

You don't have budget constraints.
Summary 
After compairing ActiveCampaign vs. HubSpot, we can say that both contain enough firepower to outperform each other in some aspects. It's up to you to decide which one suits your need better and offers a better value proposition. Do let us know in the comments below what you think of this comparison and what else would you like us to compare