Choosing an email marketing automation platform is an obligatory business decision that an eCommerce brand owner has to take one day. But, this can be extra challenging when you have two automation behemoths, like Klaviyo and ActiveCampaign, duking it out for the top spot. Getting the decision right the first time can save you from a lot of unnecessary waste of money and manpower down the line. Therefore, to make the decision-making process easier, we have compiled all the differences between ActiveCampaign vs Klaviyo.
Differences between ActiveCampaign vs Klaviyo
Factors
ActiveCampaign
Klaviyo
Industry

ActiveCampaign is designed for marketers concerned with contact management and subscriber engagement.

Klaviyo is designed for eCommerce websites focusing on sales and ROI.

Pricing

No free plan

The plans are divided into Lite, Plus, and Professional packages.

The advanced features of email marketing are only available on the Pro plan

Free plan until 500 subscribers

There are no plans. The prices gradually increase with the increase in subscribers

All the advanced email marketing features are available from the free plan.

Dashboard

Dashboard is limited to contact growth, activity status, and simple trends.

Offers Constant Contact Scoring feature.

Highly intuitive dashboard.

The information on the dashboard is highly customizable.

Customer Support

24/7 Email support option for the customers

Live chat option is also available but can only be accessed during work hours

Better community and forum experience

Unlimited email support for paid users. But, can contact the support team during specific hours.

Customer support is available in multiple languages.

Good community and forum experience.

Template Editors

Drag-and-drop email editor

Library is filled with inspiring and optimized email templates

Offers conditional content blocks that can change the contents depending on the preferences of the user.

Drag-and-drop email editor

Library full of free templates

Offers highly editable default email layouts.

Integrations

Supports over 300+ integrations

Cannot offer instant access to stored images and fonts.

Support over 300+ integration.

Special integration features are available with Shopify.

Provides instant access to stored images.

Automation

Automated workflow templates are called automation recipes.

You can find industry-specific automation recipes

Offers more than 4 triggers.

Offer dynamic automation that automatically changes workflows depending on customer segment

Flow builder enables you to build automated flows from scratch or from templates

You can choose between 4 triggers,

You can use conditional triggers
In-depth comparison of ActiveCampaign vs Klaviyo
1) Dashboard
Klaviyo offers a highly intuitive dashboard packed with features. Klaviyo's dashboard is revenue focused and shows your earnings from individual marketing campaigns. Just a brief look will give you a good idea about the performance of your marketing department.
The top bar in your Klaviyo account shows your total general revenue, email campaign revenue, and automated campaign revenue. Further, Klaviyo's dashboard is modular.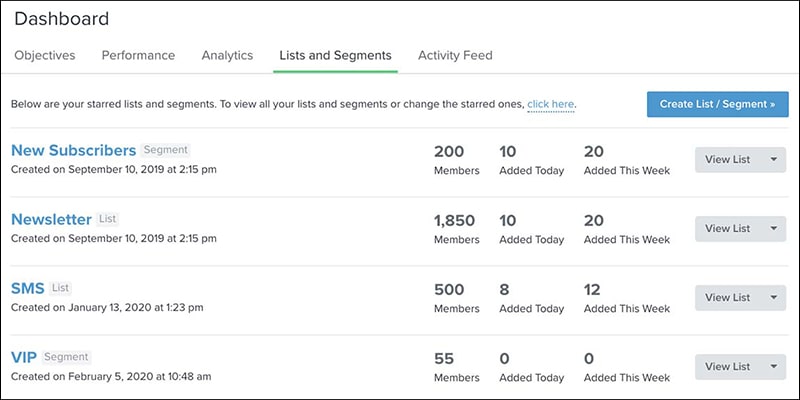 You can create different dashboard templates and set them up with views, also known as cards, to monitor your campaign performance and other important metrics. These information cards can also be modified to show revenue generated by every single subscriber in individual automation flows.
Coming to ActiveCampaign, the dashboard is limited to a few things. Contact growth, trends, and activity status are a few things you can track on its dashboard. Constant contact scoring is probably ActiveCampaign's most interesting feature. This metric meticulously tracks customer engagement across the board and can precisely highlight when a subscriber is ready to commit to your products.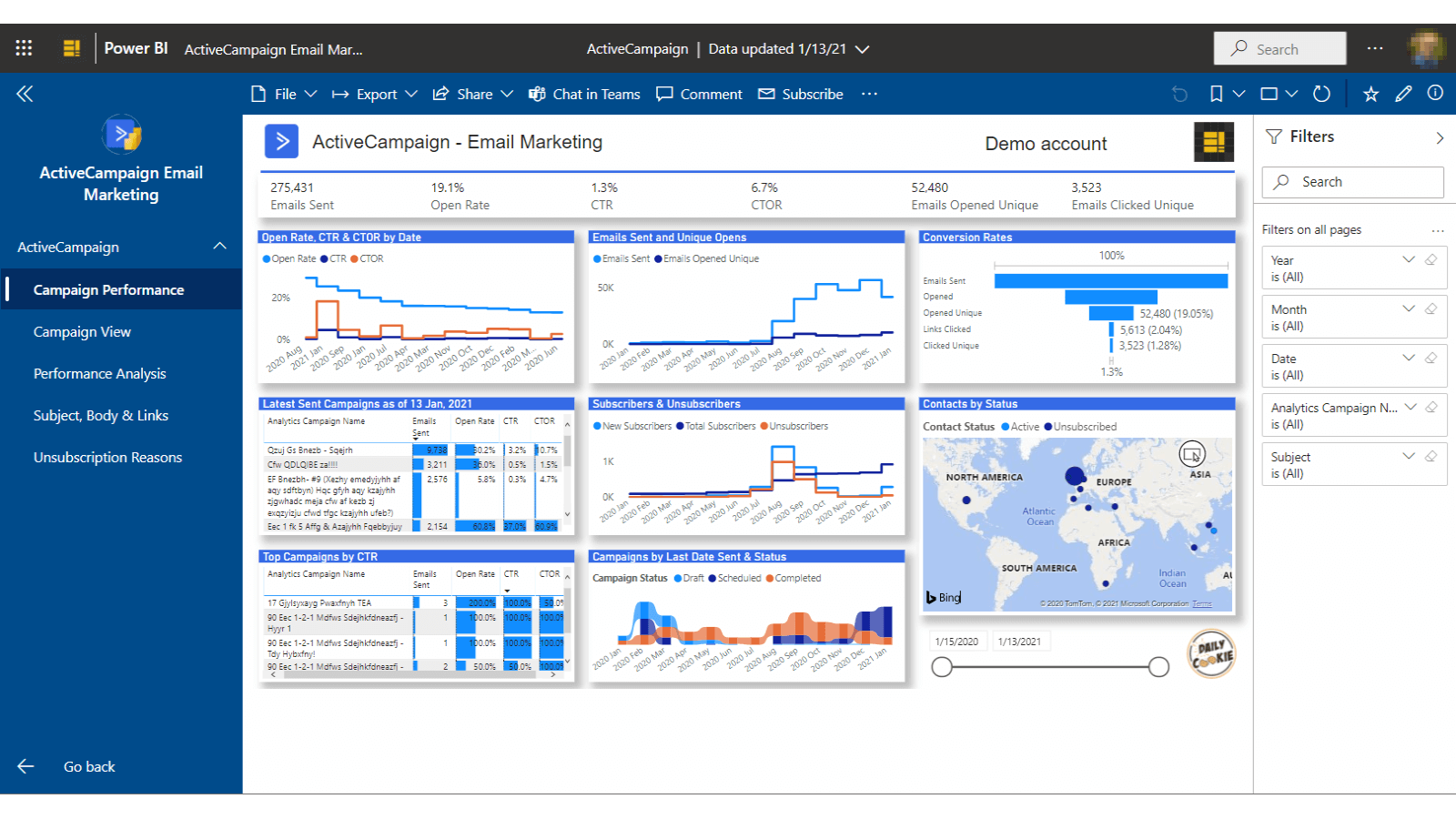 Email marketing experts can use these contact scores to create highly targeted last-mile email campaigns. Klaviyo has no such features. It would be unwise to say that ActiveCampaign is inferior to Klaviyo because its dashboard features are limited. Klaviyo is geared more towards eCommerce websites focused on sales, revenues, and ROIs.
Meanwhile, ActiveCampaign is the better choice for marketers who are more concerned about subscriber engagement and contact management.
2) Pricing
It is difficult to compare the pricing plans of Klaviyo vs ActiveCampaign directly as they both have multiple offerings. Nevertheless, we will do a brief comparative analysis to understand which platform is more suitable for helping your platform grow.
To begin with, ActiveCampaign has no permanent free plan. Yes, you can avail of a 14-day free trial, but the time limit is not enough to truly experience all the features of ActiveCampaign. Klaviyo offers an unlimited free plan limited to only 500 subscribers.
ActiveCampaigns entry-level plan, called the ActiveCampaign Lite, starts from $15 per month and can go up to $505 per month, depending on the number of subscribers.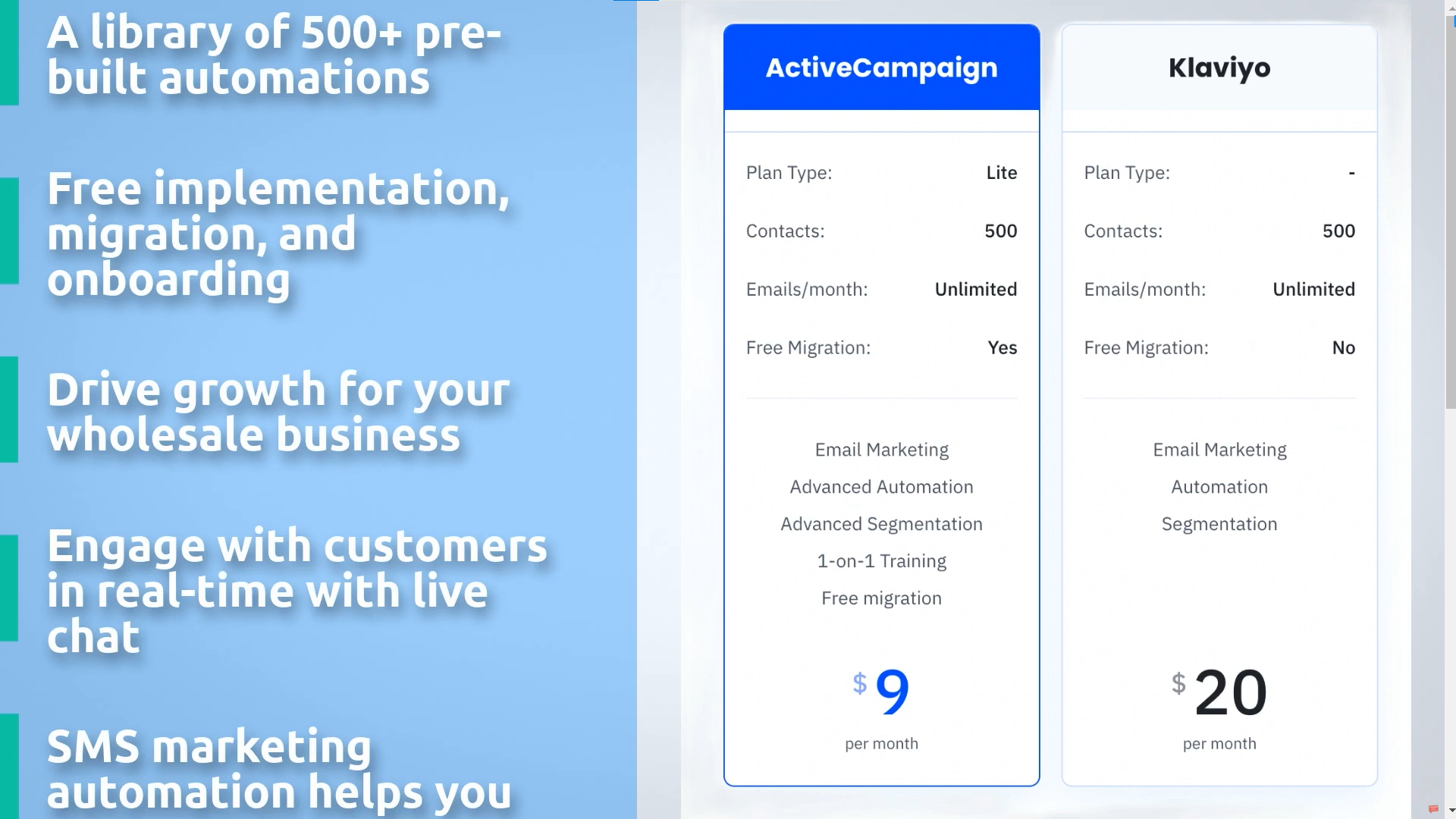 This plan is designed for solopreneurs who want to start building their email marketing base. For single users, the price can drop to $9 per month. Most of the advanced features are missing or hidden behind paid add-ons.
The Plus and Professional plans offer flexibility when it comes to email marketing. You get access to a landing page editor, advanced forms, a custom domain, and much more. In addition, Pro plan users can enjoy on-site messaging tools and access to attribution metrics.
ActiveCampaign also offers 1-on-1 training to these users. The Plus and the Pro plans are priced at $70 and $159 per month. Again, the prices can drastically increase depending on the subscribers. Lastly, ActiveCampaign's Enterprise plan is created for large organizations that want to scale their targeted marketing efforts.
The organization gets all the features of the previous plans and some exclusive features, like 24/7 on-call customer support, personalized advice, uptime warranty, and a custom number for sending SMS. Companies wanting to use this package need to contact ActiveCampaign's sales team for a personalized quote.
Klaviyo's plans are rather simple. It divides its plans into three categories- Free, Email Marketing, and Email and SMS. As a customer, you can access email marketing metrics and advanced tools right from the free plan.
You only have to pay more as your subscribers start to increase. And, in the email and SMS package, you get additional functionality and support for SMS marketing. But, at higher subscriber levels, Klaviyo can get more expensive than ActiveCamapaign.
3) Customer Support
Klaviyo and ActiveCampaign understand the predicaments of new users and beginner email marketers. Accordingly, they have structured their customer support department to help users with a wide variety of problems and offer valuable marketing advice.
Klaviyo offers unlimited email support to all its paid users. However, the users can only contact the team during the weekdays between 6 AM and 10 PM EST, and between 10 AM and 4 PM during the weekends.
The free plan users can enjoy these benefits for 60 days only. Klaviyo also offers live chat features to its paid users exclusively during the weekdays. Both the above-mentioned support options can be easily accessed from Klaviyo's main page.
You just have to click on the support option and choose your communication channel. For the email option, you have to enter an appropriate subject line and select the correct category for the inquiry. And, if you want to access the live chat, just select the option.
It will open a small pop-up window where you can talk with a Kaviyo representative to sort out your problems. ActiveCampaign also has a similar offer for its users and some are slightly better than Klaviyo's.
Email chat can be accessed by the users 24/7 without any restrictions, while live chat is only accessible during the weekdays during specified times.
International clients might face some problems while communicating as the customer service representatives only talk in English. ActiveCampaign also provides a comparatively better community and forum to browse through peer reviews.
In addition to that, all the training materials on ActiveCampaign can be accessed for free. Its onboarding process is by far the best in the industry.
A customer support manager calls you to guide you through the account setup process and teaches you to design your first campaigns. Of course, this call is optional and can be skipped if you are an experienced email marketing professional.
4) Template Editors
In email marketing, template editors are equally important as other email marketing tools. And, ActiveCampaign and Klaviyo both offer powerful editors to their patrons.
To begin with, the two offer drag-and-drop email editors to make the template creation process more accessible for beginners. Klaviyo also hosts a massive library of free email templates and so does ActiveCampaign.
Again, both email automation platforms ActiveCampaign vs Klaviyo can go head-to-head with their Split testing features and tools. One of the most sought-after features of Klaviyo is its default design layouts. Email marketers can choose between various layout styles depending on their needs.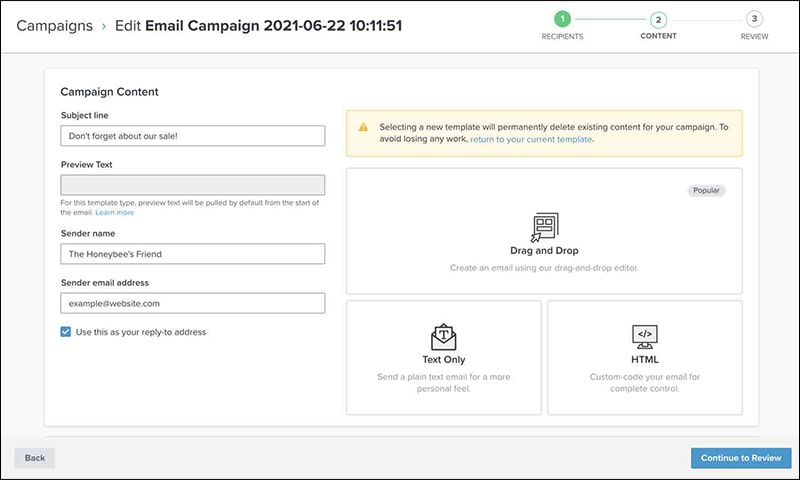 Then, email marketers can use the sidebar to access and enter blocks in the template. You can also enter universal content, that is content created for other emails.
These blocks and sections can be moved, deleted, or cloned to help you create coherent klaviyo email flows. In the style section, you can further edit the text design, background images, hero images, and so much more.
Even without the editor tools, Our Klaviyo email experts can create highly effective Klaviyo HTML templates that can be directly uploaded to the platform.
ActiveCampaign goes over and beyond with its template editor tool. You get access to a couple of exclusive features in addition to all the features offered by Klaviyo. For one, you can enter conditional content in the blocks.
With conditional content, you can target people within the same automated email workflow with different email content based on pre-defined conditions.
Lastly, ActiveCampaign has a dedicated email deliverability team that checks your initial few emails to ensure they are complying with various email service provider restrictions.
5) Integrations and Flexibility
It is unnatural to assume you can run a successful email marketing strategy without relying on multiple software. Most experienced digital marketers create an ecosystem of multiple interconnected systems that feed each other a constant stream of data.
Similarly, ActiveCampaign and Klaviyo offer multiple third-party and native integrations to make life easier for marketers. Klaviyo supports over 300+ integrations and can gel seamlessly with other third-party tools.
Klaviyo's popularity shot up when another email marketing automation platform stopped its support for Shopify. With Kalviyo, you can connect to Shopify with a few simple clicks and bring up all your images and fonts.
ActiveCampaign's Shopify integration is equally seamless, but it cannot provide you with instant access to all your stored images and fonts. You also get integrations for automating your SMS workflows and nurturing leads on that channel.
Just like Klaviyo, ActiveCampaign also supports over 300+ integrations. Again, ActiveCampaign vs Klaviyo both platforms are incredibly collaborative with social media platforms and can easily draw customer data from them.
The only difference is, Klaviyo can pull all past data for better analysis, and ActiveCampaign can only utilize data from recent activities. Processing and understanding rows of historical data might not be everyone's cup of tea. After all, it is better to have the feature and not need it than to need the data and not have it.
6) Analytics
As mentioned earlier, Klaviyo's dashboard is highly customizable and is designed to display relevant data. Apart from that, you can easily generate reports based on popular metrics like revenue generated from campaigns, overall revenue, the total number of unsubscribers, and more.
Moreover, the report dashboard is live and always shows the updated numbers and figures on the window. Additionally, Klaviyo lets you create and store multiple reporting interfaces. By default, you get business, campaigns, emails, forms, and flow overviews.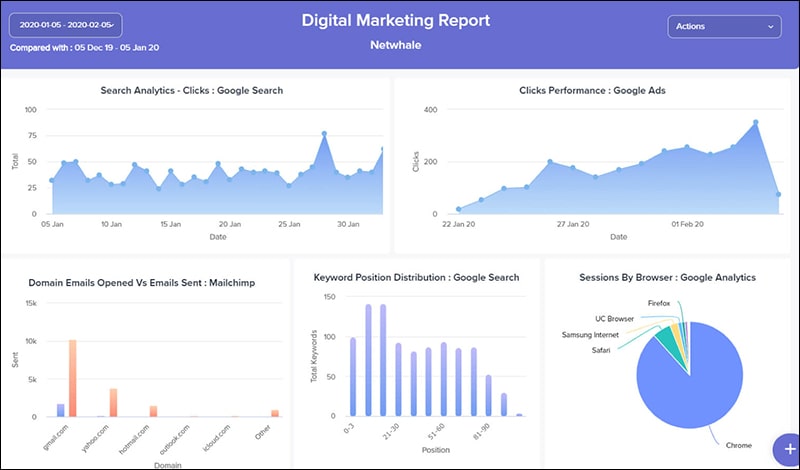 The tile arrangements vary from page to page. You can click the plus icon to create an additional page and use your desired tiles. ActiveCampaign's analytics feature is equally accurate, but it lacks variety.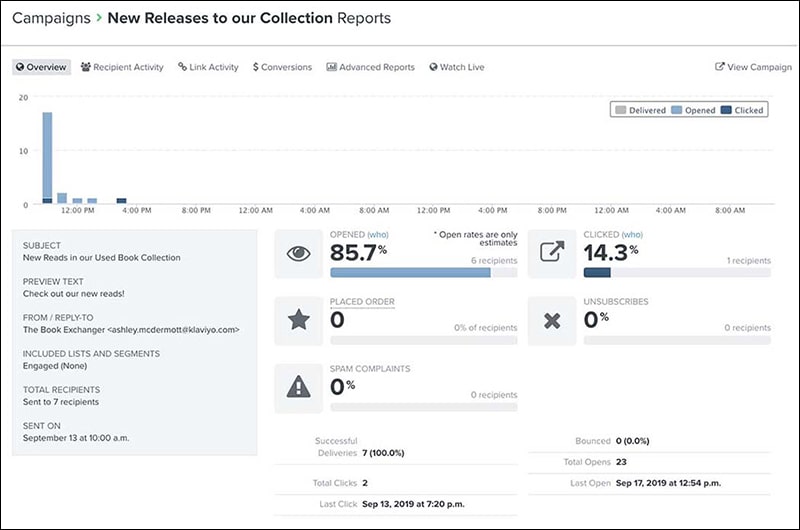 However, the layout and reporting feature makes up for it. If you are an eCommerce brand owner who does not want to be overwhelmed by metrics and numbers, ActiveCampaigns will be a better option for them.
Klaviyo is more suited for owners that you drill down and thoroughly dissect their campaign performance.
7) Automation
True to their names, Klaviyo vs ActiveCampaigns both have powerful automation builders. The automation editors come with multiple options and tons of visual cues. To begin with, in Klaviyo, the automation workflows are only termed flows.
When you open the flow builder, you will come across multiple templates for the most commonly used email workflows, like the welcome email, abandoned cart email, upsell email, win-back emails etc. Clicking on the browse more option opens Klaviyo's email automation template library.
Creating a template from scratch is also fairly easy with Klaviyo. First, you need to choose between 4 triggers. Then, enter the actions that will take place whenever a subscriber triggers a flow.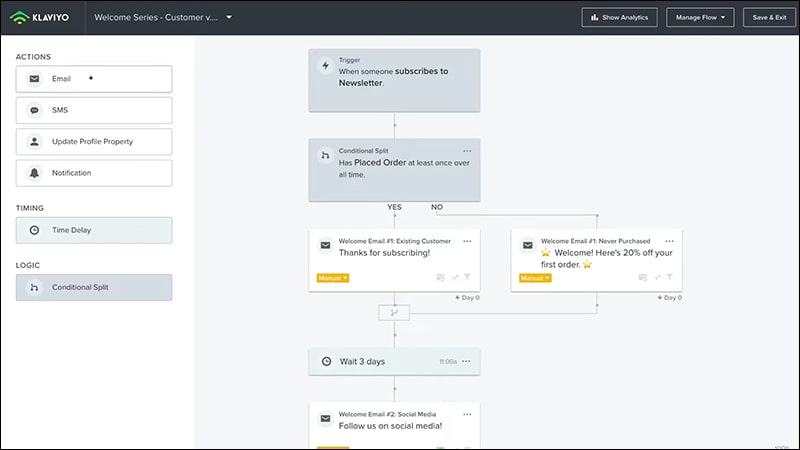 Finally, you need to select the time delays between the actions. Conditional and trigger splits can also be used in your flows to make them more complex and add more personalization. ActiveCamapign ups the ante with its advanced automation tool.
It offers more trigger options and other general options. The automation templates are called automation recipes and show you how to maximize the potential of these campaigns.
These recipes can also be filtered depending on the industry. Some of the triggers can be confusing to use, hence we offer comprehensive ActiveCampaign email marketing services to make things smoother.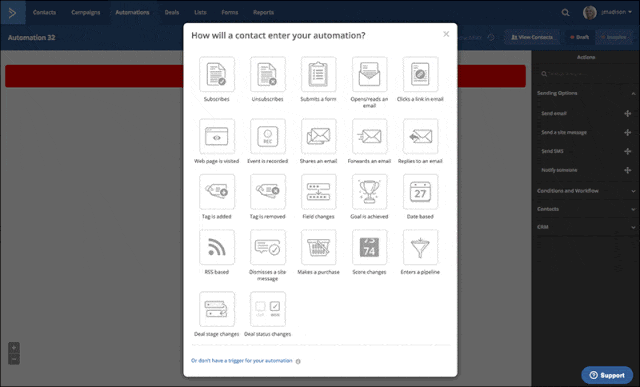 ActiveCampaign also offers niche automation features that are missing in Klaviyo. For example, the start and stop automation feature can stop email automation when it senses that the subscriber has entered another workflow.
In Klaviyo, you have to use conditional triggers. ActiveCampaign's dynamic automation changes the content of the email depending on the triggers and the interaction history of the subscriber. It is safe to say that ActiveCampaign is significantly better when it comes to automation and email workflows.
Conclusion
Klaviyo vs ActiveCampaign are evenly matched across the various categories. There are only a couple of categories where there is a definite winner between the two. Even this doesn't matter, as the difference in their abilities is almost negligible. So, whichever tool you choose, should be the right decision for you. Or, our email agency can handle the marketing operations for your brand.
FAQs
Q1. Is Klaviyo cheaper than ActiveCampaign?
For beginners, Klaviyo can be cheaper as it has a free version while ActiveCampaign has only paid options. But, at a higher subscriber count, ActiveCampaign might seem like the more cost-effective option.
Q2. What are automation recipes in ActiveCampaign?
Automation recipes are simply the automation templates that are available in ActiveCampaign's library.
Q3. Is ActiveCampaign easy to learn?
ActiveCampaign has a very intuitive user interface that is easy to access and learn.