ActiveCampaign is a wonderful email marketing platform. It has enough features and tools to go head-to-head with the likes of Klaviyo and MailChimp. But, ActiveCampaign pricing structure can leave you scratching your head. It offers multiple plans with various subscriber tiers. So, which is the best plan to get you the highest return on investment? Here is an in-depth breakdown of all the plans and the features they offer to help you choose the best one for your brand.
ActiveCampaign Prices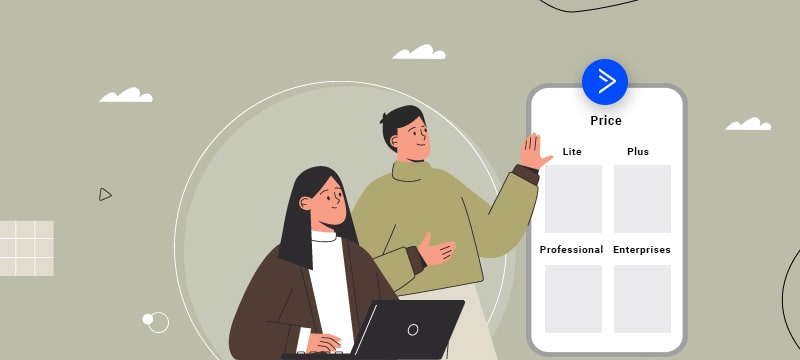 ActiveCampaign prices offer four plans to its prospects, and each of them has a different pricing structure. Now, the four different pricing plans are-
Lite

Plus

Professional

Enterprises
The Lite plan starts at a deceptively low price of $29 per month. Since ActiveCampaign has a very limited and restricted free plan, it needs to keep the prices for the starter plan low to lure in customers.
The next pricing tier is known as the Plus plan. It offers additional features and is probably the most popular plan for customers. Most prospects will try out the Plus plan as it offers a valuable CRM feature. This plan starts at $49. The starting price of a plan is kept close to the Lite plan to entice the user into getting the better plan.
The Professional plan comes next and is priced at around $149 per month. ActiveCampaign claims that this plan is their best seller and is preferred by all.
Email marketers get to enjoy a host of different features and functionalities that help them streamline their marketing strategies. And, lastly, you get the Enterprise plan that is only reserved for companies wanting to scale their marketing efforts in a short period. To get an accurate estimate for your enterprise plan, you need to contact the customer helpline.
Understand this, the prices mentioned above are only the starting prices and will increase as the number of contacts increases. Here is a table that shows different monthly prices for different subscriber levels.
| | | | | |
| --- | --- | --- | --- | --- |
| Cost of Contacts | Lite | Plus | Professional | Enterprise |
| 500 | $29 | $49 | $149 | $279 |
| 2500 | $55 | $125 | $159 | $279 |
| 5000 | $99 | $169 | $139 | $449 |
| 10000 | $155 | $249 | $349 | $499 |
| 25000 | $259 | $399 | $599 | Custom Pricing |
| 50000 | $345 | Custom Pricing | Custom Pricing | Custom Pricing |
| 100000 | $505 | Custom Pricing | Custom Pricing | Custom Pricing |
Comparison of Features in Different Plans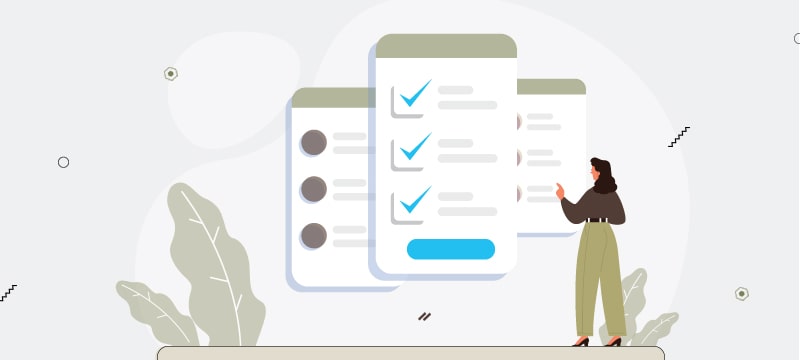 Now, ActiveCampaign can be an inexpensive alternative to some of the other email marketing platforms out there, provided you are choosing the right price plan.
The key to maximizing your ROI is to choose the plan that contains only the features that you require and nothing more. As you upgrade to a more expensive plan, you get all the features of the previous plan in addition to all the new tools and functionalities. Here is a list of features that is available to you in the different plans.
Lite Plan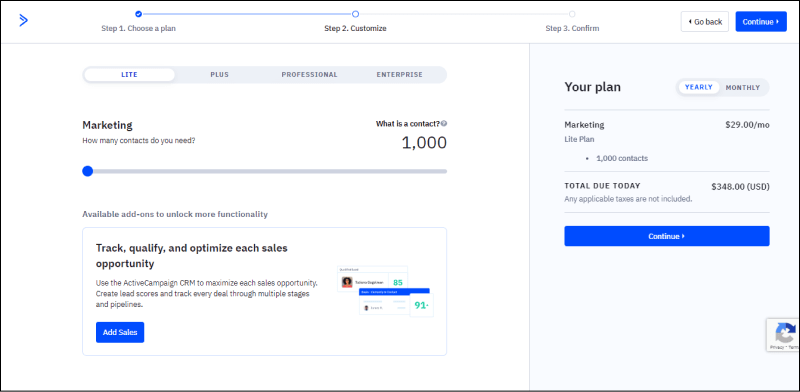 The Lite plan is perfect for individual entrepreneurs and small businesses that want to get started with Activecampaign Email Marketing. But, at a higher subscriber count, the features of this plan might seem restrictive to some people.
3 users

Lite implementation

Marketing automation

Email marketing

Newsletter sending

Basic subscriptions

Contact importing

Optional paid social data

Email designer

Data migration

Managed email delivery

Email-based support with live chat

Auto-importing

Unlimited email sending

GEO tracking

Optional paid email testing

Reporting

Autoresponders

Webhooks and API

Integrations

Social media tools

Event and site tracking
Plus Plan
The Plus plan is the perfect starter plan for medium-sized and smaller brands hoping to up their email marketing game. This plan contains all the features of the lite plan and the ones mentioned below.
25 users

CRM

Automation mapping

Conditional content

Automation strategy consultation

Detailed onboarding consultation

Lead and contact scoring

One month of one-on-one training

No ActiveCampaign logos on forms

Database syncing

Facebook Custom Audience integration

More advanced subscription forms

5 free inbox previews per month

SMS subscriptions

Custom user permissions

SMS subscriptions

Sales automation

Landing pages

Custome Email Designs

SMS sending
Professional Plan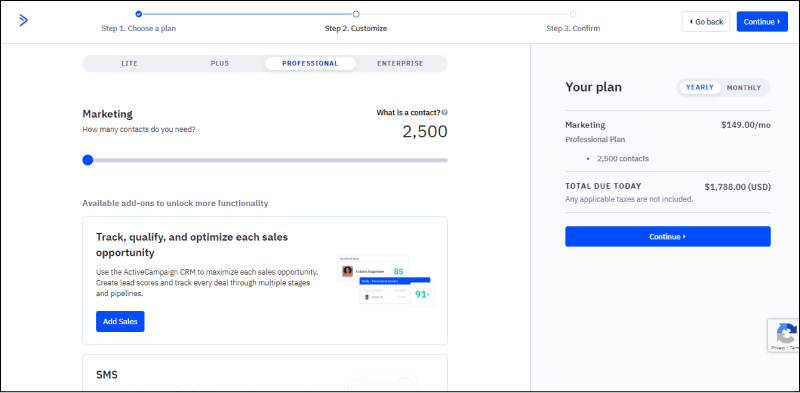 It is one of the top tier plans offered by ActiveCampaign. Again, in addition to the features mentioned below, it also contains all the functionalities of the lower-tiered plans.
50 users

Pro implementation

Attribution

Predictive sending

Site messages

Split automation

3 months of one-on-one training
Enterprise Plan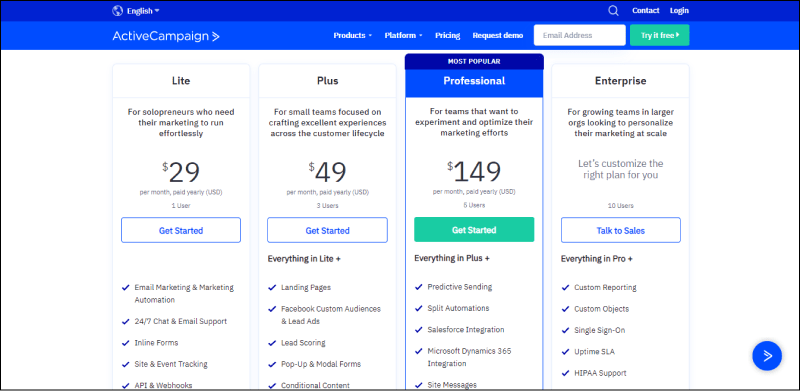 Lastly, the Enterprise is reserved for fast-scaling start-ups and email marketing experts that want to access all the advanced features offered by ActiveCampaign.
Unlimited users

Custom implementation

Custom app URL

Phone support

Access to premium email template designs

Expedited support via email, live chat, and phone

A dedicated account representative

Custom marketing strategy and updates every quarter

Unlimited one-on-one training

Custom SMS phone number

Custom email server domain

Custom app CSS and HTML

Unlimited email testing

Uptime SLA

Reputation monitoring
Can You Get a Discount On Any ActiveCampaign Plans?
Of course, if you are opting for an annual payment, you can enjoy a discount of up to 30% on the original plan price. Non-profit organizations get another 20% on top of the previous discounts.
Add-Ons For Your ActiveCampaign Plans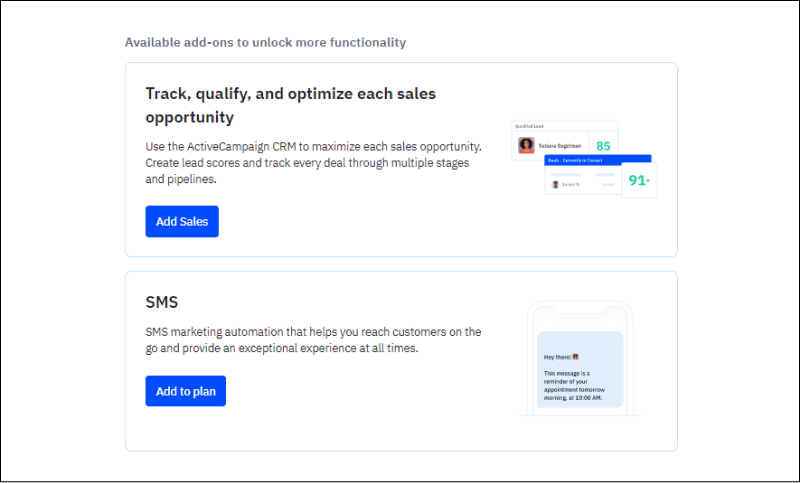 ActiveCampaign does offer a few add-ons for which you have to fork out extra cash. For some users, these hidden charges might push them overboard their allocated marketing budget. But, some of these add-ons are worth every penny.
For example, ActiveCampaign offers an add-on called Conversations that helps you establish a website chat feature in your online stores. Irrespective of the number of contacts in your ActiveCampaigns, this add-on feature only takes an extra $19 per user per month.
Which Is The Best ActiveCampaign Plan For Your Business?
ActiveCampaign actively promotes its Professional plan as the most popular plan. But, on closer inspection, you will notice that most of the advanced features offered in the plan will not be used by the majority of the users. Therefore, a Professional plan is recommended for seasoned brand email marketers who know their way around these tools.
Now, the Lite plan is the best for entry-level marketers who just want to experience what ActiveCampaign has to offer. It is also the best option for brands looking to manage a limited number of contacts.
By the process of elimination, you can see that the Plus plan offers the best features compared to its pricing structure.
For example, with this plan, you get access to CRM and automation features that enable you to handle and effectively communicate with a larger audience.
Comparison of ActiveCampaigns Prices With Other Email Marketing Automation Platforms
ActiveCampaingn's pricing is very similar to that of Klaviyo. But, Klaviyo is slightly more technical and feature-rich compared to ActiveCampaign.
On the other hand, ActiveCampaign is easier to use and best suited for beginner email marketers. In the same vein, if you do not require any automation, you are better off using Mailchimp or Mailerlite as they offer more cost-effective plans for smaller businesses. For more information check our detailed comparison between ActiveCampaign vs Klaviyo.
Conclusion
Choosing the right plan for ActiveCampaign can be quite complicated because of the various combinations of subscriber count and different features. Hopefully, this guide can help you choose the right plan for your email marketing efforts. You can also consult a professional email marketing agency to assist you during the plan selection process.
FAQs
Q1. Does ActiveCampaign Have Any Free Version?
No, there is no free version of ActiveCampaign. However, it does offer a 14-day free trial to all its paid subscribers.
Q2. Is The Cheapest Plan of ActiveCampaign Worth It?
The cheapest plan, the lite plan, enables you to connect with 500 email contacts for just $29 per month. This plan is completely worth it for solopreneurs looking to increase communications with their customers.
Q3. What Is The Average Monthly Cost of Using ActiveCampaign?
According to ActiveCampaign, the Professional Plan is their most popular plan. So, it is safe to assume that the average monthly cost of using ActiveCampaign is around the $140 mark.