Many companies think that browse abandonment emails are just like abandoned cart emails and that the same rules apply.
But the psychology of a shopper who abandons while browsing vs. a shopper who abandons a cart is significantly different. The latter is farther down the funnel than the former and has demonstrated more interest in your product(s).
In other words, getting browser-abandoners to make a purchase requires more convincing.
While they usually generate much less revenue than cart abandonment emails, they still provide a great opportunity that most companies miss out on.
In this article, we'll cover:
The different types of it, including the two most important ones to focus on.

The 3 critical keys to successful browse abandonment emails.

4 additional tactics for successful browse abandonment emails.
As as email marketing company we at Inbox Army create revenue-boosting browse abandonment emails for our clients. If you want to discuss how we can create an effective browse abandonment email template for you (and help you achieve all your other email marketing goals), contact our team.

What are Browse Abandonment Emails?
Browse abandonment emails are automated emails that get sent to site visitors who browse your products but never add products to their cart or make a purchase. They are similar to abandoned cart emails in that you are attempting to reclaim lost sales.
Browse abandonment emails can boost business revenue by automating
What is a Browse Abandonment Flow?
A browse abandonment flow is a series of emails that are sent over a period of time in order to get browse-abandoners to make a purchase. A sample browse abandonment flow might include a 3-email sequence, such as:
The first email sent 2 hours after browse abandonment.

The second email sent 24 hours later.

The third email sent 24 hours after email two.
Begin At The Beginning: How To Collect Emails
The first hurdle with them is collecting emails from shoppers. With regard to collecting emails for browse abandonment campaigns, there are three key points to understand:
1) Focus on your current subscribers/customers
The majority of your browse-abandonment revenue will come from your current subscribers and customers.
They've already gone through your sales funnel and demonstrated an interest in your products. They've also used your products and, if they're returning to your website, they're likely satisfied with their experience.
So don't worry if you don't collect a ton of emails from first-time shoppers. The shoppers who are hesitant to give up their emails are less likely to convert anyway.
2) Exit Intent Pop-Ups That Ask For Sign-Up
Exit Intent Pop-Ups are boxes that pop up and ask visitors to sign up for your email list when they attempt to navigate away from your website. They're a great way to collect emails from browse abandoners.
Your Exit Intent Pop-Up should do two things:
Use Soft, Customer-Focused Language

: Position the request in terms of how it benefits the customer. For example, tell them you want their email so you can save their browsing history in order to make their shopping experience easier/better when they return.

Offer An Incentive: You can get more sign-ups if you give customers a reason to sign up. Offer a 10% discount on their first purchase, notifications of new products, or some other attractive incentive.



3)Handle objections to get more sign-ups:
Shoppers today are inundated with emails and requests to sign up for email lists. They're more protective of their personal information and don't want to crowd their inboxes. For whatever strategy you use to collect emails, you should include copy that handles these objections by telling shoppers that:
You won't flood their inbox with emails.
You won't sell their info to 3rd parties.
They can unsubscribe any time.

The Two Most Important Browse Abandonment Emails
Though there are four different types of it but, we recommend you focus on the two that, in our experience, generate the most revenue:
1) Product-Page Abandonment Emails


Product-Page Abandonment Emails are considered as one of the most important browse abandonment emails.
The reason is simple: shoppers who visit a product page are more interested in your products than any other browse abandoner. Therefore, they're more likely to convert than other browsers.
We've seen more conversions from these emails than any other. And data from Smartmail shows that these abandoned browse emails have been shown to generate an average of $3.42 per email sent – the highest of any other type.
Some of these shoppers may have simply gotten distracted before they could make their purchase. Others may want the product but don't have the money right now and/or don't want to make a decision right away.
In any case, these emails remind shoppers of the product they were interested in. And by including incentives and other tactics (that we'll discuss later), you can sweeten the deal and convince these shoppers to pull the trigger now.
2) Search Abandonment Emails


These emails are sent when a shopper searches for a product on your site but doesn't actually click through to any product pages. These emails generate an average of $2.85 per email sent.
Customers who search for products on your site have demonstrated interest in a particular category of product. This means that they have a specific need/problem that the products in that category can help with.
And, while they didn't see any products that attracted them enough to click through to the product page, there's a chance that:
They didn't see all of the products you have to offer in that category.

They overlooked some products while browsing.

Since they never clicked through to the product page, they didn't get the full pitch for any of the products they saw.
Whatever the case, you may be able to convert some of these shoppers by reminding them of their need/pain point and how your products can help.
Two Other Types Of Browse Abandonment Emails
The other two types of them are:
Homepage Abandonment (when a shopper visits your homepage only before abandoning)

Product Category Abandonment (when a shopper visits a product category page only before abandoning)
As we've discussed, they already suffer from a major hindrance: shoppers haven't shown much interest in your products (as compared to abandoned cart emails), making them less likely to be persuaded by your emails.
But if someone didn't even make it past your homepage, they're just not that interested in what you have to offer (at least, not at the current moment). Your emails are more likely than not to annoy them.
While Product Category abandoners have also shown an interest in a type of product you offer (and/or have a problem that your products can solve), they weren't interested enough in any of the products you have to offer.
Again, our experience shows that these emails don't convert nearly as well. And Smartmail's data shows that they generate an average of only $0.61 and $1.71 per email sent respectively.
Bottom line: While you can experiment with them to see if you get better results, we don't recommend them. So at the very least, start with Search & Product Abandonment emails, then incorporate the other two later.
3 Keys To Successful Browse Abandonment Emails
While we'll discuss more tactics later, the three primary tactics for creating successful browse abandonment emails include:
1) Focus On The Pain Point


Your emails should hone in on the pain point(s) associated with the product(s) the shopper was browsing. For example, if the shopper was browsing memory foam mattresses, the browse abandonment email could focus on the difficulty of getting a good night's sleep, back pain, insomnia, etc.
By focusing on the pain point and how your product solves it, you can remind shoppers why they were browsing in the first place and potentially convince them to convert.
Here is a browse abandonment email example from Hydro Flask which promotes insulated water bottle. It focuses on the pain point by:
Using copy that addresses the pain point — i.e. "Let us help you quench your thirst."

Including a logo for their Tempshield Innovation, which keeps the liquid within hot or cold.
2) Offer An Incentive


If you've read abandoned cart emails you'll recall that we usually don't offer a discount until the 2nd email in the series. That way, we can convert buyers who're more interested without sacrificing revenue.
But since browse-abandoners have displayed less interest in your product, you need to sweeten the pot immediately.
Some browse abandoners may be super interested in your product, but something is holding them back from buying right now. Perhaps they don't have enough money, or don't want to spend the money right now.
Incentives change that calculus and force the shopper to weigh their objections against the temporary benefit. In other words, if they buy now they can save money, but if they wait they'll have to spend more money. They now stand to lose more money by waiting than by acting immediately.
You can offer these magnets in your browse abandonment email:
A discount coupon

Free shipping

A BOGO deal of some sort
3) Handle Objections


Other concerns may be holding shoppers back, and you should address them in your emails.
Perhaps they're concerned with buyer's remorse – i.e they worry that they'll spend money on your product and, ultimately, be unhappy with their purchase. You can handle this objective by sharing your Return Policy.
Or they may be unaware of your shipping policy and be concerned that they'll have to spend even more money on shipping. Handle that objection by sharing your free shipping policy.
In either case, you can increase conversions by addressing those objections in your email copy.
The above browse abandonment email example from Danner multiple objections by:
Telling shoppers they get free shipping.

Telling shoppers they get free returns and free return shipping.

Inviting shoppers to talk with a DOnner expert to help them find something they want.
More Browse Abandonment Email Tactics & Content
To really make your browse abandonment emails successful, you should implement these tactics that are proven to boost conversions.
Add Urgency
Again, since shoppers have displayed less interest in your product, you'll need to push them a little harder to get conversions.
By creating urgency, you can capitalize on the shopper's fear of missing out on a great product or deal.
The two ways to create urgency include:
Telling shoppers your products sell out fast.

Giving shoppers a limited time to take advantage of their discount.


The above browse abandonment email example from Charlotte Stone are:
Email Copy
Pain Points & Benefits
Some businesses may not be able to do this, but we strongly recommend it if you can.
Create dynamic copy specific to each product that displays in the email.
The copy should target the pain points your product solves, and make a case for why it's the best solution to their problems.
If you have many products, start by creating dynamic copy for your bestsellers only. Then work your way down.
Soften Your Approach
Since there's a greater chance that customers may become annoyed by your emails, you need to soften your approach a bit (especially if you create urgency). If you sell too hard, customers will see you as greedy or pushy – as if you view them as just a source of revenue.
You can soften this by adding copy that positions your email as a convenience (rather than a hard pitch) and/or adding humor and levity.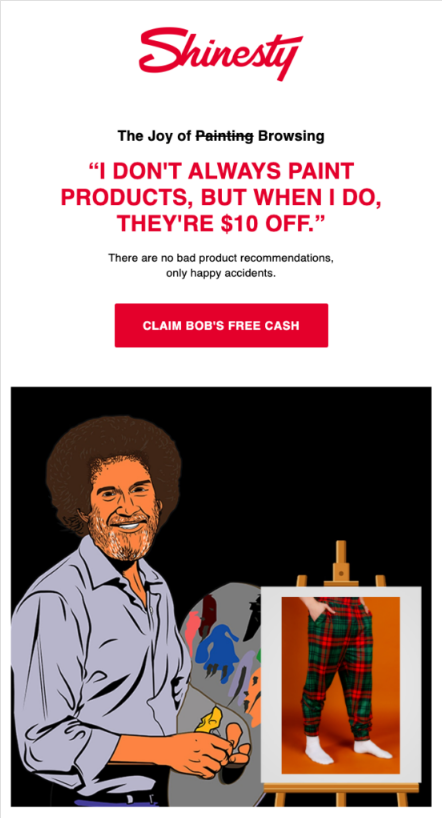 The above browse abandonment email example from Shinesty softens their pitch by adding a humorous reference to the painting icon Bob Ross.
Share Bestsellers And/Or Related Product


While (especially Product-Page Abandonment Emails) should primarily focus on pitching one product in order to maximize conversions, you can also share bestsellers and related products at the bottom of your email.
Related products include products that complement the one the shopper was interested in (i.e. if they browsed a bed, you can share pillows and linens) or products that similar shoppers have also browsed. Based on their shopping behavior, the browse abandoner is likely to be interested in these products. And, since they're popular with your other shoppers, bestsellers are also likely to grab their interest.
The point is, by sharing bestsellers and related products, you can:
Generate conversions for shoppers who aren't interested in the main product.

Increase the order value by getting the shopper to buy more stuff.
Content Hierarchy
Content hierarchy describes several design tactics that are used to control an email recipient's attention and make them focus on the most important parts of an email.
You should use content hierarchy tactics, first and foremost, to draw the recipient's attention to the product you want them to buy — i.e. make the product bigger than everything else and put it in a dominant position.
Then use the other tactics to draw the readers focus towards other important elements, such as objection handlers, urgency-generating copy, incentives, etc.
There are many tactics you can use, but the most important are:
Size:
Make the most important content large enough to notice. In the Aerosoles email below, attention is immediately drawn to the text that says "they're on sale" and the objection handler "free shipping on orders of $75 or more."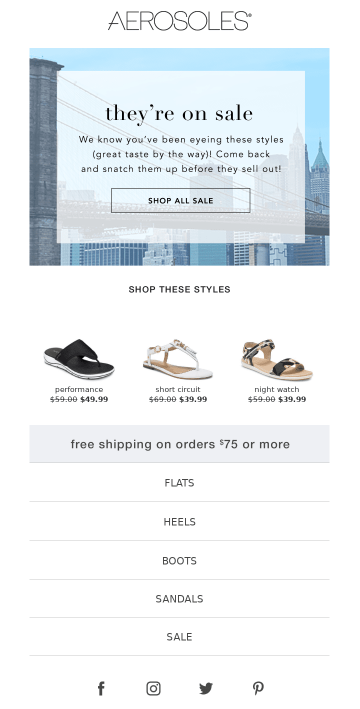 Position:
Put important content first or in the center of your email. In this Mavi email, the main product is bigger than everything else in the email and centrally positioned. Also notice how the the free shipping policy is placed at the top where it is sure to get noticed.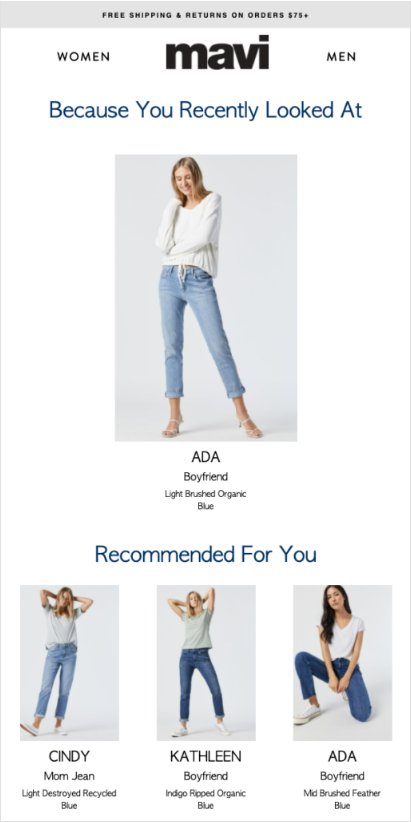 Color:
Use contrasting colors in areas you want recipient's to notice. The Kina & Tam email below uses contrast to draw attention to the "Take It Home" CTA box and the "Always Free Shipping" objection handler.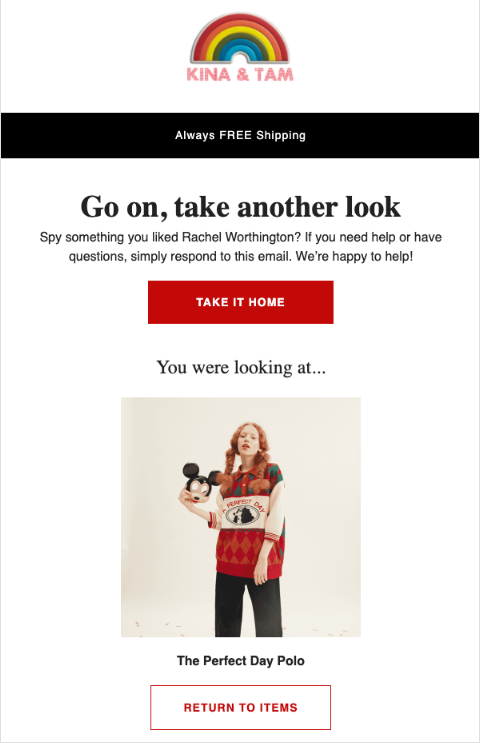 Separation:
Use whitespace, shapes, and other tactics to separate important content from the rest of the email. The Loeffler Randall email below leaves plenty of white space between the main product and the recommended products to ensure recipients notice it first and foremost. It also uses colored circles around each of the recommended products to help them stand out.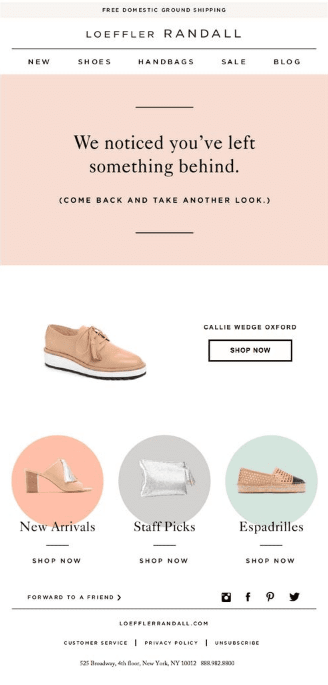 When To Send Browse Abandonment Emails
Best to keep your browse abandonment sequence short, as the shopper has displayed less interest in your product than cart-abandoners. So you don't want to annoy them.
Worse yet, you might push them to unsubscribe or discourage them from browsing your website for fear of the emails that will come.
Send the first email 1 hour after abandonment. This attempts to capitalize on the buy state. Catch them while they're still hot.
Second a 2nd email 1-day after browse abandonment. Send exactly 24 hours after abandonment
If a shopper was browsing your website at 12pm, that likely means they generally have free time around then. Perhaps they were browsing during lunch.
By sending emails at that same time, you're more likely to catch them when they have free time and are in a shopping mood. This results in more opens and conversions.
Reclaim Lost Revenue With Browse Abandonment Emails
You now know what types of brows emails you need to create and how to optimize them so they generate maximal revenue. It's time to put your email automation into action.
Start by identifying which of your products generate the most revenue. Then use the tactics above to create and test for them. At Inbox Army, we create revenue-boosting browse emails for our clients. If you want to discuss how we can create an effective browse abandonment email template for you (and help you achieve all your other email marketing goals), contact our team