Email automation is all about getting into your customers' shoes and cashing in on their perspective. And drip campaigns are the perfect way to do it.
In a well-crafted drip campaign, you can nurture your customers through their journey with your brand and build long-term relationships. But it only works if you have the proper examples to follow.
That's why we've compiled a list of our favorite email drip campaign examples to help you create a winning automated email strategy. Let's take a look.
33 Effective Email Drip Campaign Examples
To make it easier for you, I have placed the examples under different categories so you can choose which suits your needs.
1. Harry's – Small steps for a smoother shave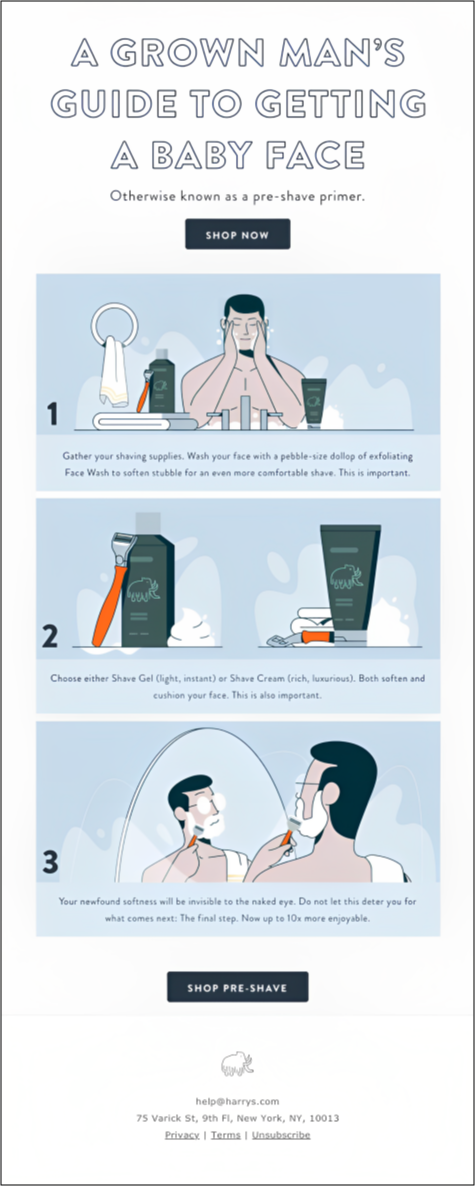 Nothing works better for lead nurturing than genuinely caring about your customers. In this example, Harry's demonstrates how to nurture leads with valuable information that can help customers improve their self-grooming process. The only side effect of this strategy? More conversions!
2. NerdWallet – Managing your money just got easier

The good-old value proposition email – this example from NerdWallet teaches us how to get the basics right. It clearly demonstrates the value proposition for users while also listing the various capabilities of the product. Links to the app stores as secondary CTAs ensure there are alternative ways for the leads to be converted.
3. TurboTax – User ID and Easy Refund Enclosed

TurboTax demonstrates that lead nurturing can be an annual process for services redeemed regularly. This drip campaign example smartly reminds past customers of the benefits they got last year and showcases platform improvements that can help them save even more this year.
4. WildWonder – A wild and wonderful welcome
WildWonder teaches us the importance of a personal touch, with the CEO's note being the first point of contact with new subscribers. It gives the readers an insight into where the brand came from and the social endeavors the brand undertakes. And the welcome discount code acts as a cherry on top!
5. PrettyLittleThing – Welcome to PLT Party
With their bang-on tonality and communication style, PrettyLittleThing gives off BFF vibes! And this is exactly what their target audience wants. Even the design philosophy perfectly blends with the messaging by being bold and spirited.
6. HeadSpace – Welcome to HeadSpace

HeadSpace is all about helping users in their mental health journeys. This is reflected in the brand's welcome email. This example is warm and inviting in both copy and design, motivating users to try out meditating. The CTA prominently pops out without being overbearing, and the overall experience of calmness that the HeadSpace app delivers is also intact in the email philosophy.
7. Asana – what do you need to get done today?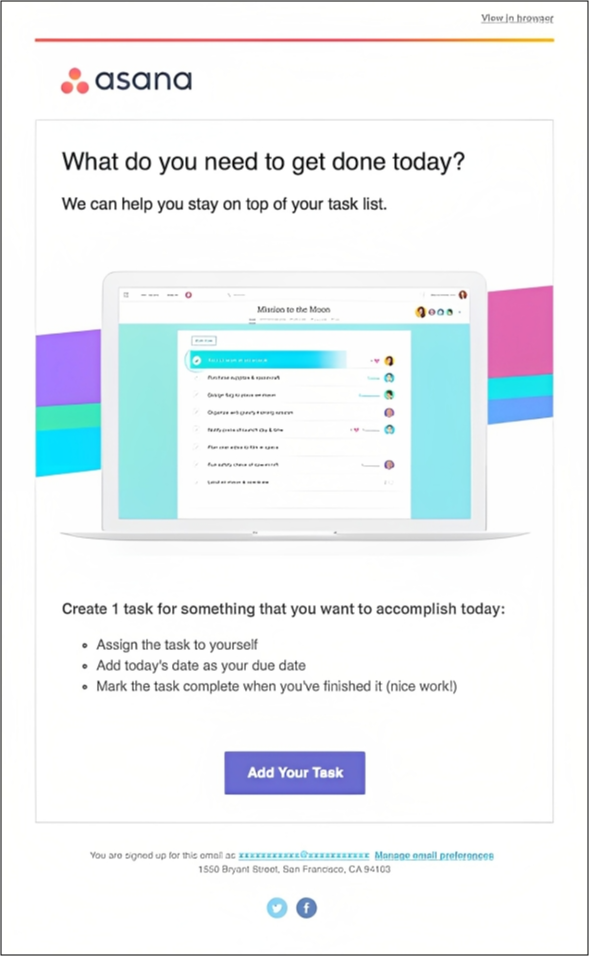 Project management tools can be complex for new users. Asana offers to help with simple onboarding emails with a simple idea – assisting users to create their first task. By focusing on just one task, users can keep things simple and understand the basics of the tool, which is a great starting point.
8. Marvel – Welcome to Marvel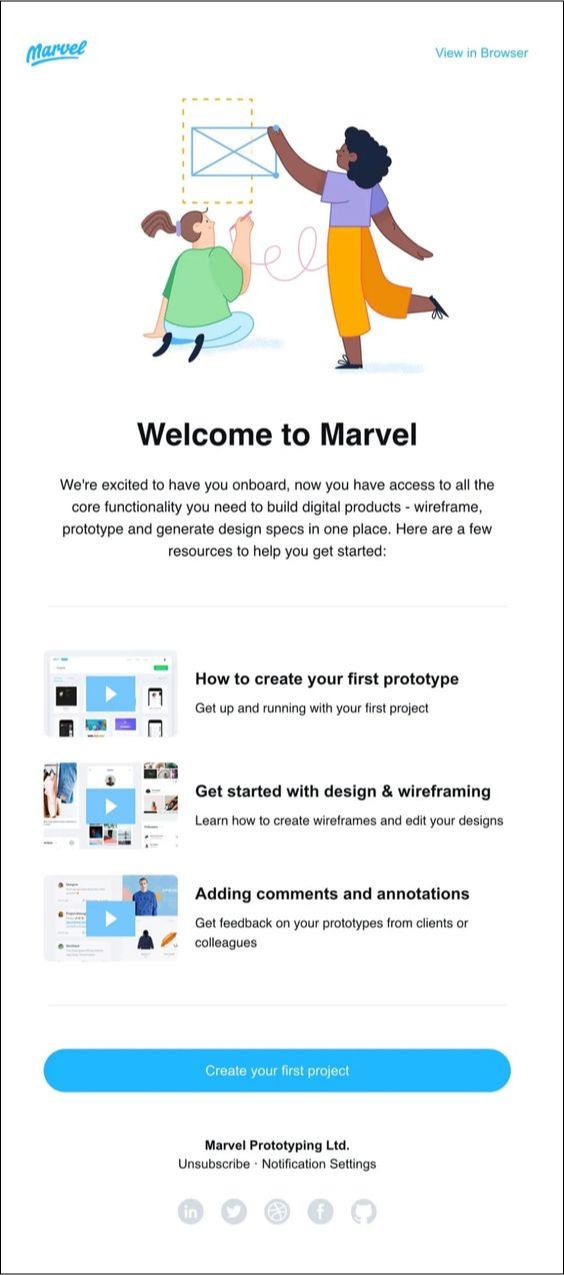 Prototyping tools can have lots of functionalities. By keeping their email focused on resources, Marvel makes it simple for users to get started with the basics of wireframing and design. In this email drip campaign example the focus is also on helping users create their first project instead of diving headlong into all features.
9. Customer.io – Welcome and Onboarding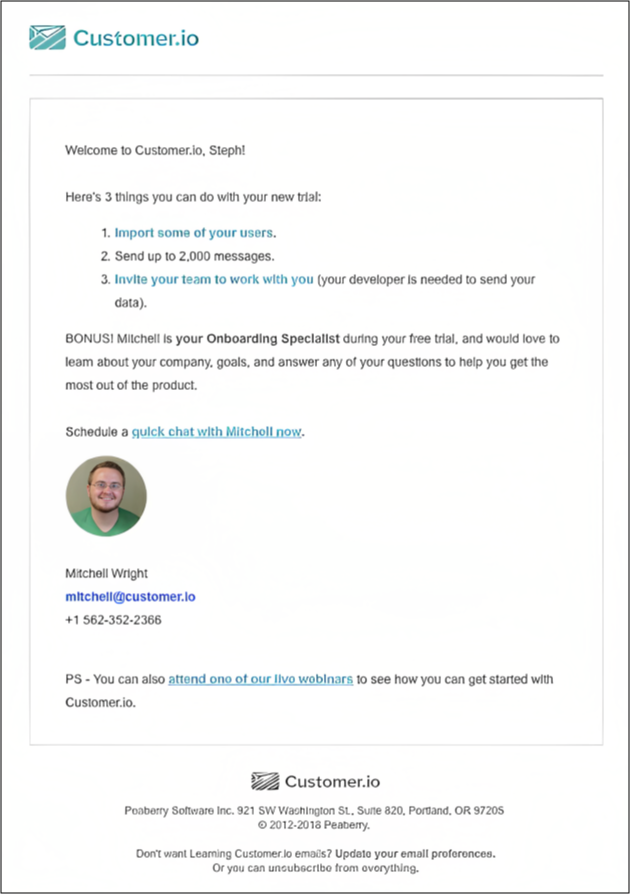 Brands often make the mistake of making only paying users the center of attention during onboarding. Customer.io goes a step further and integrates onboarding into their welcome emails, even for users on free trials. They remind users of the features they can access and even include a CTA to book a call with an onboarding specialist.
10 Hubspot – Custom HubSpot consultation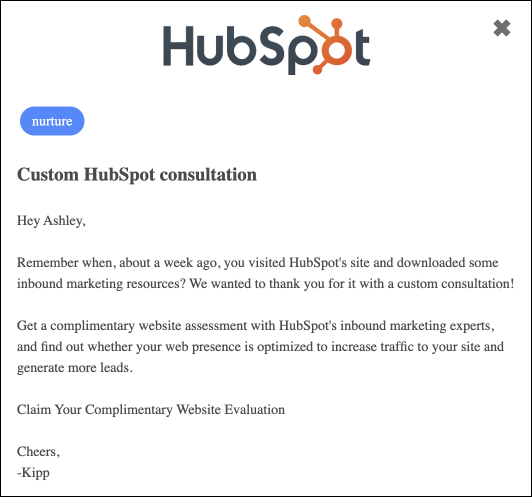 The email copy speaks for itself – gently nudging and reminders prospects about past behaviors to re-engage them. By pairing the service with a custom offer, their idea is to engage prospects and show them real value before converting them.
11. CloudApp – Give / Get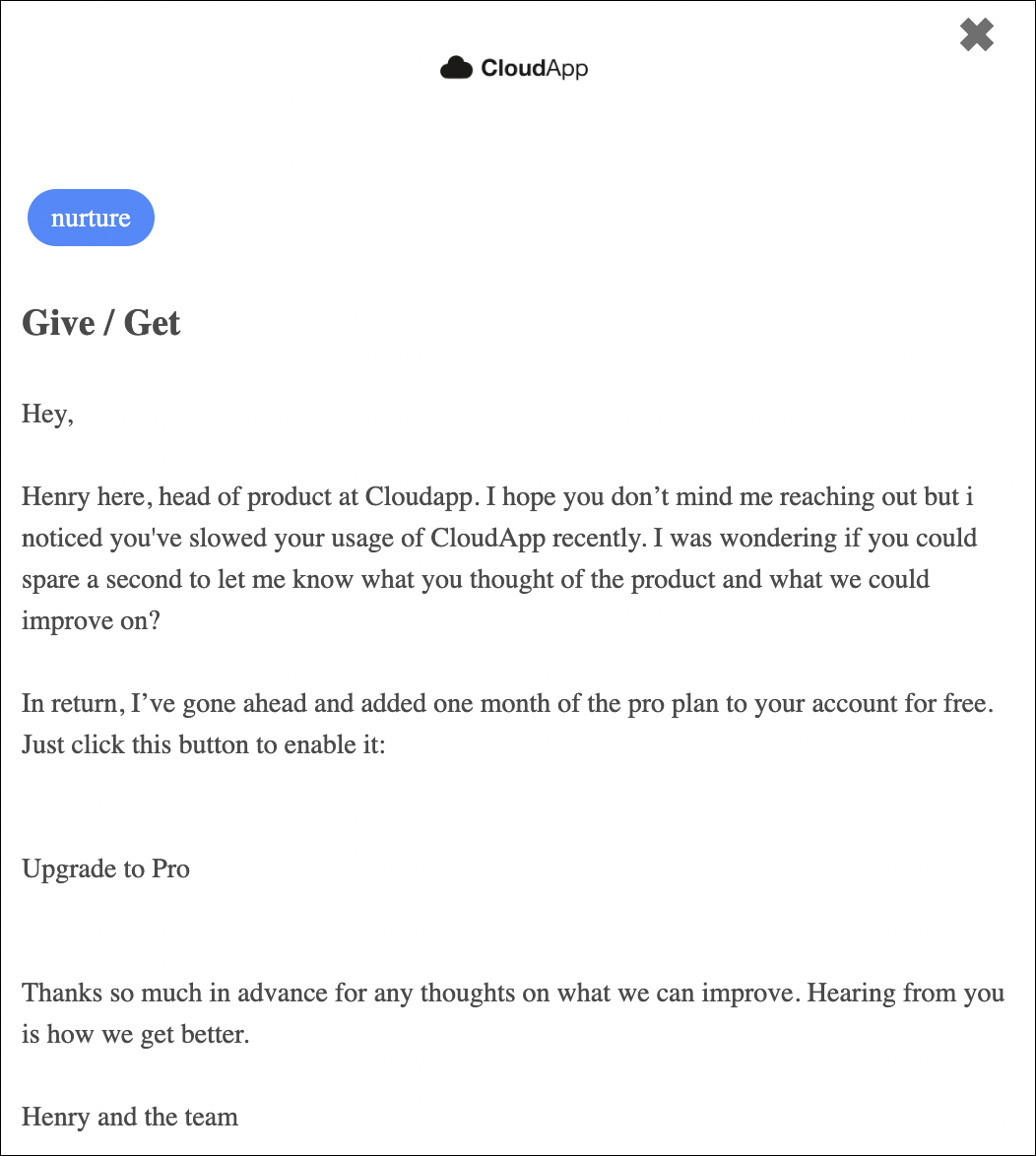 Another great example of positioning your engagement emails based on customer behavior. CloudApp also goes further by capturing customer feedback to improve their product. A month's worth of subscription in exchange is a great incentive, and the 'Upgrade to Pro' CTA ticks all the right boxes.
12. Eventbrite – we miss you!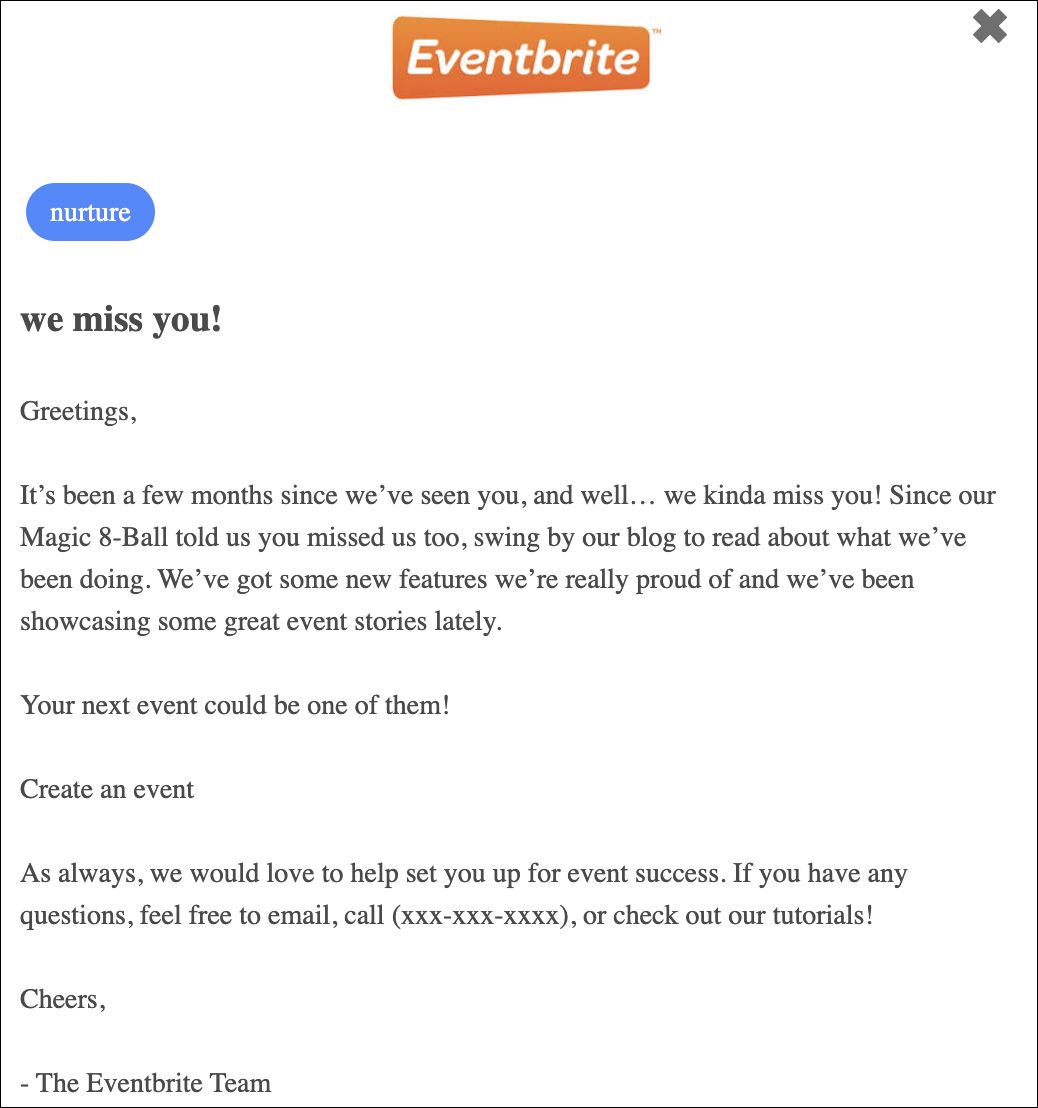 There will always be prospects who sign up and go AWOL with minim
al engagement. Eventbrite does a great job of reminding them of their offerings with an emotional pitch as their partner in event success. And all while subtly pitching their event stories.
13. Parcel – Integrate your email feedback directly into Slack!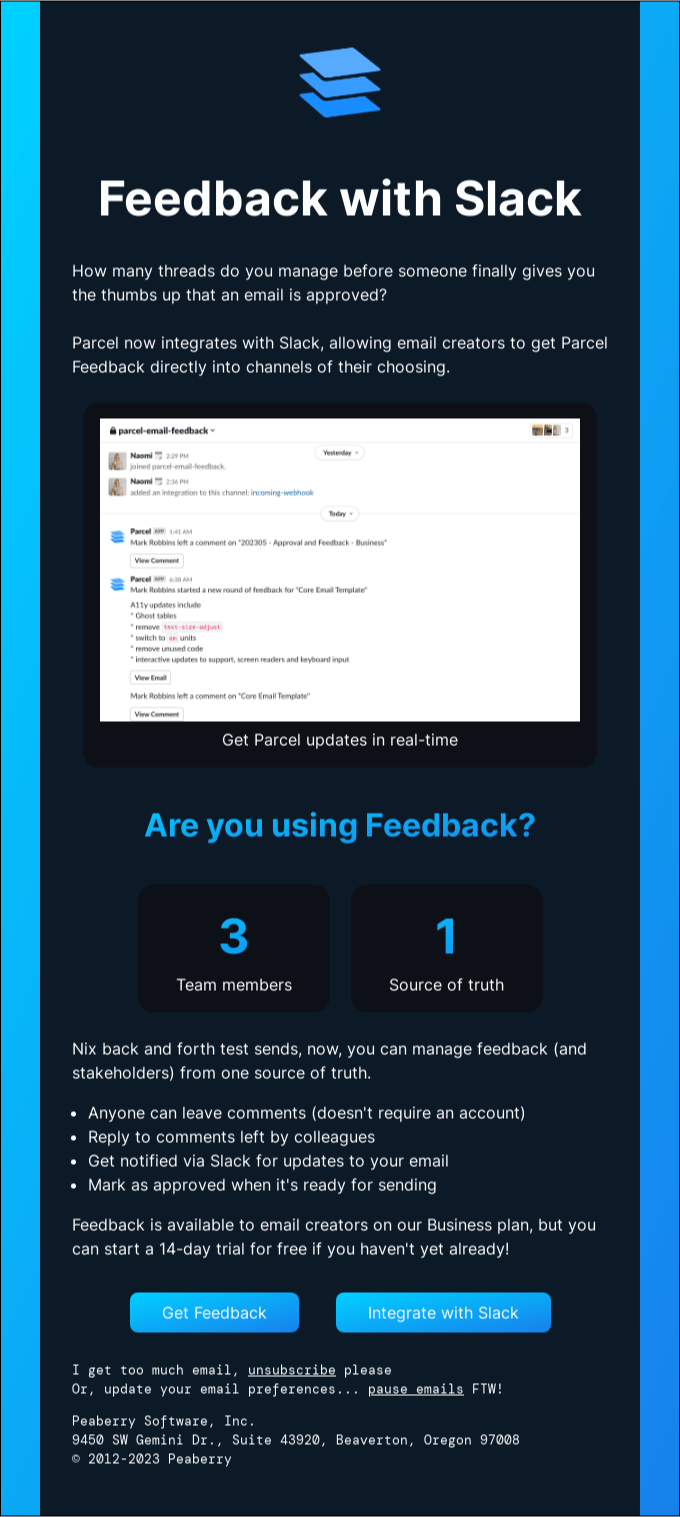 This email doubles up as a product update and educational pitch, highlighting the added capabilities of the platform. The screenshots help to see the tool in action, and the CTAs are chosen well to blend with the messaging!
14. Coinbase – What's the big deal about Ethereum?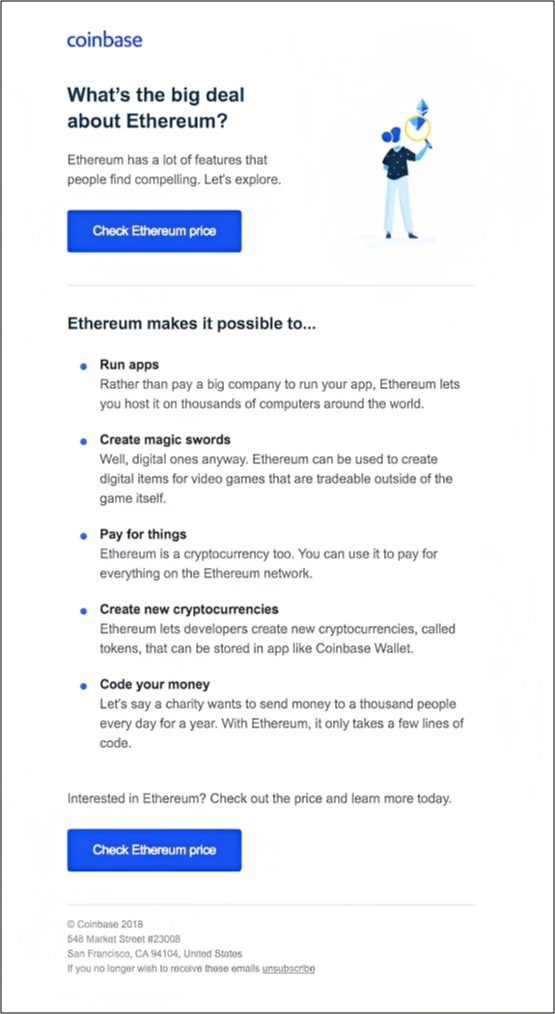 The crypto world is as complex as it can get. Marketing here has to be education-heavy, and Coinbase shows us how in this example. Breaking down a complex topic into easy information helps readers develop an organic interest in Ethereum with a subtle CTA to check its current price.
15. Sweetkick – Sample schedule for a low-sugar day

Health products must have a solid educational foundation. Sweetkick uses this opportunity to communicate a healthy lifestyle with an easy-to-follow schedule template and a few diet tips. The CTA is also chosen carefully, showing the readers that they are just one click away from great health products!
16.Casper – Did you forget something?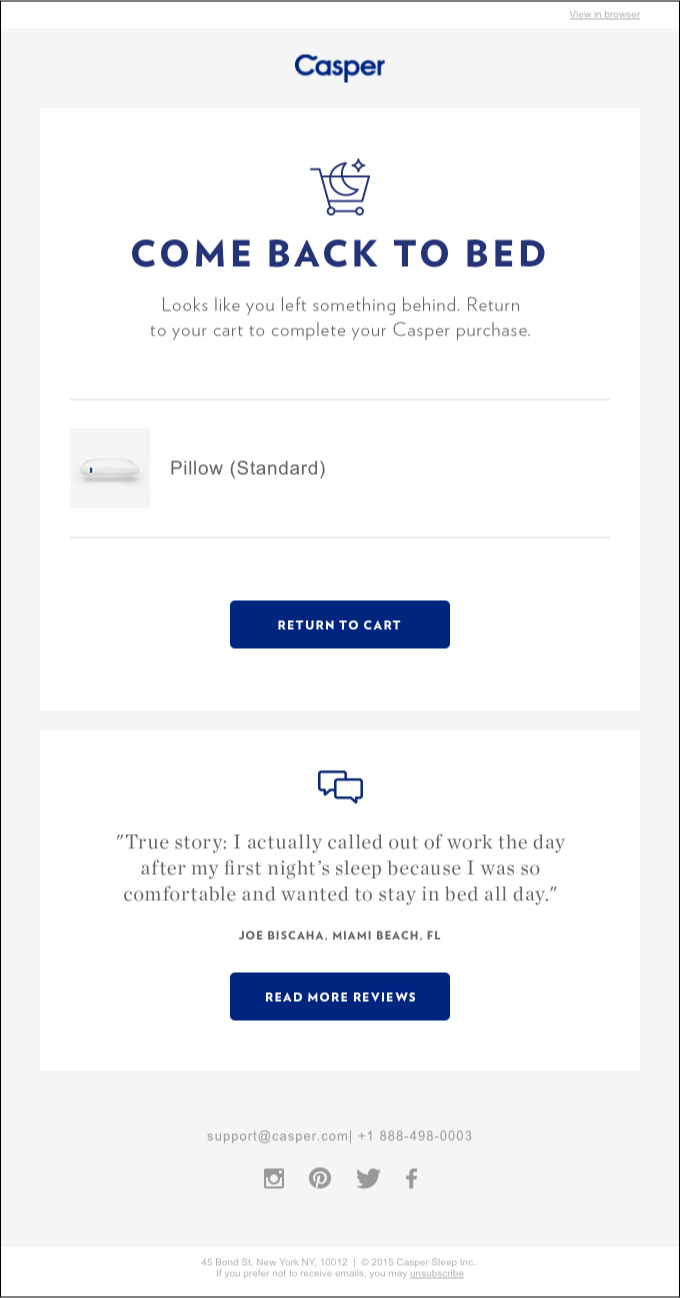 Not your typical abandoned cart email, Casper shows how you can use humor and known phrases to your advantage and soar engagement. Being super simple, the design philosophy only adds to the experience, but it is the copy that hits home for re-engagement!
17. Ghurka – Dear Antony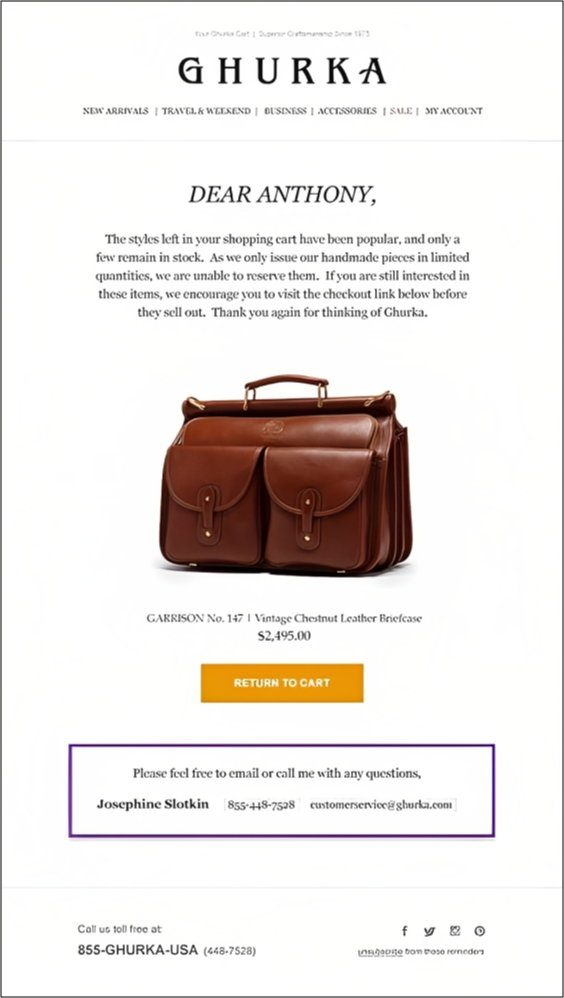 It takes something extra to bring back lost shoppers, and Ghurka shows us exactly how. They emphasize on real attributes of their products, such as exclusivity and limited stock. This places the onus on the shopper instead of the other way around as they are reminded why they chose the product in the first place.
18. Warby Parker – Want a better look?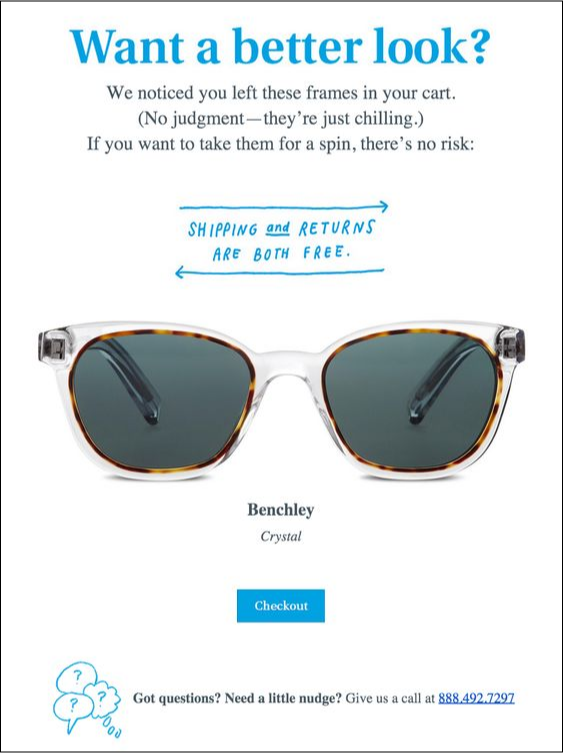 This drip campaign example shows many reasons why buyers abandon their carts. Warby Parker shows that addressing common deterrents head-on can boost engagement. The brand significantly reduces the perceived risk by reminding buyers that both shipping and returns are free.
19. Paperless – It's our birthday!

Brand birthdays should be all about customer-centricity, and Paperless does just that. On their 7th birthday, they launched an exclusive sale with a drip campaign that ran right up to D-day. And while at it, they even captured data on their customers' birthdays to plan for future campaigns. Talk about two birds with one stone!
20. Volvo – Volvo EX30: small, new, and on its way

Volvo knew that their EX30 SUV would be a hit. So they decided to build anticipation and fuel excitement for the grand reveal with an exciting drip campaign. Over the email, Volvo shared exclusive glimpses of the car's exterior along with the date and time of the event. The CTA then offered customers a sneak peek of the electric SUV.
21. BigCommerce – Don't miss our May Town Hall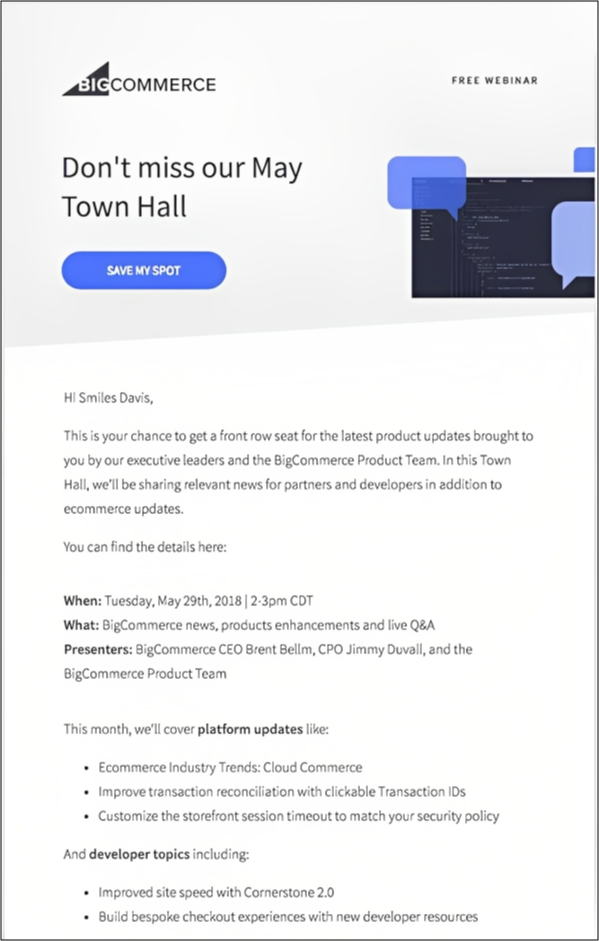 BigCommerce invited users to their monthly town hall meeting showcasing the latest product updates and features. In this drip campaign, they highlighted what users would learn from the webinar, who was speaking, and the various platform updates they would cover, along with key developer topics.
22. West Elm – Thank you for your order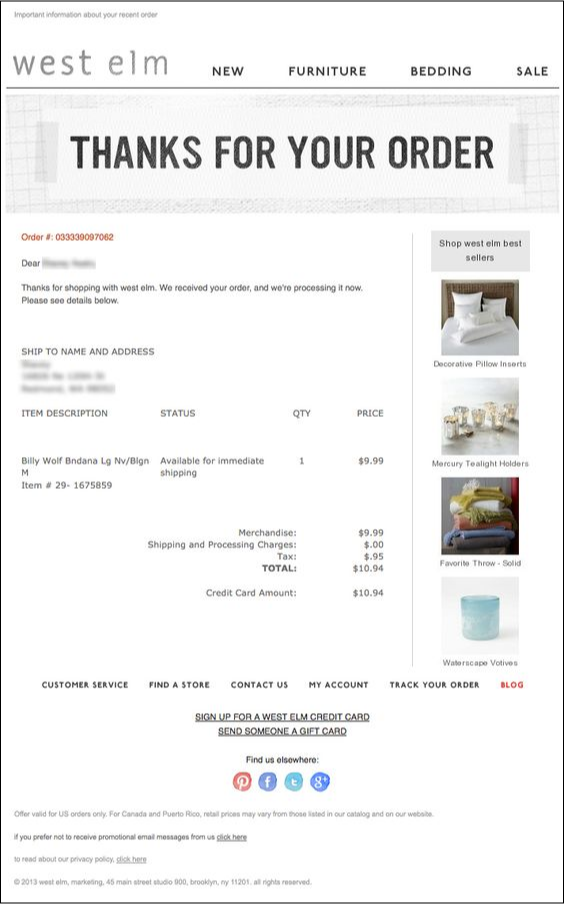 West Elm plays smart and turns a simple thank-you email into a cross-sell opportunity. In the right-hand panel, they showcase their best-selling products with images to help customers choose complementary items that match their current order. This is a great way to promote items customers may have missed out on.
23. AWAY – Back in stock: The Bigger Carry-On

This luggage brand shows that cross-selling can be an incredibly effective tool if you have the right data saved. When the Bigger Carry-On was back in stock, they sent a targeted email to customers who had previously shown interest in it. This is sure to boost the chances of increasing revenue.
24. Dollar Shave Club – Your next box, Toss more in?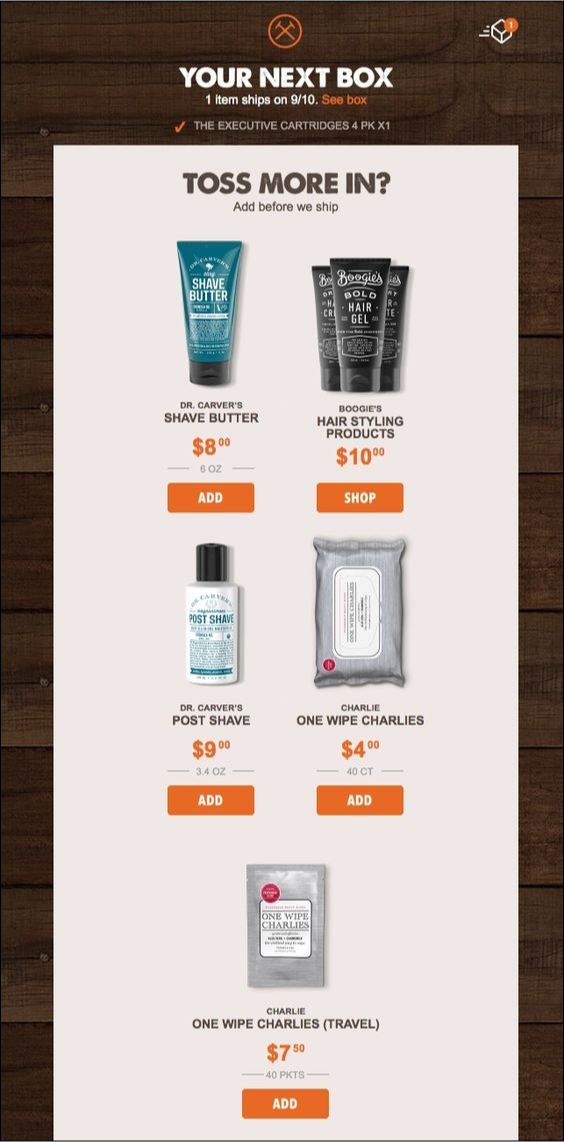 Monthly product boxes often provide an opportunity for up-selling. In this case, Dollar Shave Club shows customers what they can expect in their next box and offers them the chance to add more products before checkout. And by including the product images in the email, customers clearly know what they're getting.
25. London Bridge – We got you!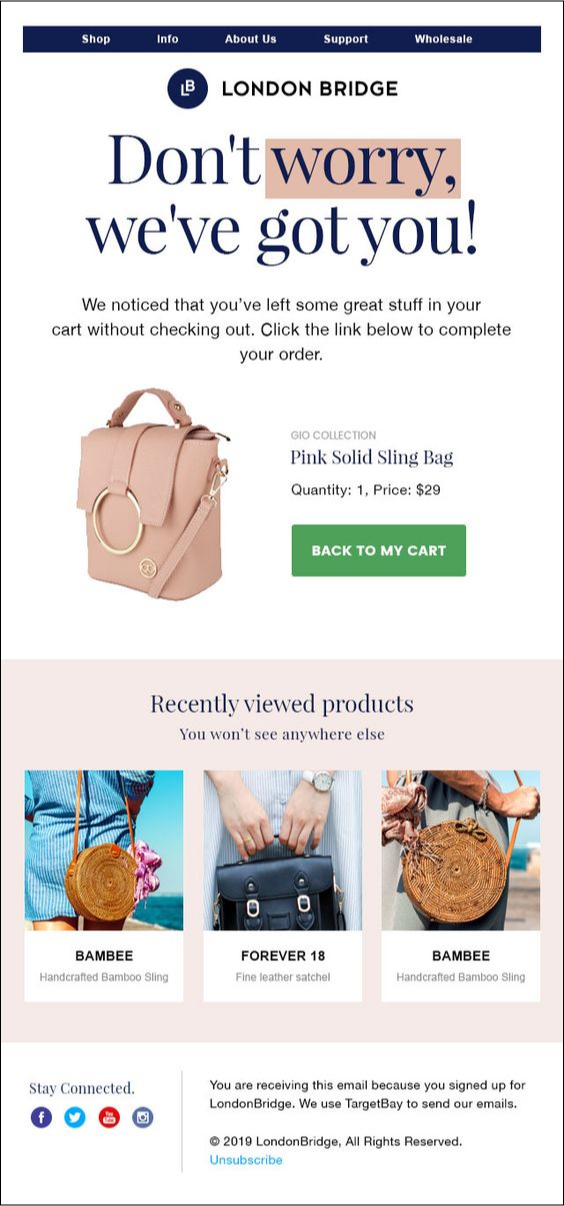 In this drip campaign example, London Bridge uses a brilliant drip campaign where the abandoned cart email recommends additional products. The email message is personalized, and the product recommendations are based on the customer's browsing history for the maximum possible chances of conversion.
26. Axis Tango – Stylish Summer Designs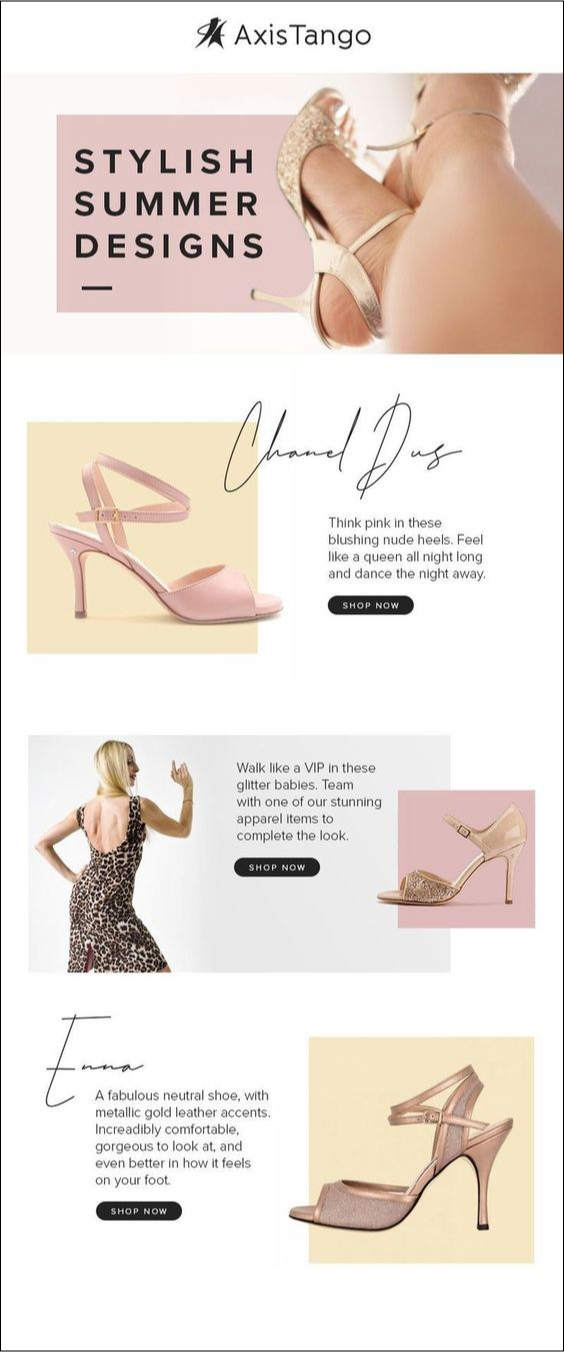 Axis Tango used a drip campaign to drive sales of their new summer designs. They identified users who had previously interacted with similar products and sent them an email showcasing the new arrivals with eye-catching images. This will surely be an effective way of increasing conversions from existing customers.
27. DonorsChoose – A match offer to restock your classroom essentials!

With their primary target audience being teachers, DonorsChoose used a drip campaign to restock classroom essentials. The email message was personalized as the timing of the campaign was impeccably planned, coinciding with the start of the school year when teachers are actively seeking resources for their classrooms.
28. LOFT – Dear Greg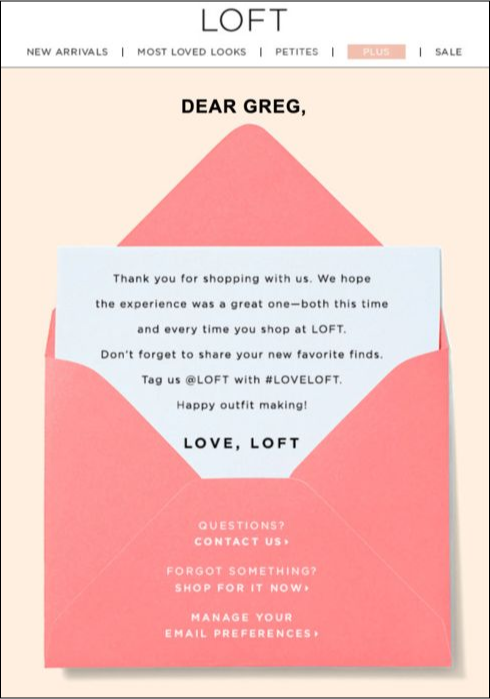 Post-purchase emails can be an opportunity for soft CTAs, such as social media sharing or referral prompts. In this example, LOFT sent a personalized post-purchase email to Greg, thanking him for his purchase and subtly encouraging him to share his new fashion item on social media with their branded hashtag. User-generated content can be a super powerful marketing tool. It helps to create a sense of community among customers and gets them more engaged with the brand.
29. Vuori – Review your Vuori purchase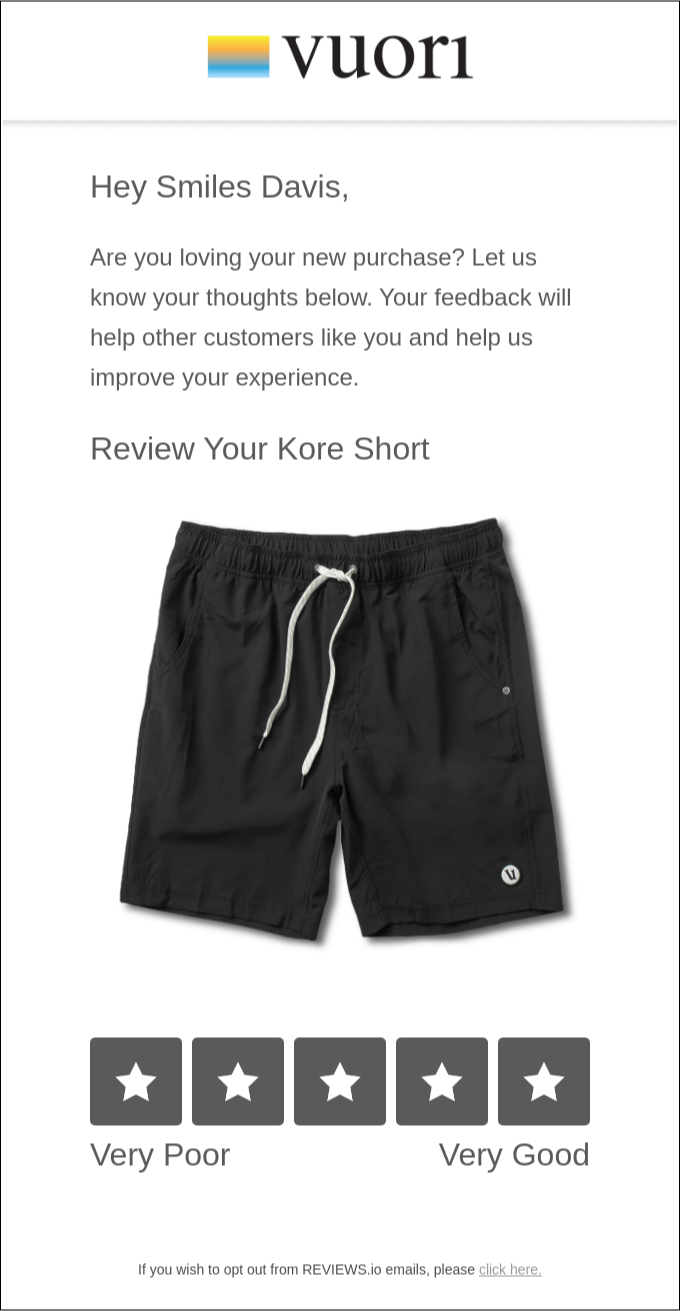 Vuori keeps it simple with this email by asking customers for feedback after the purchase. The simplicity of Vuori's approach makes it easy for customers to leave a review and strengthens customer-brand relationships by showing that Vuori values their opinion.
30. Crate And Barrel – We Appreciate Your Most Recent Purchase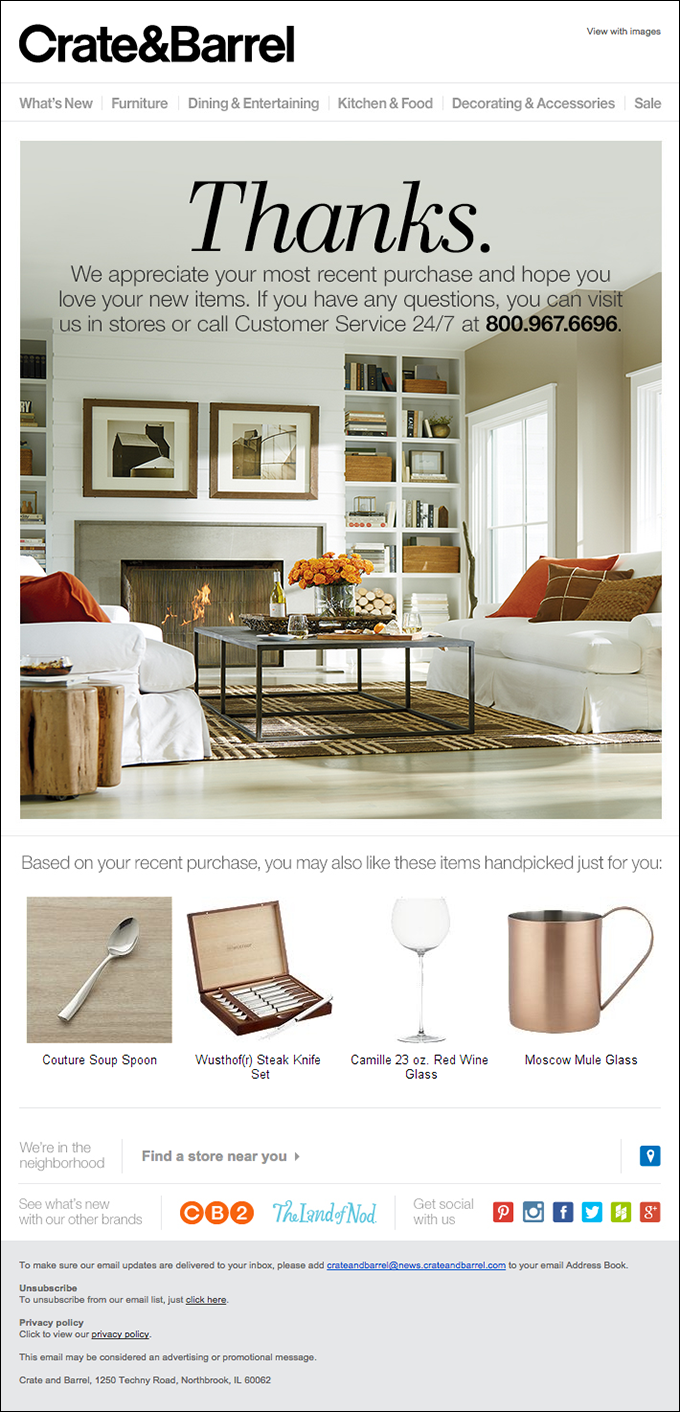 This is an excellent example of how a post-purchase email can cross-sell related products. Crate and Barrel subtly recommend additional items in their email that go well with the customer's recent purchase. This encourages further purchases, increasing the customer's lifetime value!
31. Ever Eden – Your 10% off is waiting!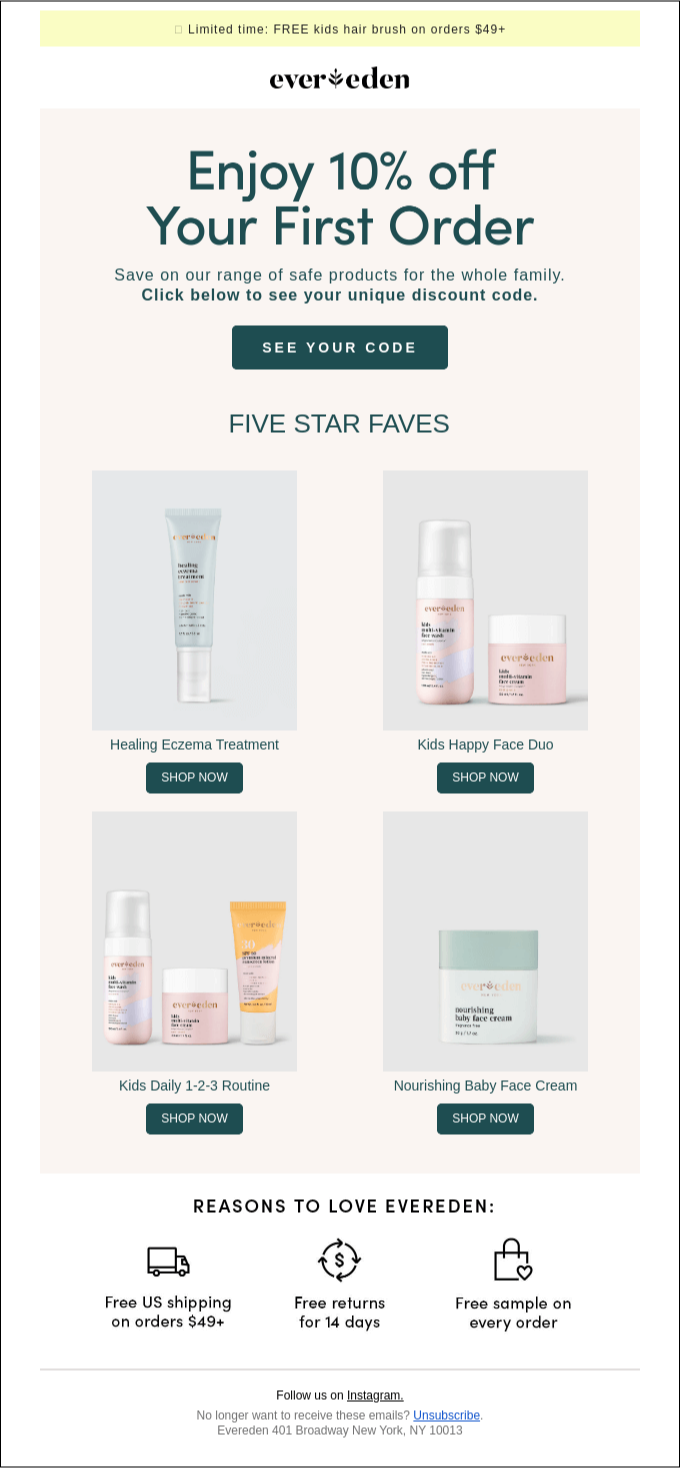 This is an excellent example of a drip campaign that engages new customers with a discount code and product recommendations. The email is personalized, simple, and to the point – sure to entice the customer with their 10% off offer!
32. The Bakerista – What happened? We miss you!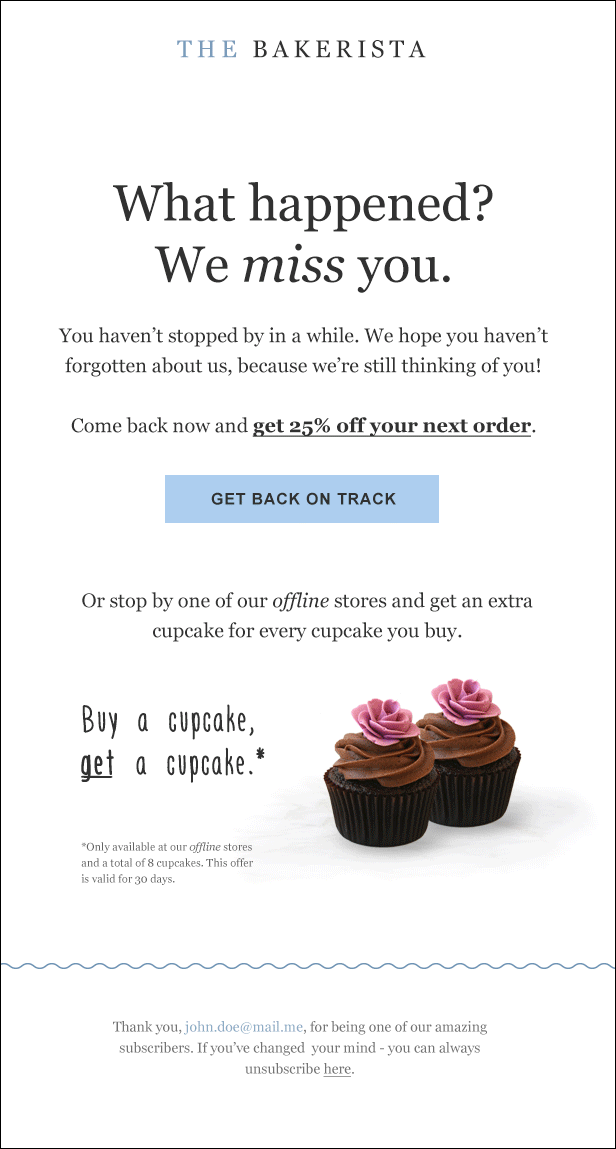 For customers who have not shopped for a while, The Bakerista included a discount code to bring them back. They also included a product image and added a friendly, personal touch with the witty copy. And the significant 25% off offer will surely excite customers about their products again!
33. Kate Spade – Take Note!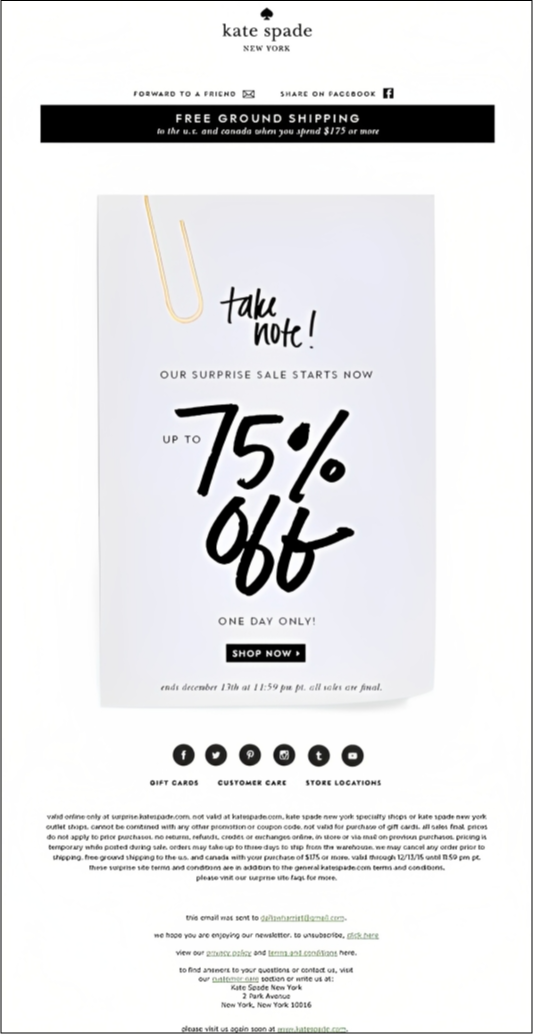 The surprise sale from Kate Spade is a great example of using urgency and scarcity to promote discounts. They used the power of FOMO (fear of missing out) to encourage customers to act fast and take advantage of their limited-time offer of up to 75% off for only 24 hours!
Summary
These are just a few email drip campaign examples which show how discount campaigns can drive sales. Retailers can increase customer engagement and encourage repeat purchases by using strategic offers and discounts. Through careful email segmentation, these messages can be tailored to the right audience for maximum impact.  For more information you can contact our ecommerce email agency.