Abandoned carts are one of the most significant banes of the digital era.  It represents a loss of potential sales opportunities and costs your business money. Fortunately, Our Mailchimp experts can help you to recover those lost purchases with Abandoned Cart Email feature. In this article, we'll discuss everything you need to know about setting up and using Mailchimp Abandoned Cart Emails. We'll also include a deep-dive case study to illustrate how effective this tool can be for your business.
Setting the Precedence
One of our clients, a global fashion retailer, witnessed an average of 56% cart abandonment rate. They had a good understanding of their customers, knew the value of one-to-one marketing, and had been working on their email marketing for months, trying to find ways to reach out to their customers and boost sales.
They'd already attempted traditional marketing methods, but it just wasn't enough. That's when they reached out to us to explore possible solutions. 
First, we identified the customers that may be at risk of abandoning their carts. Then we set up automated emails that would be triggered when customers abandoned their carts. Finally, we customizable templates so each email was tailored to the product the customer had previously been looking at.
The client was thrilled by how quickly their sales increased as soon as we implemented the new email campaigns. With such dramatic results in a short time frame, it was clear Abandoned Cart Automation emails on Mailchimp were worth the effort!
Let's explore further to understand how everything panned out.
What Is a Mailchimp Abandoned Cart Email Series?
If you've ever abandoned a shopping cart online, you may have already received abandoned cart emails, which frequently arrive in phases.
1) The first usually serves as a friendly reminder for you to finish your purchase.
2) The second email may relay that your order is about to expire!
3) And a coupon or discount is typically included in the third to entice you back all the way to the payment page.
Mailchimp Abandoned Cart emails are designed to do the same. They use automated engagement campaigns that are triggered when a customer adds items to their shopping cart but fails to complete the purchase.
Mailchimp is a widely used marketing automation tool that focuses on email marketing and is a popular service for automating email marketing activities, such as subscription lists, content templates, and abandoned cart emails, with paid and freemium versions.
This helps you save time by utilizing their email marketing tools to assist you in running an effective Mailchimp abandoned cart email campaign. The tool does most of the heavy lifting while you focus on creating excellent, engaging emails and improving your products.
The ideal number of emails in a Mailchimp cart abandonment series is three. Any less might not work, and any more might irritate or alienate them. (For some clients, we use 5 emails and 7 emails too depending on the price, their audience etc).
A built-in system in Mailchimp abandoned cart emails automatically sends emails at the ideal moment based on the following triggers:
One hour after a customer has abandoned their shopping cart.

One day after the delivery of the first email.

If the consumer hasn't finished their transaction, the third email can be sent three days after the "Day One" email was issued.
Things to Consider  Before Setting Up Your Mailchimp Abandoned Cart Emails
Before setting up a Mailchimp Abandoned Cart Email series, it's important to understand the customer journey and your objectives. You should also be aware that the abandoned cart email feature in Mailchimp is only available to users who have connected to a supported e-commerce store or deployed a custom API 3.0 interface.
You can learn more about whether your site satisfies these requirements on the Connected Sites page that lists the possible integrations. Each connected store is limited to a single abandoned cart email. If you run numerous stores, this essentially means you may make one Mailchimp abandoned cart email for each one. 

Once you have decided to go ahead with Mailchimp, you must disable any previous cart abandonment emails that you might have set up through other platforms. Multiple emails to a customer for the same abandoned cart might become a nuisance and prevent customers from returning to your store.
It can also be helpful to keep track of the outcomes, such as the open rate, click-through rate, and purchase conversions. This will help you determine the success of your abandoned cart emails and provide insights on optimizing them for better performance.
You should also keep an eye on email kpis such as unsubscribe rate, bounce rate, and spam complaints to ensure that your emails are not going to be marked as spam.
Other key points :
The Mailchimp abandoned cart series is a Classic automation feature. Only accounts with a history of traditional automation creation are eligible to use classic automation.

Depending on your package, you might not have access to the automated email series. Visit

Mailchimp's pricing page

to learn more about each plan's features.

Customers who provide you with their email addresses through your connected store but choose not to subscribe to your marketing emails are added to your Mailchimp audience as non-subscribed contacts. These recipients will only receive the first email in the abandoned cart due to compliance issues.
The Pros and Cons of Using Mailchimp for Your Abandoned Cart Email Series

Email marketing can be difficult and complicated. But thanks to Mail Chimp, you can set up a professional abandoned cart email campaign without going through the grueling task of learning how to code or design emails. Instead, with so many features and capabilities at your disposal, you can put together a successful campaign in a matter of minutes and keep improving it until you find the perfect balance of triggers, content, and design.
Here are some advantages and disadvantages of MailChimp that you should consider if you haven't used it yet.
Pros of MailChimp For Cart Abandonment Email Series:
1. Your own email templates are importable
Signing up for MailChimp grants you access to a selection of user-friendly email templates. But you can take it a step further and upload your own. The clickable editor, no HTML or CSS skills when editing the template design. You can tweak existing one or create a new email design  from scratch without any technical know-how.
2. There are several ways to integrate your current web presence
MailChimp's integration with Facebook makes it possible to set up subscription forms and testing and scheduling tools that can enhance open rates. Plus, with their free, unlimited image hosting feature, your marketing efforts will appear as perfect as you imagined them.
3. Access to comprehensive comparison metrics is available
With the ability to track your progress and compare it against other MailChimp campaigns, you can clearly gauge the success of your email marketing. With comprehensive comparison metrics at your disposal, understanding whether your efforts are making an impact is easier than ever.
4. You can remove The MailChimp logo (if Required)
With MailChimp's free service for up to 2,000 contacts comes the added logo on your campaigns and subscription forms. You can always upgrade your account if you'd like to omit it from your outgoing mail. Importing a wide range of spreadsheet files simplifies contact management, making this feature hard to ignore.
Cons of MailChimp For Cart Abandonment Email Series:
Mailchimp has been around for over twenty years and is now considered one of the pioneers of email marketing automation. Still, like any other service provider, Mailchimp has its own drawbacks. Let's take a look:
1. Maintaining a membership-based website can be tricky
MailChimp's integration with WordPress and PayPal may not always work the way it should, making it hard for users to advance their goals when creating subscription or membership sites.
For example, although autoresponders can be configured, they won't be activated until someone has joined your email marketing list via one of your online forms. Furthermore, using imported contacts for this purpose is simply not effective.
2. Some plans don't allow access to automated emails
With the limited features of the free or basic plans by Mailchimp, you may not be able to access automated emails or take advantage of all the customization and user feedback options. You will have to upgrade your account for access to such features.
3. You may have to make your own templates
Mailchimp's templates are basic and might not impress your readers. To compensate for this, you may have to invest in  creating mobile friendly email templates.  These investments will be worth it in the long run as they could help grow your business.
4. Some users may find the UI to be a little clumsy and awkward
MailChimp's user interface can be confusing and awkward, especially if you're used to other email marketing solutions. Crafting an effective campaign could take additional time and effort that might not be necessary if you plan on sending out occasional information or newsletters. For businesses with heavy email activity, this added burden of learning the system may lead to wasted time.
5. It Does not display the percentage of sales that were brought in by emails sent to abandoned carts
While a percentage might provide more insight than a dollar value, MailChimp delivers only the latter. This means that you may be unable to accurately gauge the impact of emails sent to abandoned carts in terms of the percentage of sales they generated.
6. MailChimp has the authority to revoke or suspend your account.
Email marketing may be hard work, with low open rates and decent conversion rates of 1-2 percent. However, MailChimp holds the authority to revoke or deactivate your account as necessary if you receive a large number of unsubscribe notifications or spam reports about your emails. To avoid such issues, it's advised to test all emails before sending them out.
How to Set up an Abandoned Cart Series With Mailchimp

Setting up a Mailchimp abandoned cart series is reasonably straightforward. Here are the steps that you can follow based on your goals.
Create an abandoned cart Customer Journey map
Leveraging the Customer Journey builder, those who abandon their shopping cart can be invited to finish their purchase with an automated email. To provide a personalized experience, start by setting an abandoned cart beginning point and add additional steps in your map that correspond to each contact's behaviour. This ensures every contact has their own tailored journey and is guided through the checkout process.
To create a comprehensive Mailchimp abandoned cart Customer Journey map, follow these simple steps.
1. To begin the Customer Journey building process, go to Overview on the Automations menu and click on 'Build from Scratch'.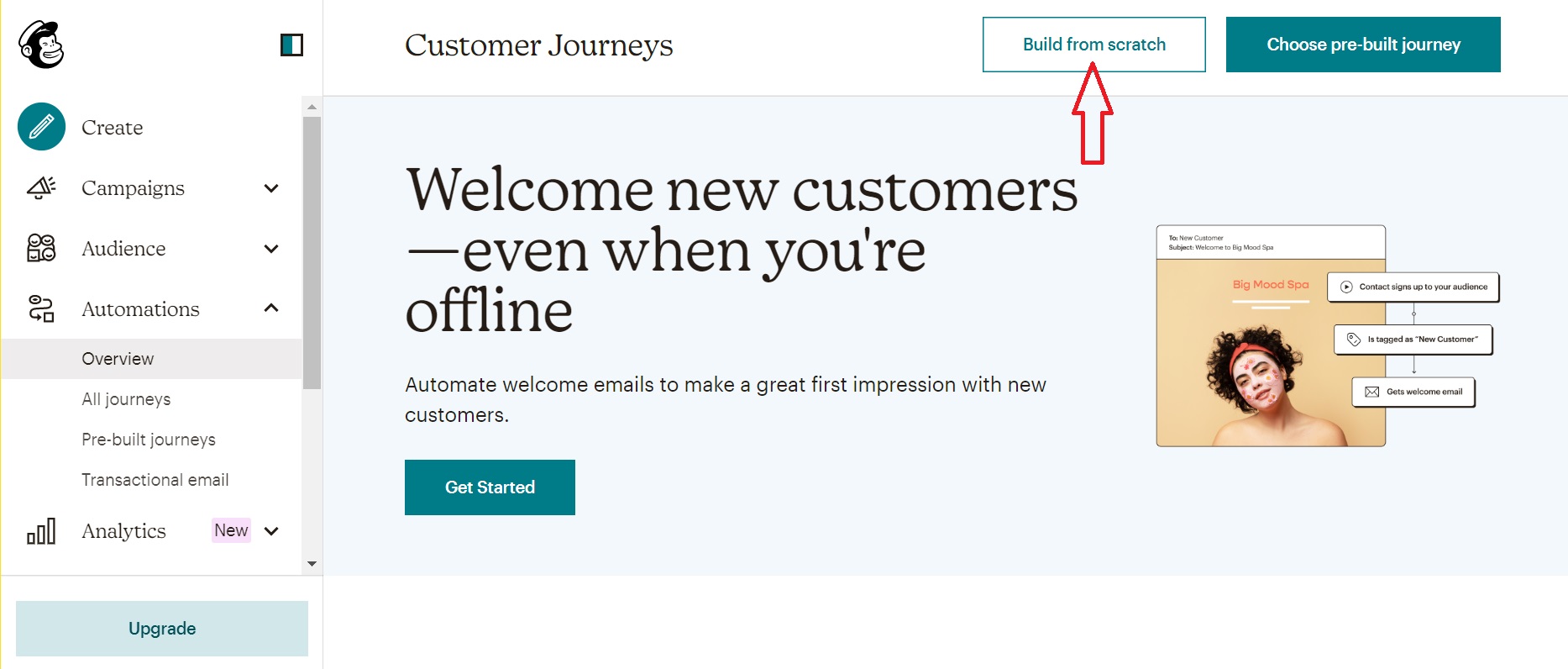 2. Give your journey a name and if you're targeting more than one audience, select one from the dropdown.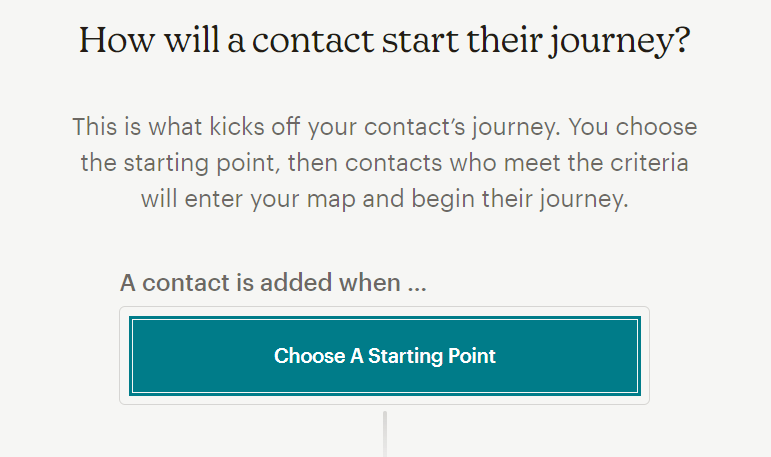 3. Once done, click Start Building.
4. Click on choose a starting point.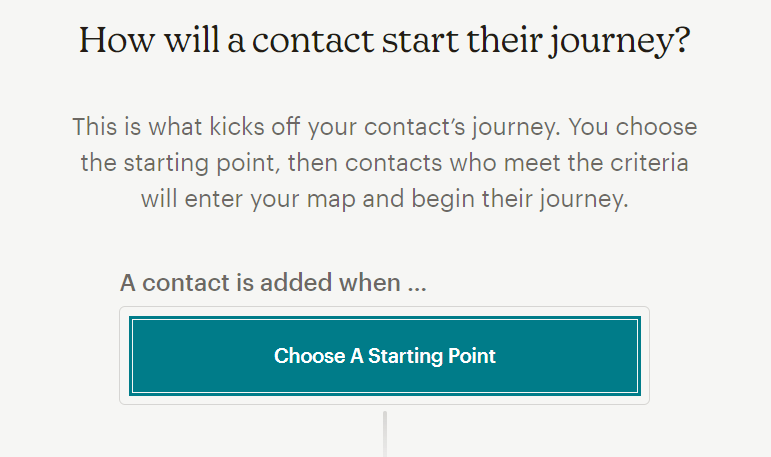 5. Click on 'Shopping Activity' on the left panel. Then select out of 'Abandons cart' or 'Abandons cart with particular products' from the menu.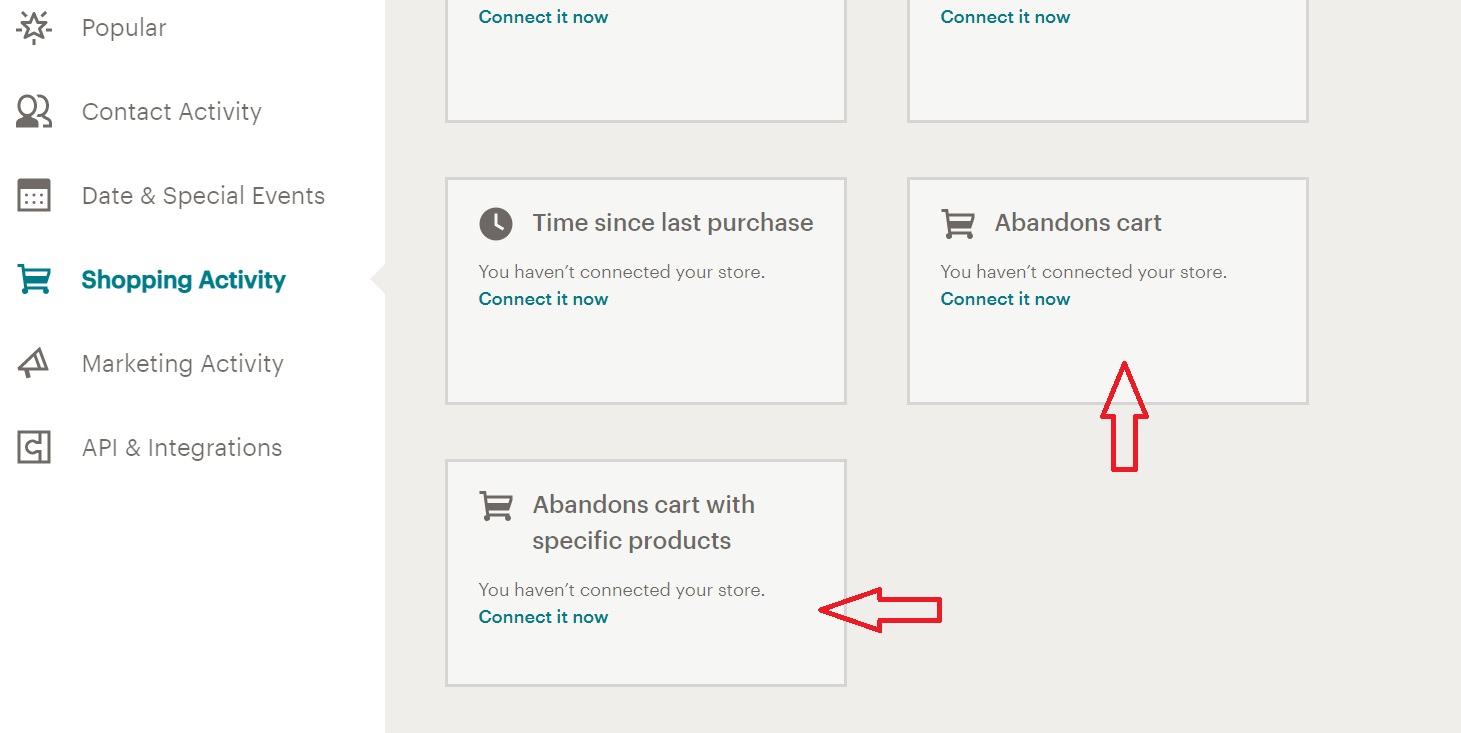 6. From the Store Name drop-down menu, select which store you'd like to connect with the abandoned cart customer journey.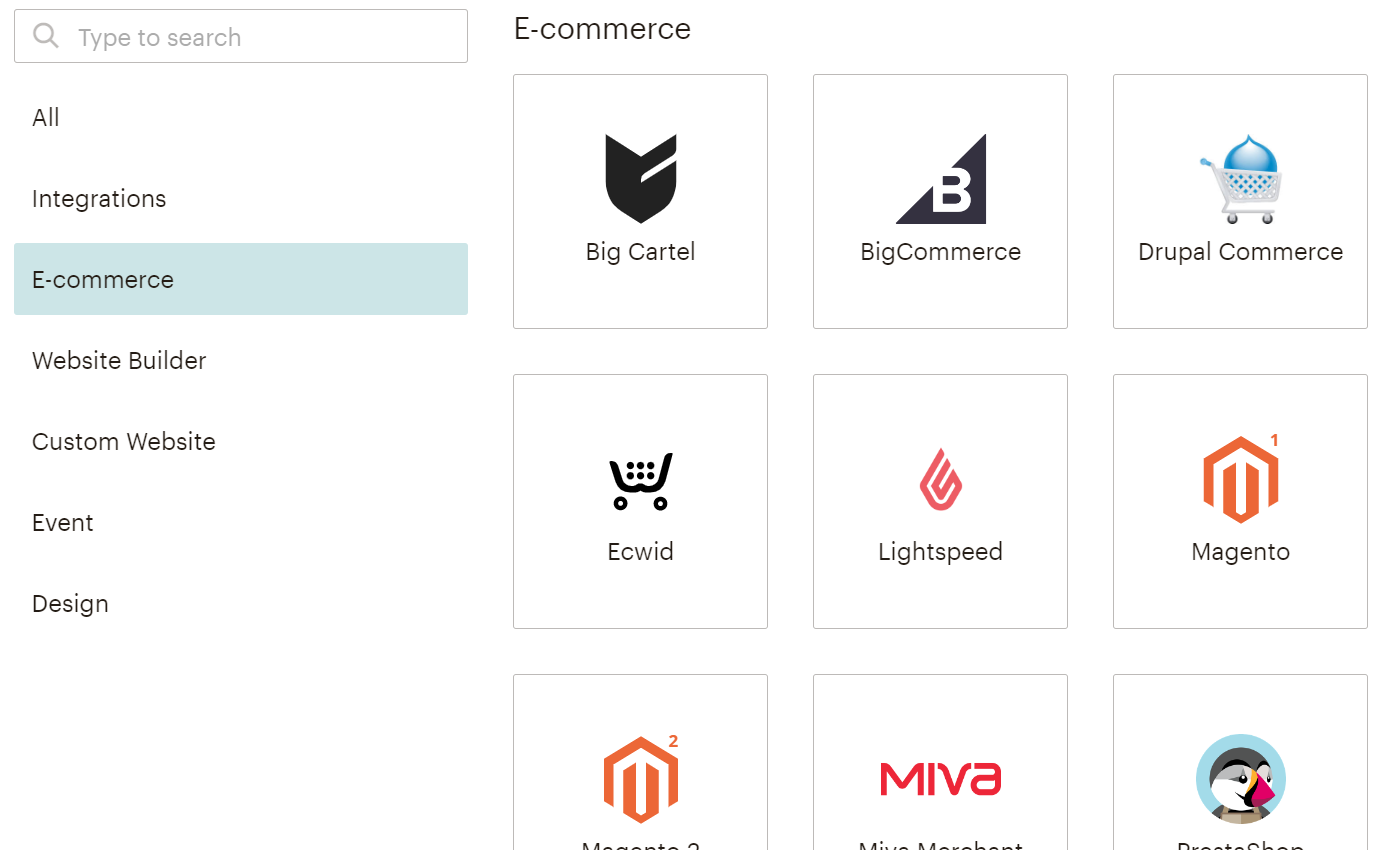 After that, decide on Any Products or Specific Products from the Customer Cart Contains drop-down menu.
7. Should you choose Specific Products, specify whether to include or exclude them in your carts.
8. Once done, set a waiting period before sending an abandoned cart email via the Abandoned Cart Wait Time option.
9. To target a specific section of your audience, click Get more specific about who can enter this map.
10. Select up to five segment conditions before pushing the Save button.
11. Once done, press the Save Starting Point button.
Add an Mailchimp Abandoned Cart Email to the Journey Map
Once you have saved the Abandons cart starting point, add a Send email journey point and pick your abandoned cart email template. With this email, you can provide a link to their basket, allowing them to complete their checkout process.
1. You can add a journey point in your customer journey map by going to the 'Marketing Activity' tab on the left panel.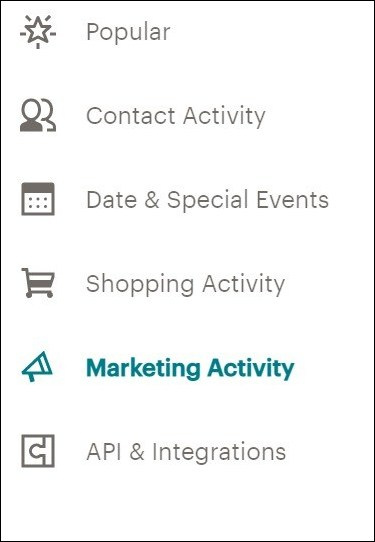 2. From there, click 'Send an email' and make adjustments to the name of your email, the To and From details, the subject line, the schedule, and tracking options.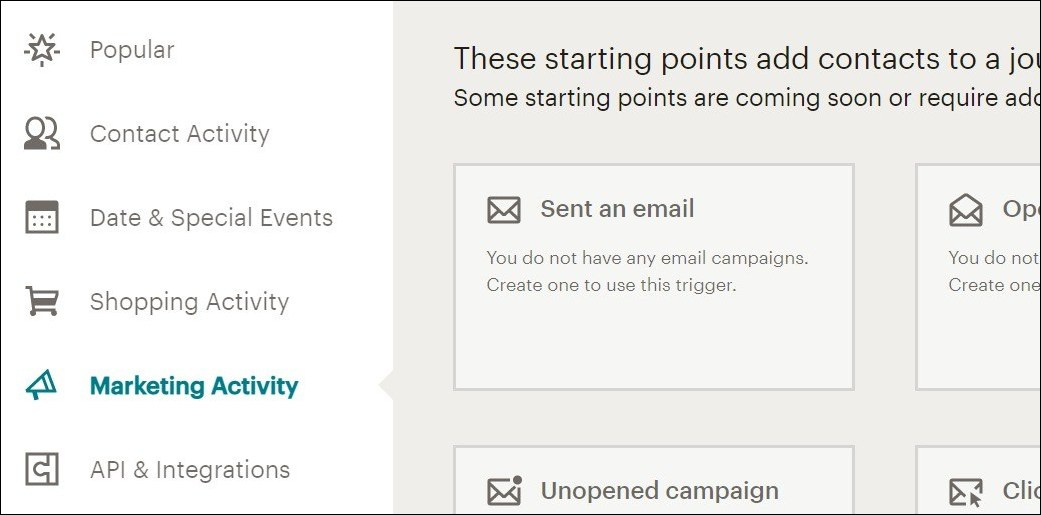 3. Choose the abandoned cart template that fits your needs.
4. When that's complete, you can start designing your abandoned cart email.
How to Set Up Your Single Mailchimp Abandoned Cart Email
On many plans, Mailchimp offers a default abandoned cart email. It's easy to configure for timing, content, and design. They also have several helpful resources that cover what you should consider, how to get it set up, and more – so you can make sure your abandoned cart email is as optimized as possible.
When a single email doesn't cut, abandoned cart techniques usually include a series of emails timed based on when the customer left the shopping cart. This way, you can craft a more targeted approach to recovering lost sales.
How to Configure a Single Abandoned Cart Email
Follow the steps below to create a single abandoned cart email:
1. Go to the "Automate" menu on the left panel.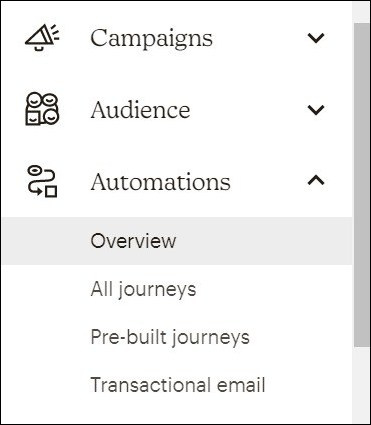 2. Select "Pre-built journeys' from the list.
3. For example, if you want to set up a single welcome email, select the 'Welcome new contacts' tab.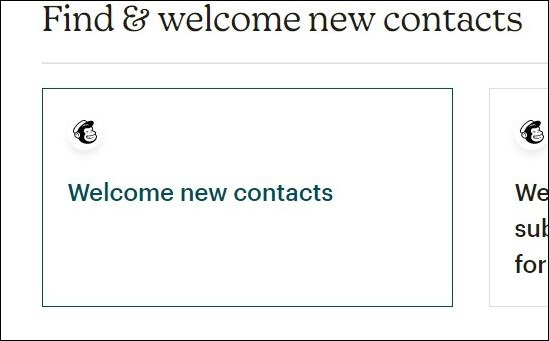 4. Select 'Single Email' and then click on 'Continue'.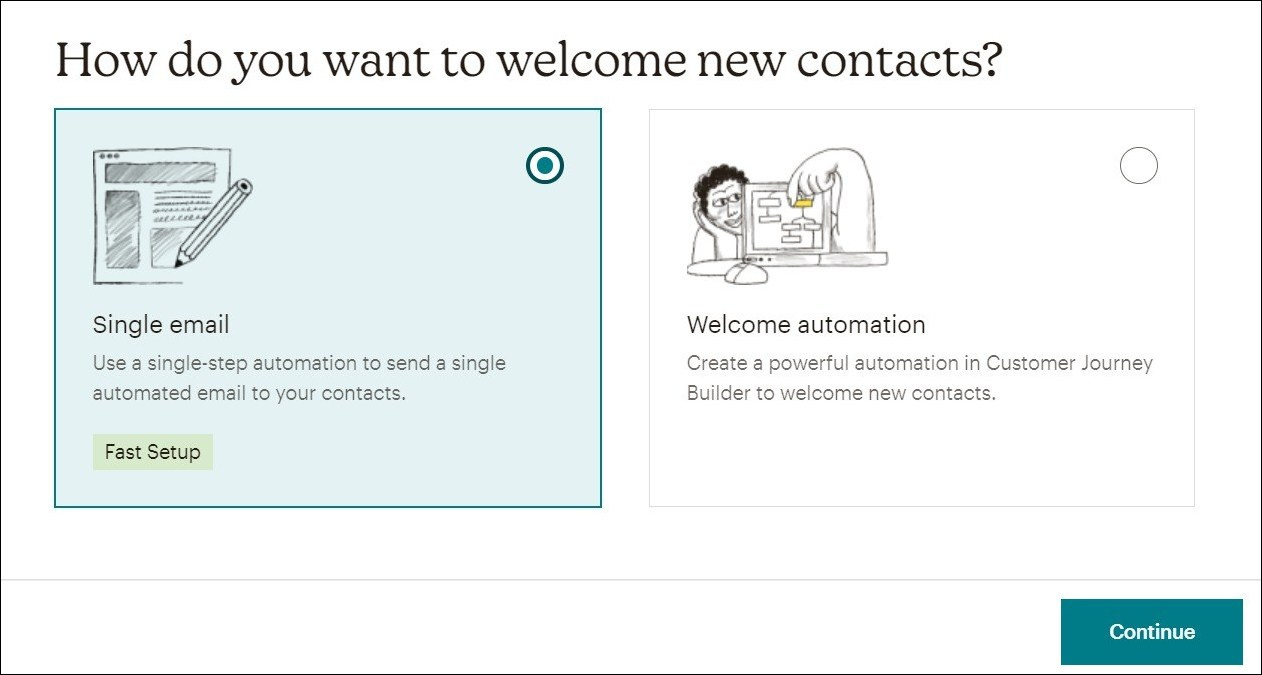 5. Give a Campaign Name, select your audience, and then click on "Begin."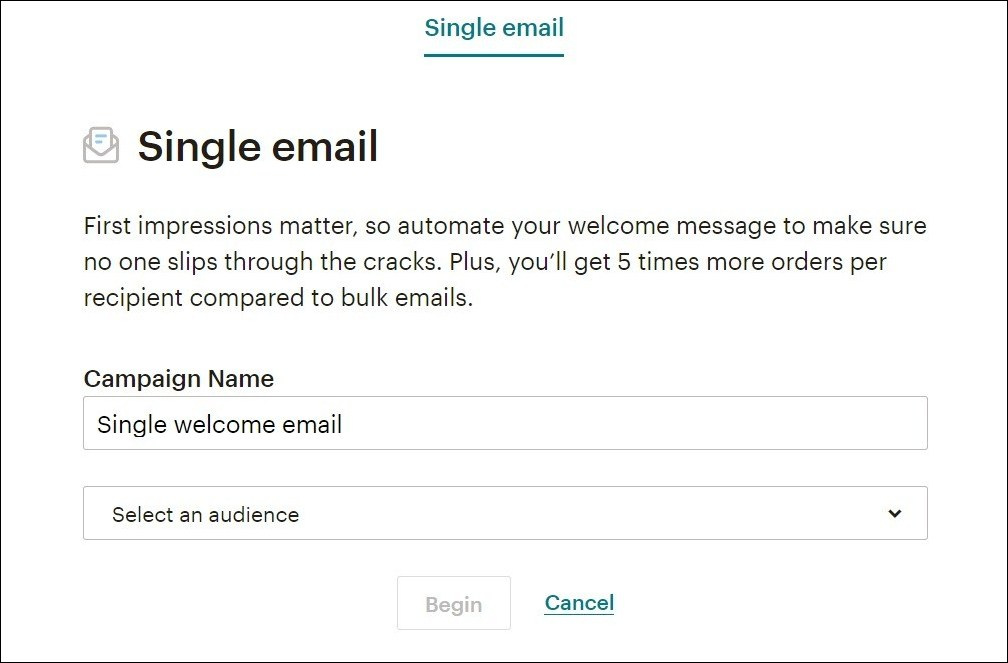 Confirm Settings in Checklist
Setting up your abandoned cart emails doesn't have to be complicated. Double-check the settings, make any needed alterations and then validate them. You can personalize the name, email address, subject line, and time delay for the message here. You can even choose a wait time of 1 hour, 6 hours, or 24 hours when sending out a single abandoned cart email.
Here's how you can change the time delay of abandoned cart emails:
1. From the checklist page, pick "Edit Recipients".
2. Visit the Abandoned Cart Notification page and select a time delay from the 'hours' drop-down menu.
3. Confirm your changes by pressing the "Save" button.
Now that you've chosen your customized delivery preferences for the emails sent to customers, your abandoned cart emails are all set up to be automatically distributed. You can design, arrange and style your abandoned cart emails in accordance with your desired look.
Design Your Customized Mailchimp Abandoned Cart Emails
When creating your abandoned cart emails, you'll find them similar to those in the Campaign Builder. A Cart content block must be used to ensure that customer and product information is accurate. There are a range of abandoned cart templates for you to pick from and drag-and-drop options. Plus, the logos you choose will already have been incorporated into the design, displaying your brand logo automatically. Be sure to take the time to understand how everything works and what choices are available to you!
To design a customized Mailchimp abandoned cart email, here are the steps you can follow:
1. To get your abandoned cart email underway, select the "Email Template" option in the left hand panel under "Campaigns."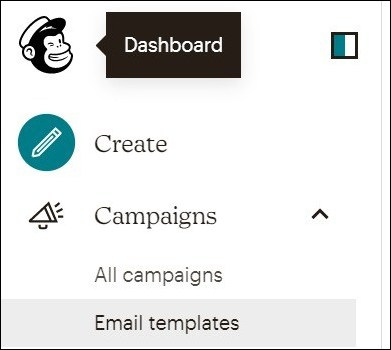 2. From there, you can go to the Template portion of the Email Designer process by clicking on 'Create Template'.


3. Find the suitable template that suits your needs by clicking on it.


4. Moving on to the Design stage will let you create your email campaign and preview how it will appear when shared with customers before proceeding.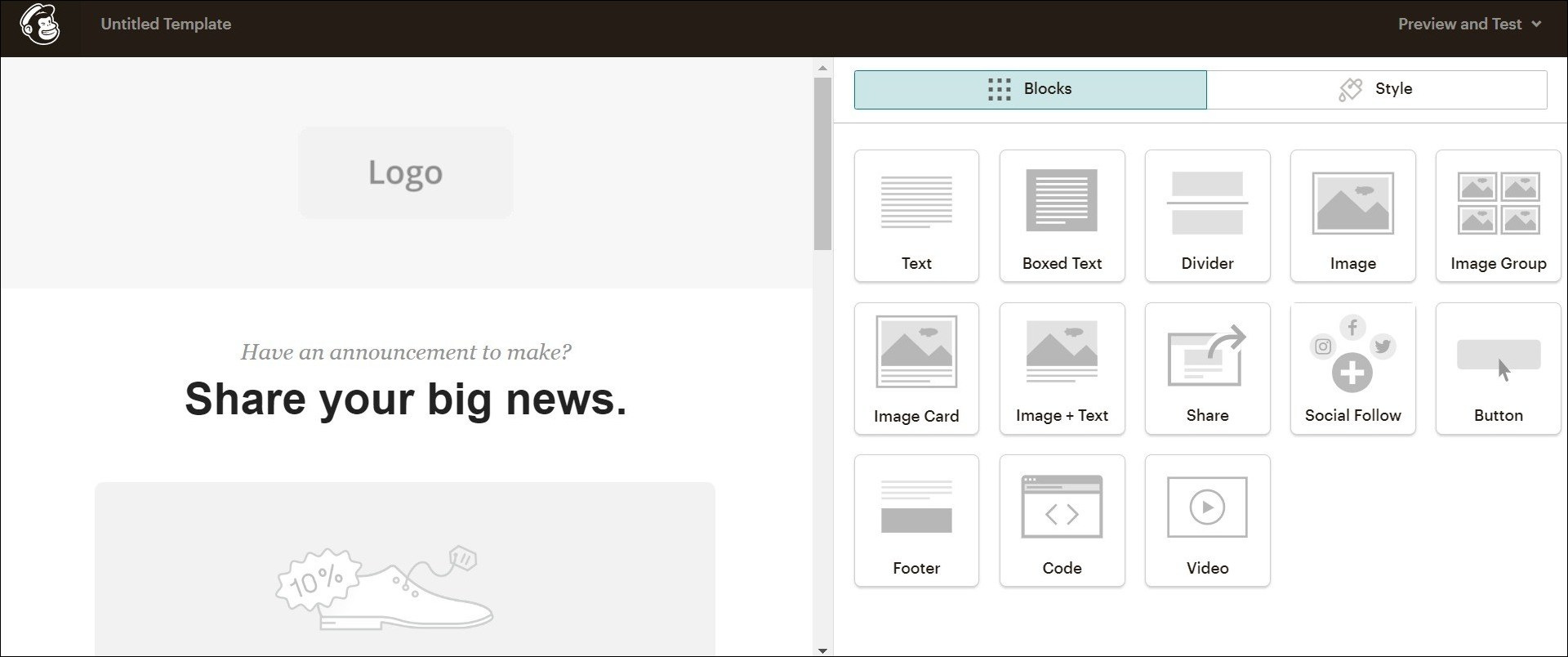 5. After that, click "Save and Exit" to save any modifications made – then you'll be asked to give a name to your template.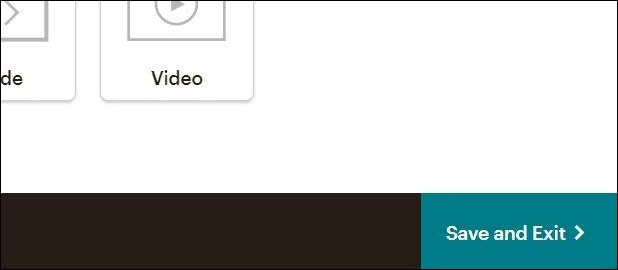 6. When everything is ready, select your template from the Templates Page and click on 'Create Campaign.' Then, your abandoned cart emails are ready for launch!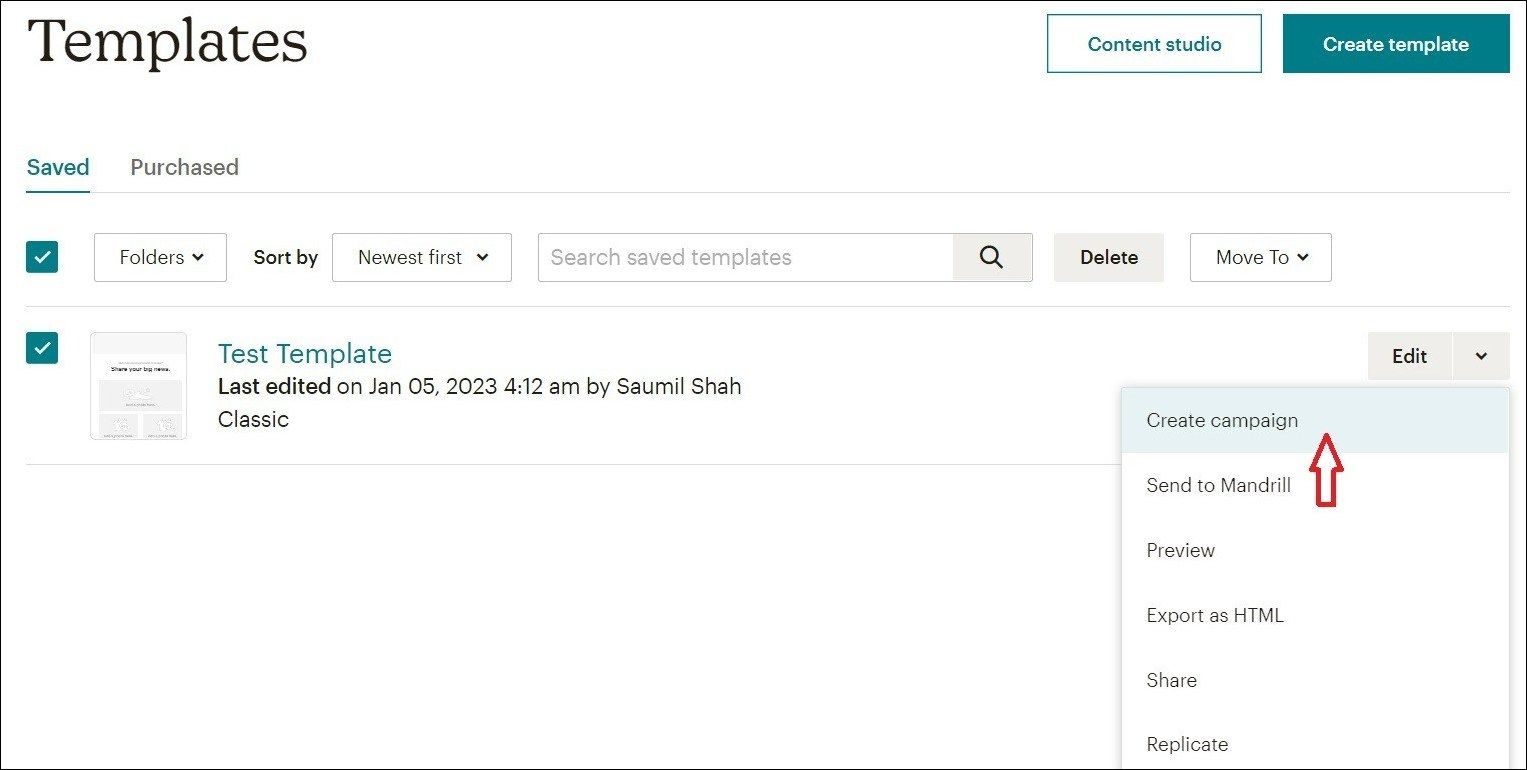 Get your abandoned cart emails off and running by enabling the campaign. Now, you'll be able to reach out to customers who left their carts before completing a purchase.
Create an Mailchimp Abandoned Cart Series
Simply follow these instructions to make the abandoned cart series:
1. To get started on activating your abandoned cart email campaign, click the Automations icon from the dashboard.
2. Select 'Pre-built Journeys' from the list that appears.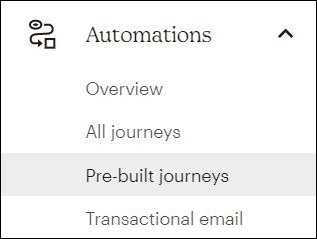 3. Scroll to the Nurture Leads section and click on Abandoned Cart Reminder (new vs. returning).


4. Click on 'Use this journey' on the top right.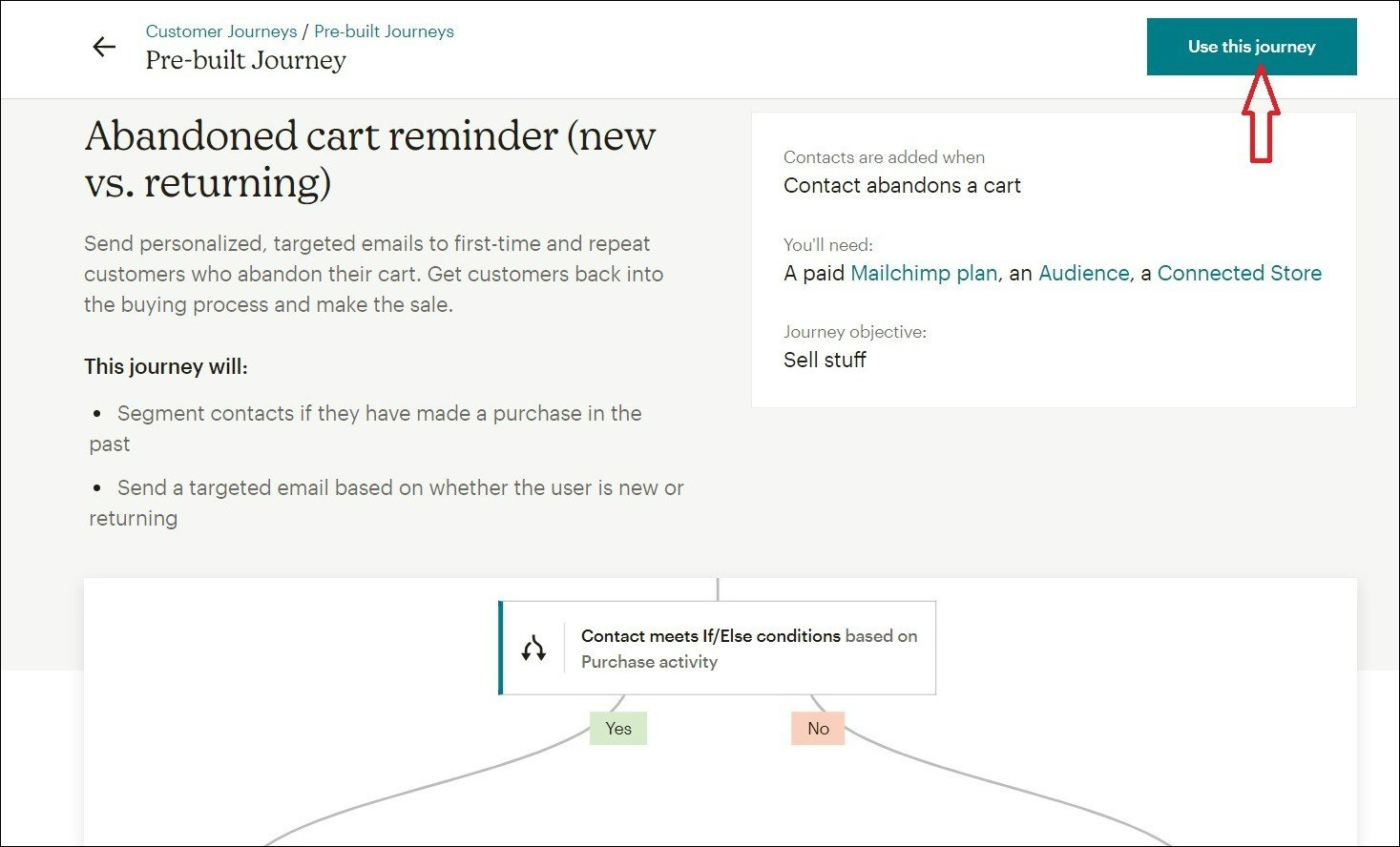 5. Here, provide a name for your campaign, pick your store, and hit the Begin button.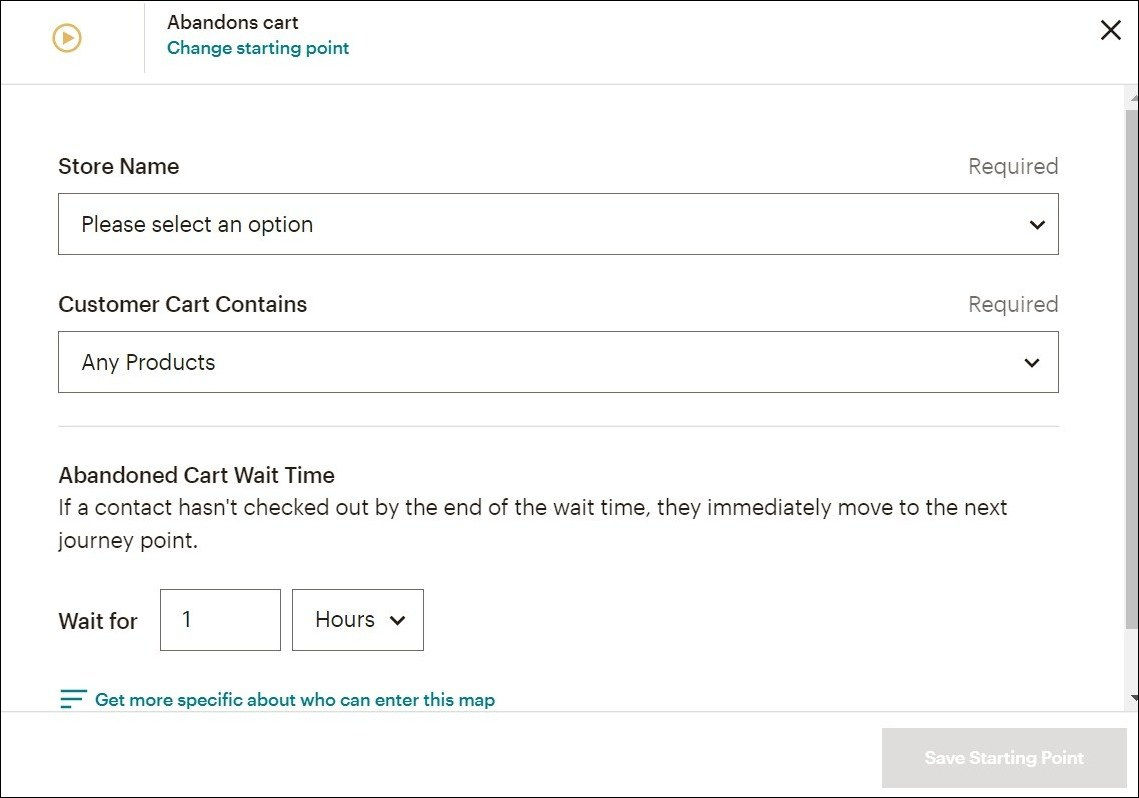 Now it's time to edit the content of your emails and make them look exactly how you want them!
Confirm and Start
Before you send out your automation, be sure to review it in the Confirm step.
1. Double-check everything using the checklist and test each email first.
2. If there's a part of the automation you still want to change, click Resolve or Edit.
3. And when everything looks good, hit Start Sending!
That's all! Customers will automatically receive your abandoned cart series if they leave an item in their shopping cart without checking it out! This way, you can encourage them to come back and complete their purchases and boost your sales!
Your abandoned cart emails are now ready to be sent out. They will be delivered with the appropriate time delay, content, design, and look you have selected.
Frequently Asked Questions (FAQs)
Why does Mailchimp Abandoned Cart Emails work?
Firstly, Mailchimp is a seasoned platform for setting up and delivering Abandoned Cart emails that customers can easily access and respond to. It also provides an automated workflow for delivering emails based on customer behavior, ensuring that customers receive relevant messages on time and in the correct order.
Finally, Mailchimp offers customizable abandoned cart emails that can be tailored to match your brand image and content. This allows customers to have an enjoyable experience that reflects your brand's values, encouraging them to purchase from you in the future.
What is the best way to send Abandoned Cart Emails on Mailchimp?
The best way to send Abandoned Cart Emails on Mailchimp is to create a fully customized email template that contains relevant information, product images, and an enticing offer. Additionally, the emails must also be well-timed and personalized to increase their effectiveness. Also, offering customers multiple methods of communication such as email, phone, or chatbot so that they can get the answers to their questions quickly is essential for successful abandoned cart emails.
How many emails should an Abandoned Cart Email series in Mailchimp have?
Typically, an abandoned cart series in Mailchimp should include 3 emails. The first email should be sent within 24 hours of the cart being abandoned, the second email should be sent a few days later, and the third email should be sent after 1 week.
This will ensure that customers are reminded of the items in their cart without getting overwhelmed. Additionally, each email should incentivize customers to complete their purchases. This could be a discount, free shipping, or other promotional offers.
How does Mailchimp handle bounced email addresses?
Mailchimp handles bounced email addresses using an automated system to detect invalid or blocked emails. When an email is detected as invalid, the system will mark it as undeliverable and remove it from the list of recipients.
This ensures that their abandoned cart emails are only sent to valid, active addresses. Mailchimp can also notify users when an email address bounces so they can take the necessary steps to correct it. This ensures that the campaigns remain effective and efficient.
Summary
Overall, it's important to remember that cart abandonment is a normal part of any online business. But with the proper techniques and strategies, businesses can turn this challenge into an opportunity to engage customers and increase their bottom line. Businesses can significantly improve their success rate in cart recovery by creating compelling emails that re-engage potential customers and incorporating personalized product suggestions and limited-time promotions. Give it a try and see what kind of results you can get!