When it comes to email marketing platforms, Mailchimp has a staggering

market share of 72%

. Even after offering all the advanced features right from the free plans, Klaviyo and Omnisend are still having a hard time getting close to Mailchimp. So, what is it that makes Mailchimp so unique? Is it a cute monkey mascot winking at you? Or, is it the host of features it offers and the value it adds to the company with its low-cost plans? In this blog, we break down the Mailchimp Pricing structure and help you choose the best plan for your brand.
Mailchimp Prices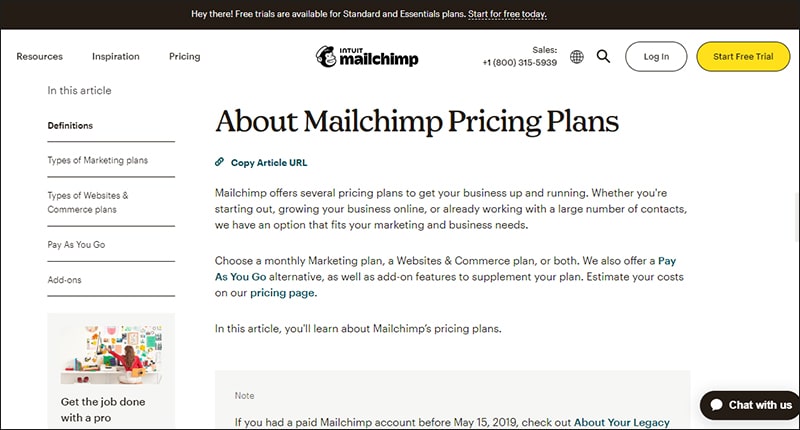 In a nutshell, the cost of Mailchimp Pricing plans is calculated based on your email list size. But, each plan comes with its email-sending limits. Some plans also limit the number of email contacts you can manage at any given time.
Unlike Klaviyo, where you only have to pay for the active subscribers in your contact, Mailchimp charges you for dormant as well as unsubscribed contacts. Unless you are regularly maintaining the hygiene of your mailing list, your monthly costs can shoot up massively.
Pay-as-you-go Plan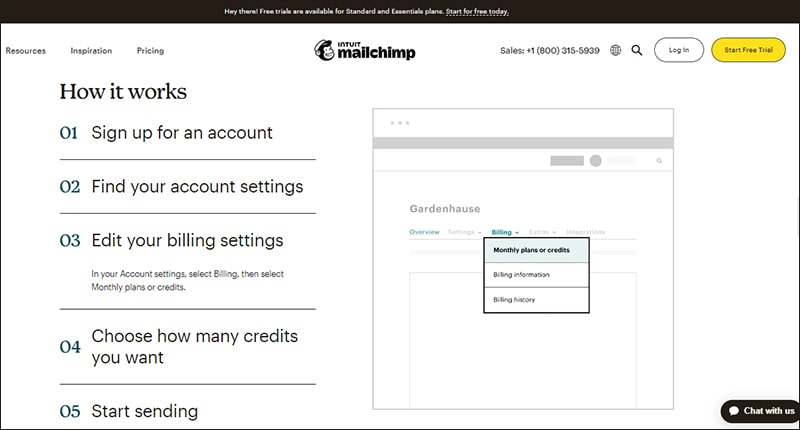 Now, Mailchimp also offers a pay-as-you-go where you have to pay only for emails you are sending to your subscribers. In this plan, you are not limited to the number of contacts in your account.
You have to prepay for the total number of emails you want to spend during the month. Naturally, prices per email decrease as you start sending more emails. Here is a small chart to help you understand the pricing structure.
| | | |
| --- | --- | --- |
| Emails | Price | Price Per Email |
| 5000 | $150 | $0.03 |
| 10000 | $200 | $0.02 |
| 50000 | $1000 | $0.02 |
| 75000 | $1500 | $0.02 |
Free Plan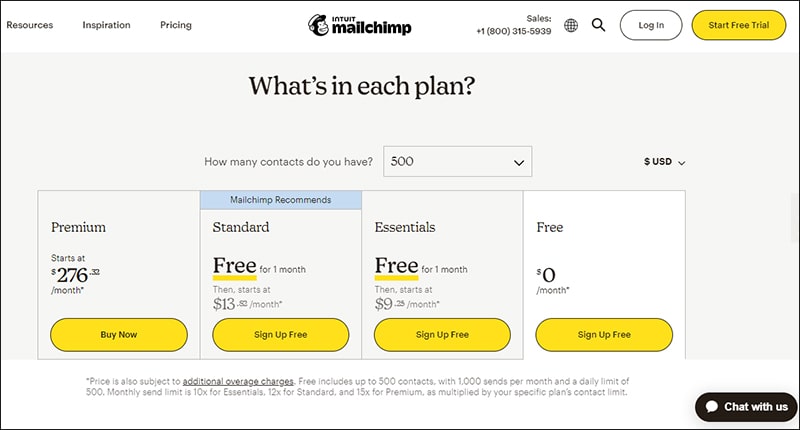 The free plan of Mailchimp might not be as potent as some of its competitors, but it sure packs some note-worthy features. For starters, new users and beginner email marketers get access to single-step campaign automation along with some advanced eCommerce features.
You also get access to an elaborate landing page builder, a scheduling app, and a powerful CRM. However, even though you get access to the scheduling app, you cannot schedule your campaigns. You have to manually launch it.
The personal customer support for the free plan users ends after 30 days. Apart from that, you are limited to 500 subscribers with a 2500 limit on email sends.
Mailchimp automatically prompts you to take up a paid plan the moment you exceed any of these limits. Again, even though it can hold so many subscribers, you are disallowed from sending multiple email campaigns to your audiences.
Also, your emails will carry the Mailchimp branding.
Mailchimp's base plan is the perfect starting point for small businesses that have just started exploring the world of email marketing. The free plan is also suitable for beginner email marketers as it also provides limited access to its massive template library.
If you like the interface and want to experiment more with the platform, you should opt for the essentials plan.
Essentials Plan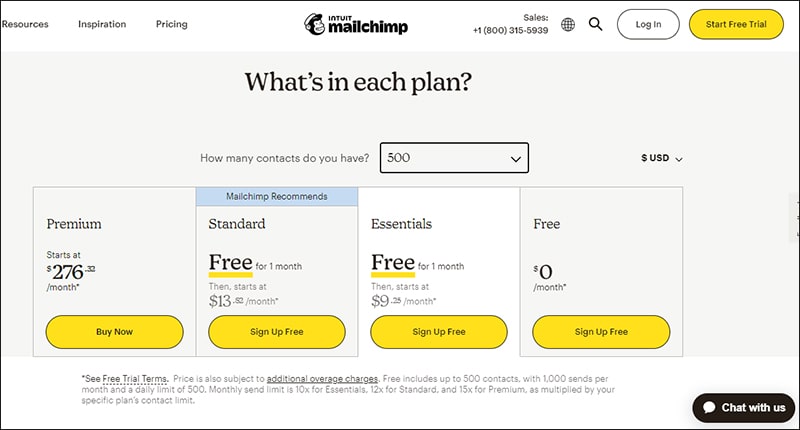 The entry-level plan of Mailchimp is known as the Essentials plan as it offers only the necessary features to help you scale your email marketing efforts. The price of this plan starts at $9 per month for handling 500 contacts per month.
The price gradually increases with an increase in your subscriber. The essential plan can only accommodate up to 50000 subscribers for a price of $240 per month.
At this subscriber level, it is better to upgrade to the standard plan which is priced at around $276 per month.
The most notable update that comes with the upgrade to the essential plan is the absence of the Mailchimp logos in your emails. In addition, you get instant access to various other features that enable you to craft more engaging and complex email campaigns.
For one, you get access to the email A/B testing tools that help you test out multiple variations of your email campaign before choosing the best-performing one.
You also get unlimited access to Mailchimp's template library which hosts countless pre-designed and optimized email templates.
You only have to enter your brand images, logos, and content before hitting on the send button. Talking about unlimited, you get unrestricted access to Mailchimp's customer support.
New platform features like email previews and Delivery by Time Zone are accessible to you under this plan. The email preview feature helps you see how your template is going to look in your subscriber's inboxes and email clients.
And, as the name suggests, delivery by time zone allows you to send emails at convenient times. The Essentials Plan is perfect for small businesses with a growing customer base and frequent email senders.
But, again, the essential plan has its fair share of shortcomings. First, you can only create 3 segmented email lists. Your email previews are also limited to 25 views per month.
Lastly, you still do not get access to multi-step email marketing automations. For that, you need to get the Standard or the Premium plan.
Standard Plan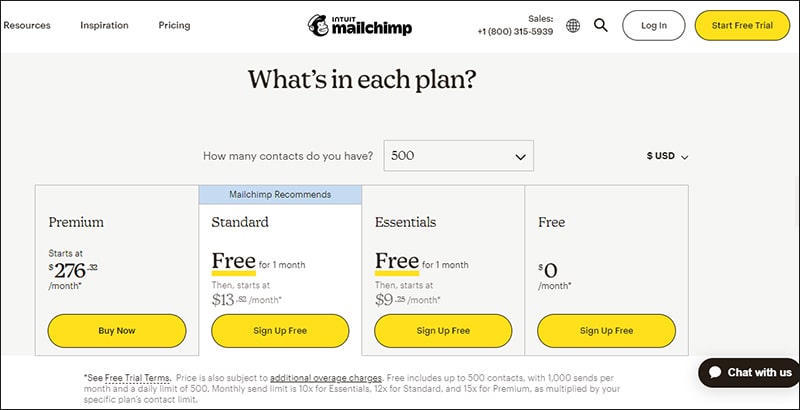 Mailchimps constantly promotes and highlights its standard plan as its best-selling plan. The plan starts at $13 per month for 500 subscribers and goes up to $462 per month for 100,000 subscribers.
Beyond that, you have to opt for the premium plan. The monthly email sends also increases to a staggering 1.2 million. Overages will automatically apply if you exceed the email send or contact limit.
You also have 24/7 chat and email support in the Standard package. Email consultants can also add 5 users to the platform.
With the standard plan, you get access to more advanced CRM features like customer lifetime value and predictive demographics. Delivery by Time Zone also gets a boost with Send Time Optimization.
This new tool helps you find the perfect time for your different subscriber demographic to maximize your open rates. Email marketers get continued access to Mailchimp's endless template library.
Along with that, you also gain the ability to import your personalized HTML templates. The dynamic content feature automatically recommends products and services to customers based on their preferences.
Access to multi-faceted automation workflows is undoubtedly the best feature of the standard plan. You can now create multiple email series and layered email campaigns.
The data collected through emails can also be leveraged to enhance the quality of your retargeting ads on other social media platforms. However, the drawback of limited email lists continues to persist in the standard plan. In this case, you can only set up 5 email lists.
Mid-sized businesses that want to use advanced CRM features, behavioral targeting, and complex automations can go for the Standard plan.
Premium Plan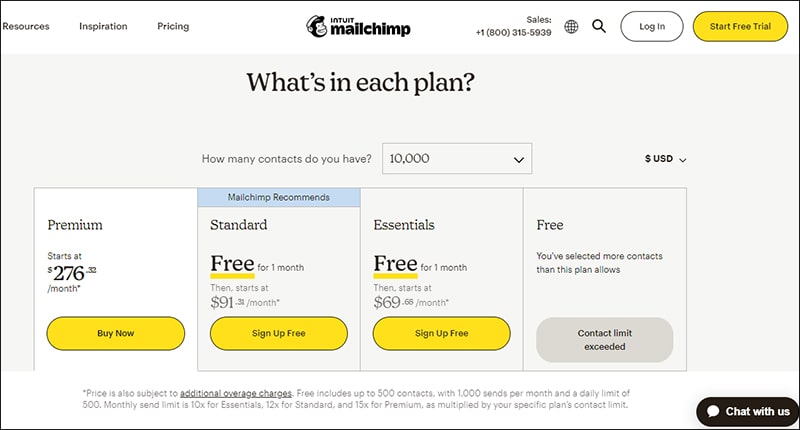 The Premium Plan is the most expensive plan offered by Mailchimp. The premium plan also comes with a premium price tag of $276 per month for only 500 subscribers.
And, for 200000 subscribers, you will need to fork out $1014 per month. For subscribers beyond this limit, you will need to contact Mailchimp's customer support number and get a custom quote for your requirements.
The features offered under this plan can only be utilized by experienced email marketers. The multi-variate testing feature offered under the Premium Plan is the best in class and helps you optimize your email campaigns for higher engagement rates.
You can test the send times, subject lines, email content, and more. The email segmentation option also receives a significant boost under this plan. For example, you can segregate your audience base according to more complex parameters, like gender, location, online activity, an purchase history.
The Premium plan also brings comparative reports which allow you to analyze the performance of all your ongoing and past campaigns from a single screen.
The bird's eye view of your campaigns helps you notice flaws that could have been missed otherwise. The customer assistance program receives an upgrade as well.
Along with live chat and email support, you get access to an additional priority phone line. The support agents will guide you through any problems and ensure that you receive the best care.
Now, is the steep asking price for the Premium Plan worth it? Well, if you are a large eCommerce store, it might be worth it if you can get your ROI right. But, at this price tag, the Premium plan is unsuitable for most small and mid-sized companies.
Can You Get An Discount On Mailchimp Pricing plans?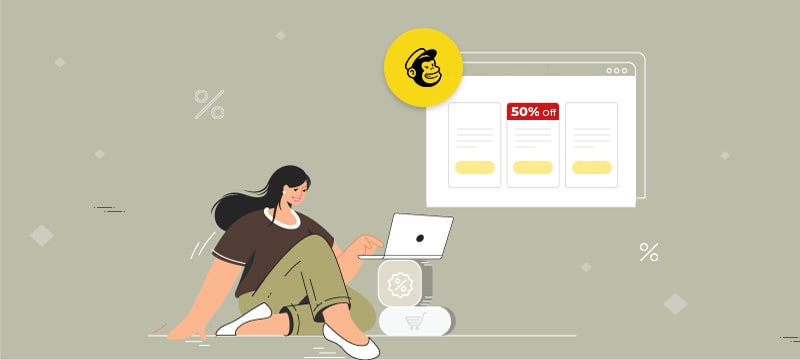 Mailchimp does offer discounts on their plan pricing. Non-profit organizations can enjoy a 15% discount on their total bill. The platform also offers a 10% discount for a month to accounts that set up two-factor authentication. Fun fact, you can stack these two discounts to enjoy a total discount of 23.5%
Conclusion
The duality of Mailchimp prices can be a bit difficult to understand at first. The entry-level plans are highly competitive and offer tremendous value compared to the other email marketing platforms.
On the other hand, the Premium plan is unnecessarily pricey, and brands find it difficult to justify the ROI. But, Mailchimp is a great email marketing tool if you are a small to mid-sized business.
Also, In case if you are looking for some Mailchimp Experts then InboxArmy has the right solution for you, Conatact us Now.