When you are growing your brand and establishing communication channels, getting an email marketing automation platform becomes inevitable. However, the growth trajectory of your brand and the effort required massively hinges on the type of email marketing platform you partner up with. That is why we have made a detailed comparison between Omnisend vs klaviyo
For example, an email marketing platform can be highly effective during your initial business days but can become expensive during your growth stage. Therefore, choosing a good email marketing platform becomes essential.
Listing down your goal and understanding your objective can make it immensely easy for you to make the decision. Despite all these, you will still face problems as there are so many amazing platforms available in the market.
Klaviyo and Omnisend are two such platforms that have almost similar offerings and price plans. And, both are evenly matched as per reviews of experienced email marketers. Here is an in-depth analysis of Omnisend vs klaviyo to help you make the right choice for your business.
Differences Between Omnisend vs Klaviyo
Factors
Omnisend
Klaviyo
Pricing

Can support 250 subscribers in a free plan

Omnisend's standard plan is cheaper than Klaviyo. But, the pro plan has the same pricing as Klaviyo.

Can support up to 500 subscribers in a free plan

There are no tiers. The prices increase with the increase in the total number of contacts in your email list.

Email Template Builder

Drag-and-drop features

You can create unique discount codes for your subscribers easily

More customization options offer more flexibility

Drag-and-drop feature

The design blocks are more attractive and show you the outline of the overall template

More design options for images and CTA buttons.

Automation

Intuitive workflow automation builder.

Uses cookie-based tracking for automated email campaigns.

Advanced features are only available to Pro plan users.

Powerful workflow automation builder called Flows.

Offers pre-built email templates

All features are made available to the user from the free plan.

Segmentation

Simple segmentation tools.

Customer profile, shopping behavior, and campaign activity are three main segment categories.

Easy to understand eCommerce owners.

Has the best segmentation tool.

You can create limitless segments

You can segment customers based on engagement tiers.

A/B testing

Can test only the subject line and the sender's name

You can test every single aspect of your email.

Support and Integration

24/7 customer support

You can integrate push and browser notifications.

Customer support can only be accessed on work days.

It can be easily integrated with over 300 platforms

Email Lists

Banned the import of third-party lists

You can build attractive landing pages and gamified sign-up forms.

Banned the import of third-party lists

Can easily create exit intent pop-ups and email sign-ups forms
1) Pricing
In terms of pricing, both Klaviyo vs Omnisend have similar payment structures. Upon closer inspection, Klaviyo is pricier than Omnisend's Pro Plan by a razor-thin margin. Omnisend's standard plan is significantly cheaper than Klaviyo's regular plans. However, the standard plan lacks some essential email marketing features.
Like any other email marketing platform, Klaviyo and Omnisend offer free plans to lure in newer customers who are still experimenting with email marketing. Then, the plan prices start increasing as the number of subscribers increase.
Klaviyo's free plans can support up to 500 contacts, but Omnisend can sustain only half of that. Moreover, Klaviyo offers all the essential and advanced email marketing features in its free plans. Omnisend only offers basic campaign performance metrics.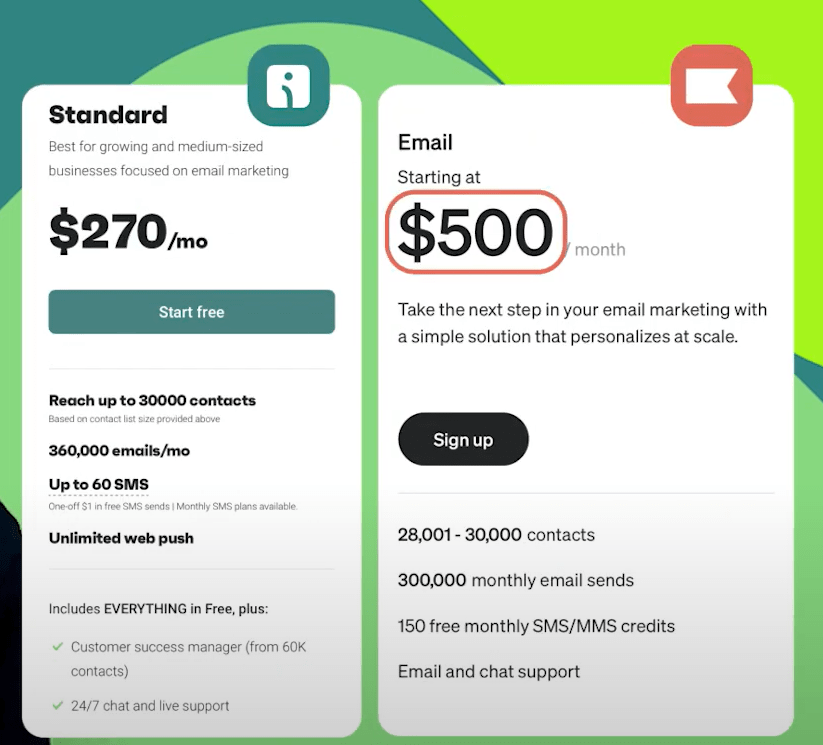 Coming to Omnisend's standard plan, the user gets access to more features and perks. For one, you can send around 12 times the total number of subscribers in your email list. This perk is only available to users with over 500 contacts. If you can get your total number of subscribers to cross 60,000, your account gets an exclusive customer success manager.
The price of Omnisend's Pro plan starts at $59 per month and can go up to $1150 per month for 100k email subscribers. Often, experienced email marketers will opt for this plan as it offers countless features and powerful segmentation tools. Pro plan users get priority customer support and can access the customer support manager with only 27,000 subscribers.
There are no such tiers in Klaviyo. As mentioned earlier, you get access to all the measurement metrics and campaign monitoring tools from the free stage. You only pay to accommodate more subscribers in your email lists. Such a powerful proposition makes Klaviyo highly cost-effective and appealing to small to mid-sized companies. However, the combined Klaviyo Email and SMS package can burn a hole in your budget at higher subscribers count.
2) Email Template Builder
The email template builder on both platforms is highly intuitive and easy to access. They offer drag-and-drop features making the creation process effortless. Again, they host massive template libraries full of pre-built optimized templates.
If you are using a template from the library, you only need to enter the email content and your product images. Omnisend offers more such designer templates as opposed to Klaviyo.
Coming to Klaviyo, the design area and available options are easy to understand. To make it simpler, Klaviyo offers style options that show a rough framework for your template. The drag-and-drop block elements are quite attractive and add a certain charm to your marketing templates.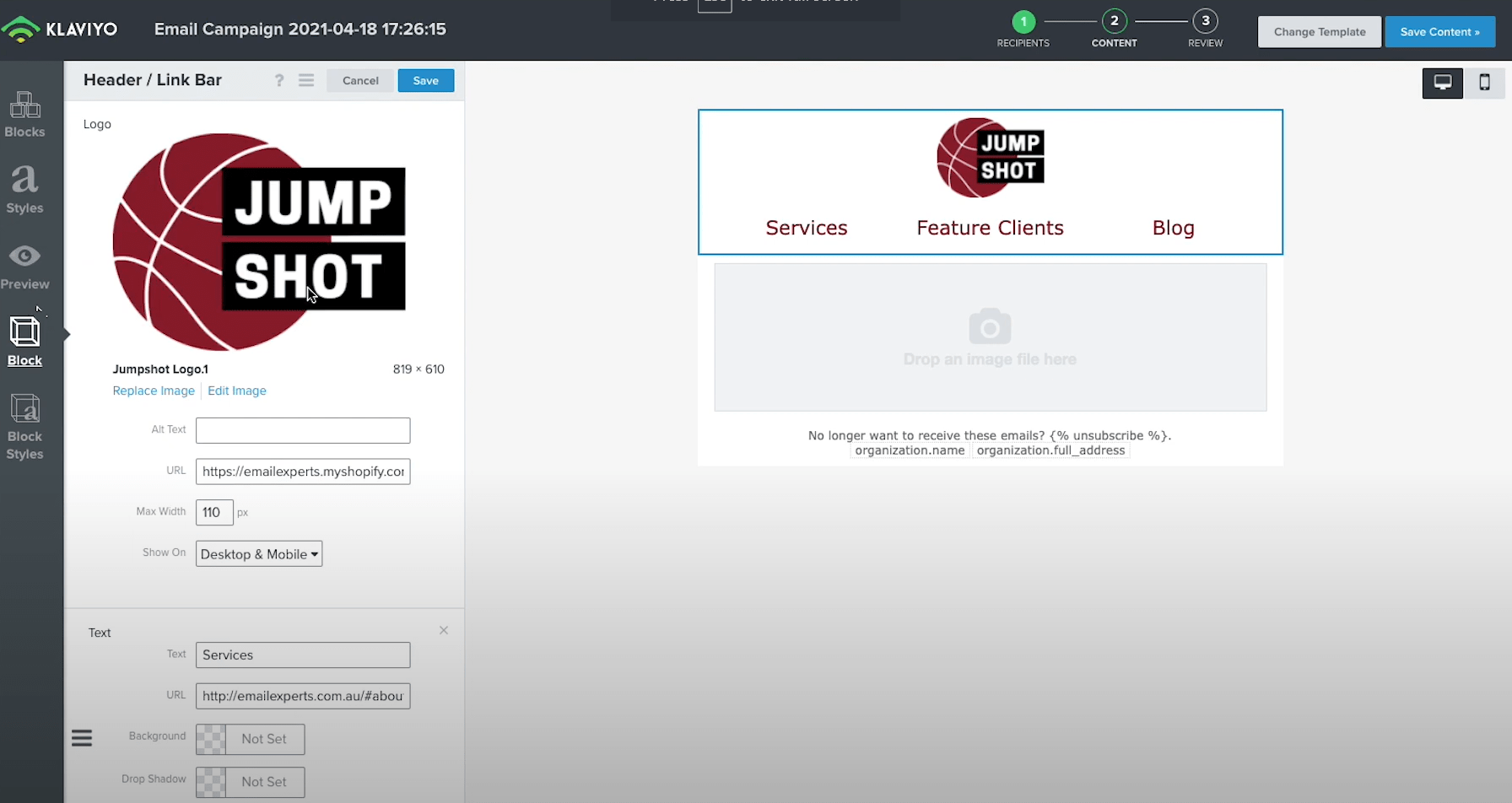 There are more design options for social links, images, CTA buttons, and columns. The template also highlights the area where you can enter your business logo and hyperlink to your website. Once the images are uploaded to Klaviyo, they are stored there and are easier to access.
But, Klaviyo's email template builder is not perfect. Some eCommerce-related features are lacking and need manual input from the user. For one, the process of creating unique discount codes for email subscribers can be perplexing. But, adding products directly from your store has a simpler process.
On the other hand, Omnisend has fewer templates than Klaviyo. Nevertheless, the sheer number of customization options provides you with more flexibility to create astounding email templates.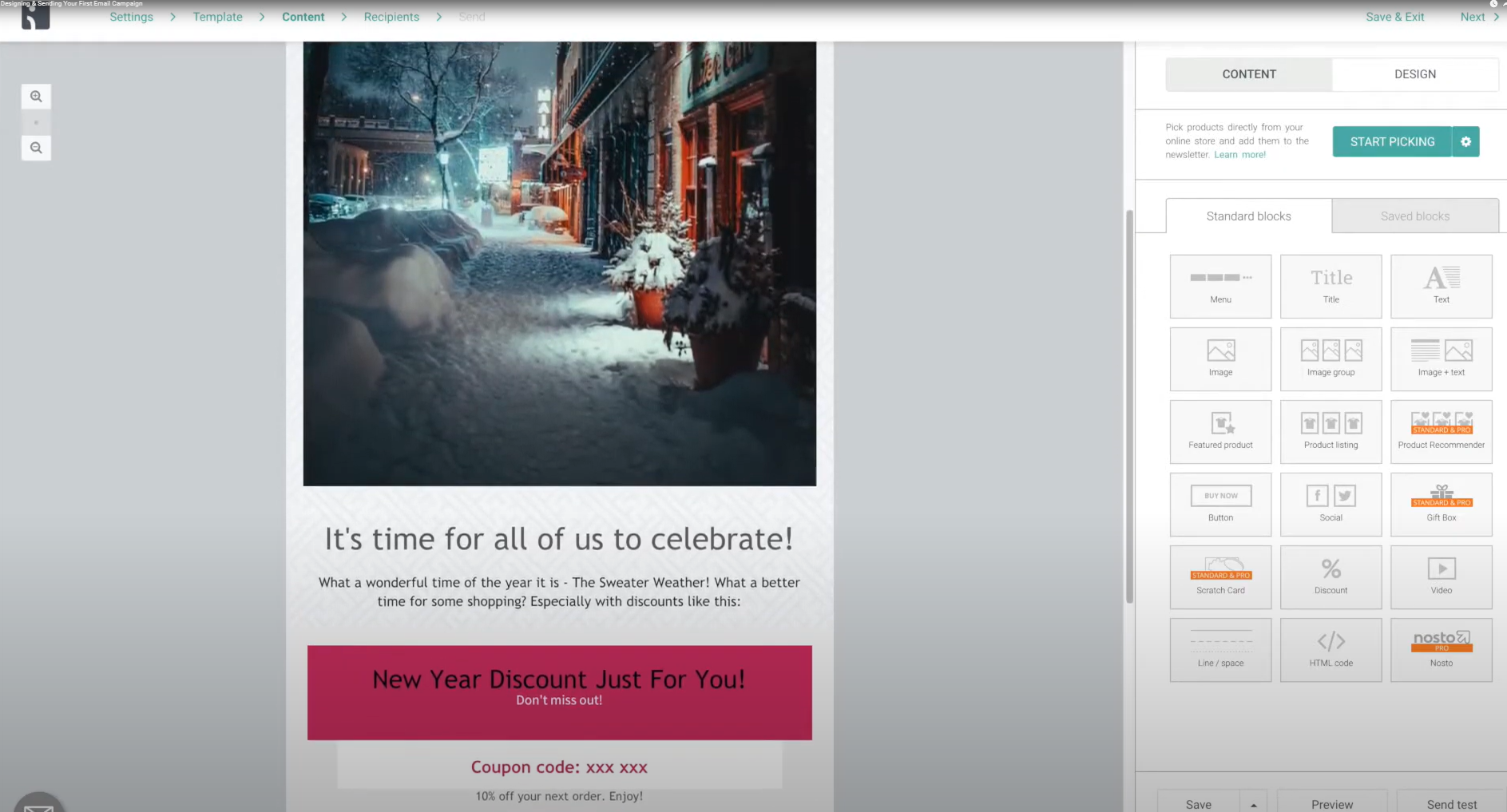 Yes, you can always create email templates from scratch. Although, this option is more appropriate for veteran email marketers. As a beginner email designer, you might feel uninspired to build templates in Omnisend.
3) Automation
It would be foolish not to discuss the automation features while discussing the in-depth differences between Omnisend vs klaviyo .
As you grow your business, automation features will empower you to set email workflows and free your email marketers to tweak your upcoming email marketing strategies.
Klaviyo offers one of the most powerful workflow automation tools currently available in the market. Within the platform, their automation feature is known as flows. You can find a separate tab for Klaviyo flows in the platform UI.
Clicking on it gives your access to a feature-rich automation dashboard. You will find finely crafted workflow templates for the most commonly used automated email marketing campaigns. In addition to that, clicking on the browse more option shows you multiple other templates with a goal-based filter to make it easier to find them.
If you are dissatisfied with the pre-built templates, you can always choose to create your own from scratch or engage klaviyo consultants. Klaviyo's workflow canvas offers multiple visual cues to make the process easier. First, you need to choose the trigger that will enter the subscriber into the flow.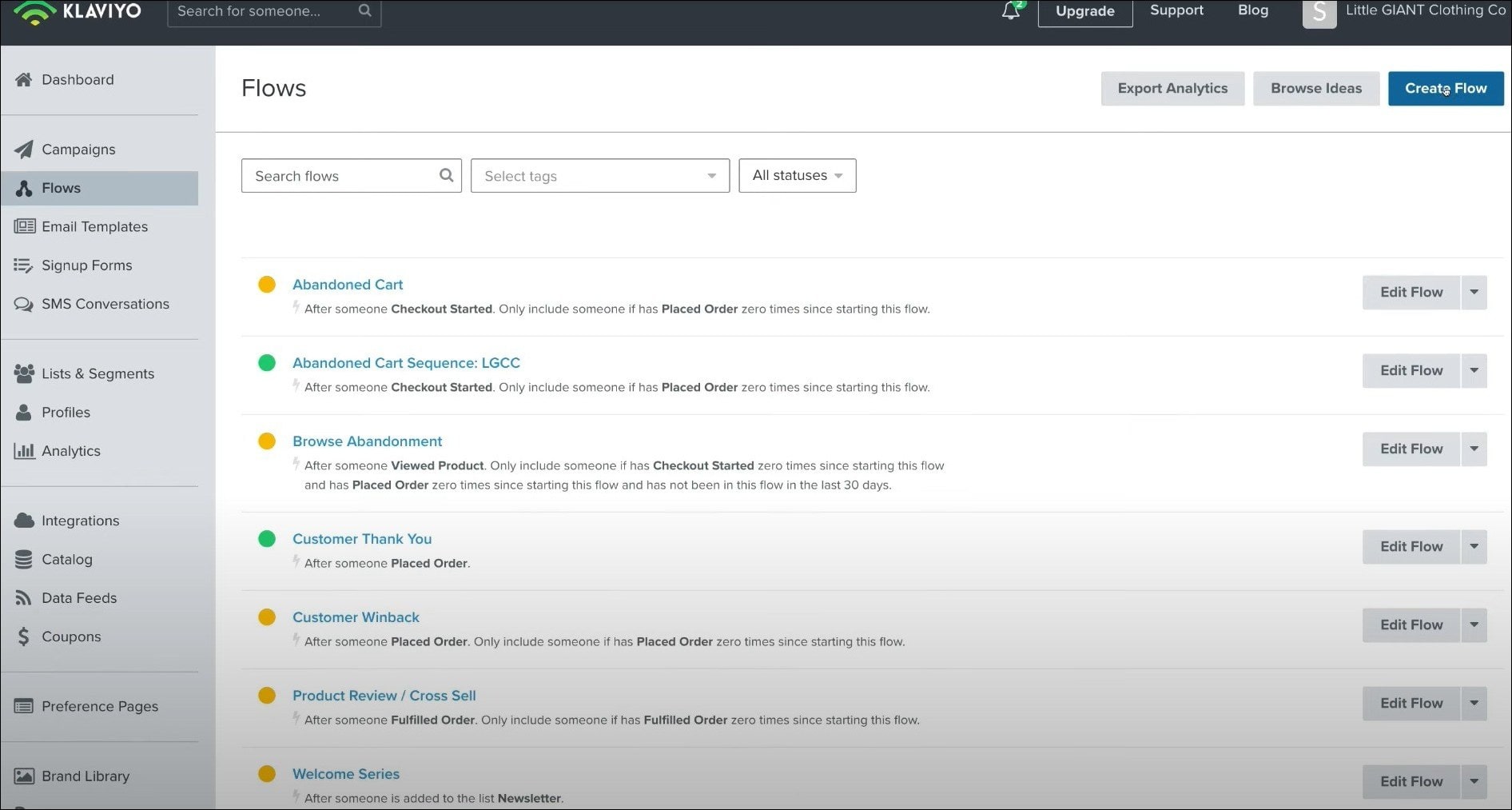 Next, you have to enter the action modules and set the time delay between each action. Moreover, you get the option of adding conditional and trigger splits to redirect the subscribers into different workflows. This feature enables email marketers to create elaborate and intricate automated flows to target their customers.
They are very similar to each other when it comes to automation features. But, there are subtle differences between Omnisend vs klaviyo that might make you lean towards one more than the other.
For one, Klaviyo uses checkout tracking to identify users' eligibility for its abandoned cart email flow. On the other hand, Omnisend uses cookie-based tracking for its automated email campaigns. Finally, Klaviyo offers all the features right from their free plan, and Omnisned keeps them locked behind their Pro plan package.
4) Segmentation
Segmentation is another non-negotiable tool when it comes to email marketing. After all, sending the right message at the right time makes more sense than pointlessly bombarding your subscriber's inbox with promotional emails. For a fair comparison, we will look at the basic segmentation features.
Omnisend offers a simpler segmentation tool for its users. The segments can be created under three main categories – customer profile, Shopping behavior, and campaign activity. Segmentation based on customer profiles is self-explanatory. Campaign activity segmentation allows you to segregate the customers based on their engagement level with the ongoing and previous email campaigns. Lastly, the shopping behavior segment tracks their on-site activity to funnel them into different segments.
From an eCommerce business owner's perspective, these broad segments are easy to understand and program according to your needs. The language is basic which makes it more beginner-friendly.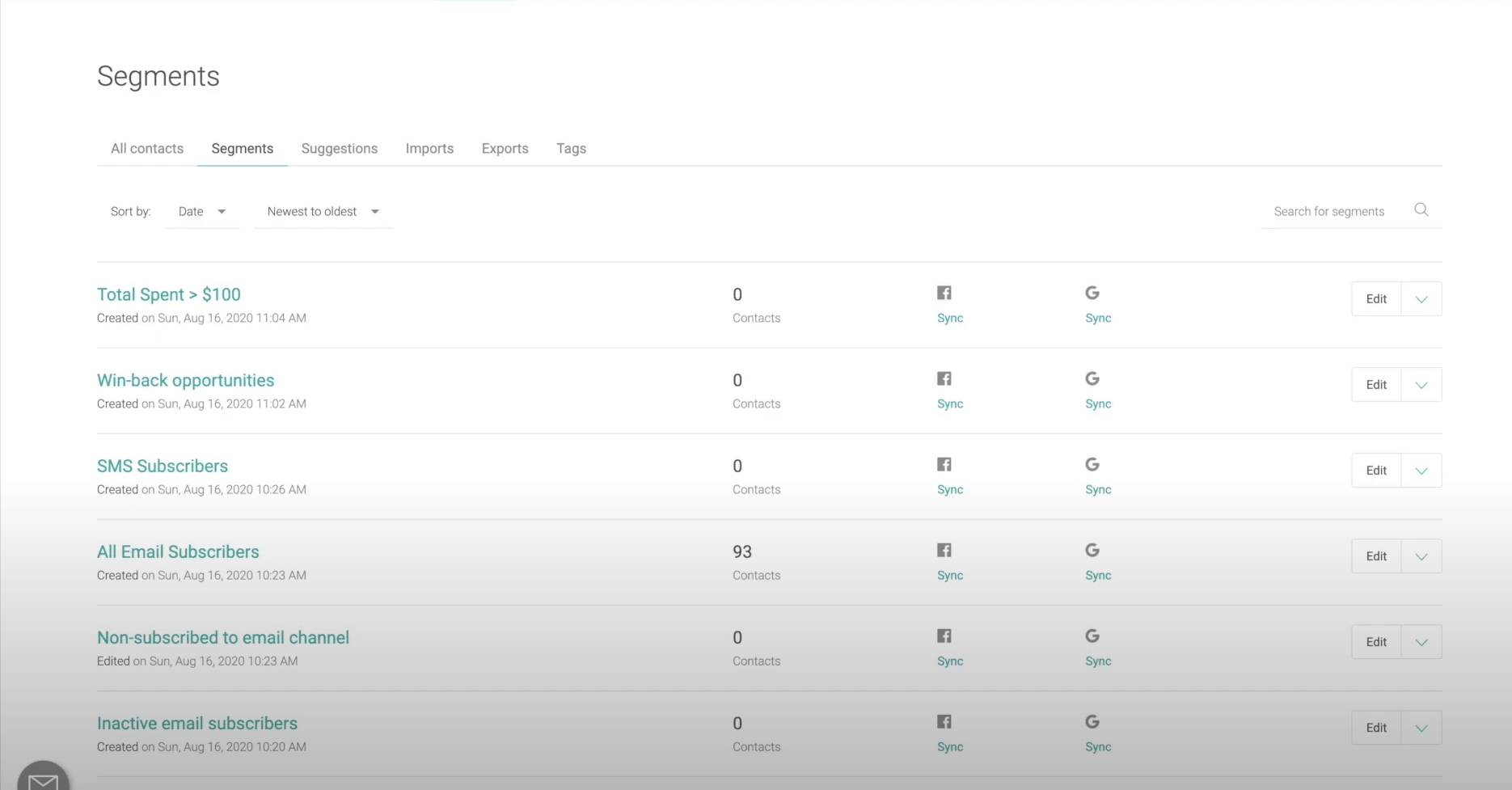 With the most recent update, Omnisend lets you set triggers based on custom events. Then, you have to utilize the filters, rules, and logical operators to create an efficient email marketing segmentation. However, the number of segments you can create is restricted based on your Omnisend plan.
On the other hand, Klaviyo is sometimes considered the best segmentation tool in the market. There are virtually no limits on the number of segments you can create in your Klaviyo account. To top it off, you can make them highly unique by adding multiple filters and rules.
The same applies to the amount of data you can process through this platform. Of course, the language used to describe these segments is simple to make them more accessible to marketing newbies. But, the vast array of advanced segmentation tools makes it a personal favorite for professionals.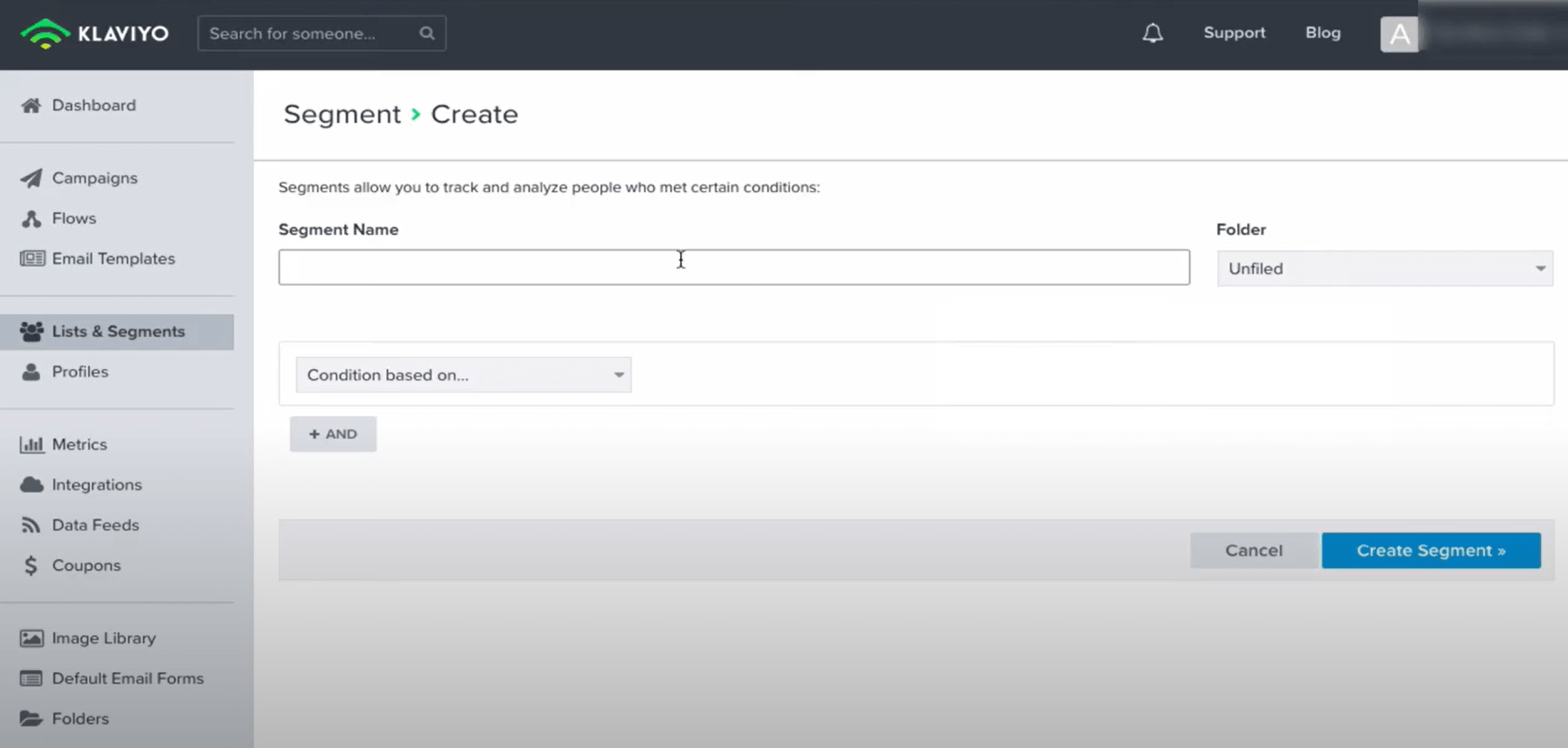 Klaviyo enables you to segment users based on engagement tiers. This means, instead of having just two segments, engaged and unengaged, you can create multiple tiers based on different engagement levels. It is just one of the many advanced features you get with a Klaviyo email marketing account. And, all these features are accessible straight from their most basic plans. Omnisend still has a lot of catching up to do.
5) A/B testing
A/B testing is an essential tool that removes the guesswork from the equation and enables you to make more deliberate decisions. Testing multiple variations and subject lines for the same email content helps you better strategize your email marketing campaigns.
Regular email A/B testing also gives you a general idea about what your subscriber likes and dislikes.
Omnisend used to offer A/B testing features for the subject line and sender's name only. This was limiting for email content writers as they lacked any definitive measurement metric for their content.
With the latest Omnisend update, you can also split-test the email content. However, there are still a lot of template features that are excluded from your A/B tests.
Klaviyo allows you to split-test every single aspect of your email template. You can check subject lines, GIFs, sender's name, email content, CTA button characteristics, images, etc., with Klaviyo.
The platform manages to remove unnecessary assumptions. Omnisend is consistently updating its platform with more diverse parameters to enrich the split testing experience for its users.
6) Support and integration
When it comes to support and platform integration, Klaviyo, and Omnisend are equally matched. To begin with, Klaviyo has a higher number of platform integration available. Irrespective of the eCommerce platform you use, integrating it with Klaviyo should be fairly easy.
In the support category, Omnisend takes the lead with its 24/7 customer support. All the other competitors have either fixed timings during the weekdays or need you to pay extra for premium support. You can contact Omnisend through live chat and email without any restrictions.
Apart from email and SMS marketing, you can integrate browser and push notifications through the platforms. Klaviyo lacks this feature but makes up for it by offering over 300 direct integrations.
Omnisend manages to achieve a similar feat with its highly adaptable API that can be modeled to accommodate other eCommerce platforms. Both email automation platforms offer amazing third-party tool support.
7) Building Email Lists
Building an optimized and hygienic email list is important and dictates how well your campaigns are going to perform down the line. And, adding uninterested and uninformed subscribers to the list only ruins your reputation with your email service provider and compromises your engagement rates.
Recognizing the potential pitfalls of such risky strategies, both Klaviyo and Omnisend have banned importing third-party lists. These platforms encourage you to organically build your subscribers list from scratch. In fact, Klaviyo has made it mandatory to use double opt-in forms to add that extra layer of security.
Furthermore, both offer highly targeted pop-ups to grab visitors' attention and get them to sign up for your email list. Klaviyo is especially crafty when it comes to creating such pop-ups.
You can design email pop-ups that offer time-limited unique discount codes just when the customer is about to exit. Apart from that, you can create email list sign-up forms that pop up whenever the website visitor performs a pre-defined action. Of course, Klaviyo can be even more effective for list-building when handled by email marketing professionals.
Meanwhile, on Omnisend, you can create highly effective and attractive landing pages with a proven track record of getting new subscribers. Additionally, you can find a gamified landing page in Omnisend.
Their most famous game template is a multi-colored wheel of fortune that tempts visitors to sign in and enjoy a free spin. These features are missing In Klaviyo. Naturally, Omnisend gets the edge here as interactive landing pages are significantly more engaging than well-timed pop-ups.
8) Other features
When it comes to reporting and analytics features, Omnisend can go toe-to-toe with Klaviyo. Klaviyo offers a comprehensive view of all the email campaign metrics in a single window. The dashboard is highly customizable and can be altered as per your needs.
You can add or remove metric cards, or views, depending on your campaign needs. Such features enable you to remove noise and draw focus to the performance indicators that actually matter.
Omnisend offers similar features but they are only available to the pro plan users. In the case of Klaviyo, even the free users get unlimited access to their dashboards.
On top of that, Omnisend can only show data for the last 18 months. This can misrepresent important patterns and make it difficult for email marketers to come up with coherent upcoming campaign strategies.
When it comes to businesses running multiple brands, Omnisend becomes the go-to option for the owners. Omnisend's Multistore account feature allows you to handle email marketing for your many brands through a single account.
This lessens the hassle of maintaining multiple accounts and repeating all the processes for setting up campaigns. However, in Kalviyo, there is no such feature. You have to maintain multiple accounts for your various brands.
Conclusion
While Klaviyo takes the win in some categories, Omnisend takes the win in others. Overall, both are highly capable email marketing automation platforms. Omnisend is the better option if you are looking to create a stylized email template and engaging landing pages.
Omnisend becomes a must-have when you are juggling email marketing campaigns for multiple brands for a single business. On the other hand, Klaviyo offers you a technical edge over your competitors.
Klaviyo is the best in class when it comes to email personalization, segmentation, and advanced targeting. The reporting and analytics features are immensely useful for dissecting the performance of your email campaigns.
Or, you can outsource all your burdensome email marketing woes to us. We are an ESP agnostic email marketing agency. If you need help in deciding whether to choose Omnisend or Klaviyo then check our ESP Vendor Evaluation services.
FAQs
Q1.Which is cheaper Klaviyo or Omnisend?
When their price plans are directly compared, Klaviyo is marginally more expensive than Omnisend.
Q2. Is Klaviyo easier to learn than Omnisend?
Klaviyo can be quite daunting to learn for email marketing beginners. But, once mastered, Klaviyo can open up realms of possibility when it comes to campaign analytics and strategies.
Q3. What are exclusive Omnisend features that are unavailable in Klaviyo?
With Omnisend, you can create plain and gamified landing pages which are impossible to do in Klaviyo. In addition, you can control SMS and email marketing campaigns for multiple brands under the same business.