In 2022, the monthly average of email opens recorded for each month was 1.5 billion. Now with that email open rate, how do you stand out in the already-overcrowded inbox? You read it right. A well-designed email marketing template elevates reader engagement, leading to better email click-through rates and increased sales. The challenges lies in crafting compelling email marketing templates.
What Are The Benefits Of Email Marketing Templates?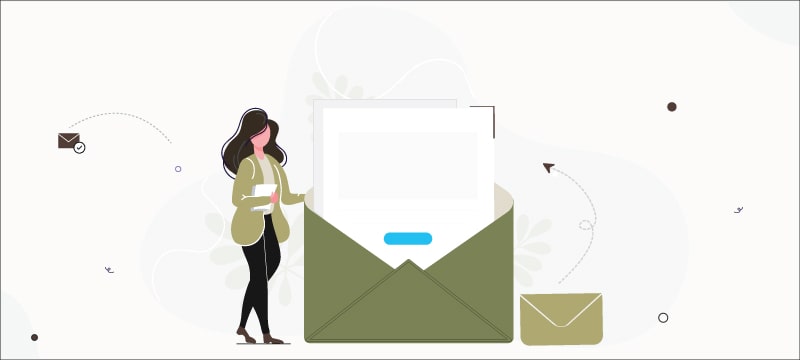 Email recipients tend to scan information and leave out emails, which don't offer them valuable takeaways almost instantaneously. This is where a great email design comes into the picture. And since you can't always create designs from the scratch, email template designs are your best bet.
Instead of spending time formatting your email and crafting the content from scratch, you can simply select the appropriate template and make the necessary modifications. This not only saves time but also ensures that your emails are well-structured and easy to read.
Here are some of the top benefits you can avail by creating stellar email marketing templates:
Consistency
One of the biggest benefits of using email marketing templates is consistency. When you use the same template for all your emails, you ensure that your messages are consistent in terms of tone, format, and branding.
This not only makes your emails look professional but also helps to establish your brand identity.
Efficiency
Templates save time by allowing you to quickly compose emails with a predefined structure, minimizing the time spent on formatting and crafting the content from scratch.
Organization
Email templates can be organized and categorized, making it easier to find the right template for a specific type of email. For example, you can create separate templates for sales emails, follow-up emails, and promotional emails.
This allows you to quickly select the right template, saving time and reducing the risk of sending an incorrect email.
Scalability
Email marketing templates are ideal for mass emails and campaigns. With a few clicks, you can replicate a template and send it to multiple recipients.
This not only saves time but also ensures that all your recipients receive the same message, making it easier to track the effectiveness of your campaigns.
Customization
Another benefit of templates is that email personalization can be done easily. You can insert specific information, such as recipient name and details, without having to rewrite the entire email.
This allows you to tailor your messages to individual recipients, making your emails more personal and effective.
Increased Productivity
By using email marketing templates, you can streamline your email writing process and increase your overall productivity. You'll no longer have to spend time formatting your emails or crafting the content from scratch, freeing up more time to focus on other tasks.
Who Needs Email Templates?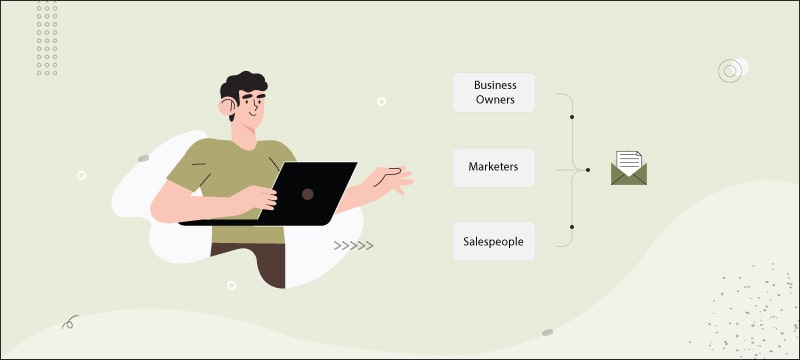 Are email templates only for B2B firms? Or do they serve B2C and D2C firms as well? The answer is – anyone and everyone benefits from the creation of email templates.
They can be used by a solopreneur using the channel to communicate regularly with his or her clients. Or, they can be used by Quick Commerce companies to share instant information across to their customers.
Let's dive deep to understand how the email templates are being useful to different segments of users:
Business Owners
Business owners need email templates to maintain consistency and professionalism in their communications. A well-crafted template can help convey your brand identity and ensure that all your emails are consistent in terms of tone, format, and branding.
Templates can also be used to create standardized responses to common inquiries, freeing up more time to focus on other tasks.
Marketers
Marketers use email templates to create effective campaigns and reach their target audience. Templates allow marketers to easily replicate messages and send them to multiple recipients, making it easier to track the effectiveness of their campaigns.
Templates can also be customized to include specific information about the recipient, making emails more personal and effective.
Salespeople
Salespeople need email templates to streamline their sales process and improve their productivity. Templates can be used to create standard follow-up emails, introduction emails, and closing emails, reducing the time spent on crafting the content from scratch.
Templates can also be personalized to include specific information about the recipient, making the emails more relevant and effective.
Anyone Who Sends A Lot Of Emails
If you're someone who sends a lot of emails, whether it's for personal or professional reasons, email marketing templates can help you save time and improve the quality of your communications.
Templates allow you to quickly compose emails with a predefined structure, reducing the time spent on formatting and content creation. They also allow you to maintain a consistent tone, format, and branding in all your emails, making your communications more professional and effective.
Email Template Examples
Welcome Email

A welcome email is the first email that goes out in the series of onboarding email communication. For many firms, it is the first set of communication with their clients or customers.
From welcoming first-time customers using a certain products to welcoming a subscriber to a new service, these emails are critical and sets the tone of the other communications.
Remember, it is the very first message that you'll be sending out to the customers and clients, and therefore, getting that impression right is non-negotiable.
Fi's welcome email is an apt example of welcoming newbies to the fold. It is short, succinct, uses brand colors and tonality aptly to weave a message that hits the nail on the head.
Newsletter

A newsletter email is sent to subscribers on a weekly, bi-weekly, monthly, bi-monthly basis to keep them abreast about the latest happenings about a product or a brand.
The frequency of sending the newsletters depends on the subscribers' interest and the content that's being churned out by your brand.
The newsletter from Massive Science for instance, brings the best stories to the subscribers' inbox. The no-nonsense newsletter is packed with only what would interest the readers and nothing else. That's what we love about the plain, yet impactful e-newsletter
Abandoned Cart Email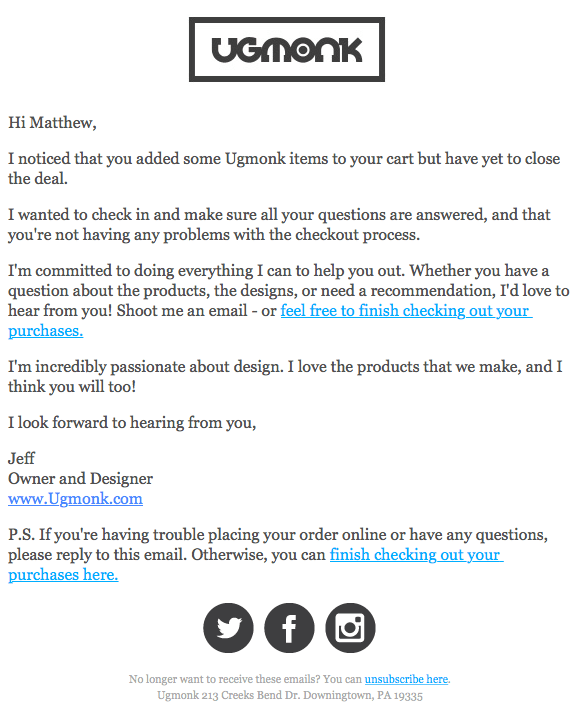 If you want to win back your customers and boost sales, make abandoned cart emails an integral part of your email marketing strategy. These emails are sent to hesitant customers or customers who nearly made a purchase.
The word choice of the emails have to be carefully thought out and the templates should be designed in such a way that the customers change their mind, and get encouraged to complete the incomplete transaction.
A classic example of abandoned cart email is that of Amazon. You'll see email notifications citing how the price of the items in your cart has decreased. Likewise, you may come across other emails from product companies telling that now you can opt for the same product at a discounted price.
All you need to remember is that customers can leave the shopping cart and not opt for checkout for several reasons. But that doesn't mean you'll lose all hope.
With a great abandoned cart email template such as the one drafted by Ugmonk, you can win back not just one, but several customers. Take a look at the sample email piece to see how it conveys the message so simply, but with maximum impact on the mind of the customer.
Re-Engagement Email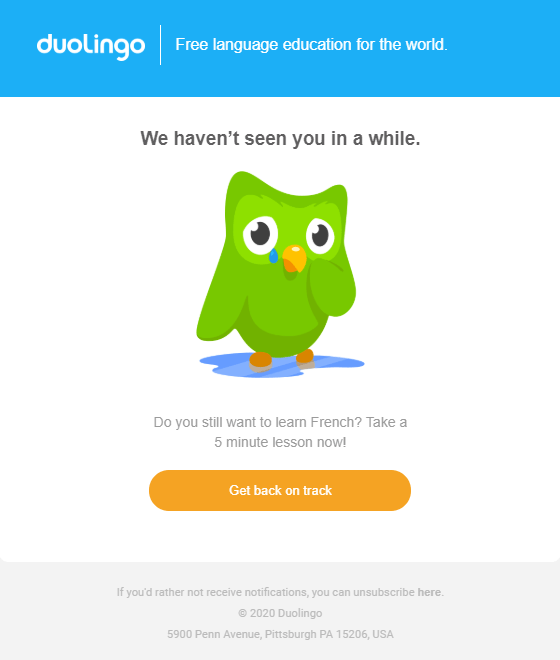 A re-engagement email is often a part of email campaigns which are sent to a segment of the target audience who are either unengaged or engaged in a limited manner with your emails. These are also sometimes categorized as win-back emails or reactivation emails.
According to statistics, marketers lose 25% of their email list every year just because of attrition. It therefore, makes sense that list retention should be on the priority list for all email marketers.
Duolingo for instance, uses emotional ploy to re-engage its subscribers. Similarly, Grammarly is known for re-engaging subscribers by presenting a Wrinkle in Time badge to them. In both cases, the messaging is crisp and the CTA is crystal clear. And they both very well do the trick!
Win-back Email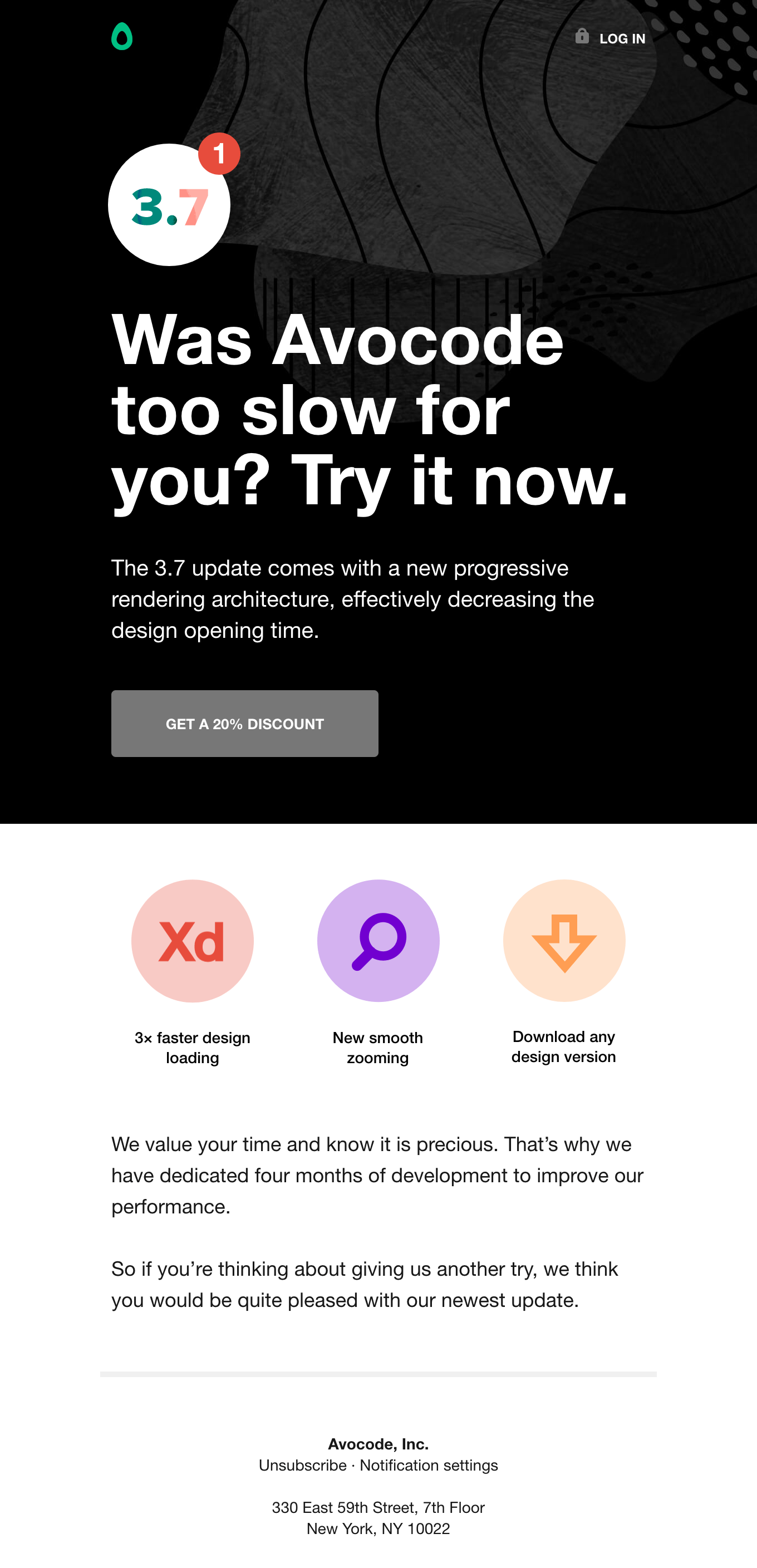 A win-back email is an automated email sequence that sends emails to the subscribers, contacts or lapsed customers. These are also a type of re-engagement emails. The emails are sent to recipients who either made a purchase with the brand in the past or have interacted or engaged with the brand in some way.
Avocado Inc. shows us the way forward to craft nifty win-back emails that does nothing but talks straight with the customers. We love its simple, yet profound design and clear messaging.
Referral Email
Referral emails are used by brands to find potential customers via their already existing customer base. More often than not, the brands leverage their current customer's friends or professional network and dig into qualified leads with similar requirements or problems that the brand can solve.
We love this email from Allset with a catchy subject line and body copy that does only what it is supposed to do – allure referral customers with a discount code.
Event Invitation Email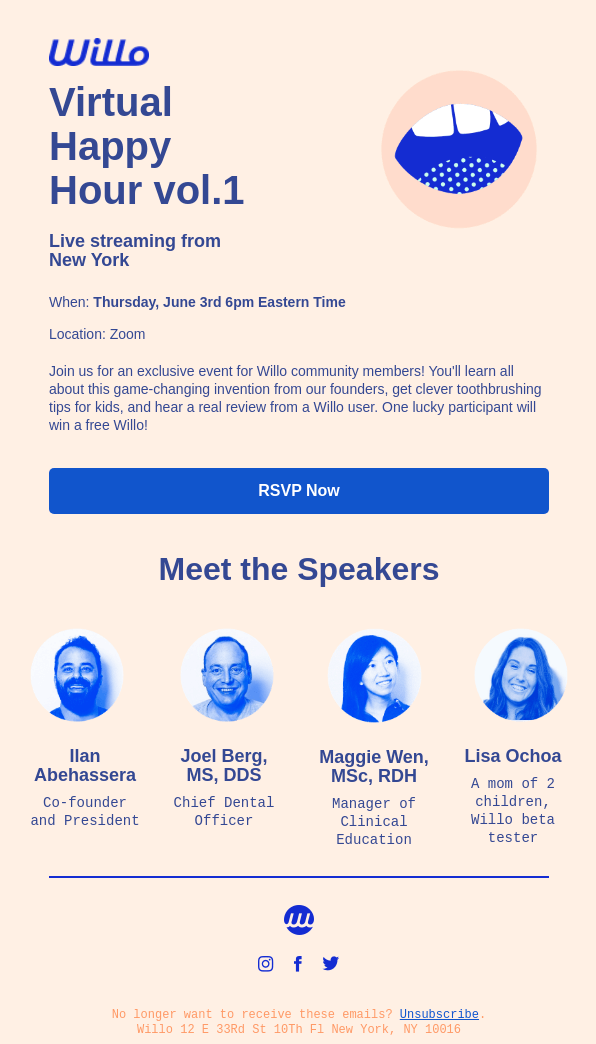 Easier said than done, event invitation emails have a lot of hardwork going in drafting them. First, the email has to go out on a specific date and time.
Second, if they are written poorly, then no one is going to respond to the event. Third, a clear CTA such as RSVP is required for recipients to be a part of the event.
The challenge: With inboxes constantly being flooded with virtual event invitations, how can you make your event invitation email stand out? The solution is to create a buzz and build excitement around the event before sending out the final event invite.
Think of webinars – there is a signup email, then there are countdown emails before the final few reminder emails on the event day. You get the drift!
For now, take a look at these two brilliant email that does an exceptional job with the virtual invite and sending people reminders about an event.
Product Update Email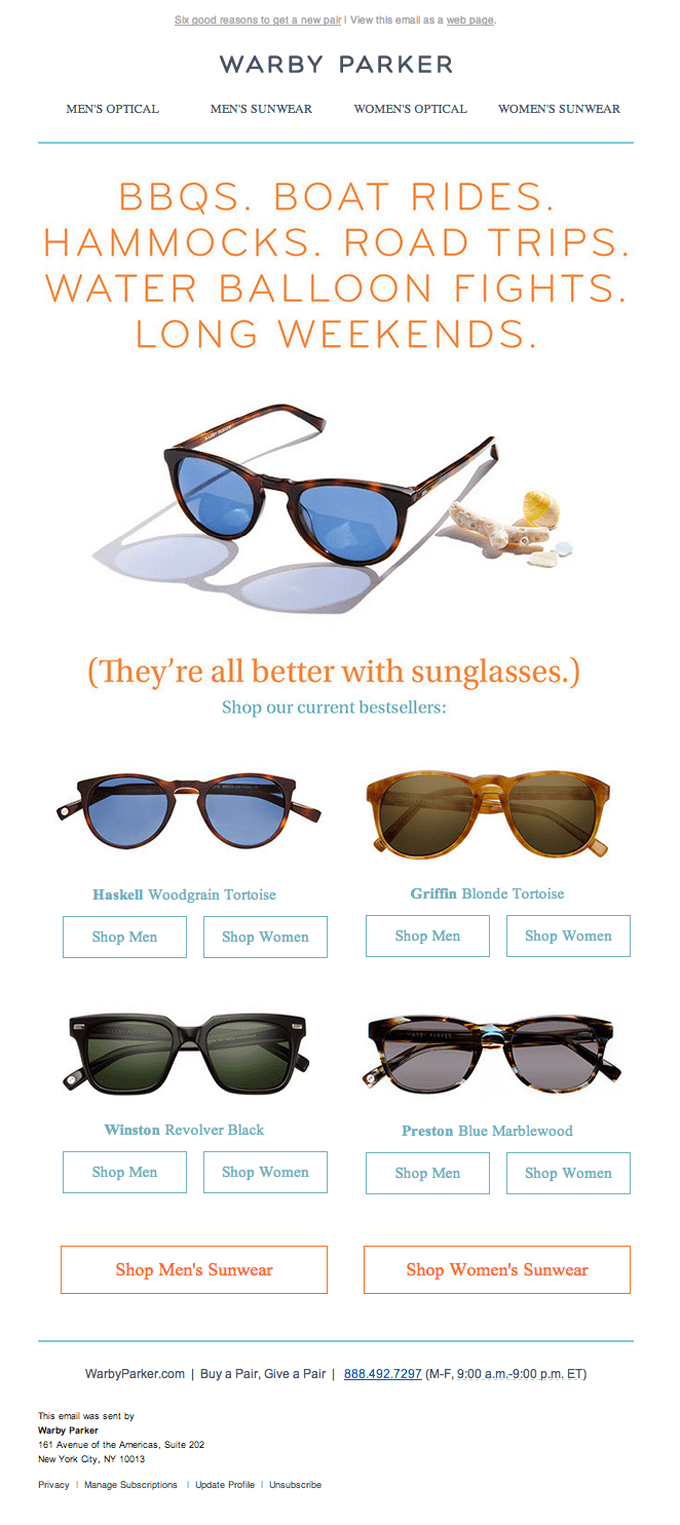 Product updates include a change in an existing product. These can be an update to fix a problem, to solve a need, or just a new feature add-on.
Product update emails notify the users of the latest announcements about the product changes to the existing users/subscribers. Alternatively, the emails sometimes provide exclusive invites to take a look at the product announcements.
Apple does a great job with its product update emails, and so does several other brands. Check this great example of product update email from Warby Parker that caught our fancy:
Transactional Email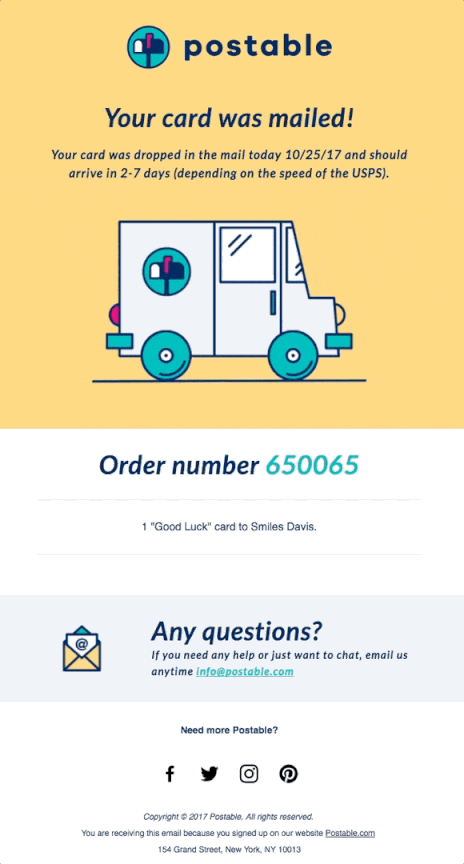 Transactional emails carry transactional messages, including authentication of passwords, delivery updates, shipping confirmation, feedback, email activation, account balances, etc. Based on different industries and channels, the email messaging also vary.
Upsell Email

Upsell emails are used to encourage your existing customers to purchase a more expensive version of the same product they are already using.
Many product companies that work on subscription model offer such emails to their customers by presenting an upgrade to the existing subscriptions.
Thank You Email

When you write a thank you note or express thanks in an email, it shows a token of gratitude or appreciation to the recipient. The way you write such emails emphasises a lot on your brand's ethos. So make sure that you make a great first impression by getting these emails right for your recipients.
We absolutely love the thank you emails from Hubspot.
Customer Satisfaction Survey Email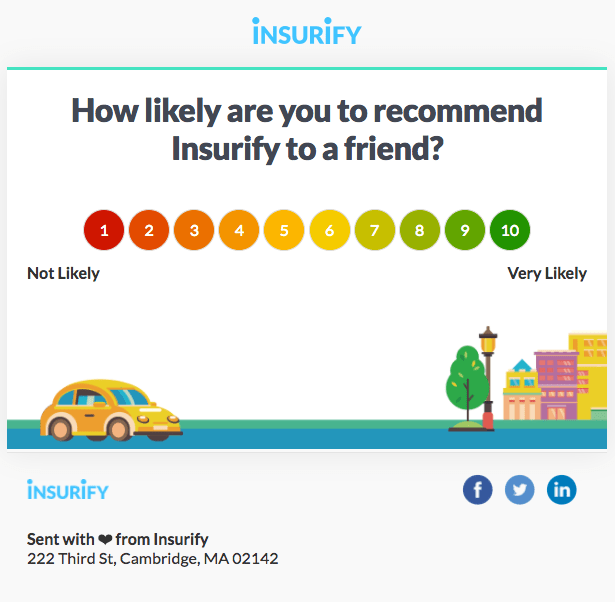 A customer satisfaction (CSAT) survey email introduces a survey to the customers and asks them to complete it. The results of the email are then used for quality and training purposes.
Such emails should explain why are the recipients getting the email, what is the survey all about, and what is the duration taken by them to complete it?
Follow-up Email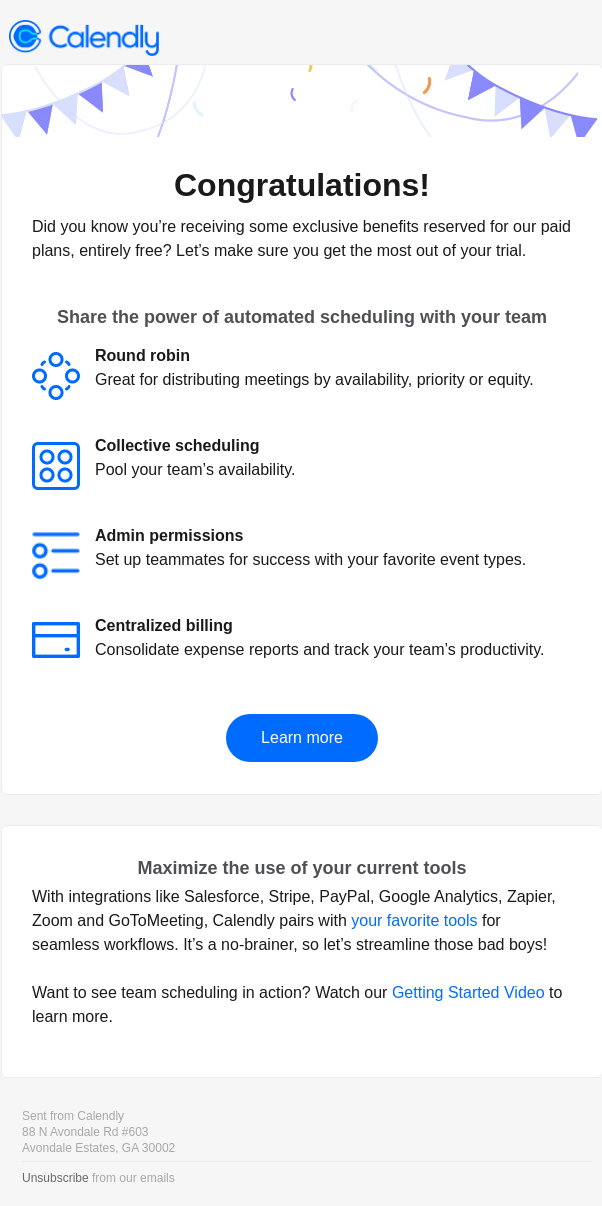 Follow-up emails are sent at different points in the customer journey. The goal here is to collect data/information from them.
For instance, salespeople often send follow-up emails asking whether the potential customers are interested in booking a call with them or whether they received the previous bit of email communication from them.
Birthday Email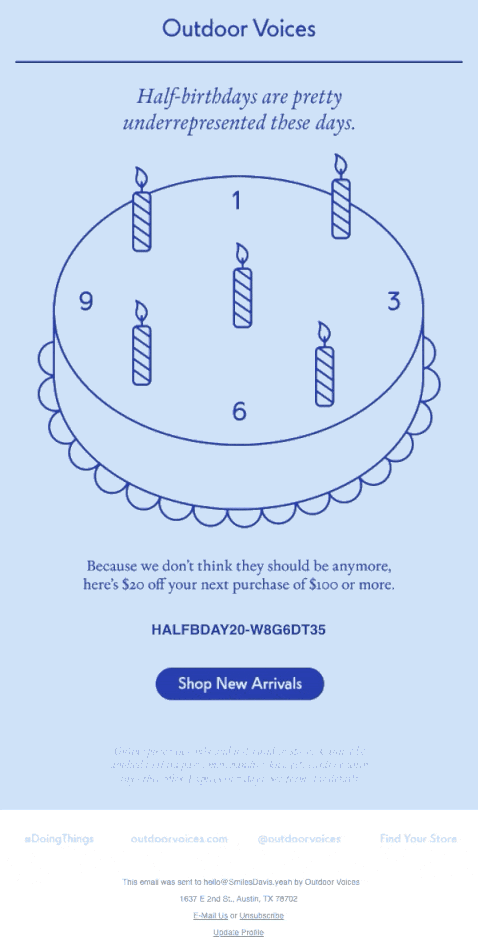 Birthday emails are of two varieties. One – you can use your customer data to wish them on their birthdays, giving them special discounts and offers.
Two – it can be your brand's birthday/anniversary and you can use the opportunity to reconnect with your customer base. Either way, it is a win-win situation for brands.
Complaint Resolution Email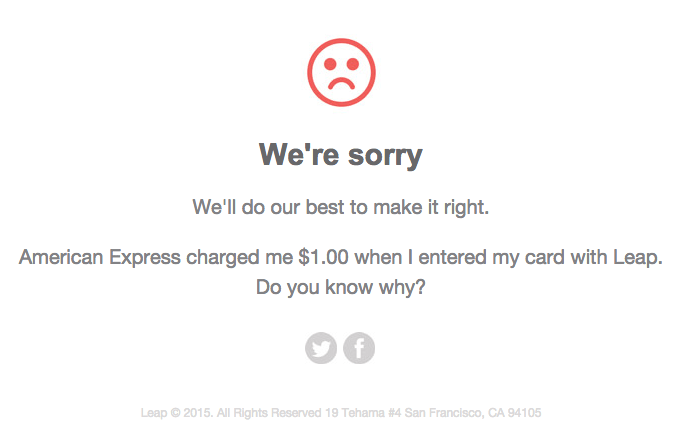 Have a tricky situation with your customers? Complaint resolution emails are the right answer.
They help you react and respond to any complaint raised by your customer and turn their frown into a smile, and disdain into delight. Such emails prevernt churn and in turn, build brand loyalty.
What Are The Best Practices To Create Email Marketing Templates?
Creating email templates requires basic knowhow really. But again, depending on the purpose and the project, the complexity of the templates will vary. If you want to design high-quality templates that make a great first impression on the recipients, hiring a professional email designer should be your first action point followed by working with email marketing experts.
Before we digress, here are some of the best practices that we've personally observed from years of offering bespoke email marketing automation and similar services to our clients:
Never ignore the subject line as it can make or mar the open rates.

Keep the subject line short and to the point; use emojis whenever possible.

Ideally, the email subject line should not exceed 7-8 words.

Don't forget to use a pre-text header as well to the email.

Avoid using large sized images or graphics as it hampers the email load time.

Optimize the email so that it opens in all browsers and on all devices seamlessly.

Try and design the email using a single-column layout.

Don't make the readers scroll way too much.

User Alt text for images and multimedia to make the emails accessible to the recipients.

Personalize the email as much as possible.

Don't make any email text heavy; make it simple and easy to scan through.

Never steer away from your brand guidelines while creating the email template.

Always use social sharing buttons in the email.

Read about GDPR and other compliances, and make sure that the templates are also in-sync.

Don't forget to add unsubscribe link in the email.

Make sure that the email is SEO-optimized.

Leverage A/B testing to ensure that the email opens properly across any email client.

Don't use too many links in your email.

Don't use too many colors and different fonts within the same email.

Schedule the email at the right time for maximum impact.
Let's look at the nitty gritties of a great email design.
Essential UX UI Design Tips To Create Effective Email Marketing Templates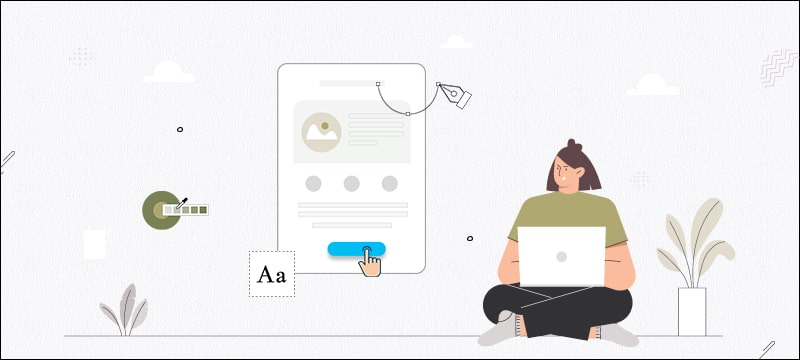 If you put yourself into the shoes of your email recipients, you'll have only a few seconds to notice the essential elements in the email body. Email UX UI is often an afterthought for marketers, which should not be the case ideally. Remember, badly designed emails can lead to lost conversions and have an adverse impact on your brand.
Here are some of the things you need to take into consideration for perfect email UX UI design:
Build Trust
The way you write your company's name and include the details in the email can weigh in on the trust factor. It will tell your readers at a glance who the email is from.
Also, align your email design with your brand guidelines so that there's instant recognition. Think of a signature style that will immediately tell your recipients that the email is from your brand.
Airbnb's emails are a classic example of how you can build trust simply by incorporating some subtle design elements within the email and win customer loyalty in the long term!
Content That Converses
Imagine sending an email that looks perfect, however the content is lacklustre. In this case, the email won't work. Space out the content, make it impactful, and include images/GIFs in email so that it becomes eye-catchy and readable.
Ideally, keep the body copy to not more than 50-80 characters.
Do make it a point to use bulleted lists, short paragraphs, etc., to break the text into chunks that are quickly readable by the recipients. While it is important to use images, buttons, and GIFs, don't go overboard with them as it may only overwhelm the readers.
Keep It Minimal
Minimalism is the key to crafting best email template design. It is also one of the trends that's been around for quite some time.
Minimalist email templates do the trick of getting the users' attention wherever necessary, and conveying the message across with utmost perfection.
Provide Enough Contrast
Contrast will help colors and content pop out in your email. Without proper contrast, your email will become difficult to read/scan through.
Take any good email that you like, and compare the contrast used in them. You'll get your answer right in front of you!
Typography
The typeface you use in your emails also makes a huge difference. Think of the font that you use, the size, the weight, the hierarchy – everything will add up to make your email a spectacular masterpiece (only when done right)!
Embrace Whitespace
As is the case with any design, use whitespace aptly in your email templates. Whether it is the padding used between text, headlines, or subheads, make sure that there is ample 'breathing space' in your email throughout.
A crammed email with too much space with no gaps between them is just visual clutter. Think of various design principles be it the Pareto principle or rule of thirds and design the email in such a way that the attention of the readers is at the right place.
CTA
Play around with your CTAs. It is not always necessary to use button CTAs in your email copy; you can think out of the box and settle for something unique as well. An animated GIF or an animated text can also be the CTA.
Or, you can also use an immersive video to give them the intended call to action. Your end goal should always be to drive readers to take an action seamlessly.
What Are The Top Trends For Delivering The Best Email Templates?
The narrative of email templates are going to go through a drastic shift for sure. In no particular order, here are our prediction of the top trends that will be used to deliver the best email templates to clients and customers alike:
Interactive elements will rule the roost

Personalization will stay

Responsive design will be of value

Minimalism will take center stage

Video integration can be the key to draw attention

Dynamic content will prove to be magical

Interactive storytelling will create memorable experience

Accessibility can't be ignored anymore

Conversational style will lead to better engagement
Bonus: Where Can I Get Free Email Templates?
1) Stripo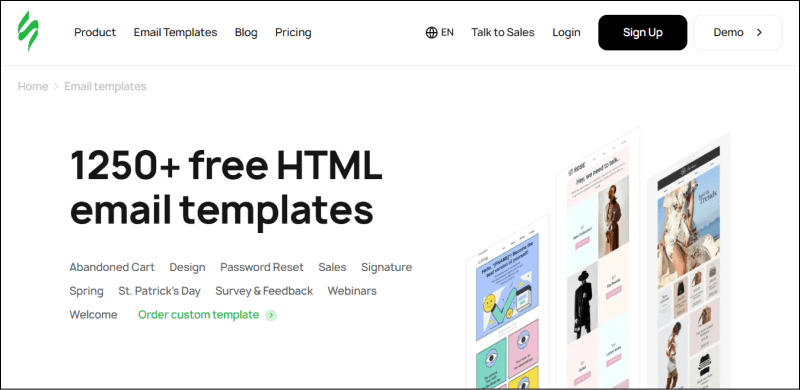 Stripo offers a wide range of ready-to-use email templates. You can take your pick from their abandoned cart design, password reset, survey and feedback, webinars, etc. Plus, you can also go for their customized email templates.
2. Unlayer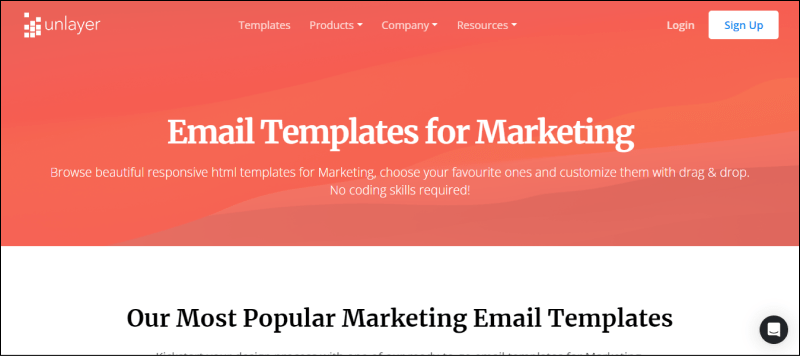 We're seriously impressed by Unlayer's comprehensive categories of email templates that are segregated by categories, collections, and industries.
3) Hubspot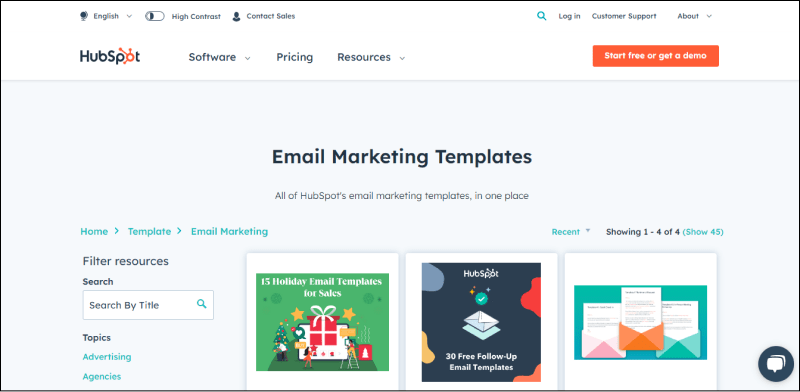 Hubspot aces email marketing like all their other services. We love their compact collection of templates that can be searched by title, topics, and best – content types.
4) Campaign Monitor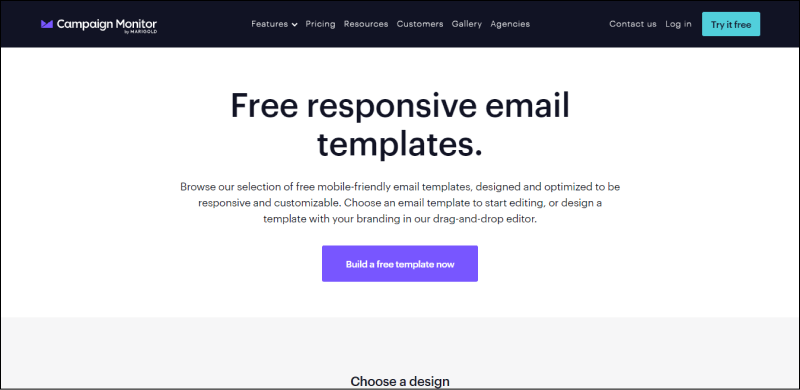 Campaign Monitor's drag and drop email template builder is a must-have in every email marketer's arsenal. Head over to the site for responsive templates that do the trick for you.
5) ActiveCampaign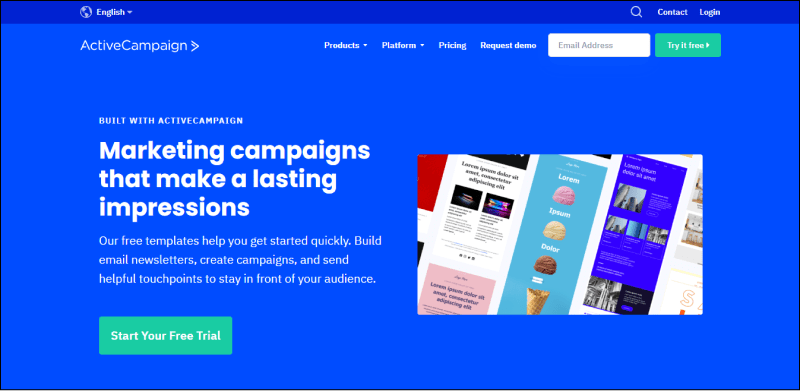 You don't have to be a designer to create bespoke email templates with ActiveCampaign's vast library of more than 250 design templates. With just a few clicks, you get responsive templates with code, design, and QA – all included. The templates are free with ActiveCampaign subscription.
6) Mail Bakery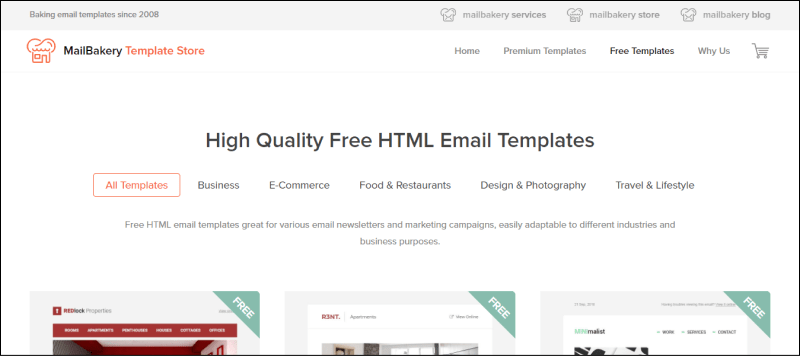 Mail Bakery offers free HTML email templates on its website. Use the different categories of email newsletters and marketing campaigns, easily adaptable to different industries and business purposes.
7) Template.Net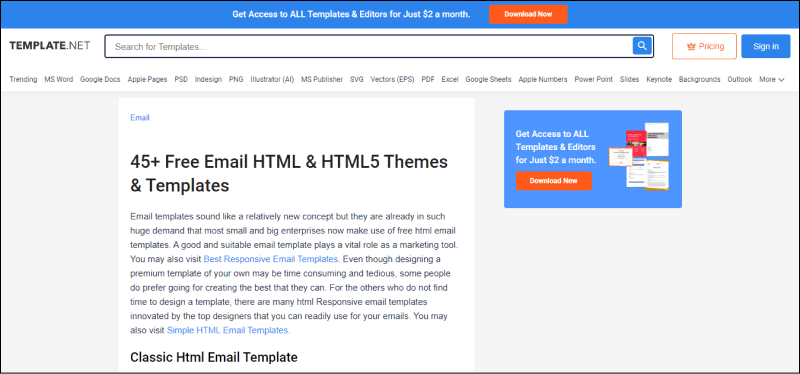 Template.Net doesn't beat around the bush and presents customizable HTML email templates for marketers to download and use. Browse through their list and select the best template that matches your requirements to the T.
8) Colorlib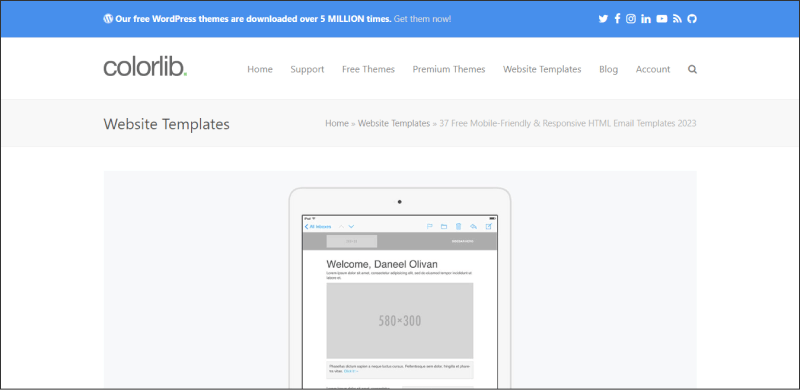 Colorlib presents a neat list of trending email templates that you can use for your campaigns. They provide a preview with a quick description of the template.
9) BeFree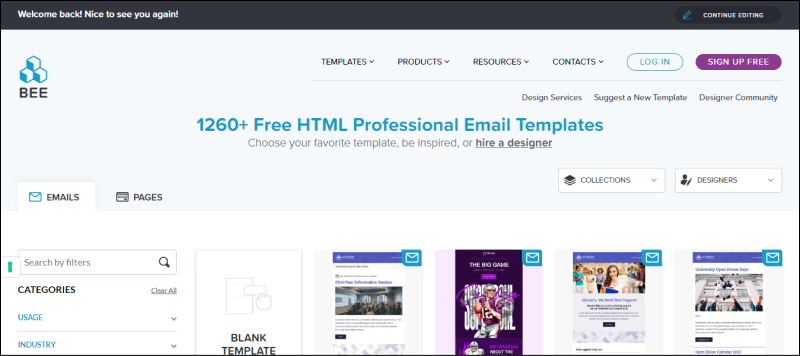 BeFree offers a selection of more than 1260 email templates divided into neat categories on the website. If you're specifically looking for automated email templates, look no further.
What's more interesting is their template builder, using which you can create custom email template designs from scratch.
10) BenchMark Email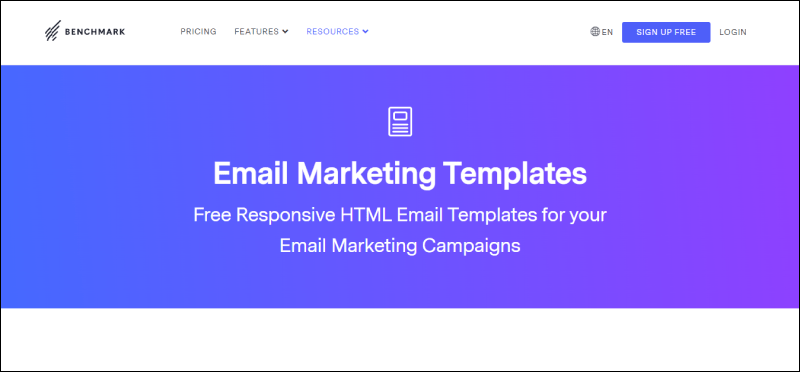 Benchmark is your best bet to reach your target audience with robust email marketing templates that are powered by AI. By signing up for a free account on the site, you can access their entire range of email templates.
11) Chamaileon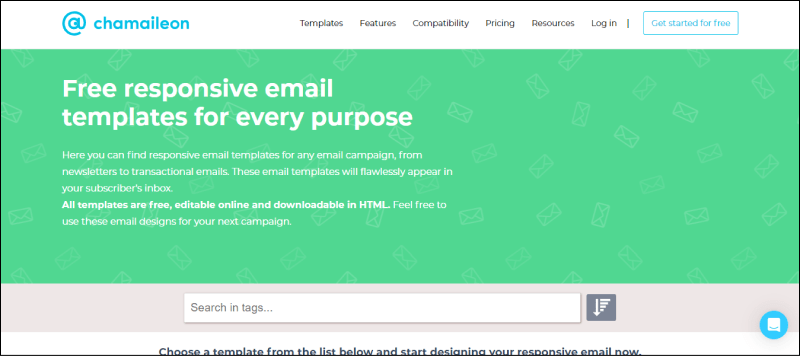 Chamaileon specializes in offering some of the finest responsive email templates for your campaigns. All the emails are completely free, editable online and downloadable in HTML format.
You can easily get started on your campaigns with any of the emails provided on the website.
12) GetResponse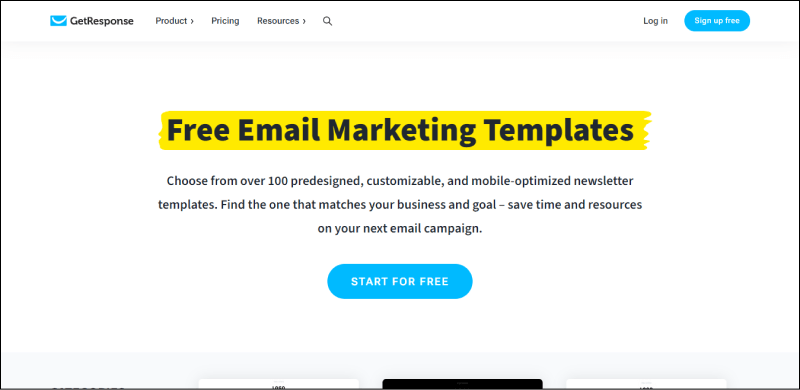 GetResponse has several categories and sub categories of over 100 newsletter templates. The customizable and mobile-optimized templates helps you perfect your email campaigns like no other.
13) Topol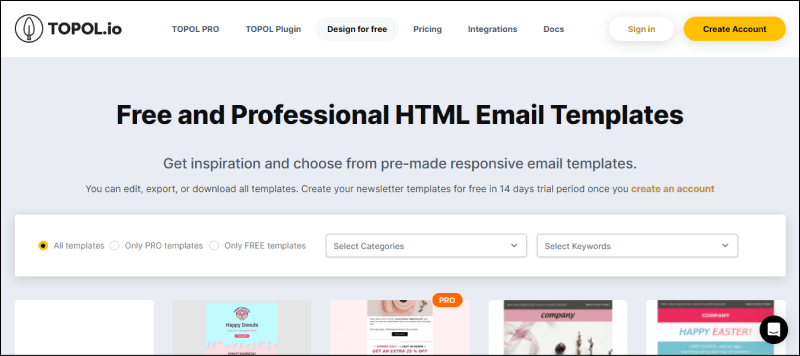 Topol contains several email templates neatly arranged in a single scroll layout. The filters on the website helps you to choose from several top-of-the line email template designs. Use it to edit, export, or download your faves!
14) Privy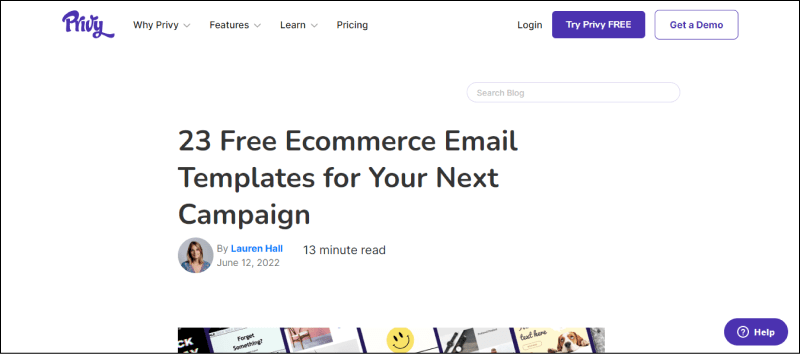 Privy offers 23 email templates that are super handy for eCommerce business owners/marketers. From Featured Products email to Cart Abandonment email, they got you covered with their list of templates
Conclusion
There are several instances of email Marketing templates that are being used by brands big and small. But the crux lies in using the most apt template that caters to your requirements in the most apt manner. While hiring an email marketing firm for email template design, go with the mindset of winning your customers' with great form and functionality, and leave no stones unturned to make a great impression on their minds.
Need a team that delivers the best email templates for your campaigns? Through our email campaign management services email marketers and designers who can work magic by understanding your business needs in the best possible manner. Connect with us today to learn more on how we can be of help!