The free plan of Klaviyo has always been praised as one of the best email marketing plans for beginners and small businesses. The instant access to all the essential features has been applauded by amateurs and professionals alike. However, there is more to Klaviyo pricing than its free plans. 
Klaviyo's pricing structure cuts through all the noise and highlights only the aspects that truly matter to email marketers. There are no hidden charges or features that are locked behind paywalls.
In a way, Klaviyo does not penalize smaller businesses by restricting features that prevent the growth of their email marketing efforts. On the contrary, it offers everything a business needs to grow its subscriber count as it would mean their promotion through the different pricing tiers, indirectly raking in more cash for Klaviyo. 
Here is an in-depth breakdown of Klaviyo's pricing structure to help you increase your profits and reduce marketing costs. 
What Are The New Changes Made To Klaviyo's Pricing Structure?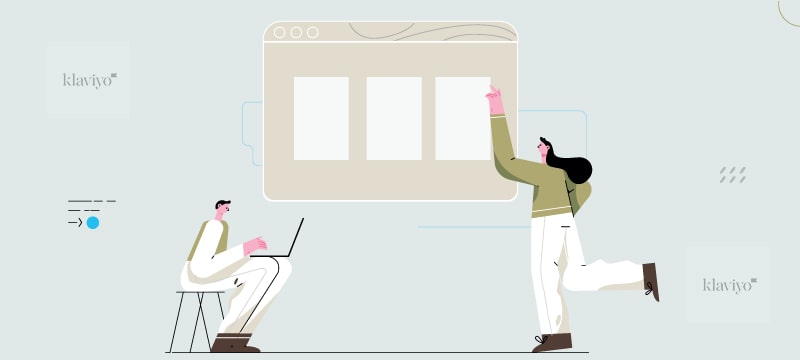 Klaviyo has revised its pricing structure to make itself more competitive in the market. To begin with, Klaviyo has announced that it would raise the prices for its top-tier customers.
This helps them generate higher revenue without affecting entry-level users. Next, Klaviyo has rolled back its unlimited email sends feature. Now, users can only send up to ten times the number of contacts they have in their account. 
The Klaviyo SMS pricing model has also changed significantly, and the users were introduced to the new credit system. Finally, Klaviyo announced the introduction of its new enterprise-level pricing tier called the Klaviyo One. The prices for Klaviyo One are yet to be confirmed. 
Klaviyo Prices
Klaviyo has the simplest pricing structure out of all the email marketing platforms. Unlike its competitors, it does not overwhelm the prospects with different tiers and sub-tiers. Klaviyo's pricing structure is divided into 3 plans. 
Free Plan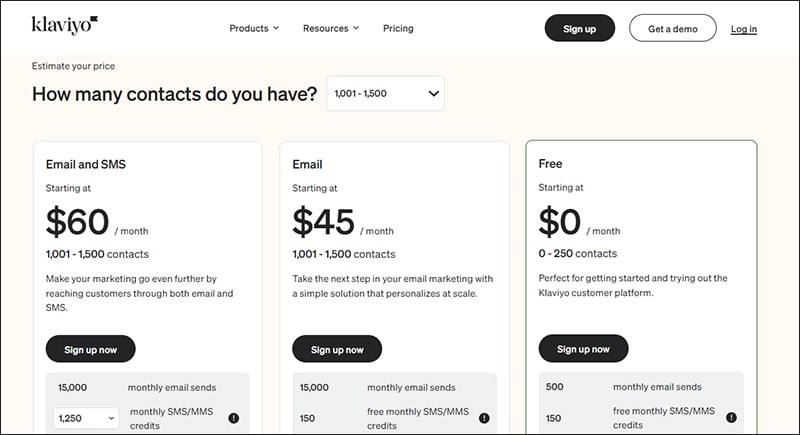 The best part about using Klaviyo's free email plan is that it instantly offers access to all of Klaviyo's features. The offering includes all the advanced features as well.
The free plan is only limited to accounts with 250 subscribers. In addition, you are restricted to 500 email sends per month. If you reach this limit before the month, your account will be locked, and you won't be able to send any more emails. Lastly, free plan users only get access to customer support via email. 
Similarly, Klaviyo also offers a free SMS plan. You do get access to all analytics and dashboard features to monitor your SMS and MMS campaigns.
However, the plan is not as potent as its email counterpart because the plan is limited only to 50 active contacts. And, there is another restriction that prevents you from sending more than 150 SMS or 50 MMS credits.
Now, using these SMS credits can be quite tricky. For example, in the US, sending one SMS to your subscribers costs only 1 credit. But, sending an email to the UK will cost you 5 credits. As a result, you can run out of credits quickly if you are not prudent with your SMS and MMS marketing strategy.
Email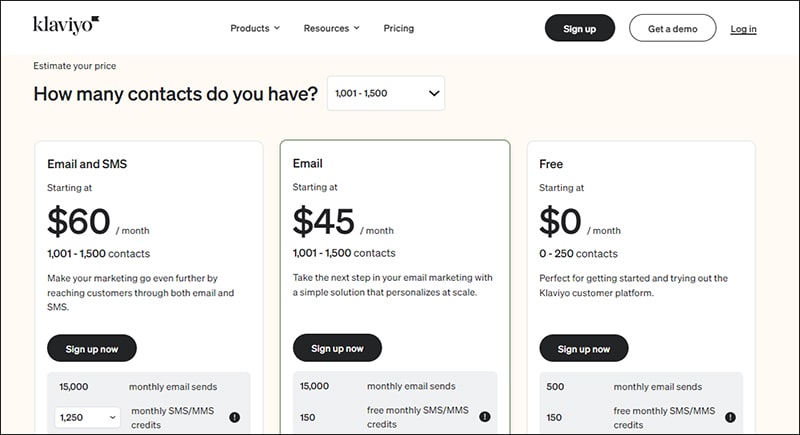 The paid plan starts to take effect the moment the subscriber count crosses the free plan threshold of 250 contacts. The price plan starts at only $20 per month.
The prices then gradually increase at every interval of 500 active contacts. This nuanced and detailed breakdown of the subscriber count enables email marketers to fine-tune their email marketing strategy and maximize their ROI.
You can use the drop-down menu on their official website to go through the various subscriber levels and the price you will have to pay for managing them.
The paid email marketing plan for 10,000 subscribers costs around $150 per month. At the uppermost limit of 150,000 subscribers, Klaviyo costs around $1955 per month.
Again, you need careful financial planning to get the most ROI at such steep prices. Beyond this subscriber count, you need to contact Klaviyo customer support to get a custom quote. 
Email and SMS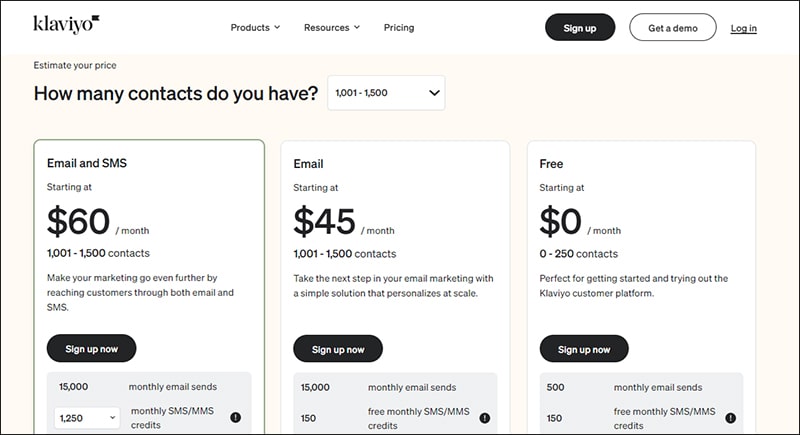 Email and SMS plan offers more features than it suggests. In this plan, you get all the features of the email along with all the functionalities required for setting up an SMS marketing campaign.
Consequently, this plan is suitable for companies looking for comprehensive solutions for their multichannel marketing roadblocks. 
The prices for this plan are just slightly more than the email version.
For example, you need to pay $165 per month for handling 10000 subscribers instead of your usual $150.
However, you need to pay extra to get SMS and MMS credits. And, these credits do not carry over to the next month. Therefore, you need to have an SMS marketing plan in place before putting in the order for the credits. 
Moreover, Email and SMS plan users get priority customer support over email, chat, and live telephone calls. Klaviyo also assigns customer success managers and onboarding specialists to keep the experience as seamless as possible. 
How Does Klaviyo Charge its Users?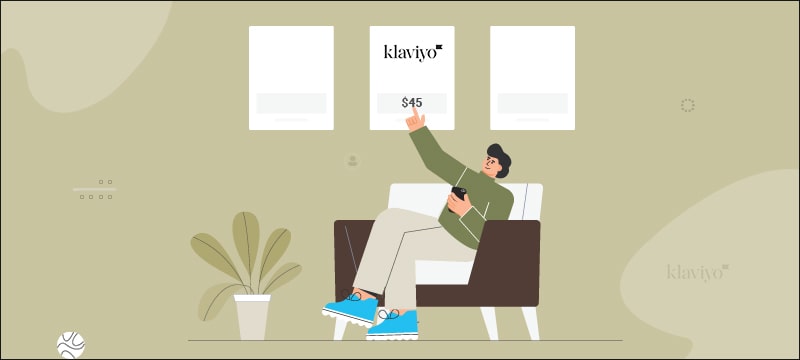 Klaviyo directly charges its users based on the total number of active contacts they have in their accounts. So, the price you pay remains the same irrespective of the number of emails you send to your subscribers. This approach is further branched into two different methods. 
The first method dictates a metered approach where your cost increases gradually with every single increase in your subscriber count. Or, you can opt for the tiered system where you have to pay the same price as long as you are within the tier range. 
Can You Get An Discount On Klaviyo Pricing Plans?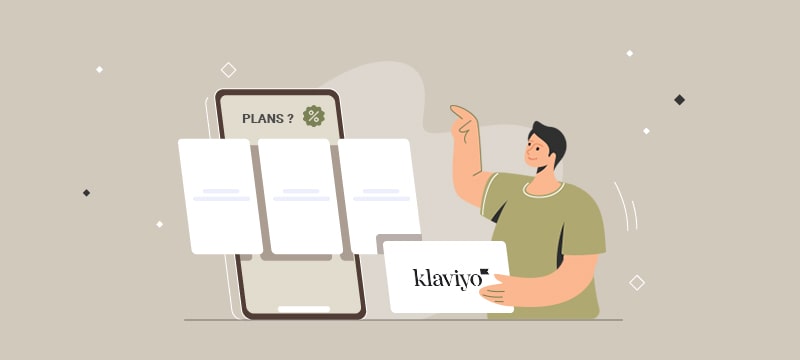 There are no such discount codes offered by Klaviyo to subsidies the purchasing power of the users. All the users and prospects have to pay the same price regardless of the industry they are from.
However, you can opt for custom plans and get more manageable prices if your contact count is increasing over 150,000.
Conclusion
As mentioned earlier, Klaviyo aims to help its users make the right decision without overwhelming them. And, that sentiment is reflected in their simplified pricing structure.
Most of the klaviyo experts praise Kalviyo for its simplicity and accessibility. However, just because it is easy to navigate the plans, does not mean it is not expensive at higher tiers.
You have to do your due diligence to find how Kalviyo can contribute to your email marketing efforts compared to the others before committing to it.